Senior Member
Join Date: Jul 2009
Location: Indiana
Posts: 383
Reputation: 1

Scratchbuilt Stormraven
---
For those of you that have been following my Blood Reavers log, you know I've been talking about this project. Well, here it is. My scratchbuilt Stormraven. This will take a while to finish. I will take it through from start to finish on the first one, and then show only the finished bird for the second when it is done. But with out any further delay..
Looking for a cheaper and unique alternative to the Valkyrie kitbash that is going around for the Blood Angel's Stormraven Gunship, I found plans online for the Hercules Dropship. I loved the look and decided it would be my Stormraven, as it would be cheap to make and easily modified to fit into a 40k army. Here is what the finished product will look like before any modifications:
Now, obviously it has to be clad in black and red to fit into my army's colour scheme. Easy. But it also has to be armoured up and have some weapons thrown on. Easy enough. Not so easy..is the cutting and assembly. Here is why..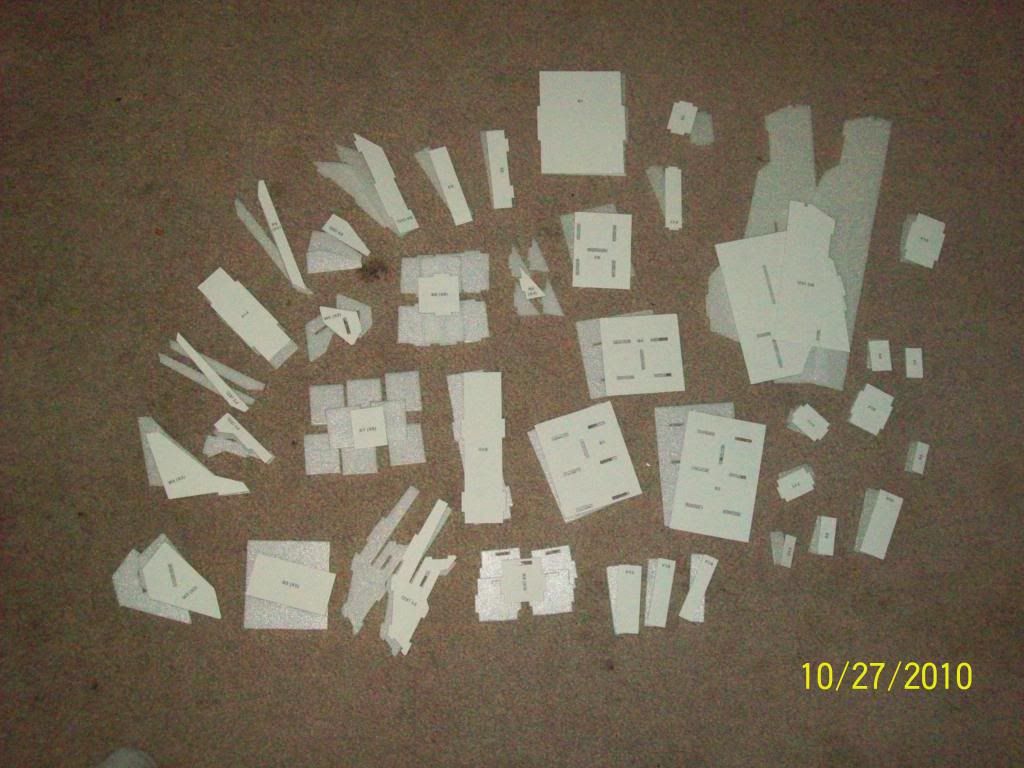 That, my friends..is all the pieces, plus templates, I had to cut out of a sheet of Depron(Cardless Foamcore) to start this project..66 pieces for the model and 41 template pieces. My hands hate me for it. My pocketbook loves me for it. Instead of spending close to $100 for the Whirlwind/Valkyrie kitbash, I spent $5.50 for the Depron and $7 for Styrene tubing packs..so a total of $12.50 USD vs $100..yeah. I'll take the hurting hands.
Now onto the next phase of this project..assembly. Putting this bad boy together is going to take a day or two. then I have to cover it in card and add on the extra armour to bulk it up a little, and determine where I am going to put the weapons. For this one, I am going to be arming it for speed assaults. Twin-Link Assault Cannons, Typhoon Missile Launchers, Hurricane Bolter Sponsons, and the obligatory Bloodstrike Missiles.
I will update this as I make progress. C&C welcome.
---
Hmmm kind of neat. I can definitely see where the hurt hands comes into play lol.

Im interested in the outcome!

Cheers,
Chaosftw
---
*wants more pictures*

good luck Gen
---
Quote:
Originally Posted by neilbatte
if you squint the Sigmar stuff doesn't all look like the love children from a Necron and Blood Angel orgy.
Senior Member
Join Date: Jul 2009
Location: Indiana
Posts: 383
Reputation: 1

---
Assembly actually went very quick. I am waiting for glue to dry since I can't use super because it will melt. Once the glue is dry and I am certain the pieces are held in place correctly, I will get pictures taken of the assembled ship. The only real problem I have yet to address is the Dreadnought..where will it go on this thing..
Senior Member
Join Date: Jul 2009
Location: Indiana
Posts: 383
Reputation: 1

---
After a little deliberation, I have solved the dreadnought problem. A small redesign. The CAV portion(The area on bottom with the assault ramps) is detachable. In the event that I choose to put a Dreadnought in one of the Stormravens, I will make 2 larger CAVs that can carry the Dreadnoughts as well as the troops, and just simply switch the CAV unit out. Problem solved. Though, it DOES mean I have more cutting to do, as well as some measuring and math of my own. I'll keep you all up to date!
---
PICTURES PICTURES PICTURES.... enough talk!!!
---
Hey Gen, I have a friend I'd like you to meet
Good work man, looking forward to an update.
Grish
---
Yay stormraven! You know Im excited about this from speaking to you before lol so I will be following this closely lol. Good luck buddy and keep the sexy pics coming :D
Senior Member
Join Date: Jul 2009
Location: Indiana
Posts: 383
Reputation: 1

---
Hahaha nice, Grish. :D I'll be putting up some pics here in a little bit! :D Stay tuned!
Senior Member
Join Date: Jul 2009
Location: Indiana
Posts: 383
Reputation: 1

---
Well, apparently you all are actually as excited about this project as I am! So, I can't keep you waiting. I am getting nagged by everyone for more pictures, so here you go!
I have it nearly fully assembled. The glue for aft fuselage mount for the CAV is not dry yet, so the CAV is sitting upside down and sideways underneath the bird. I mounted the Twin-Linked Assault Cannon turret on the chin of the fore-facing fuselage. I will be using the Cerberus Launchers from the Land Speeder Storm kit for the Typhoon Launchers and 4 of the Hunter-Killer Missiles from the Ironclad Dreadnought mounted on the aft-top section as the Bloodstrike Missiles. I am having issues figuring out how and where to put the Hurricane Bolter sponsons because the Land Raider Sponsons are slightly too big to fit on the sides of the fuselage at current scale. Thoughts and ideas on this matter would be greatly appreciated. But now, without further delay...here you go..MOAR PICZ!!
Size Comparison with a Marine, Dreadnought, and Land Raider: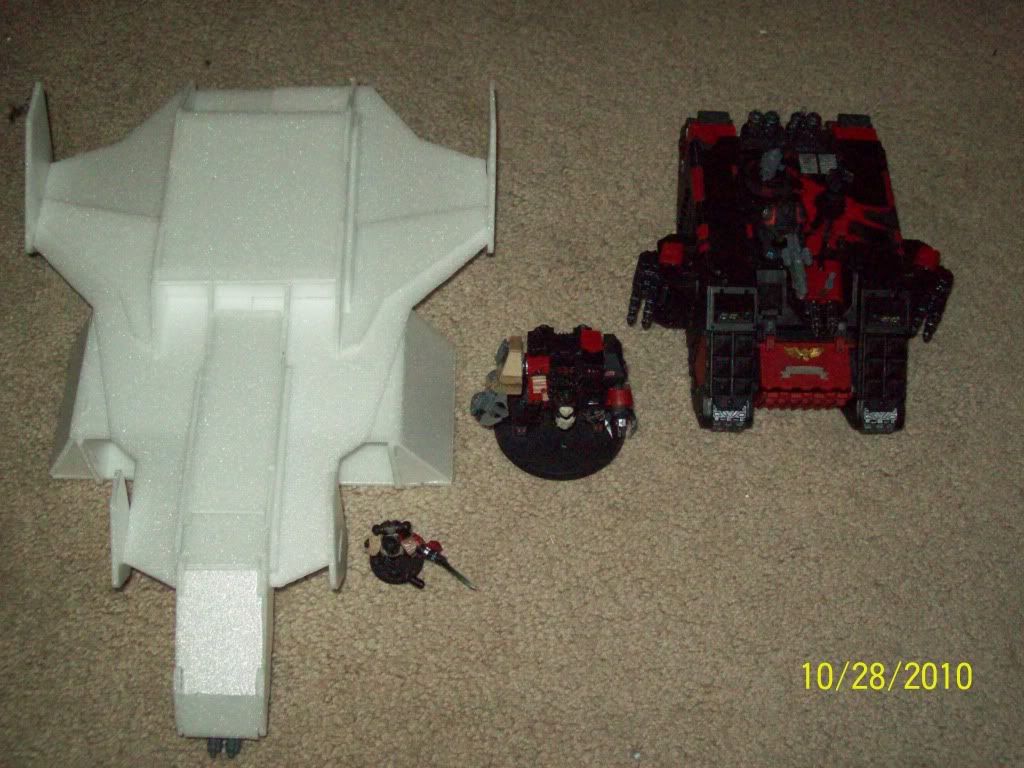 Different Angle Size Comparison with Marine and Dreadnought: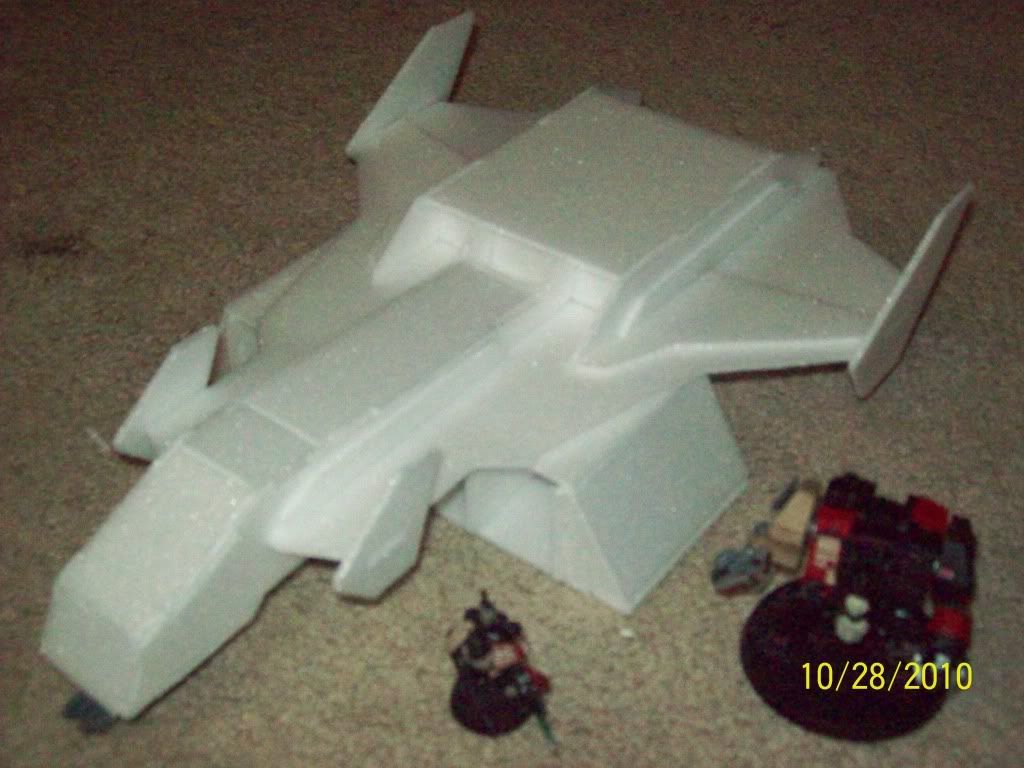 An angled front view so you can see the general height of it currently: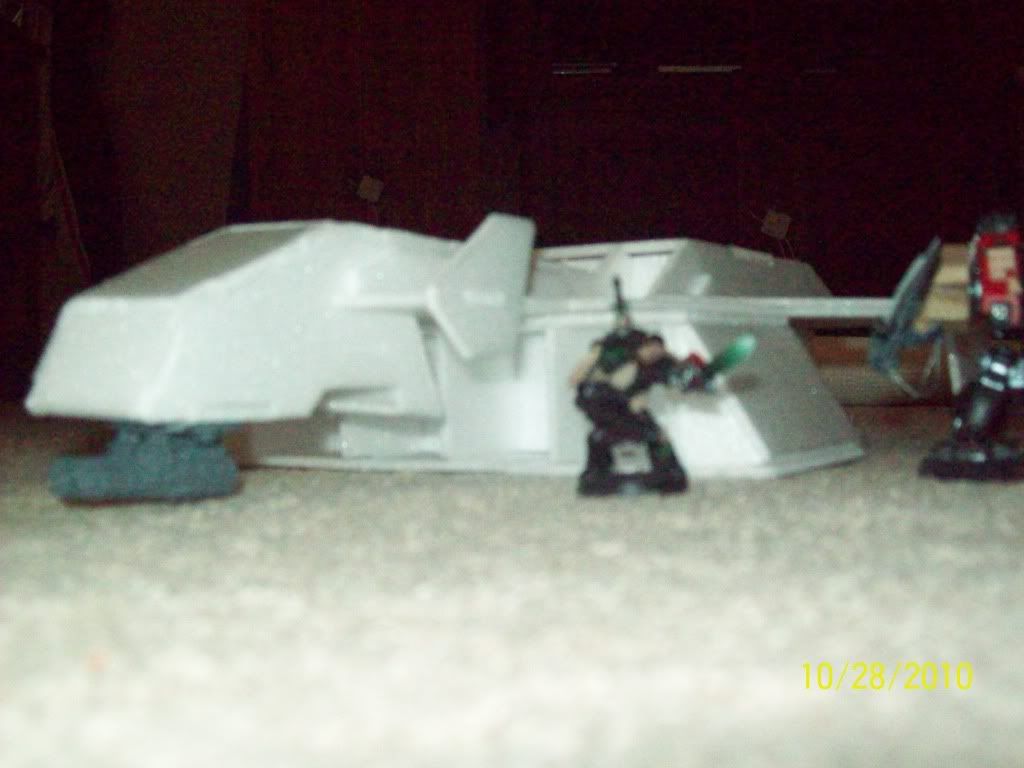 The CAV right now is tall enough to fit a marine inside, and with 8 compartments, can hold 8 marines, as long as they don't have banners or any bits that stick up above their head. I am going to be making a deeper CAV with no center divide and only a single assault ramp spanning the entire width on each side so that it can carry a full 12 marines and dreadnought..but right now I am more worried about getting the issues solved of the sponson placement and getting the bird covered in card and bulked up, because right now it is still kind of flimsy.
Lower Navigation
Scratchbuilt Stormraven