Senior Member
Join Date: Oct 2010
Posts: 183
Reputation: 1

---
use the crusader/ redeemer pack off the GW website to get the stormbolters
Senior Member
Join Date: Jul 2009
Location: Indiana
Posts: 383
Reputation: 1

---
You mean Hurricane Bolters? I know. I already have my bits list made out of what I need and where I am going to get them from.
It is just a matter of getting the bird ready to the point where I am ready to put them on there first and foremost.
Senior Member
Join Date: Jul 2009
Location: Indiana
Posts: 383
Reputation: 1

---
Well, progress is coming along. The frame is mostly covered..just have the CAV left to do, one side of the fuselage, and the aft CAV mount. I also figured out how to mount the Hurricane Bolters using existing bits..you can see that below. I mounted it to the front portion of the CAV using the Land Raider Sponson mounts I had laying around. Now I just need to finish the card covering..get the bits I need and get the gaps in the card filled so it transitions on the sides smoothly, and it's ready for some priming! It will probably be a while before I get to that, though, sadly. I have to wait for the bits to become available for purchase that I need so I can get this first major project finished.
Also, if you hadn't noticed, I trimmed off the wing fin mounting slot fins. I am redesigning both the fore and aft wings. If all goes well, the Aft wings will move up and down so that it makes it easier to take off the CAV and allows for simple aesthetic changes with simply adjusting the wing position. I could, say, set them to down for Combat Speed, Flat for Cruising, and Up for Flat Out so I don't forget what speed it moved at..just a thought. But..anyway, here are the pictures of what I have currently. Please ignore the credits in the background..my son was watching Snow Buddies and I just left it on after he went to bed. :D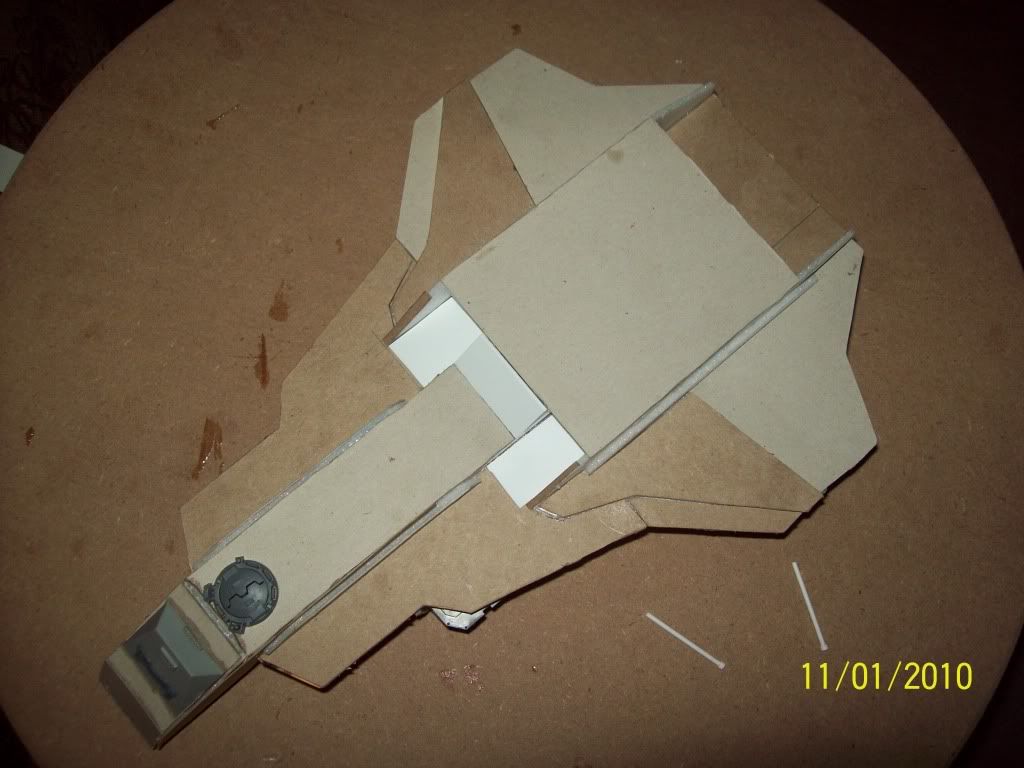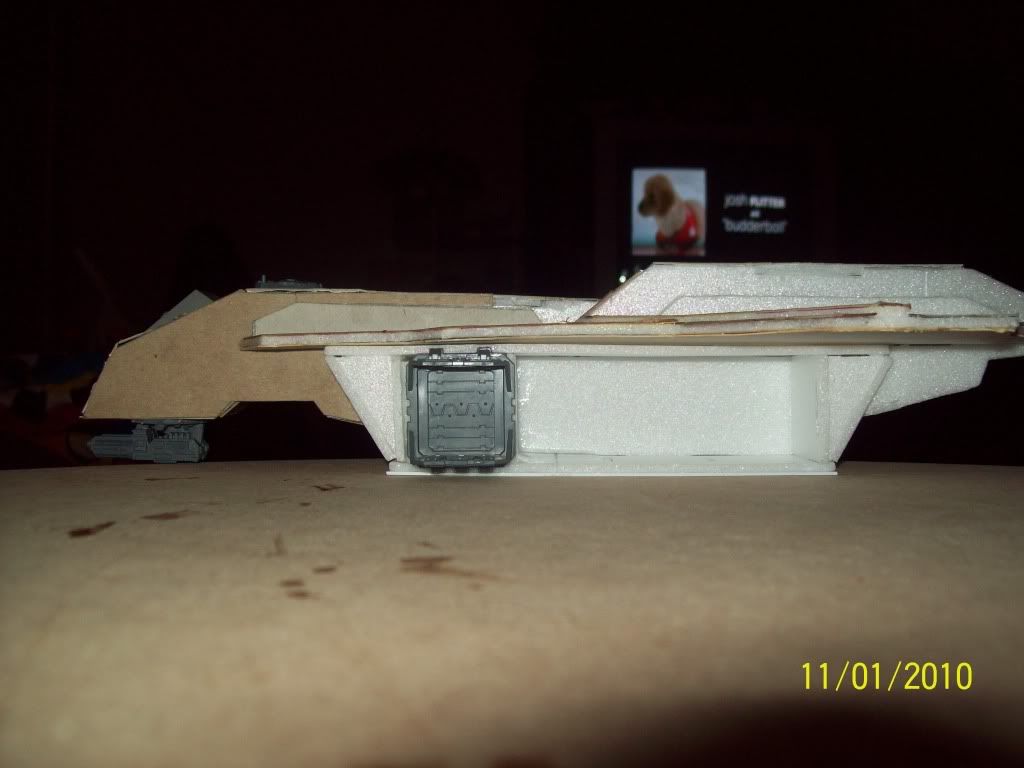 ---
Looking great. Looks like still a lot of work to do, but it's coming along very nicely. Have a Rep boost!
Senior Member
Join Date: Jul 2009
Location: Indiana
Posts: 383
Reputation: 1

---
I let the glue dry for the sponsons overnight and it seems to be holding well, so I went ahead and did a mounting of the Hurricanes to check the stability and eveything. Here is a look down the front with the Hurricanes and Twin-Linked Assault Cannons staring back at you...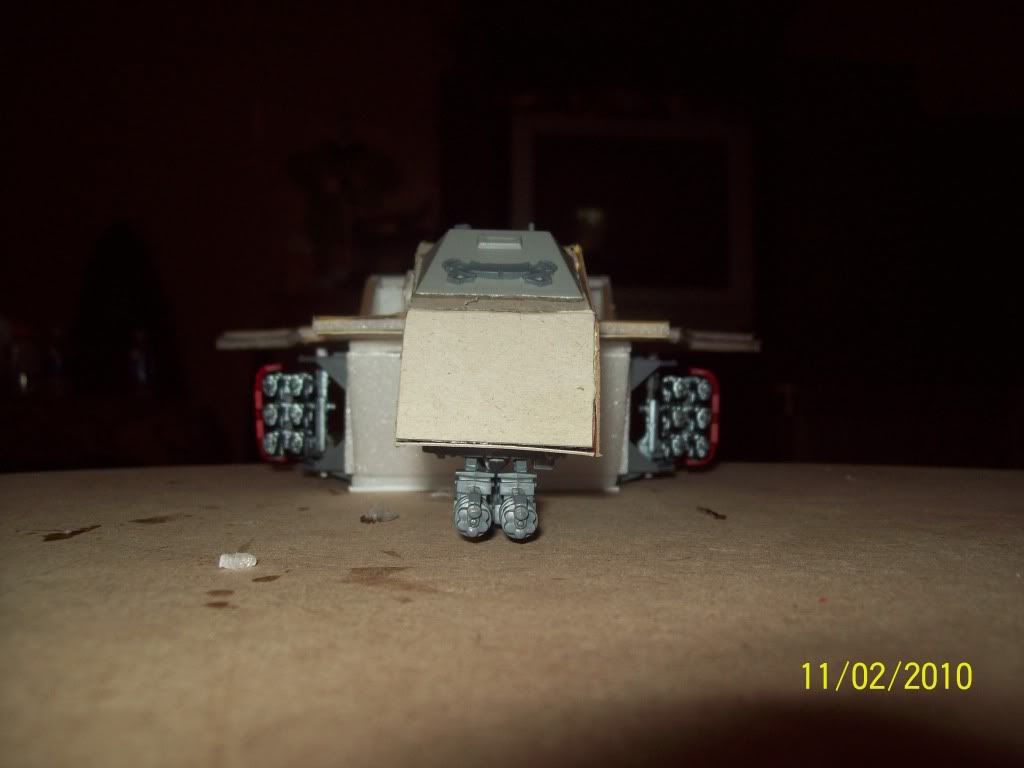 After looking at the picture, it looks a little lop-sided..which is weird, becuase looking at it in person, it looks perfectly level..
---
Last edited by genesis108; 11-02-10 at

01:58 PM

.
---
Really nice, I can't wait to see it with a bit of paint on!
---
looks good, maybe you need better glue?
---
Quote:
Originally Posted by neilbatte
if you squint the Sigmar stuff doesn't all look like the love children from a Necron and Blood Angel orgy.
Senior Member
Join Date: Jul 2009
Location: Indiana
Posts: 383
Reputation: 1

---
PVA is PVA..I use Elmer's. It works just fine. I think it's just the card warped a little from the moisture of the glue and pulled it off a little. I'll get it fixed with i get into the gap-filling stage before I start priming.
Lower Navigation
Scratchbuilt Stormraven