The Hold of Karak Sparoc.
---
In an attempt to get some more Fantasy examples in this section I thought I would document my attempts at working through my Dwarf hold! If I get a spare hour I will write down the fluff I have vaguely worked out in me noggin.
My army thus far consists of the BFSP set, Box of Quarrellers and Warriors with lots of assorted models from Ebay. I have some photos of my force that I will include below.
50%ish of my BFSP set is painted to a reasonable standard as these were the first models I have painted in about 9 years. After a break of about 2 months due to work/school/general life I have now the time and inclination to begin work on my force with enthusiasm. Due to the nature of Ebay some of my models were covered in an awful paint job (though thats proabaly calling the kettle black in my case
) so I followed the masterful tutorials on this site to strip them off. However, not all the paint came off as you will see but enough I feel that it will get covered up by the spray.
Furthermore, I came across a guide to paint minis using mainly Washes on top of a white base coat so I thought I would give this a go as I do find the painting side of the hobby my weak point. Some models however weren't stripped as I want to compare to the two techniques and see which one looks best. Anyway, to the pictures!
My conversion for Bugman: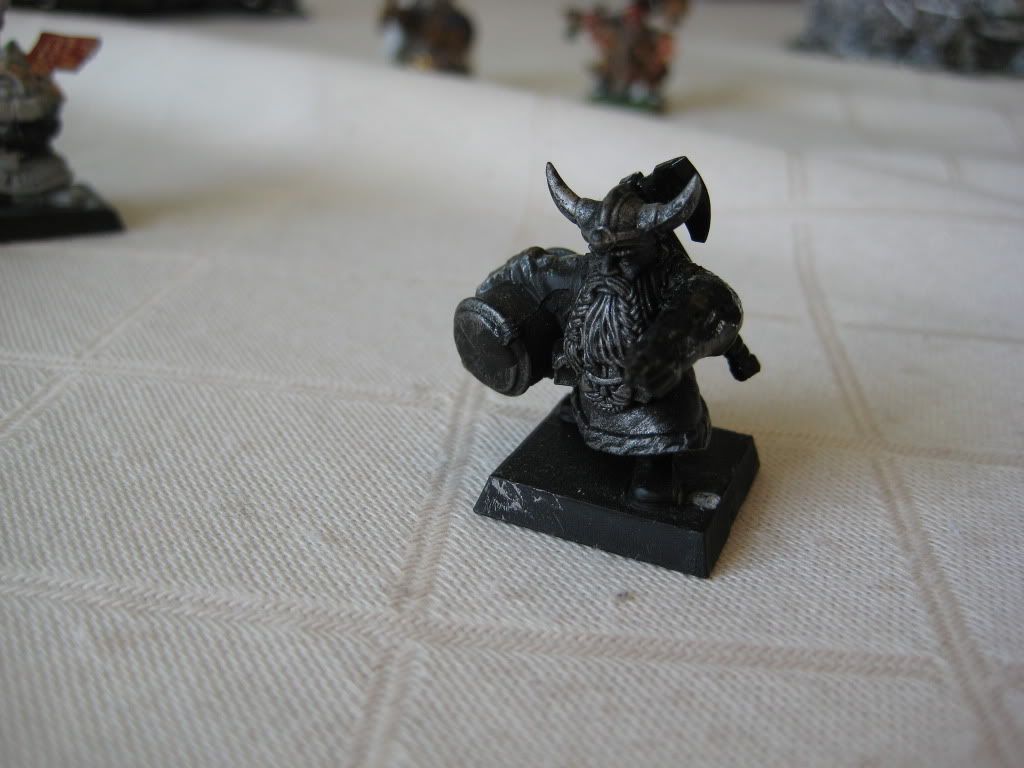 My runespriests(not painted by me but looks good so they will stay: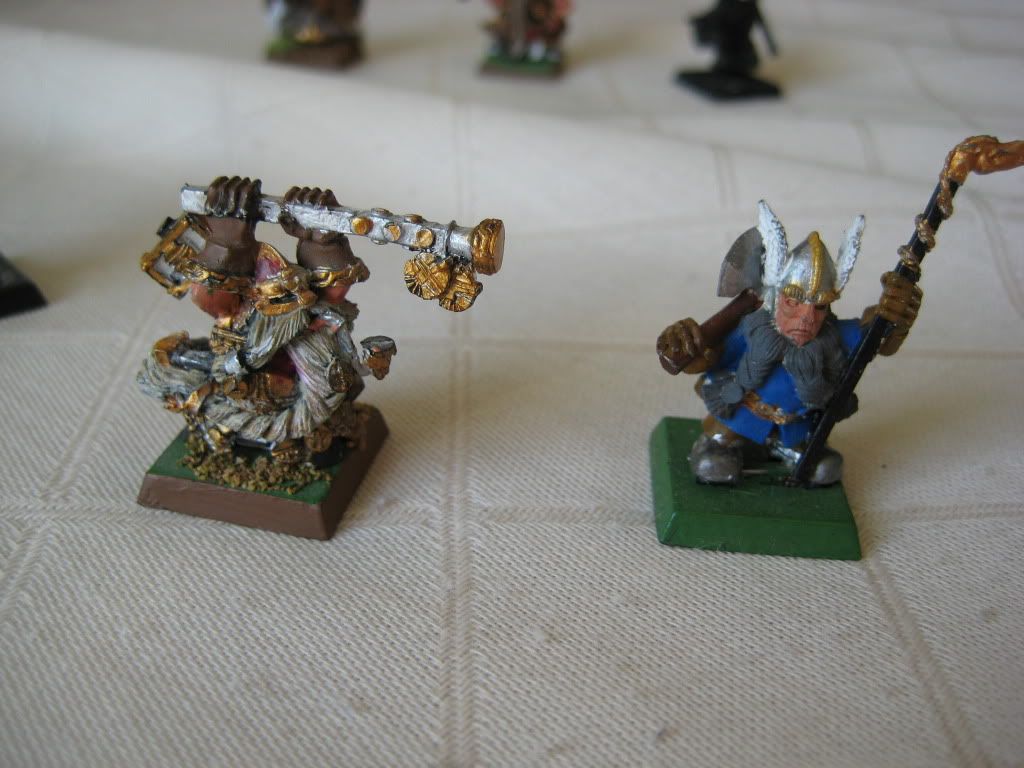 The "Three Amigos":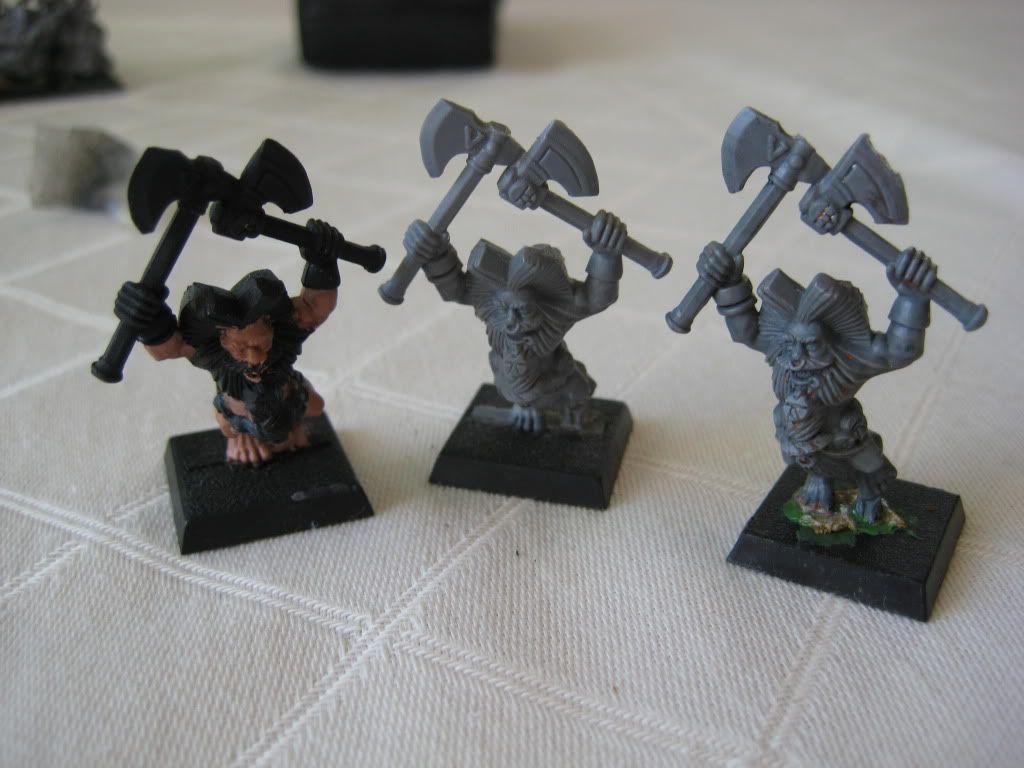 The Special Character "Helga"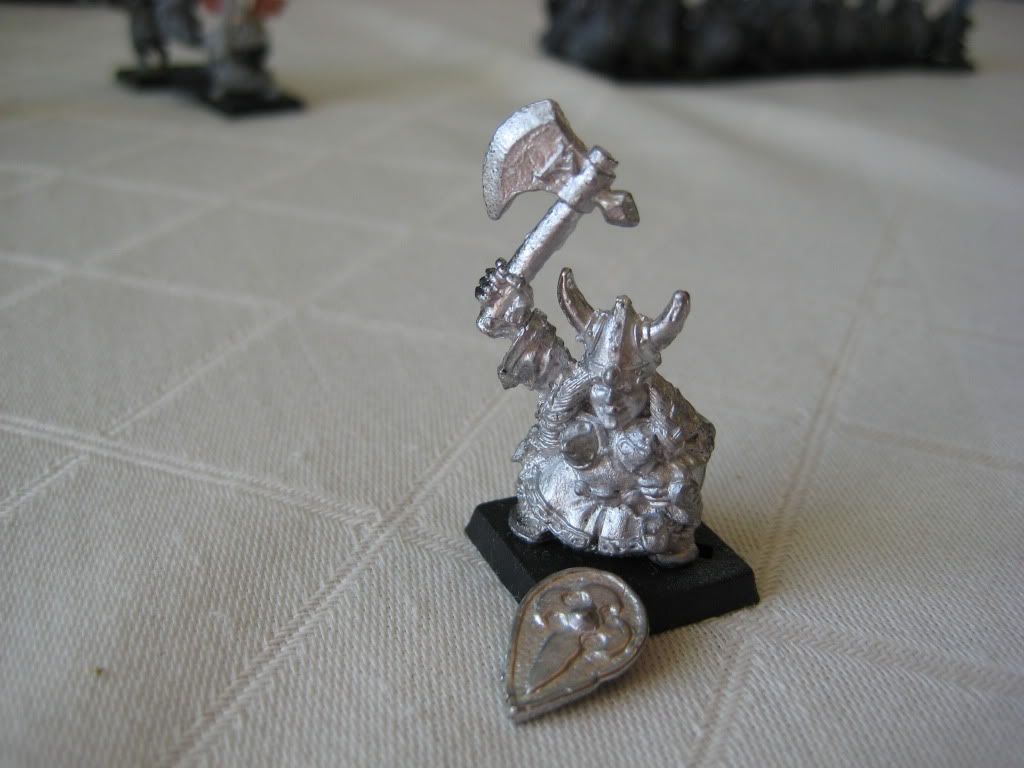 Master Engineer (not painted by me but looks good so he will stay):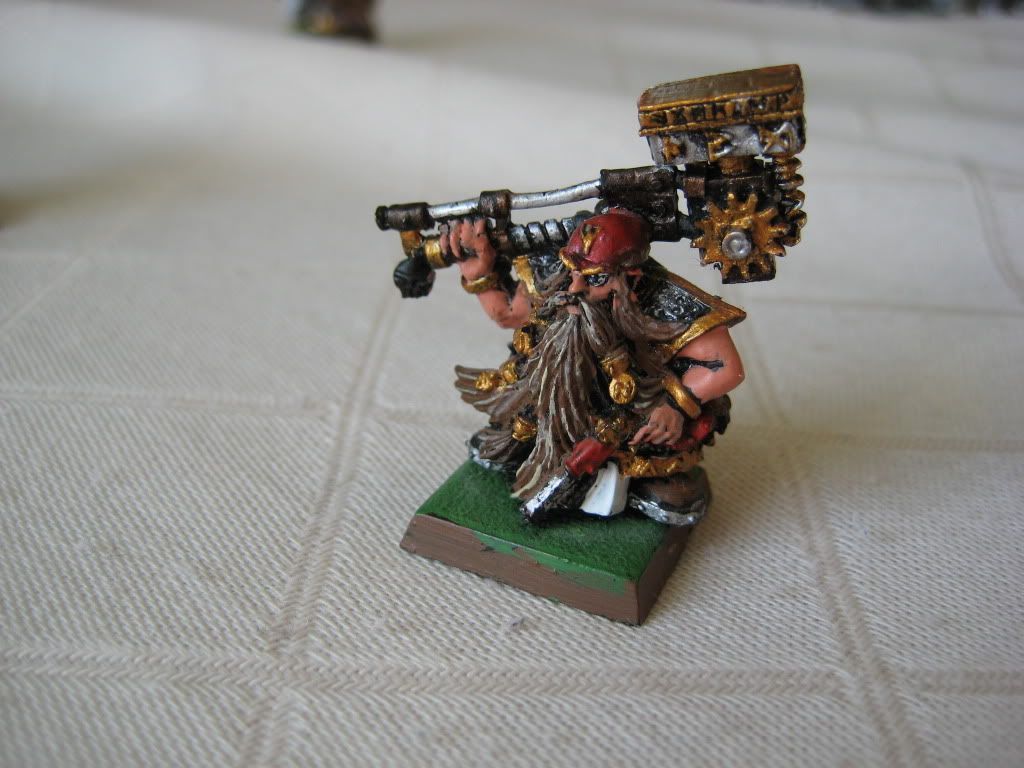 BFSP Thane: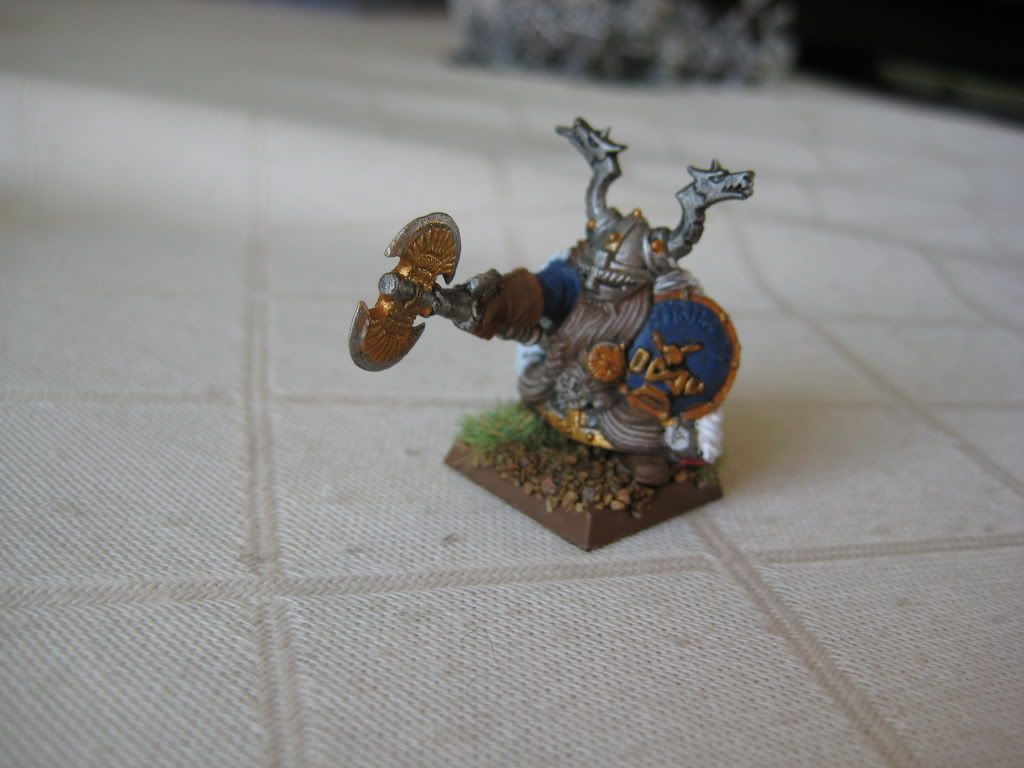 Lord on Shieldbearers (REALLY hard to get him to stick together
)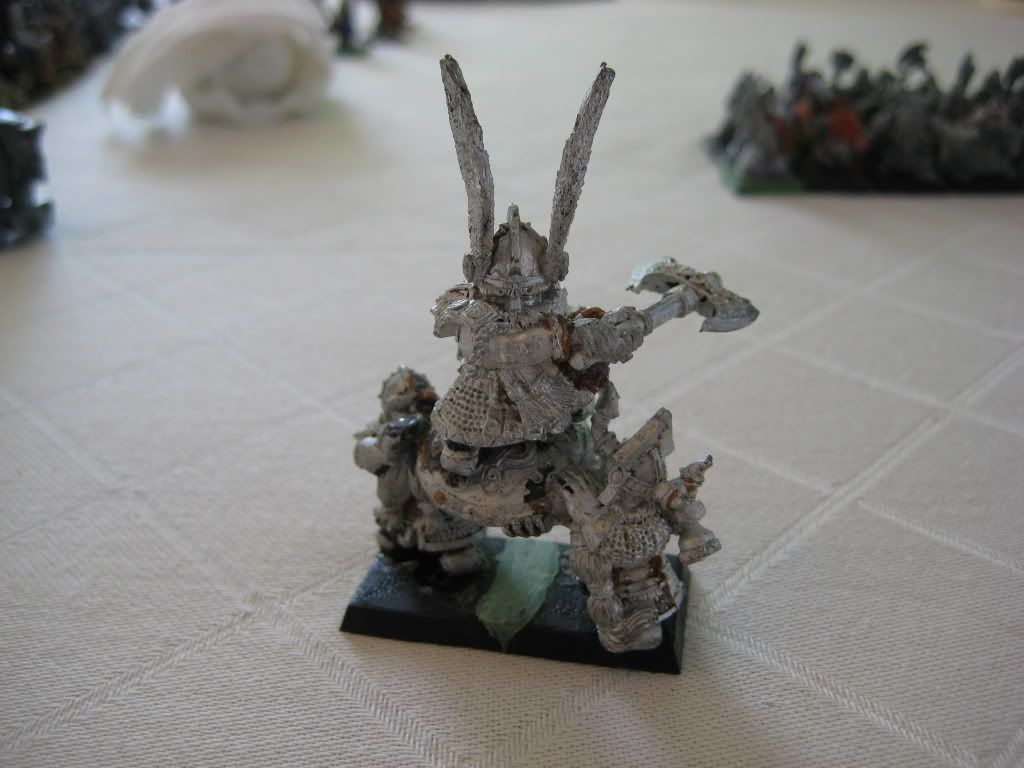 My Warriors: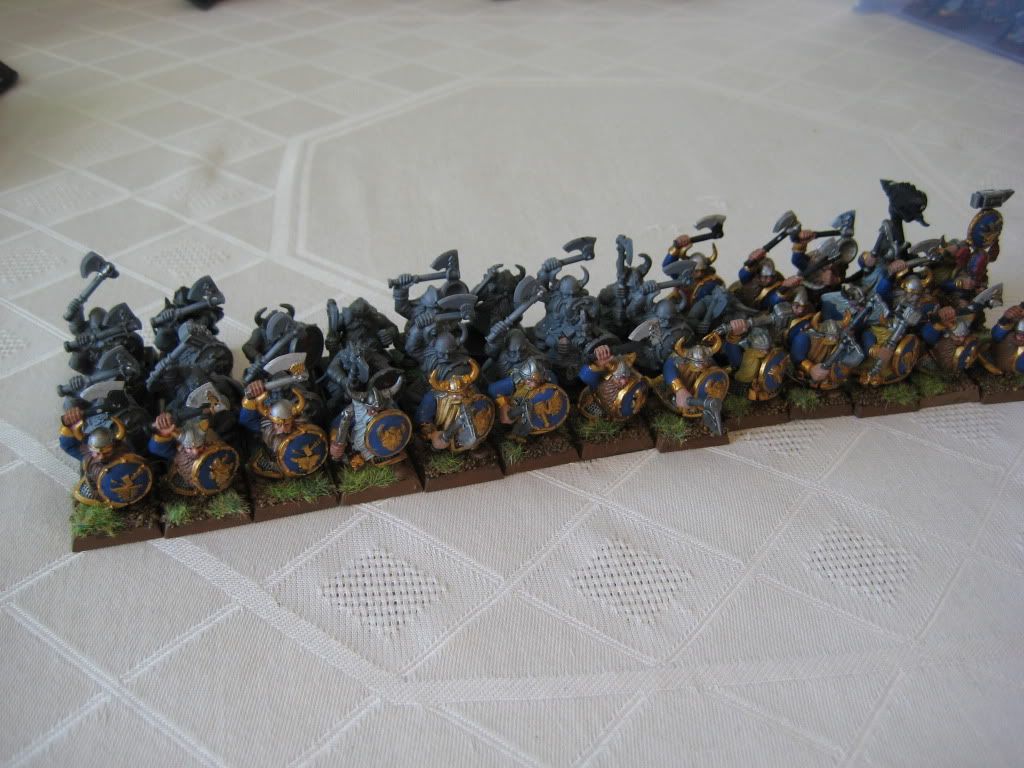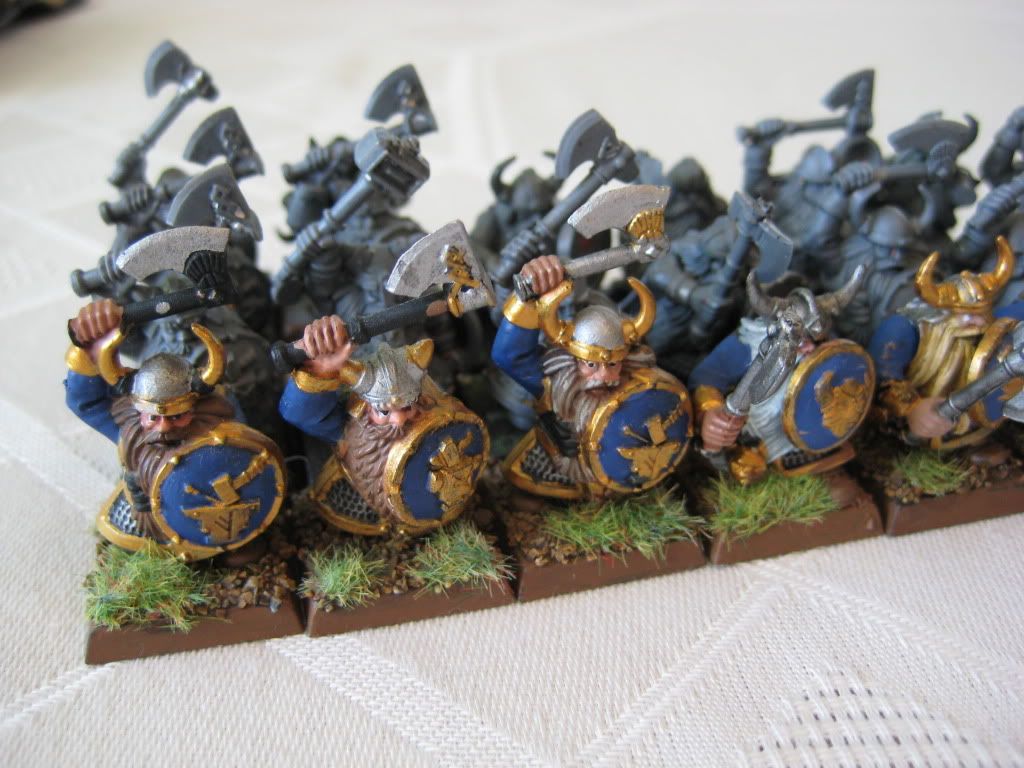 Although they are all equipped with HW and Shield I was thinking of making a few unit fillers which consists of Dwarfs handing out GW's from a big barrel int he center to show that they are ready for anything!
Possible start for such a Unit Filler: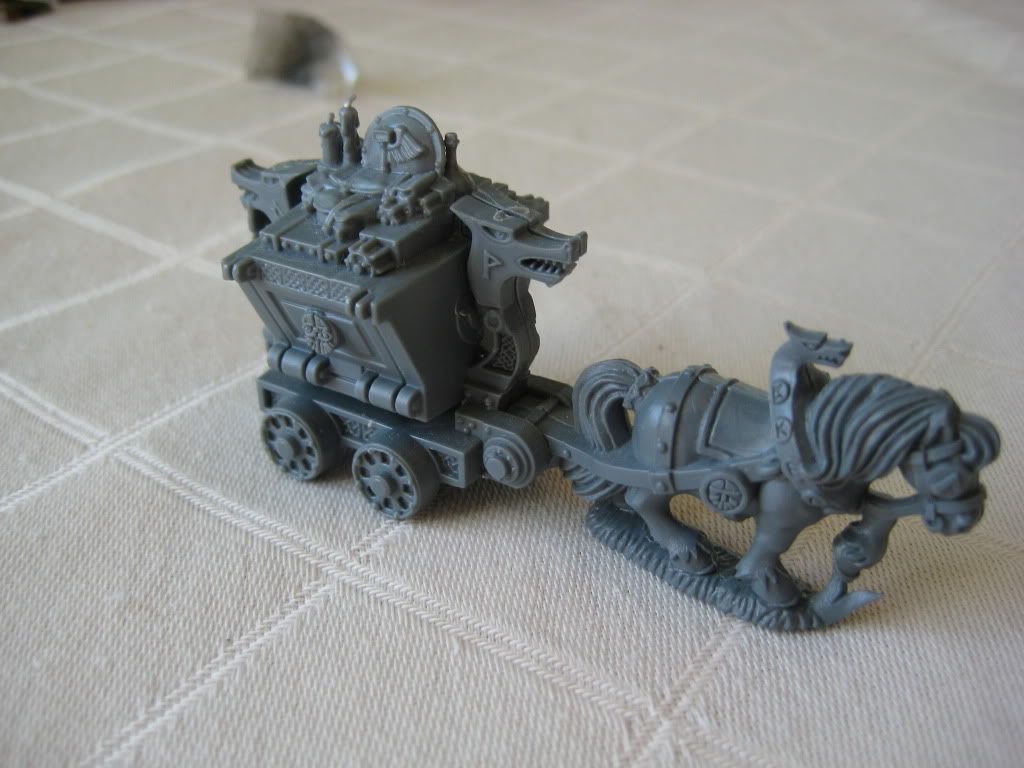 Miners: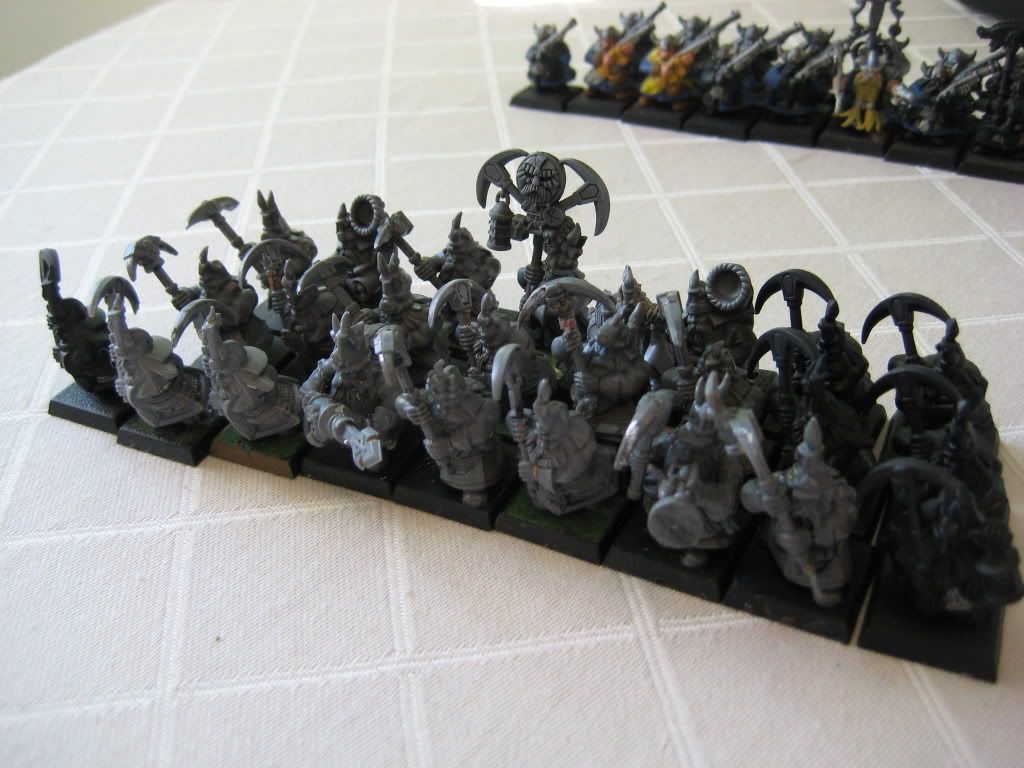 Longbeards (but will combine with normal Warriors if needed):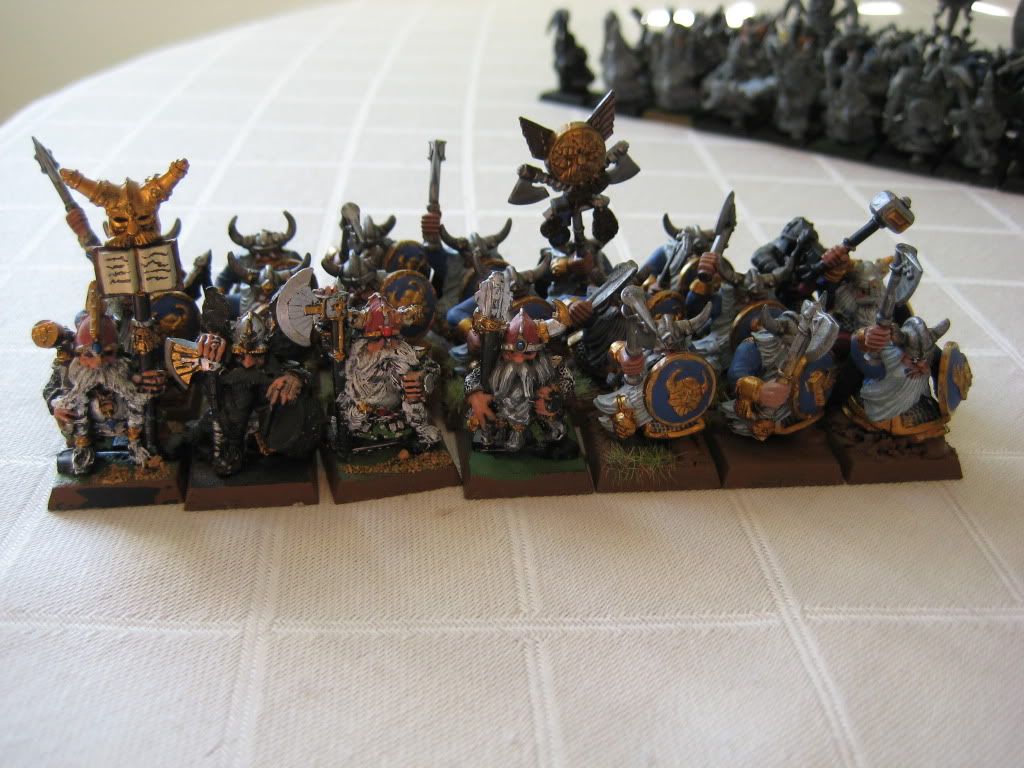 Thunderers: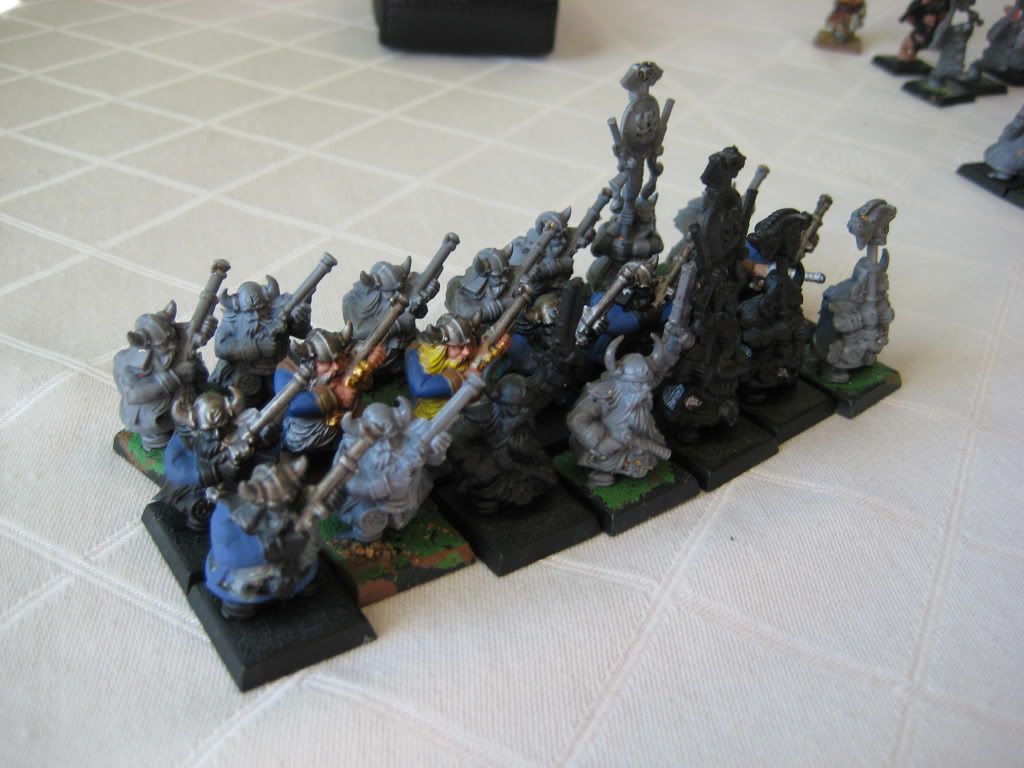 Quarrellers: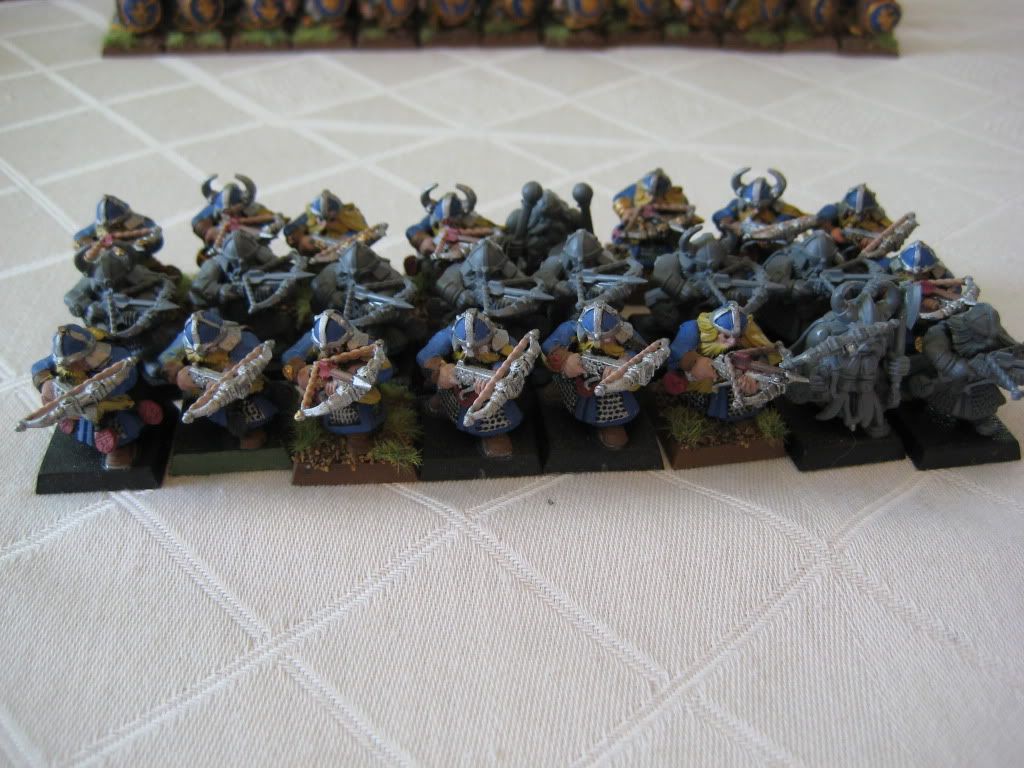 Crappy, broken and probably last on my list to do Gyrocopter: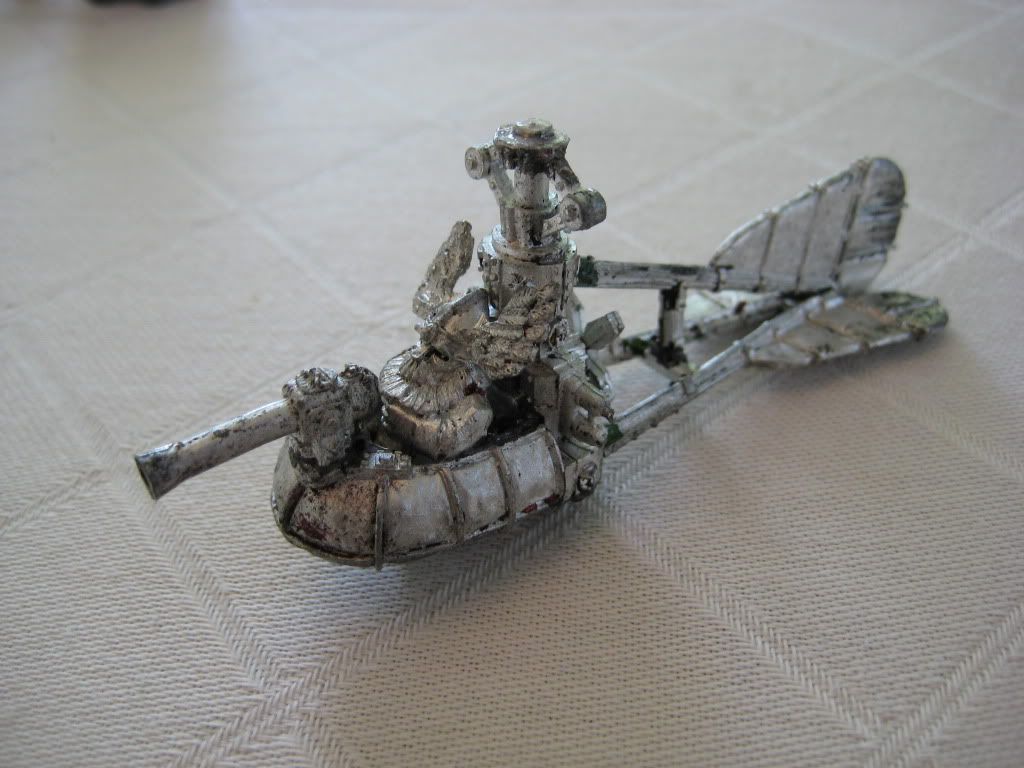 My Favorite unit =D, a mix of warriors from different editions to use as my rangers. To show that they have lived a long time away from their tunnel dwelling brethren.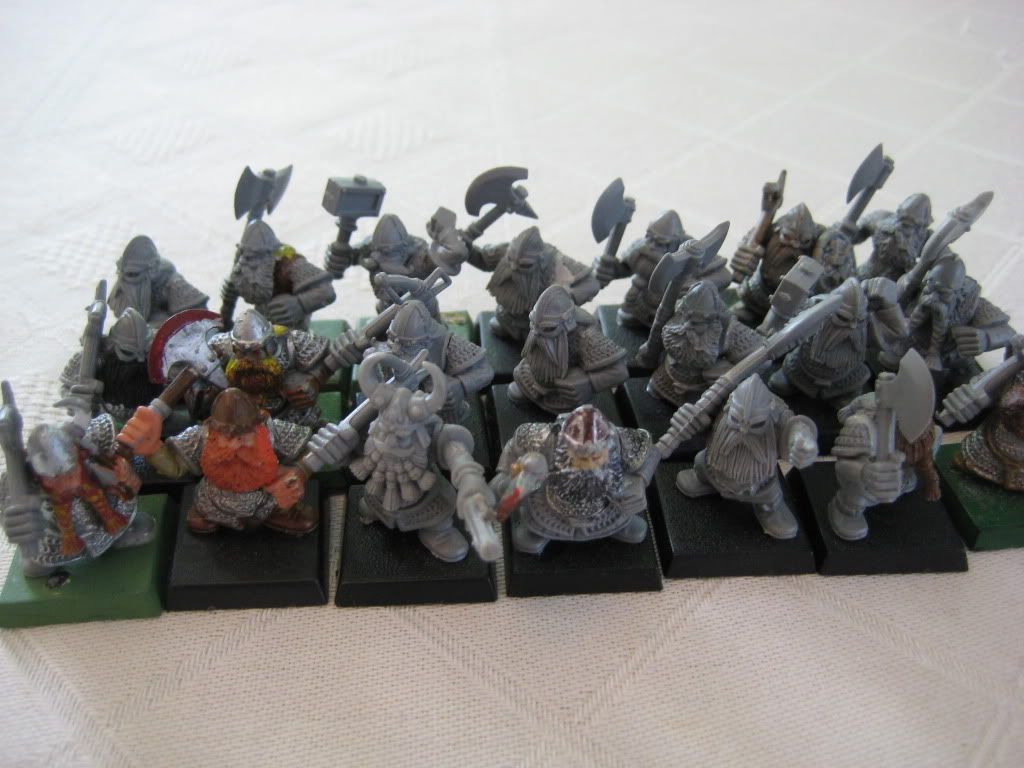 Hammerer Unit: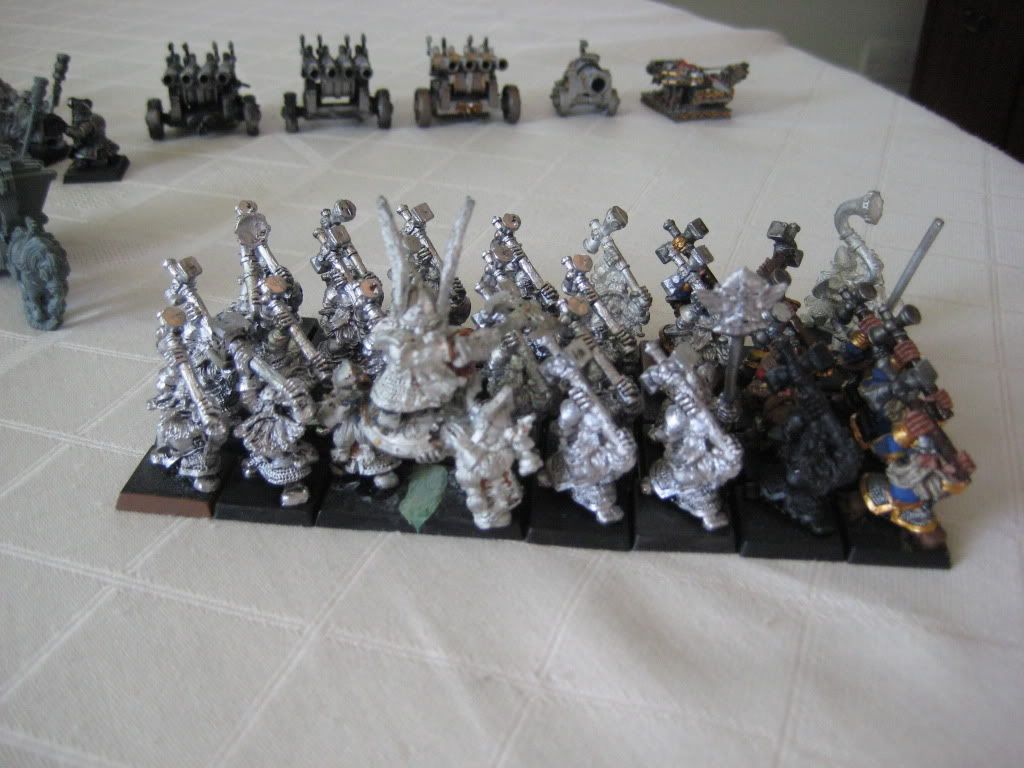 My Artillery (will get a stone thrower as soon as I can):
And finally everything that I need to base and spray before I start the whole washing/painting technique: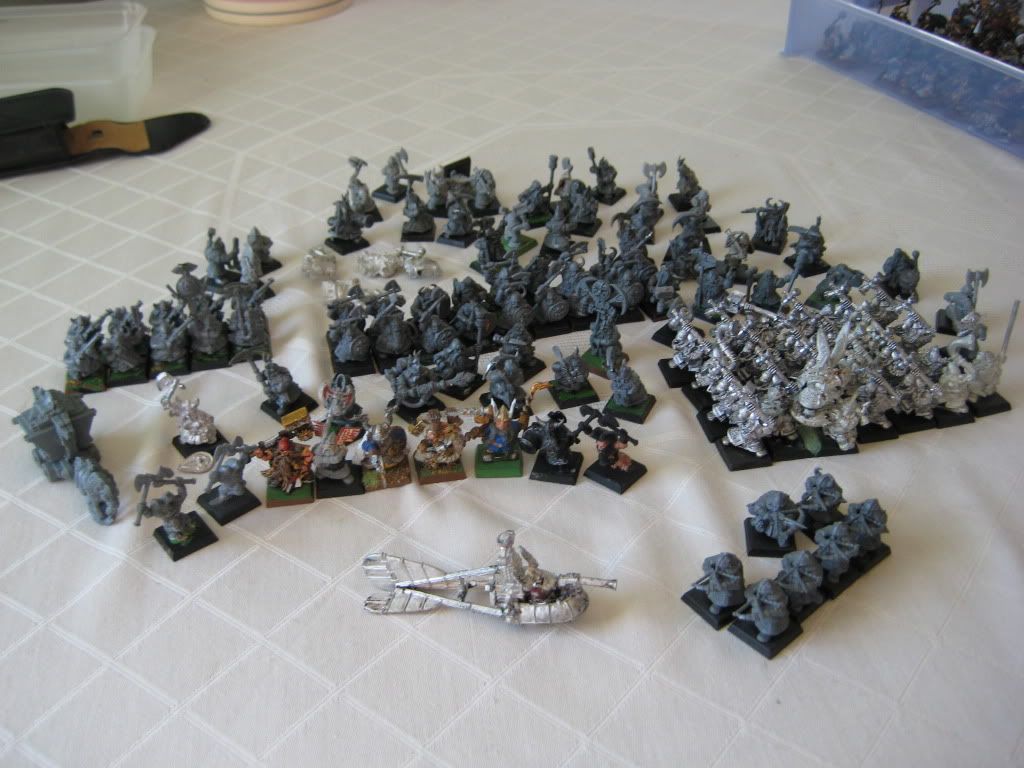 Not much eh?
Anyway, sorry about the picture overload but this will be good for me to see how far I have come
Any hints, tips, advice et al will be gratefully appreciated as always and I hope to do this project justice!
A bonus pic of who was trying to tell me to hurry up and pay attention to them!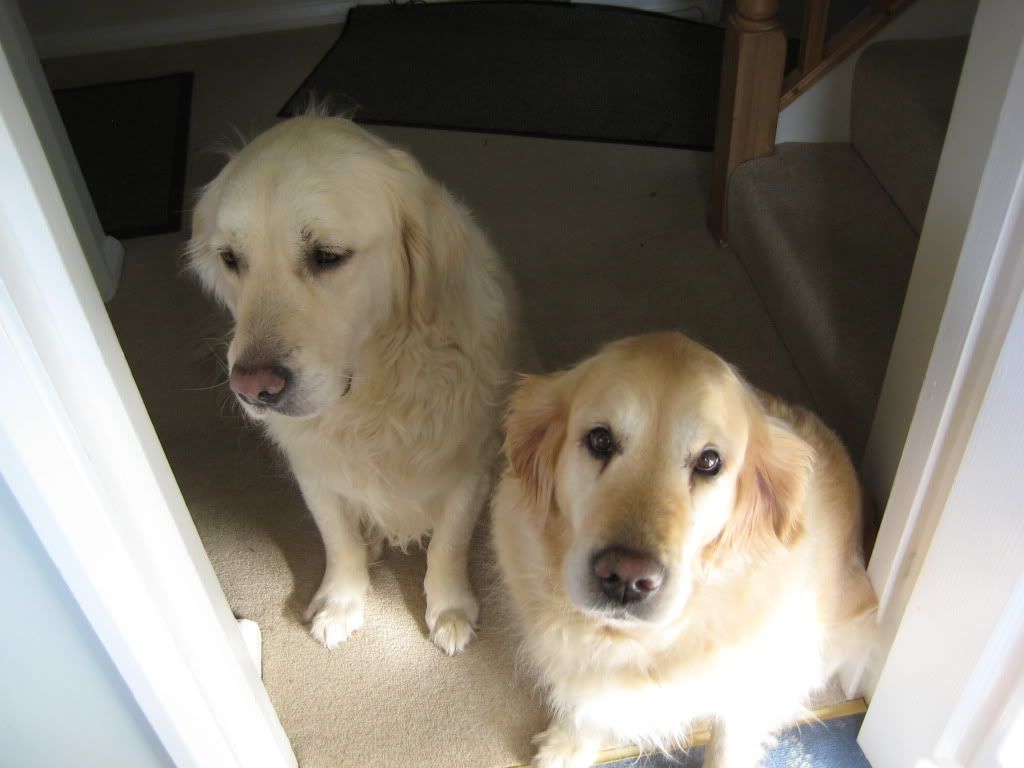 Peace!
---
Love the dwarves.
They were my first (uhh first 4 rather) army. :D
I see one huge flaw thou. No Ironbreakers!!
Gotto Love those iron cans :D They saved countless battles for me.

I´ll leave the painting feedback to the more experianced painters here on Heresy,
but overall I think it looks good ;)
---
Thanks for the feedback, much appreciated
I have the grand total of 5 yes five Ironbreakers, after the Grudge Thrower I will start getting them or Slayers if I find that the Long beards will be a good a enough anvil. Only time will tell!
---
nice start, i love the dwarf fluff.
---
Quote:
Originally Posted by neilbatte
if you squint the Sigmar stuff doesn't all look like the love children from a Necron and Blood Angel orgy.
---
Update! Finsihed the basing on my Hammerers and the Lord. Pretty happy how it came out, know more so I can do better next time
Sorry for the pic quality - pretty dark here and I know I would forget tomorrow.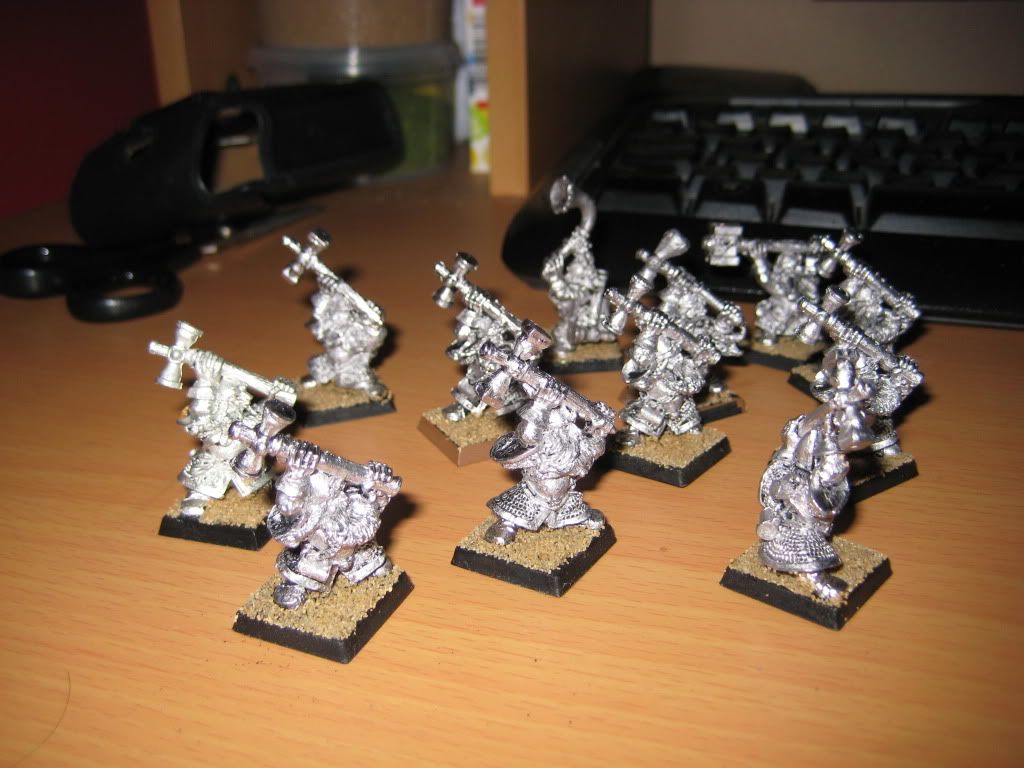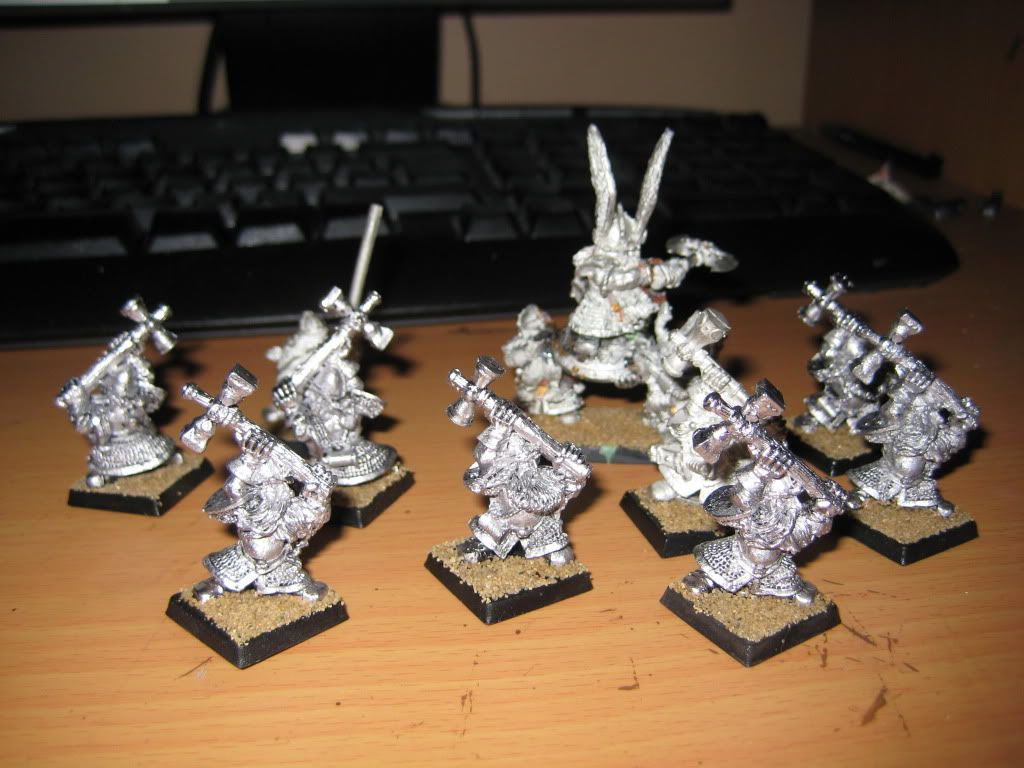 ---
A Wild Update appears! Sparros uses Post! Its Super Effective!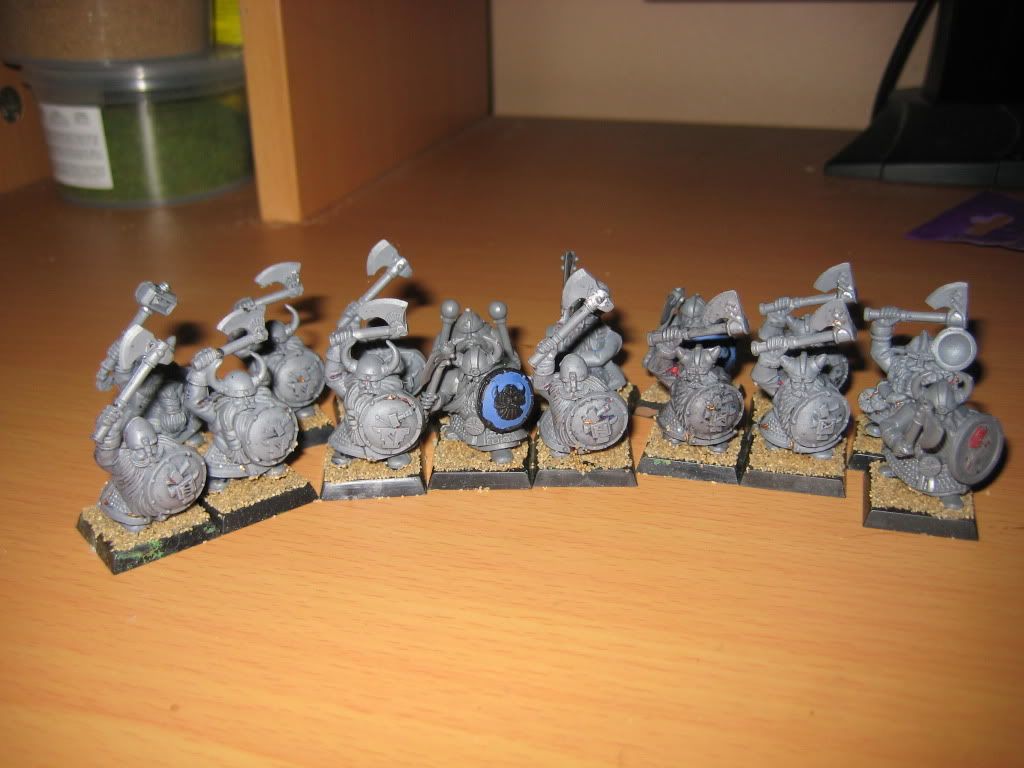 Same again but with my Warriors. Had to fix a few of their broken arms, hence the partly colored shields. Hopefully with my 3 days off now I can get the rest of my "to-do" list based so I can get some more interesting pictures full of color and puppy dogs! Well maybe not the puppy dogs...
---
looks like your making great progress, look forward to seeing more painted.

def more pics of puppy dawgs, i have the same problem sad eyes looking at me with my 3 adorable spaniels.
---
These are going to look impressive once they are all painted.

As for sad neglected pets, if it's not dogs it's cats. Mine has taken to sitting on a spare chair next to me when i'm painting to make sure i'm doing a good job. Morover if i spend more than 3 hours painting he'll decide that the painting table looks like a comfy place to lay down.
---
ROFLMAO GrimzagGorwazza, dont they just have great insight!?
---
Quote:
Originally Posted by neilbatte
if you squint the Sigmar stuff doesn't all look like the love children from a Necron and Blood Angel orgy.
---
After a movie I had two choices; Indulge more movie goodness or base another unit to make a hat trick of updates! With 10 mins to spare I make it...just
Same boring stuff, hopefully get the rest of it done tomorrow to get on to the more interesting stuff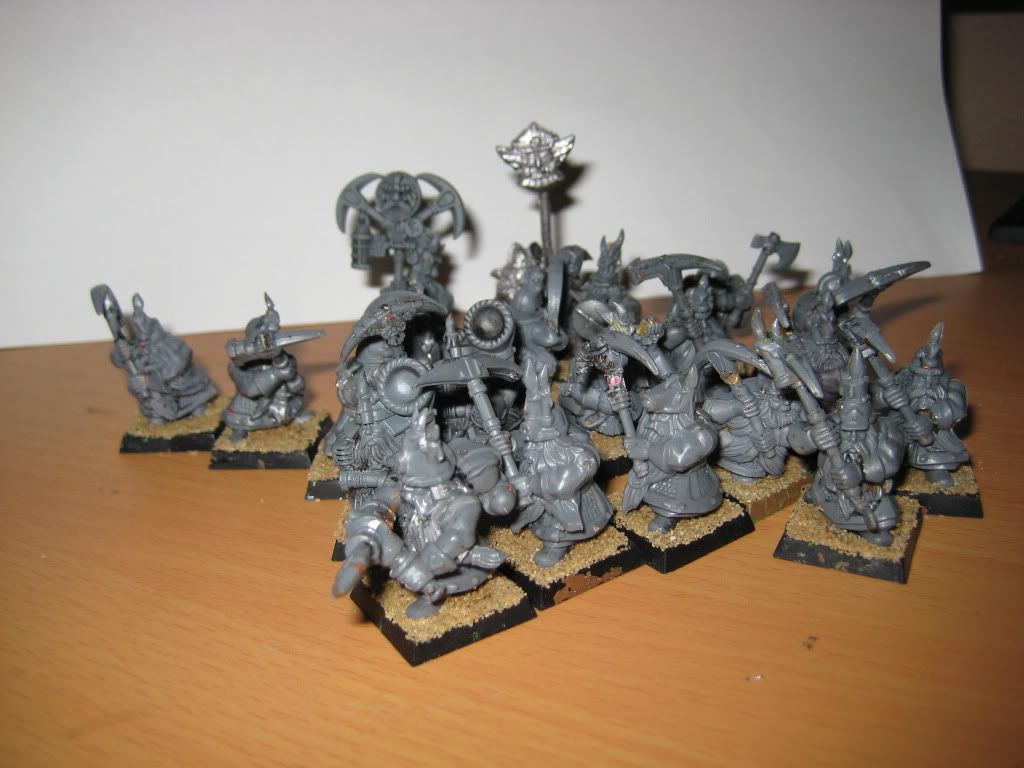 Lower Navigation
The Hold of Karak Sparoc.