SGMAlice's New WAAAGH!! Project Log, Now With Extra Loyalist!
---
Hey Guys,
Just had some Models thrown at me by a friend of mine who is new to 40k. Sweetly asking me to paint them for her.... As if I don't have enough to do
Seen as I haven't shown any of my work here I figured I'd start a Log and see what you guys think.
Please bear in mind that my weapons of choice are the Pen and Pencil NOT the Paintbrush so don't be expecting too much
A rather poorly painted Ghazghkull Thraka and a MegaNob are first up. Due to the fact that she got them from Ebay and I have only just decided to do this Log; I have already given them a bath of Dettol and have no pictures of what they were like. Suffice it to say they looked as if they had been dunked in a few pots of paint and left to dry.
The Bath: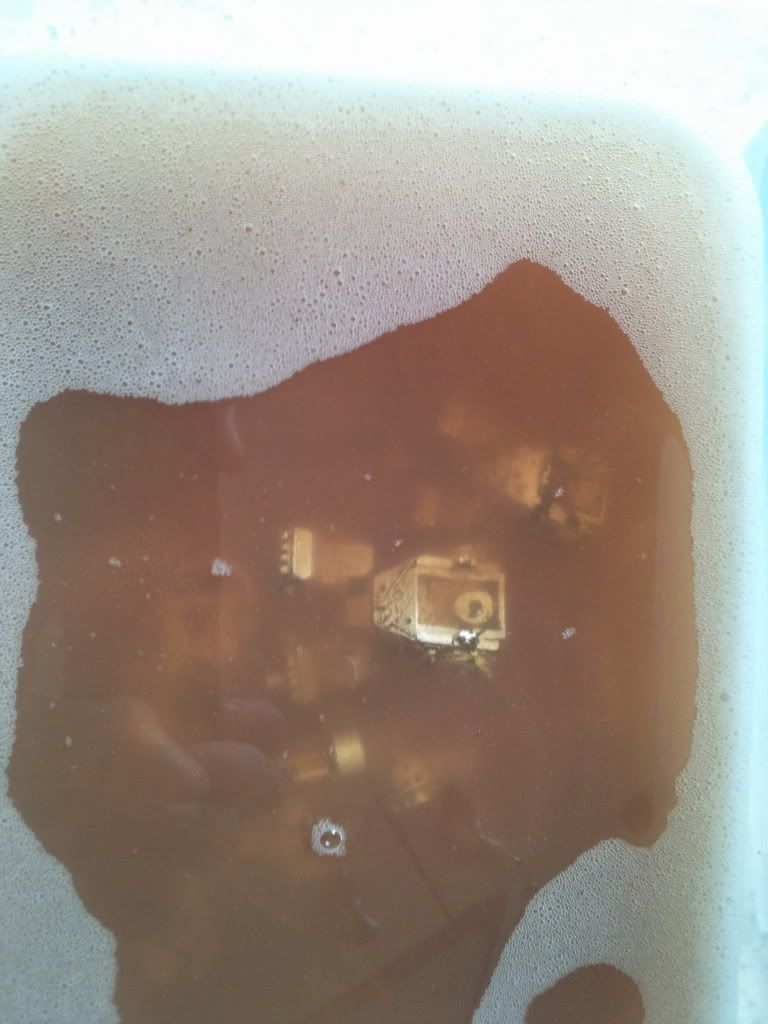 Nastyness!! It turned a wrong shade of brown and the paint was all gooey
I'll show you what it did to the toothbrush I used to scrub them:
Not pretty! Looks like some one has been brushing their teeth with Tar
I was also forced to use one of my leather needles to pick at the detailed spots as toothpicks had no effect, they gave it up as a lost cause and broke.
This is the result of 12 hours in the Dettol and 3 hours or so of scrubbing and picking at them:
Its the best I could do given the circumstances. And now I am more Prune than Woman.
I made quite the mess and was berated for it
Needless to say I jumped to cleaning it up quick smart
As an intermediary I'll show you what I have painted so far. I was given Fifteen Nobz! And an AoBR Warboss.
I have done the Warboss and four and a half Nobz so far: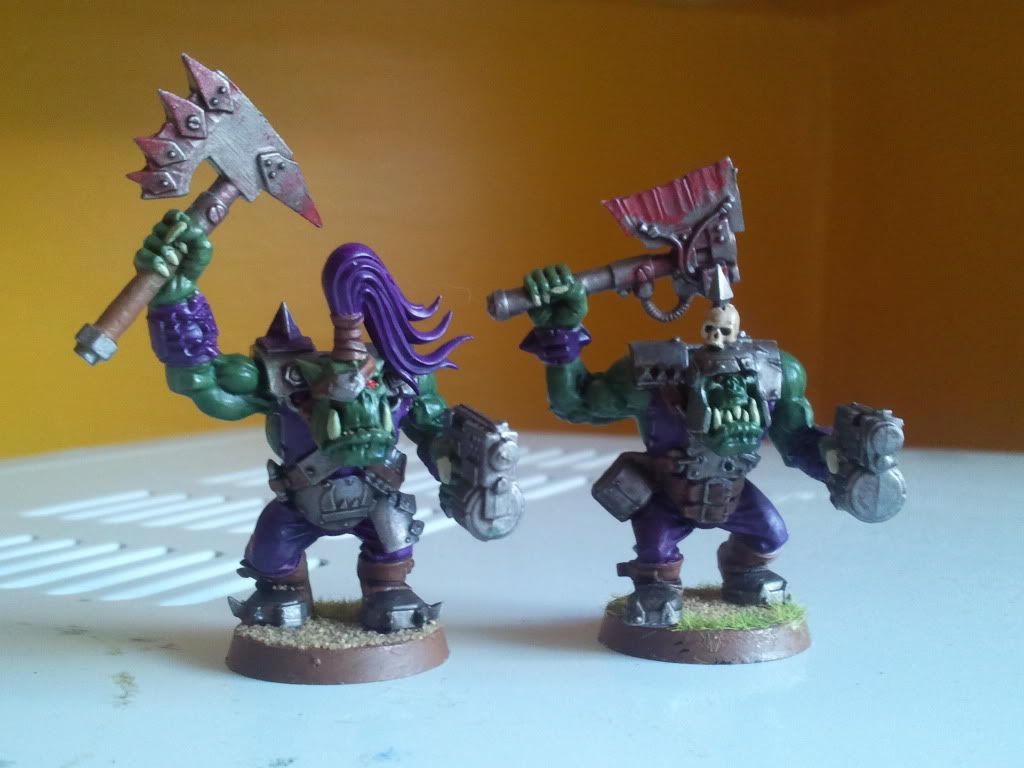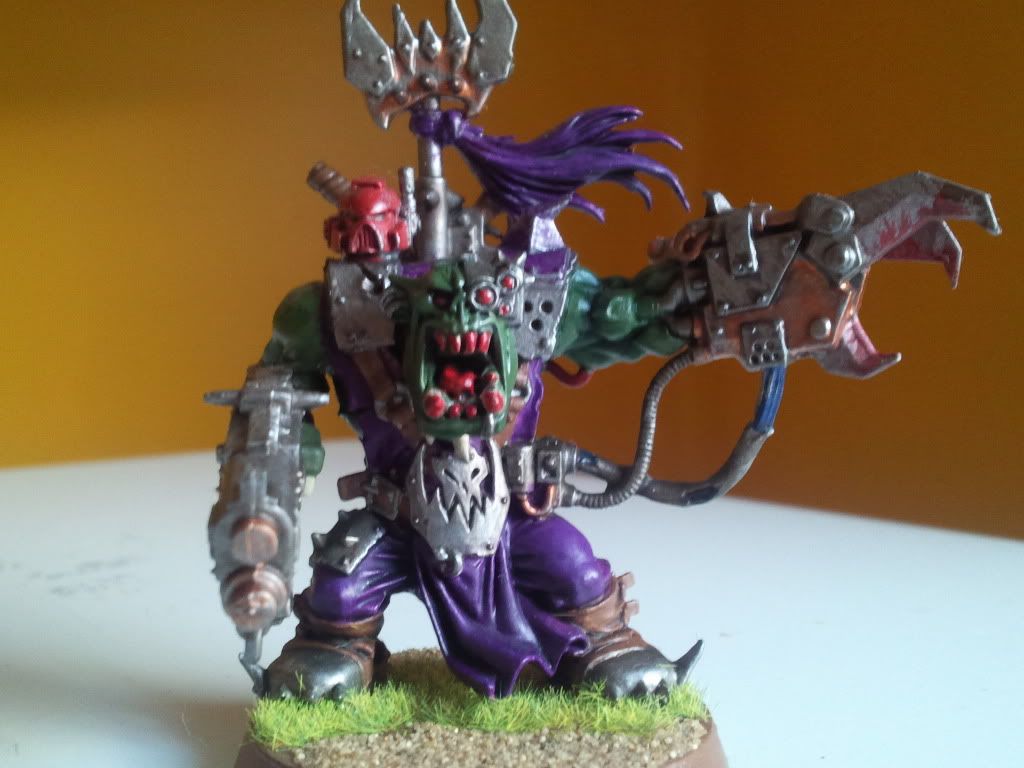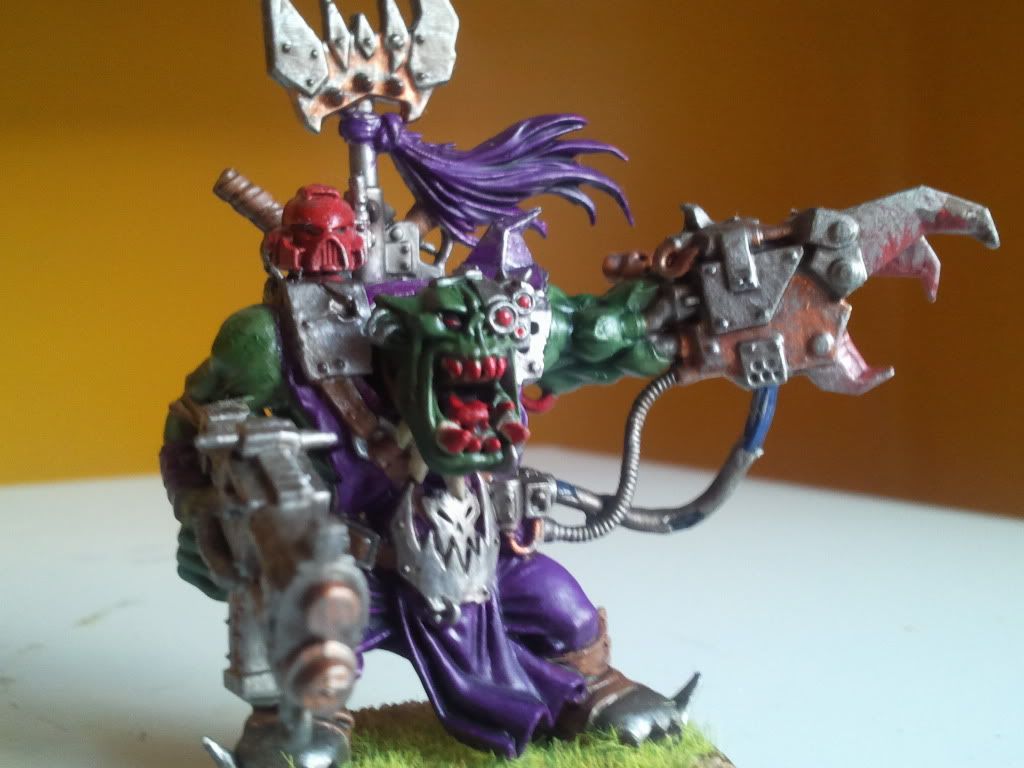 Instead of the skull that was already there I've put a severed BA head on the shoulder of the Warboss. Little room for conversion here i'm afraid as my friend wants them pretty much standard for now.
C&C (Of any type) Welcome
SGMAlice
---
---
Last edited by SGMAlice; 10-22-10 at

01:51 PM

.
---
I will be following this
Pen and Pencil bah! Good all the same
---
Quote:
It's called a meltagun because "microwave over gun" is retarded
Things a Guardsman would say
" Why do the Orks have one of our Basilisks?"
" Quick get that spotlight over here if our lasguns can kill then that mean's it must be a template weapon!"
" Lighter, X ray, tanning machine dang weres the kill setting on this lasgun?"
---
Cool.
I'd like to see your work.
---
---
I like the purple orkage! Very crisp and clean... waaagh on!
---
Life is all anatomy lessons and paint brushes
---
Nice to see a variety to the normal colour schemes you get, nice work!
---
Somewhat less criticism than i was expecting
I have a thing for the colour Purple.
Thanks guys
SGMAlice
---
---
If you want criticism, then I guess I don't like the teeth, but I'm boring and prefer normal bleached bone
That's about it for criticism lol
---
As long as you keep the skin
green
, you shouldn't get any crap outta me.
---
---
Yeah, i was thinking that, even though i see them everday they don't look right in the pictures; Just the light or something? Maybe i'll re-do them...
I attempted a blood caked, SM entrail chomping, set of gnashers for him.

SGMAlice
---
---
Quote:
Originally Posted by
OrkByTheGraceOfGork
View Post
As long as you keep the skin
green
, you shouldn't get any crap outta me.
Orks are
green
. why would anyone do anything different? None
green
Orks? Eww!
SGMAlice
---
Lower Navigation
SGMAlice's New WAAAGH!! Project Log, Now With Extra Loyalist!