Stuff's dealings with Chaos.
---
I have recently been getting back into warhammer with a couple of mates (played a bit while i was in primary school), i feel my hobby skills have improved since then and as no one gets to see my models apart from my two mates i thought I'd post a log here.
To save myself some cash as i don't have much, I have taken some of my old models and stripped the paint off them and done some conversions and painting.
I am base my army around thousand sons and plague marines (an odd mix but I like the models). I don't really like the thousand sons sorcerer mosel so i have converted one using my old cypher model:
I filed cypher's head down and then drilled his kneck out a bit using my dad's power tools. Painted him the other evening:
My painting I am pretty pleased with considering i am just getting back into the hobby and lack much patience. Any advice on how to improve would be much appreciated!
And now for my Nurgle daemon Prince! I stripped the paint from an old cave troll and add made him a new head with a gas mask sort of thing, a bigger belly with some guts showing and some boils forming the nurgle symbol. Here he is so far: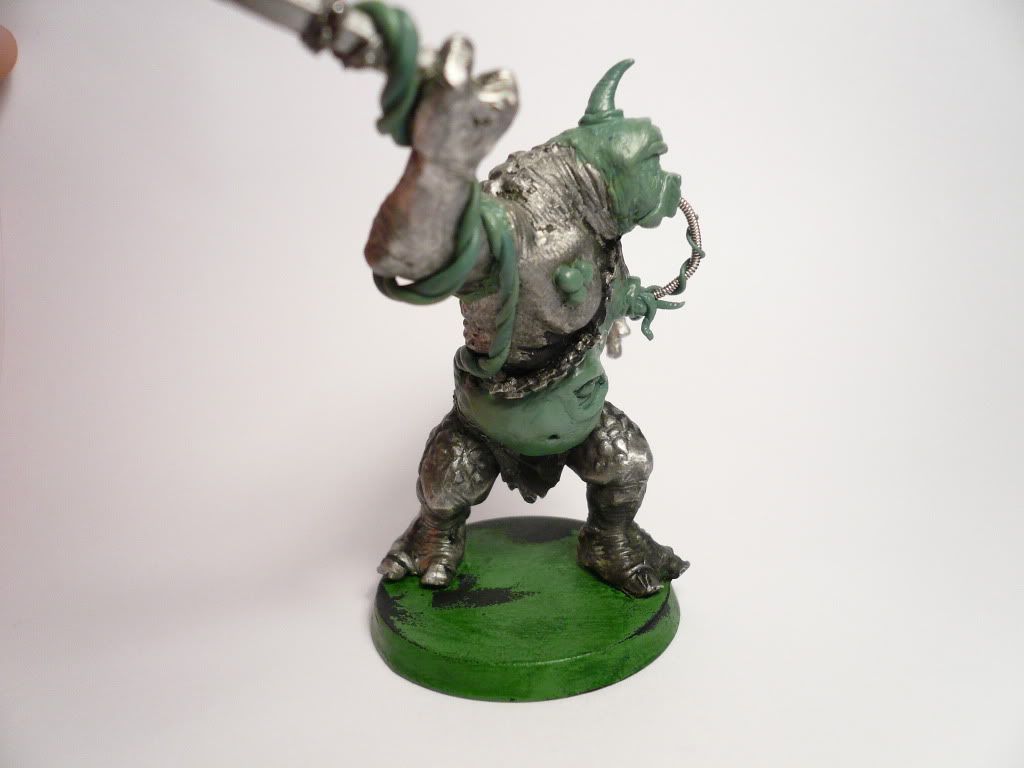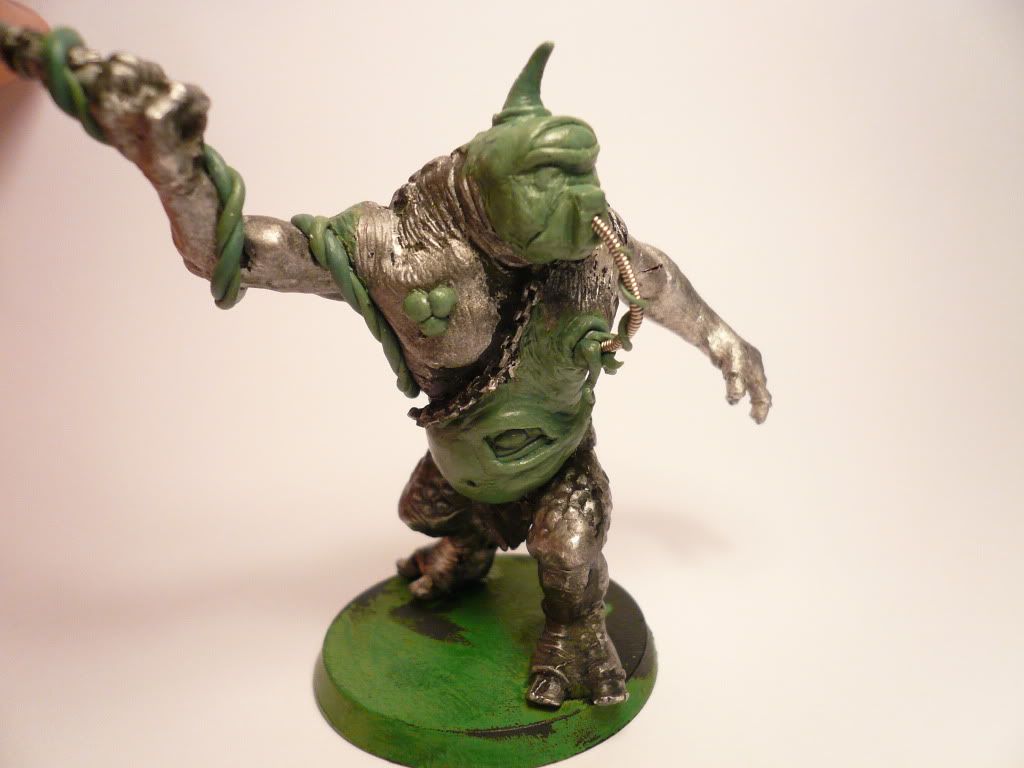 I am rather impressed with how he has turned out so far considering this is my first encounter with green stuff! I have to say the guides here on heresy helped A LOT for me as a beginner. Any crit. would be appreciated here too. I ordered a pair of "winged nightmare wings" to add to him also.
That's all the pics I got so far but i am nearly finished my first unit of thousand sons so you might see them up here tomorrow or the day after!
What I have and will start painting soon:
-2x Obliterators (hopefully a couple more soon!)
-unit of chosen with 4x meltaguns
-unit of death guard
What i have and hope to re-paint:
-Land raider
What i am still to buy and paint:
-another unit of deathguard
-another unit of thousand sons
-rhinos for my troops
-more obliterators
-unit of flamer chosen
---
awesome conversion work! I envy your greenstuffing skills. The Cypher conversion looks great, and so does the paintjob
---
Quote:
Remember to use the BRB not the SRB from black reach... makes for a much better implement of physical enlightenment through repeated smacking on the head.
Quote:
Ah... the simpler times of the 1960's. When pedophilia wasn't frowned upon.
"Thou shalt not invite a Banshee to Karaoke"
Great Unclean One
Join Date: Jun 2008
Location: cavorting among Grandfather Nurgle's entrails
Posts: 2,611
Reputation: 42

---
As a devoted follower of Father Nurgle myself, I feel obliged to rep you for a worthy Daemon Prince conversion
Is that a 40mm or 60mm base? Part of my brain tells me that Monstrous Creatures should be on 60mm bases, but I could be wrong; if you end up using a 60mm base, though, I'd strongly recommend adding a couple of Nurglings to the DP's base to add flavour - I mean, who can resist them? They're so
cute
By the way, I'm intending to produce a tutorial on making Nurgle Obliterators in the near future...keep your eyes peeled...
Member
Join Date: May 2010
Posts: 70
Reputation: 1

---
Meh..... i could do better
jk, your green stuff skillz are pwnage!
Powered by Squig Tea
Join Date: Jan 2007
Location: In da Toolz cupboard in da Mekshop
Posts: 7,589
Reputation: 53

---
Nice bit of recycling going on there.
For a first attempt with GS that DP is very good indeed. The mask is a great idea that I will be purloining when I use a plastic Troll that I have stashed for the same purpose.
Keep an eye out for Svartmetall's tut when he posts it, it will be well worth the wait.
---
Nice modeling and painting!
@Svartmetall: I have alreadt peeled my eyes in anticipation!
---
For just getting back into painting that Sorceror looks ace! Love the energy effect on the sword, very cool.
The Cave Troll conversion is flipping awesome, I'd not thought of using Trolls for Daemon Princes. Might have to give that a go at some point in the future. If you're having trouble with a 60mm base for the Prince, just drop me a PM btw as I've got a couple going spare.
Have some rep.
---
surprised at everyones positive reactions! cheers guys! 40mm base i think, I don't have a 60mm base but I'll try find one, if not i may take you up on your offer Vredesbyrd!
as for the nurglings, how would i go about magnetising them and where would i get em? on gw website?
cheers for the rep! thousand sons unit will be up tonight
---
GW Edinburgh should have Nurglings on the shelf, but otherwise yeah you can get them from GW's online store, or from someone like Maelstrom Games.

I've no experience of magnetising myself so I'd not know how to go about doing that, but if I remember correctly some of the Nurglings come with pegs on them, just like the legs on larger metal minis, and if you make the right sized hole in the base you could just that to secure them.
Lower Navigation
Stuff's dealings with Chaos.