ElTanko's Mix of Marines
---
This will be my General plog of everything I paint, and they will pretty much be all Marines of some kind (Loyal and Chaos).
So anyway lets kick things off with my favourite model of all time:
CHAPLAIN GRIMALDUS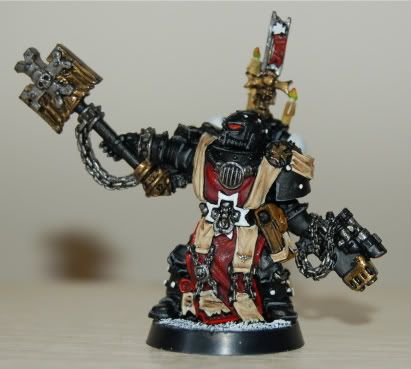 Retinue: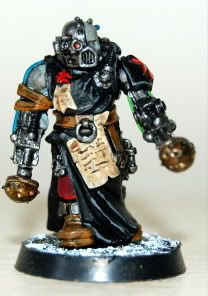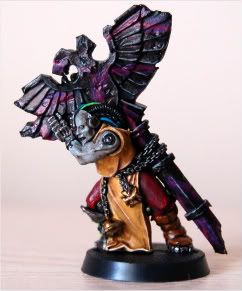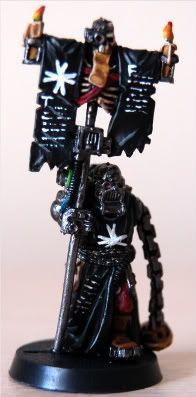 Group Shot: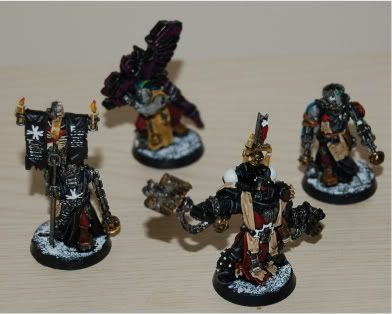 C+C as always
ElTanko
Angryman
Join Date: Aug 2009
Location: A wretched hive of scum and villany. Actually PNG. Goddamn this place is a shithole.
Posts: 4,304
Reputation: 22

---
Nice work, i like grimaldius and the first servitor the best(i am allways on the lookout for more cyborgs to add to my inq/renegade admech troops.)
Got any more?
rep
---
Sanity is for the weak.
'Evil will triumph because good is dumb.' Dark Helmet,Spaceballs
According to LUKEVALENTINE's test i am a diciple of khorne. Figures really.
---
Thanks Shaantitus, they are very cool models, if a bit odd!!

I have no more servitors, but plenty of Templars and others to follow!

ElTanko
---
Nice work Eltanko!!
---
I love it. Black Templars have always helda soft part in me, so im glad too see that someone is posting Project Logs of them! Have some Rep EITanko, and keep up the good work
---
Nyctophobia- Fear of the Dark Angel.

"No one ever spoke about of those two absent brothers. Their separate tragedies had seemed like aberrations. Had they, in fact, been warnings that no one had heeded?"

'Killing a man is like fucking, boy, only instead of giving life you take it. You experience the ecstasy of penetration as your warhead enters the enemy's belly and the shaft follows. You see the whites of his eyes roll inside the sockets of his helmet. You feel his knees give way beneath him and the weight of his faltering flesh draw down the point of your spear. Are you picturing this?'
'Yes, lord.'
'Is your dick hard yet?'
'No, lord.'
''What? You've got your spear in a man's guts and your dog isn't stiff? What are you, a woman?'
---
Looks cool, Grimaldus looks cool, and I have to agree with DA on the Black Templar part, and have some +rep by me too.
---
Thanks guys, I shall try and post some more inthe next few days for your (hopefully) viewing pleasure
ElTanko
---
As promised, heres a few more pics. Its a Sergeant from my custom SM Chapter the "Shadow Panthers"
VETERAN SERGEANT ULGHAST VELLANDEROS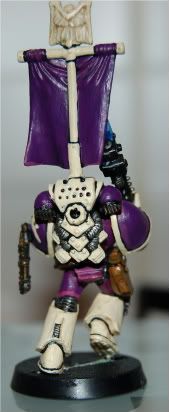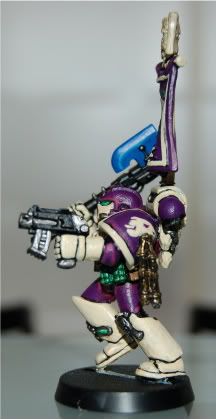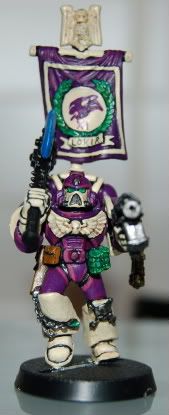 Now there is a whole background about this guy. And I have only just decided how to base this army, its taken a while!!
C+C as always
ElTanko
---
OK, not much love for the Shadow Panthers
Lets give these guys a go, an army I am painting up for a friend.
The EMPEROR'S FISTS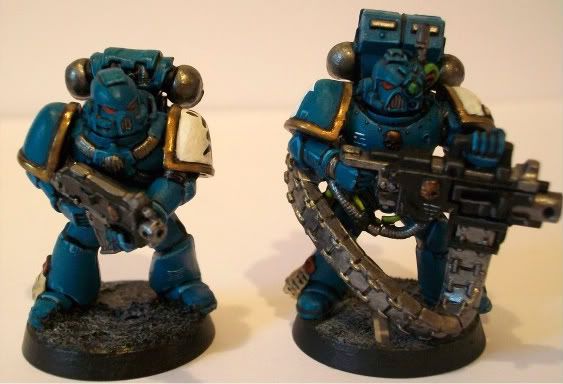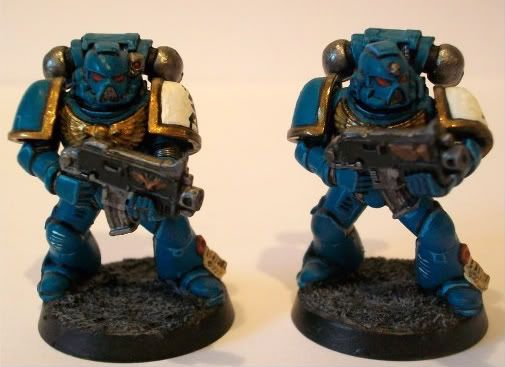 C+C as always
ElTanko
---
Looking good. I think I'd paint the other shoulder pad white on your friend's marines. That'd help break up the "Ultramarines with a single white shoulder" thing a bit, and make them seem more unique. It's odd what the smallest changes will do. But yeah, as it stands, they look like Ultramarines... might want to change them up just a bit more to make them more distinctive.
---
IN THE US? ASK ME HOW TO GET 10% OFF GAMES WORKSHOP PRODUCTS!


Lower Navigation
ElTanko's Mix of Marines