Ork Deathskull Waaagh! by piemaster
---
This is a log of my Ork Deathskull warband.
Background notes:
They are all part of the Deathskulls clan and all sport looted imperial equipment. The three mobs that are painted I tried to give a rag-tag appearance with a limited colour pallet. The entire warband has the same basic colours and each squad has another unique colour (until I have more mobs than separate colours
) - I put this down to different mobs looting from the same enemy squads, but different to the defeated squads looted by other mobs.
Anyway, I am in the middle of making Nobz from scratch. I don't have the money to buy a box of the buggers so boyz and plasticard aplenty for these guys!
I made plasticard additions to the soles of feet, the waist and at the arm-pits to give a raise of about 4-5mm. This marks them out from the rest of the boyz as will plenty of dakka and the like.
Photos (sorry for the shoddyness at times):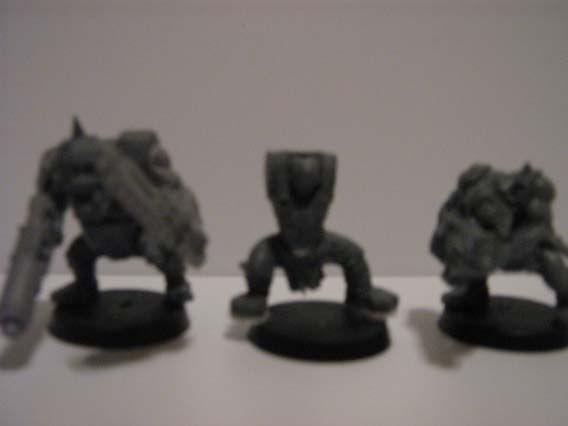 Left to right - 'proper' nob, 'DIY nob', boy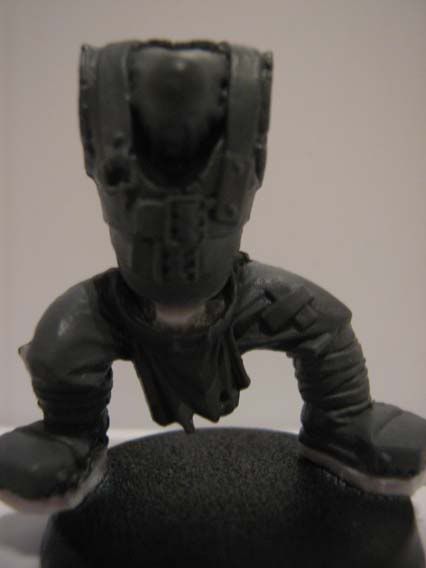 I'll have to fill in the waists with green stuff tomorrow and finish them off but for now they'll just have to wait. Oh and I threw a couple of bikes together as well a few months back...
Bigger exhaust...
That's it for now at least. I'll have to sexy up the shoota/rokkit launcher (Its actually a big shoota if I were to use it in game) as I got glue on it. I was making it twin linked in the extreme but it would have been too 'side heavy' so I took the second big shoota off. I'll have to glyph it up later on.
I realise the Nobz entry doesn't allow for big shootas - that's what the old codex is for. To hit people with and say things like "its so much better than the new one - I can't believe I paid good money for the new hunk of junk" and stuff like that. Don't get me wrong, it has its uses... I just prefer the units in 3rd ed.
That's it folks. Thanks for reading this far. I'll reward those who did with occasional updates.
Senior Member
Join Date: Oct 2008
Location: Down the road from Marty's fishing store
Posts: 529
Reputation: 1

---
looking good mate, i can see a lot of good progress on this thread, hope it goes well then...
---
Q:What is the most Ironic death do you reckon ?
A: Umm probably having a hospital land on you
For Da Boss
Join Date: May 2008
Location: new zealand, the land of the long white cloud
Posts: 2,156
Reputation: 4

---
im going to follow this thread, as you have already caught my interest with small conversions to your orks.
---
omgitsduane's # 1 Fan
Russian Winter Guard Thread
---
Well this, certainly seems interesting. I like your Bikers alot, is that a Shotgun you used the lengthen the exhaust? Nevertheless, plus rep
---
Nyctophobia- Fear of the Dark Angel.

"No one ever spoke about of those two absent brothers. Their separate tragedies had seemed like aberrations. Had they, in fact, been warnings that no one had heeded?"

'Killing a man is like fucking, boy, only instead of giving life you take it. You experience the ecstasy of penetration as your warhead enters the enemy's belly and the shaft follows. You see the whites of his eyes roll inside the sockets of his helmet. You feel his knees give way beneath him and the weight of his faltering flesh draw down the point of your spear. Are you picturing this?'
'Yes, lord.'
'Is your dick hard yet?'
'No, lord.'
''What? You've got your spear in a man's guts and your dog isn't stiff? What are you, a woman?'
---
Like dark angel said, looks interesting, and the fluff also sounds intrigueing
---
Quote:
GOLDEN THRONE: Does it include a flush? Or is that what the "custodians" are really there for?
---
Thanks guys for the comments and your enthusiasm in my project.
Quote:
is that a Shotgun you used the lengthen the exhaust?
Its the muzzle of an ordinary shoota that I trimmed off and turned upside down. The bikes aren't all that converted really but sport imperial cannisters aplenty.
I forgot to post the picture of the Nobz' big shoota - sorry.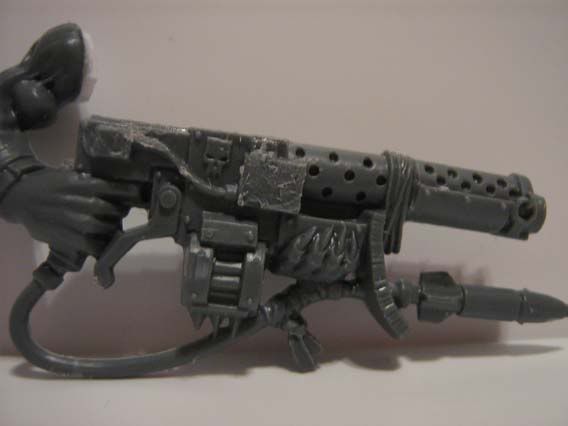 I trimmed off one of the rokkits (to be used later... never throw thingz away!) and added another shoota muzzle. I'll glyph it up on the square to the top-right of the drum magazine as poly cement melted it a-bit.
I'll green stuff it up today and perhaps be finished on this squad this evening. It was great working with plasticard but it took me >2 hours as I had to trace the appropriate sizes in pencil. Hopefully it'll be worth it.
Thanks for looking and if you guys have any suggestions on technique go ahead.
Senior Member
Join Date: May 2008
Location: Lincoln, England
Posts: 2,628
Reputation: 8

---
Some good conversions from the looks of it mate xD, maybe a hint of Green stuff to smoothern? Although with this being Orks It dosent really matter... :D
---
Looks cool, keep it up, would like to see some looted IG vehicles when you get this done ...
---
Quote:
GOLDEN THRONE: Does it include a flush? Or is that what the "custodians" are really there for?
---
@ Blackheart_101 - One step ahead of you my friend...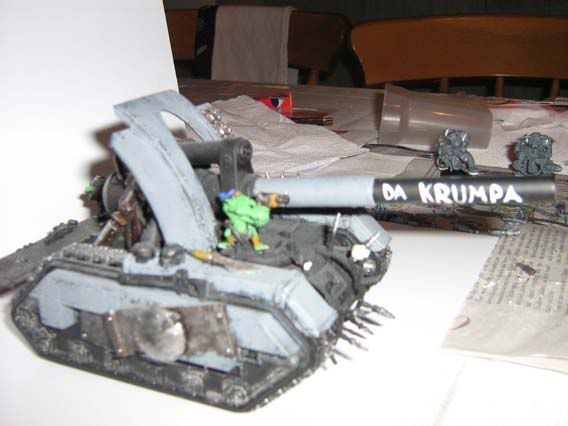 Da Krumpa got a bit damaged so I'm going to fix him up a bit (Basilisks are boys don't you know). I need to Orkify him more and do a better paint job but since its painted its at the bottom of the pile for now at least.
Thing is this isn't a new army for me. I've got ~700 points painted. I thought I'd post pics for fun really as I build the newer stuff.
I green stuffed the Nobz but ran out of time to finish them off for today. Normally I wouldn't post anything but since I was already takin' photos I thought I might as well. They've now got arms and heads. They need beefing up with shoulder pads (a few are going to have imperial tank tracks for shoulder pads and front armour plates
) and accessorising.
They're packin' 2 big shootas, 2 w sluggas & ccw and 1 w 2 sluggas (power claw counts as choppa but looks cooler and more Nobish). I'll also plasticard some daggs onto various surfaces as well.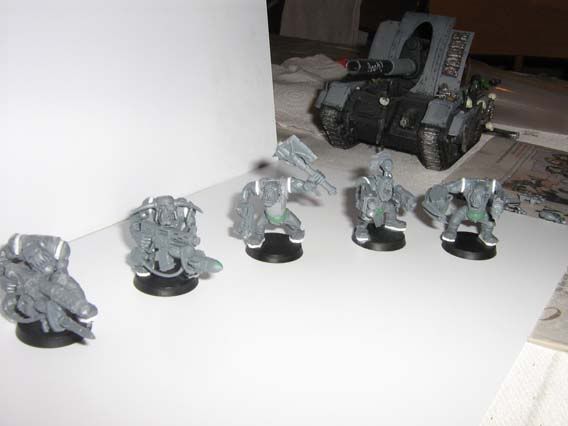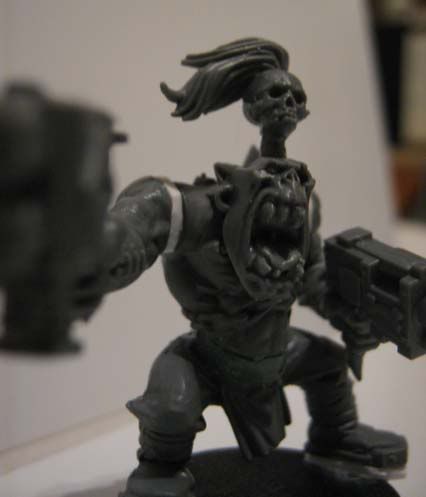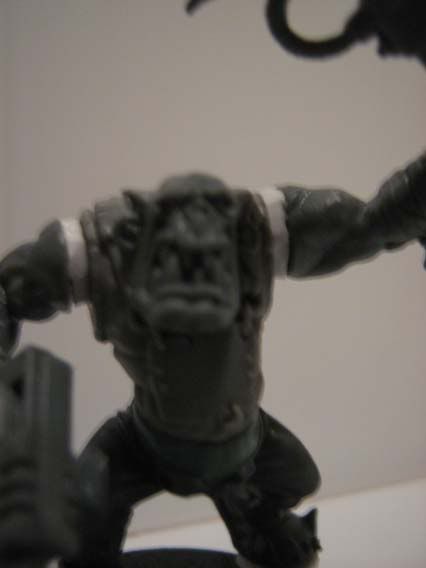 Don't know why he's got a chunk out of his leg missing. Its just the camera.
69 Reputation! Oh Yeah!!!
Lower Navigation
Ork Deathskull Waaagh! by piemaster