hive fleet Vorropohaiah
---
so, as though big marines and millions of orks werent enough... i finally got my space hulk genestealers assembled and with the new tyranid codex looming over the horizon i thought id go back to my original army for 40k, which i had started over 15 years ago with the release of the 2nd edition 40k tyranid codex (first proper army list for them after the black codex from the 2nd edition boxed set).
im excited by the idea of all warrior armies as that has always been my wish after first seeing pis of the current plastic warriors which i still think are some of Jes goodwins finest to date. and that got my creative juices flowing (steady :p) so painted up some spare gaunts i had lying around:
theyre painted exactly the same way as my last tyranid army, but instead of scab red/tentacle pink decided on hawk turquoise and ice blue, which makes for a nice cold army. black armour and purple /flesh skin finishes off the look, with a 'snow' base (well, whatever GW thinks passes for snow at least...)
next on the list are:
im still unsure about the base rims. i was thinking about my fave - scorched brown, which is a pretty cold colour (add bleached bone and it turns purple so should fit, in. though im not too sure. for the time being ill leave them black.
C&C welcome, thanks
---
Last edited by Vorropohaiah; 11-05-09 at

06:19 AM

.
---
The snow looks ace. leave it as that.

Space hulk brood lord \m/
Senior Member
Join Date: Oct 2008
Location: Down the road from Marty's fishing store
Posts: 529
Reputation: 1

---
nice work mate i cant wait to see that carnifex painted up, whats the next part of this army gonna be?
---
Q:What is the most Ironic death do you reckon ?
A: Umm probably having a hospital land on you
---
probably the broodlord - after assembling him i love the pose and the size is a lot larger than i expected too
---
Love the colors, very unique. +rep
---
Currently Playing:
Warhammer 40k: Dark Eldar - Chaos Daemons - Sisters of Battle
Warmachine/Hordes: Retribution of Scyrah - Circle Orboros
Malifaux: Outcasts - Neverborn - Resurrectionists
- - -
If war is ever lawful, then peace is sometimes sinful.
- C. S. Lewis

---
heres my first custom tyranid:
Warrior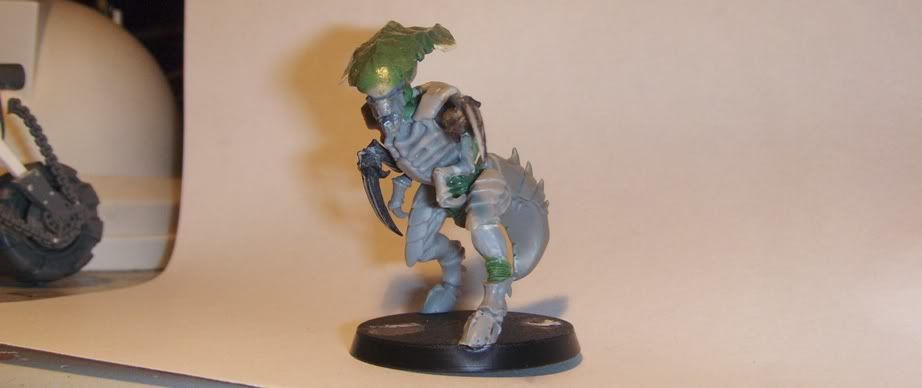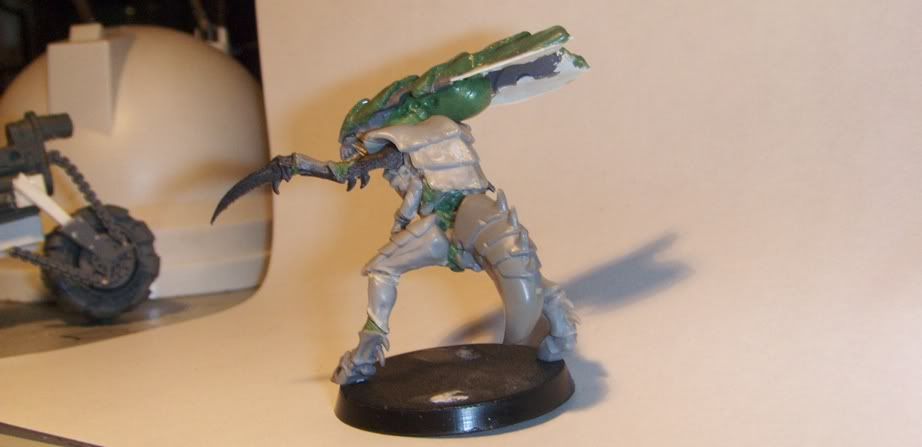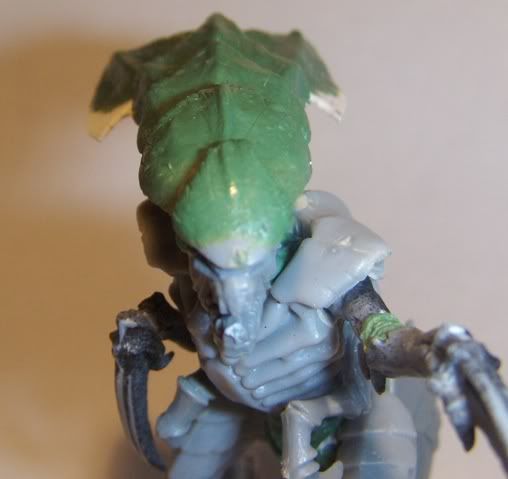 warrior body, tail is a carnifex crushing claw
, talons are from a hormagaunt (both the upper and lower ones). head is a warrior head and prow from a dark eldar jetbike. legs and arms have been repositioned and GS used to fill in the gaps. head still needs some work (mostly the neck). once i get my supply of hawk turqoise i can get started.
also, i have no idea what this would be in game. maybe an HQ warrior or it could counts as one of the newer units? who knows... i plan on makeing at least 3 of these (and possibly more normal warriors with the crushing claw tail, which i love!)
---
Last edited by Vorropohaiah; 11-05-09 at

06:22 AM

.
---
I love the big wasp-esque tail, it looks great. I'm really unsure about the arms however - the head is massive and the arms look so weak in comparison. A bit like a T-Rex!
---
---
I think you should go with the bases as they are. I like the black as a good contrast with the white.
Nice tyranid warrior you got there (and the waaagh! you got going in the background). Looks suitably like a HQ choice to me. Thumbs up!
Lower Navigation
hive fleet Vorropohaiah