---
Quote:
I love the big wasp-esque tail, it looks great. I'm really unsure about the arms however - the head is massive and the arms look so weak in comparison. A bit like a T-Rex!
think of it is a psychic tyranid - so powerful it doesnt need arms. kinds like something they already have ;) ill probably use the three of these i make as zoanthropes
Quote:
I think you should go with the bases as they are. I like the black as a good contrast with the white.
Nice tyranid warrior you got there (and the waaagh! you got going in the background). Looks suitably like a HQ choice to me. Thumbs up!
lol, thats for another log once it gets finished... my wazdakka model
---
Quote:
think of it is a psychic tyranid - so powerful it doesnt need arms. kinds like something they already have ;) ill probably use the three of these i make as zoanthropes
Fair dos Vorro - having seen your past work I have every faith in you. I just imagined it with big-ass arms and a venom cannon or something.
---
---
Fantastic work as always Vorro, my son is drooling right now as Nids are his army as well. Regarding the question you had about the base colour I would leave it black. Personally that is how I do my bases as I think the plain black base makes the rest of the model stand out more. I am not really a fan of painted bases.
---
one thing I want is the ability to split my fire everywhere, it makes no sense that a squad of 10 guard or marines or whatever all have to fire at 1 target with everything, is the guy with the lascannon not smart enough to realize maybe he would be better off firing at the massive tank looming overhead instead of the little man no bigger than a squat running at him, or is that far too complex for the 10yr olds?
My Thousand Sons Project Log
My Warriors of Chaos Project Log
My Cryx Project Log
My Necron Project Log
---
i think everyone has said keep them black... black it is i guess
---
Hey Vorro,
Nice paint work! Nice conversion/scuplting too!
All the best mate,
Dusty
---
thanks
i made a gaunt with a big gun on the back: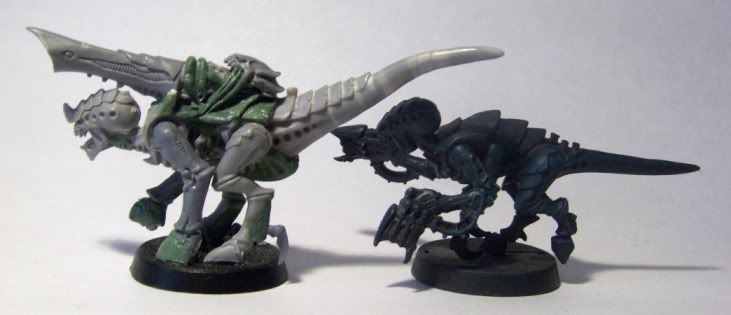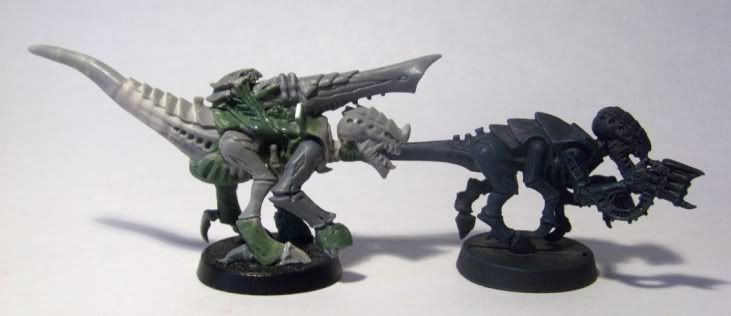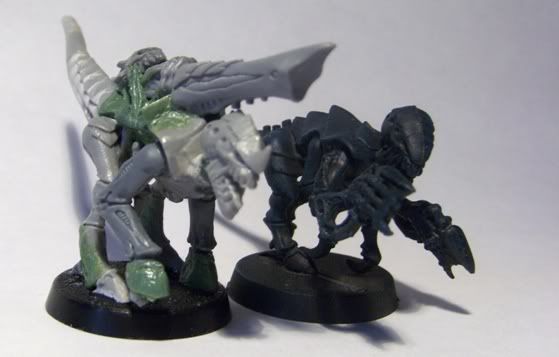 torso, head and hind legs are from a hormogaunt, forelimbs and abdomen/tail are from a warrior, as is the weapon. the symbiote firing the weapon and the teeny tiny middle limbs (not really visible in the pics) are from a ripper.
im hoping that the new codex has rules for mutants like the 3rd edition one had. that way i can have mutant gaunts with devourers acting as heavy weapon troopers in units. otherwise i have no idea what the hell id use this for! perhaps make a unit of the and counts as warriors? though theyre a bit small and would take too much advantage of LoS rules for that
though i might stick to this ida and have my heavy warriors and gunfexes have big guns on their backs (like biovores and, hopefully, pyrovores)
Junior Member
Join Date: Jun 2009
Posts: 1
Reputation: 1

---
I like your color scheme, and the big wasp-like synapse critter is pretty cool too. I like the back legs on the gun-gaunt thing, specifically the rear claws.
---
ok, heres the next batch of 8 gaunts done:

well... almost. im waiting for the base to dry so i can paint it and add my snow mixture to it (hate the GW one). more pics later when theyre done
thanks
the new ones turned out a lot crisper than the first 8 i done, and i think i done them in less time... result!
heres the pic of all 16 (you can tell the difference between the first 8 and the new ones buy the difference in skin-tone and armour - the newer ones have paler armour and colder skin):

and heres a single one: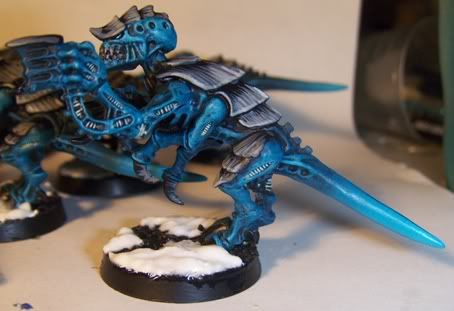 bases are done with 40% baking soda, 40% PVA and 20% water, painted as a thick paste over a whit undercoat( without the white undercoat, the base colour will show through, the soil is painted very dark in schorched brown to represent tundra.
---
I love the "ice" scheme that you have used great work mate! I am looking forward to more model.
---
There can be no bystanders in the battle for survival

Anyone who will not fight by your side is an enemy you must crush

Scriptorius Munificantus

95% of teens would cry if they saw the Jonas Brothers @ the top of a skyscraper about to jump.
Copy and paste this if you are the 5% that would get popcorn and a chair, sit and shout "Jump assholes!


Lower Navigation
hive fleet Vorropohaiah