First Horror Squad Finished
---
Little bit of a landmark, I've finally finished off the last two old-school Horrors models which means I've finally finished a Troop squad, YAY!
I find it hard to do troops as I like to paint to standard I'm happy with, which can be a slow process. Characters and cool beasties are much better at getting and keeping my attention.
Lot's of models for lot's of systems vying for my attention (Malifaux Gremlins and Liliths Brood, Warmachine Khador, Hordes Skorne as well as an Orge Kingdoms army which is still on the sprue since July other bit's and bobs). As usual apologies for the lack of updates, I do appreciate everyone who has been forgiving and still checks up on my posts...
Many thanks to you all
---
Good job on that milestone mate! I have the same problem. I find myself enjoying working on elite and HQ models that the troops just get left by the wayside
. They look great and I am especially fond of what you did with the cloak on the changeling. Keep up the good work I am routing for you
---

Commissions, Project Logs, and Galleries
Follow me on Twitter: @MidgesWorkshop. You can aslo follow me on face book Here
Critique for da CriticGod
Join Date: Aug 2010
Location: Philadelphia, PA USA
Posts: 3,350
Reputation: 43

---
All of this looks excellent. Who ever said something about the flesh tones looking flat, I'd agree with them, but its hard to tell if that's the photos or the minis themselves. Judging by the pictures though, the skin tones look kind of plastic.

The khorne herald is brilliant, I think he's my favorite. I'm also almost never a fan of gore added to weapons or models, but in his case it looks perfect; especially with him posed over the corpse tongue out, I'd almost expect a cheery cookie monster sounding "lollipop, lollipop...." as he munches on the dead guy.


Cheers,
Kreuger
Update and Shameless plug
---
Currently beavering away batch painting my unit of Bloodletters. Haven't batch painted a unit for almost three years so a little worried how they'll turn out. The Bloodletter are so perfect for washes and inking that I thought they are the one unit I can batch paint without fucking up. Pictures soon.
Also would like to give a little shout out to "Heroes and Legends Games" which is a new wargames stores opening in Surbiton, South West London on Saturday.
The shop is owned and run by Jon Corps and Jose Garcia who will be familiar faces to most London GW regulars or attendees of the "Mayhem" & "Octoberfest" tournaments at the Tolworth First Founding Wargames club.
Their website isn't up and running as yet but will be found at
Heroes & Legends Games
and their store's address is:
289 Ewell Road,
Surbiton,
Surrey,
KT6 7AB
Facebook Page:
Heroes & Legends Games Facebook Page
They are going to be stocking the more popular games at first (GW, Malifaux, Warmachine, Hordes, Flames of War, Magic, Yu-Gi-Oh) as well as pen and paper RPG's but they will adding to that list in the new year.
The shop is so new that they still don't have their new signage in place so look for a purple travel shop, they also haven't got their credit card machine fitted this week so you'll need cash or cheque if you are going to their opening day.
I've been going in on my days off to help set up and it's really exciting seeing it turning from an empty shell into somewhere where I know I'll be spending a lot of time and money!
Jon and Jose, if you read this, good luck guys!
---
Last edited by Death Shroud; 12-02-10 at

09:04 PM

.
Bloodletters Done!
---
Yay! Second daemon troop unit complete (though I've just noticed a bit of white on the leg of the lead guy so I'll have to touch that up).
full unit...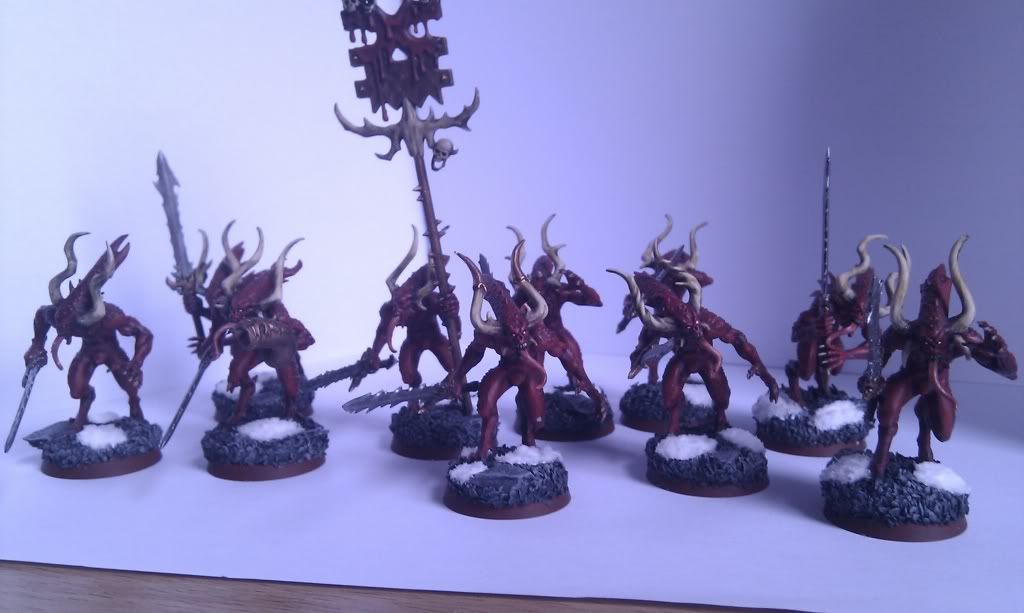 Gotten so used to paint up one or two models at a time that it seemed weird painting things up by batch. Lot's of washing and highlighting (khorne juice on the bodies and Devlan Mud on the horns). One thing I have discovered is that if you should ever want to paint something a bone colour you should snap up some P3 "Jack Bone" as it covers beautifully (two coats on black!).
close up...yes I saw the bit on the leg
Hoping to get a game of 40k this week, first for almost a year!
[EDIT]
Patched up the white bit on the leg. Have also given the models a coat of watered down Windsor & Newton deep red ink to make them a deeper red and less "dry" looking.
---
Last edited by Death Shroud; 01-25-11 at

11:01 AM

.
---
Looks good mate! I especially like the horns, they turned out really nice! My only suggestiong, and this is a personal opinion not a technical critique, would be to add one more layer of subtle highlight just to bring out the definition of the muscle masses a little bit more, but like I said personal opinion only. Good looking squad.
---

Commissions, Project Logs, and Galleries
Follow me on Twitter: @MidgesWorkshop. You can aslo follow me on face book Here
Now with more RED!...
---
As well as the red wash I've liberally applied the Tamiya clear Red. I wanted to convey they've idea they've arrived on the battlefield fresh from slaughtering some other poor sod.
Sorry about the bright flash on some of these, it's pretty overcast in South London today so everything was looking a bit dark (or a bit yellow under the lights).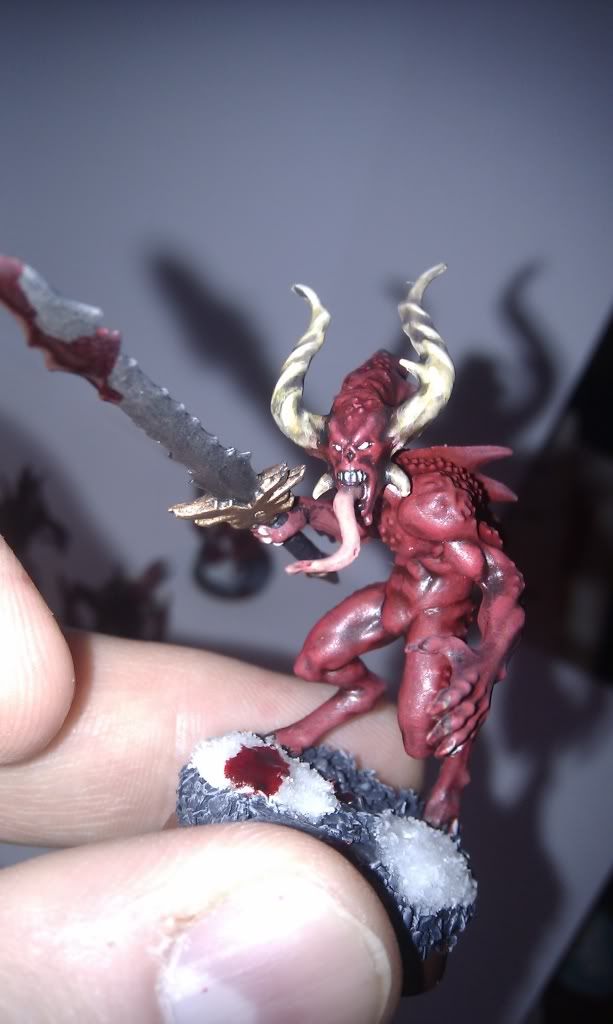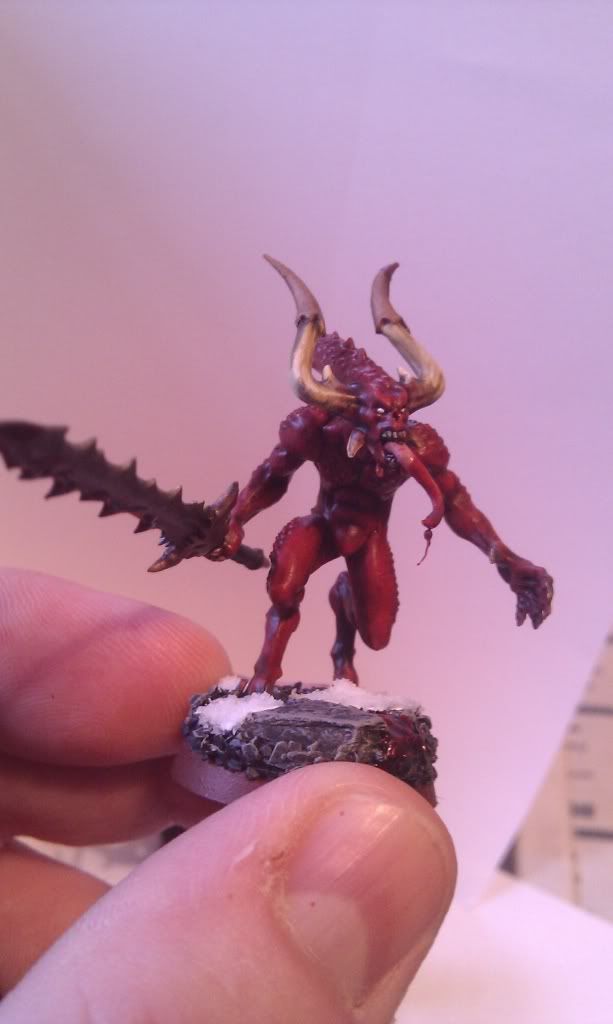 Couple of shots of the Banner bearer.
Think I might revisit the Daemonettes for the next painting task, They've been work in progress for an absolute age now.
It really is getting a bit "light at the end of the tunnel" as far as catching up with my painting goes. So far the army stands like this.
Painted:
1. Daemon Prince of Khorne
2. Herald of Khorne
3. Bloodthirster
4. Herald of Slaanesh on Chariot
5. Daemon Prince of Slaanesh
6. Unit of Horrors with Changeling
7. Unit of Bloodletters
work in progress
8. Daemonettes of Slaanesh (6 out of 15 completed)
9. Soul Grinder
undercoated but unpainted
10. 3 Bloodcrushers of Khorne (sold my metal ones to buy the plastic kits)
11. Second unit of Pink Horrors
Next purchase I'm looking to make is some Flamers of Tzeentch. I'm leaving the Nurgle stuff till last just in case GW actually do some plastic Plaguebearers ( I know it's not exactly on the horizon but hey! it's not like I've been getting this stuff done quickly).
---
Last edited by Death Shroud; 01-25-11 at

02:44 PM

.
After 2 years the Daemons are BACK!
---
Well it's been over two years since I added anything to this project log. I've done a small amount of gaming with this army due to hating 5th edition 40k. 6th Edition is an improvement and although I've not got a massive amount to show yet the Daemon army is definitely getting some play time.
With the release of the plastic Nurglings and Plague Bearers (finally). My daemons have had some hot pestilent love. The first model I have completed to show off is my Great Unclean One who I'm naming "Gorgoth Festermaw". I have Nurglings, Plague Drones, Plague Bearers and a herald on the painting table to do next.
---
20 man Plaguebearer unit and Herald of Nurgle completed. Tough bastards these, the Loci of Fecundity is an absolute godsend.
Work started on a unit of 8 Nurgling bases which I hope to have done soon.
---
Another fantastic Nurgle log. They look great. I will say that a bit more contrast or different colour on their horns might add something to help break them up a bit though.
Lower Navigation
Death Shroud's Daemons of Chaos