Senior Member
Join Date: May 2008
Location: Lincoln, England
Posts: 2,628
Reputation: 8

---
I really love the bases, I may do something similar myself, Id love to see your horrors, I remember getting 2 packs.... a few years back and utterly F- them up
---
Quote:
Great job! I can't wait to see those daemonettes get painted up. +Rep
By the way, how do you make your snow? Thanks!
Having problems finding a colour scheme for the Daemonettes, will hopefully get one sorted soon.
I got the snow from my local ModelZone. It's made by woodland scenics and is called "SOFT FLAKE SNOW (SN140)".
It cost me £8.99 for 50 cubic inches worth (probably more than I'd ever need). It's good stuff, I'd advise painting the area you want to cover with a white primer otherwise the base colour tends to show through a bit.
Tanks for the +Rep
---
Last edited by Death Shroud; 10-18-09 at

09:44 PM

.
---
Well done on the first two models. I would have maybe darkened down the blood on the zombie body a bit myself but that is a personal thing.
---
one thing I want is the ability to split my fire everywhere, it makes no sense that a squad of 10 guard or marines or whatever all have to fire at 1 target with everything, is the guy with the lascannon not smart enough to realize maybe he would be better off firing at the massive tank looming overhead instead of the little man no bigger than a squat running at him, or is that far too complex for the 10yr olds?
My Thousand Sons Project Log
My Warriors of Chaos Project Log
My Cryx Project Log
My Necron Project Log
---
Wraithlord: The blood looks brighter in the picture because it's glossy and I took the picture under a halogen lamp. It looks darker in the flesh (so to speak).
Hurray, Progress!!
After about 5 attempts I've found a skin colour scheme and technique that I like on the Daemonettes. Bit more time consuming than I'd hoped.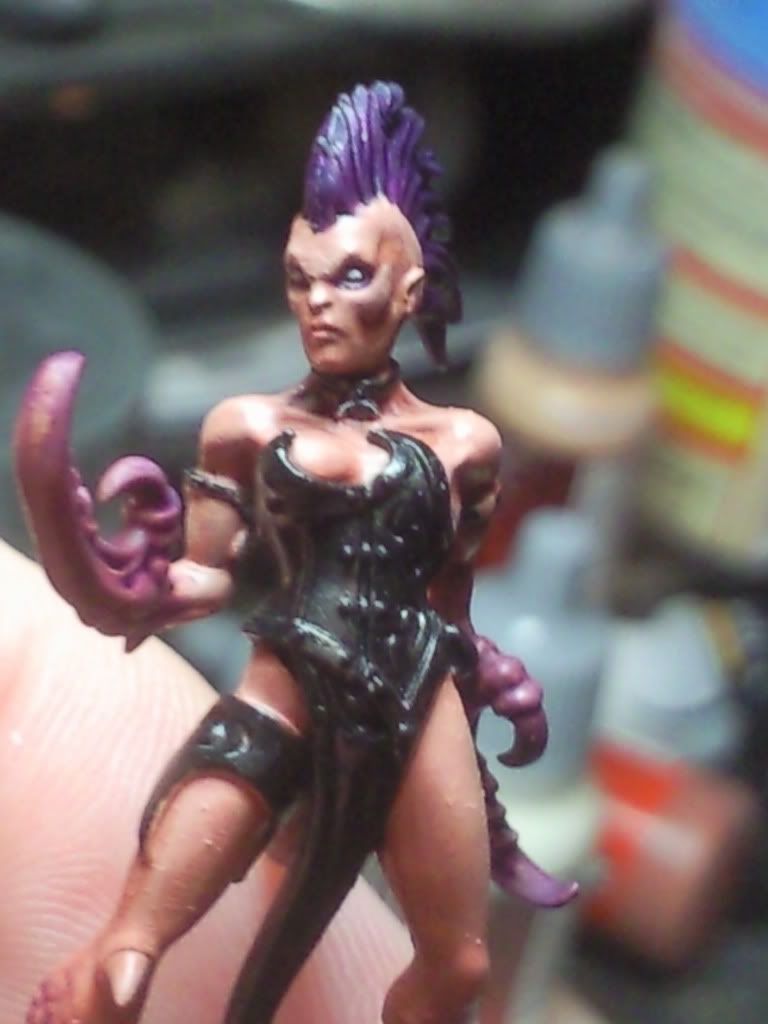 The skin was a basecoat of tan flesh. I kept adding cadmiun flesh to the mix and heavily watered it down. I painted successive layers using the "feathering" technique. I then painted watered down Ogryn flesh wash into the creases to re shade it.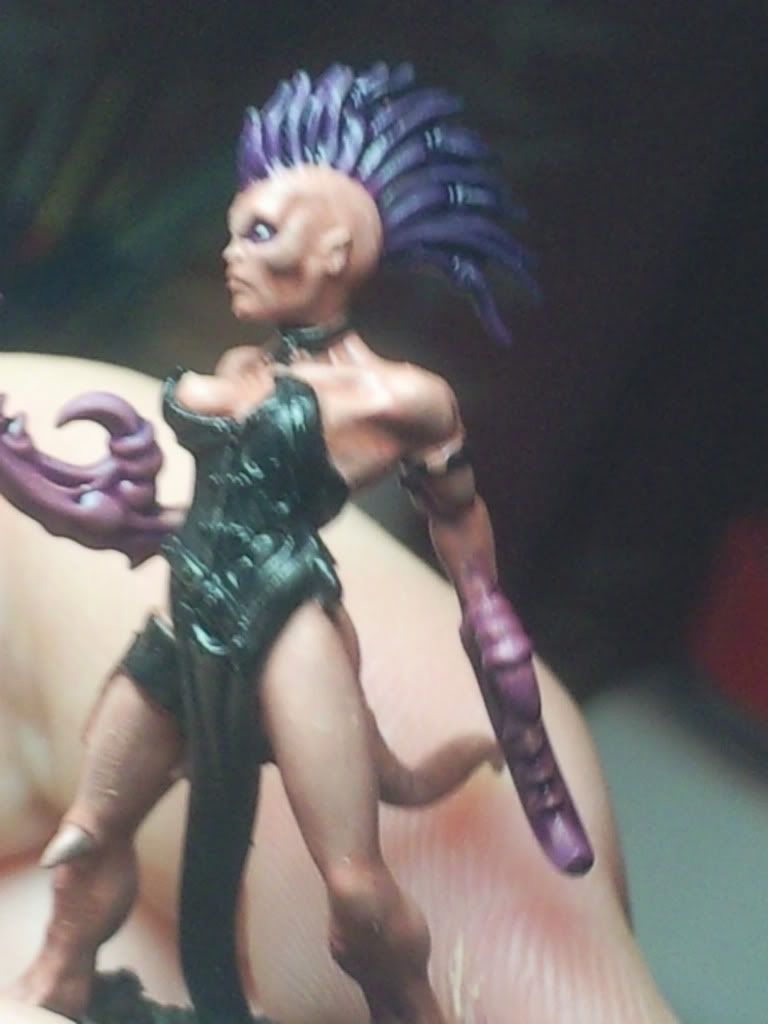 The shading around eyes and the claws were washed with Leviathan purple. The eyes were painted with off-white (all paints apart from washes were Vallejo).
Will post more pictures when I complete the Daemonette trial model.
Thanks for all the comments and encouragement, doing this log has definately helped keep me more focused on this army.
Angryman
Join Date: Aug 2009
Location: A wretched hive of scum and villany. Actually PNG. Goddamn this place is a shithole.
Posts: 4,304
Reputation: 22

---
They look suitably evil. Nice work indeed.
---
Sanity is for the weak.
'Evil will triumph because good is dumb.' Dark Helmet,Spaceballs
According to LUKEVALENTINE's test i am a diciple of khorne. Figures really.
1 down 14 to go!
---
Finished my first Daemonette. Although it took a while the do the skin the rest of the model was comparatively quick.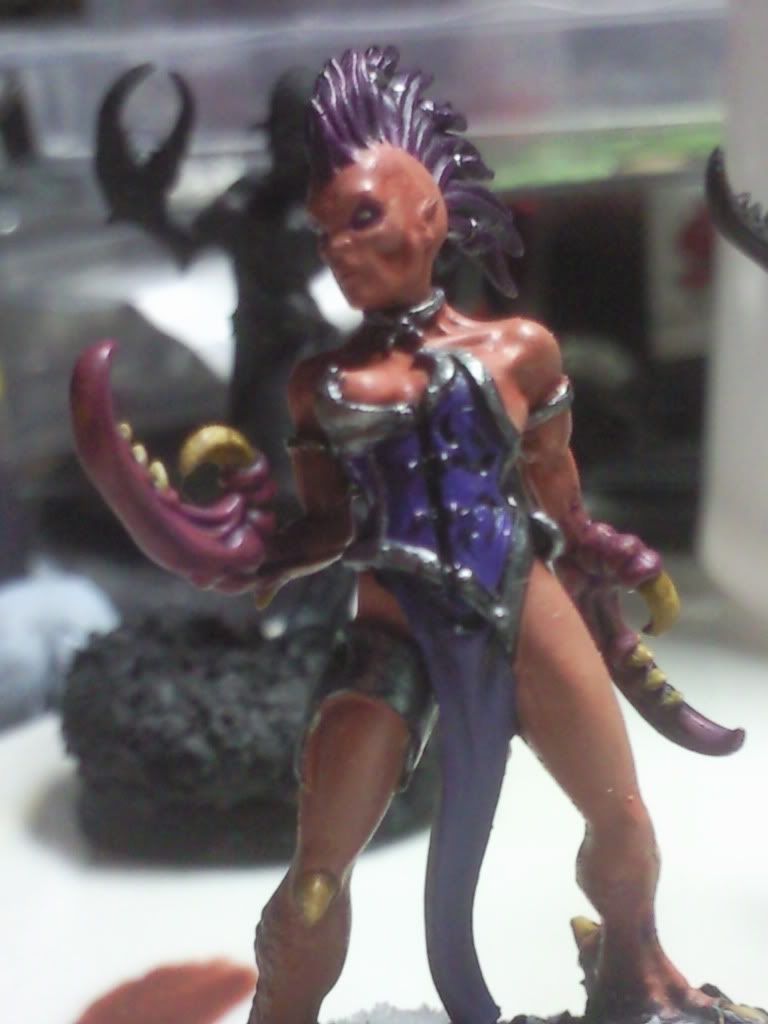 .
My painting options are
1: work through the whole unit quickly but only basecoat the skin (returning to highlight the skin later)
2: Do 2 or 3 models at a time and do other parts of the army in between.
I will probably do the 2nd option.
Bought myself a Soul Grinder to give myself a bit more anti tank capability. Will probably return to pinning horrors next.
Off this weekend but not expecting to get much done. Will be at octoberfest tournament in Tolworth on Saturday, not playing just making a nuisance of myself and at the American Football at Wembley on Sunday (3rd year in a row, can't wait!!!). Hopefully be able to show some part assembled Horrors soon(ish).
---
Last edited by Death Shroud; 10-23-09 at

11:27 PM

.
---
Beautiful job on the skin, I like the normal skin tones on the daemonettes, not the purple crap (But well painted crap that is) that GW pulls out.
If i were a slave Slaanesh , I would at least want to be attractive.
And a guy.
Just a daemon of slaanesh.
Not a deamonette...
---
Quote:
I love the way we have 2 moderator posts, one of them saying "I love your bum" and the other saying "Holy shit, we have an ignore function?!".
---
Update:
Work is progressing but very piecemeal this week
.
Nothing to show just yet but have got myself a White Lion Chariot to attempt a conversion to Slaanesh Herald on chariot (disgusting statline for 65 points). There is something very Slaaneshi about the Lions (nothing says hedonism mixed with danger than a big cat with jewellery!
)
Have done the basecoating on one of the Bloodcrushers too as well as starting work on more Daemonettes.
Will try and get the Bloodcrusher finished before the weekend is over and will have some pics to show.
7/11/09 Update
---
Sorry for the lack of updates. Work and other factors (Uncharted 2, Guitar Hero 5, Dragon Age, etc
) have slowed progress down.
Work has been piecemeal but I have managed to get a 3rd of the Daemonettes finished.
5 Down 10 to go.
I've purchased a Bloodthirster Soul Grinder and the parts to make a Herald of Slaanesh on chariot. By using the Forgeworld Daemon Prince as a standard daemon prince (and not Skarbrand) I now have bought all the models I need for a 1500pt force.
Next phase is to finish painting my first Bloodcrusher and continue building the Soulgrinder and Horrors.
Lower Navigation
Death Shroud's Daemons of Chaos