Ork Deathskulls
---
Hello,
I started Warhammer 40k and painting in general January this year. First I bought the AoBR set, the Ork Codex and the How to Paint Citadel Miniatures book. I also started browsing the internet for information on how to paint etc. I liked the Deathskulls so decided to make this the theme to my Ork army. Deathskulls being battlefield scavengers basically give me the oppurtunity to combine all the Ork clans colours into my painting. ( this was before I found out colour theory, amountof colours to use on one model etc
)
My Warboss: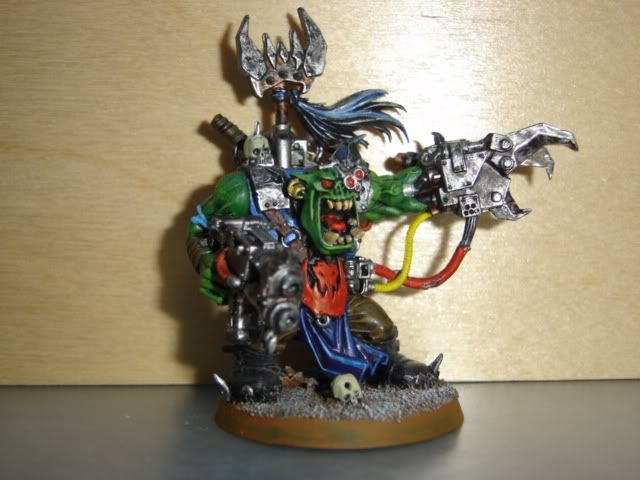 And his gun holsters
AoBR Nobz: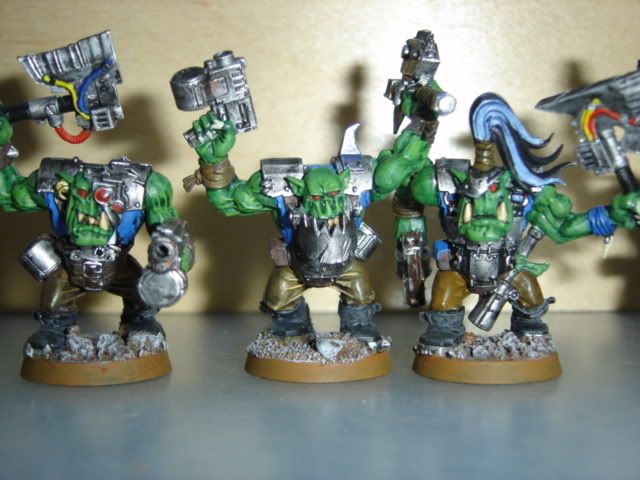 AoBR boyz:
I really liked the "Red ones go fasta" theme and decided to use this on bullets and rockets.
Deffcoptas: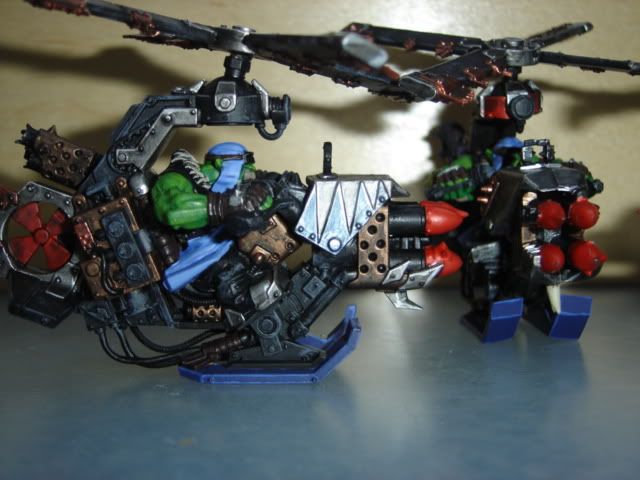 While still painting the AoBR orks I purchased the Ork Battleforce and some Gretchin.
Trukk:
And front view:
The trukk still needs some work, some parts are only basecoated.
Here are some of the Gretchins. I'd say these are my best so far. I finished these about four weeks ago. This was also my first time painting metal models. I was amazed at the amount of detail in the metal models, compared to the plastic ones.
Metal models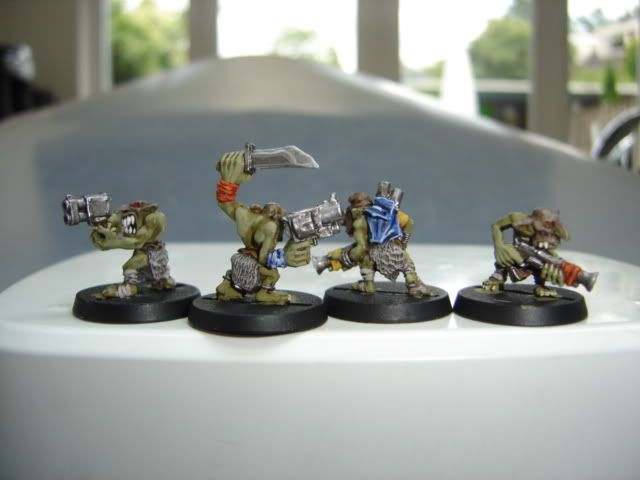 Plastic models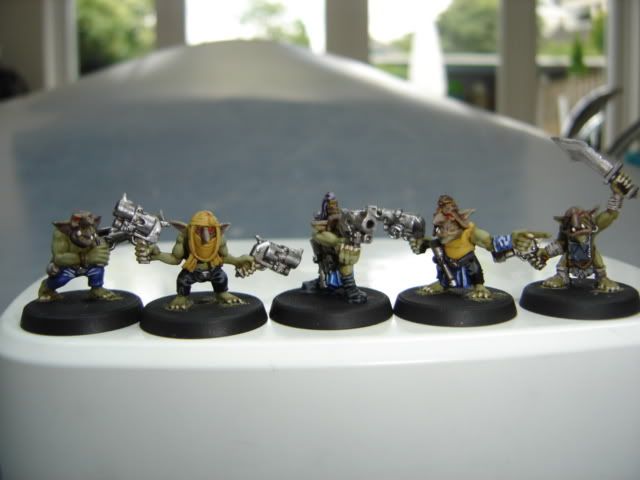 So, thanks for looking. Please let me know what you think. C&C is welcome!
Currently I am working on a Runtherd, 3 Warbikes, basing the Gretchin and getting myself to prime the Battleforce boys. I really hate spray paint.
---
Really nice especially since you picked the propper deathskullz army. I think your guys could use a little more definition in the skin tone a wash of thrakka green or devlin mud over the models would really help bring out details in them. Other than that you are doing a really good job painting up a nice little waaagh.
---

Red Orc
"Ahh, isn't Morfang sweet, like a great big 350-pound (that's 25 stone, UK users!) ball of cuddly death...?"


God, gives children to people so that death won't seem so disappointing.
---
Thanks for the compliment morfangdakka.
I did use Thraka Green wash on the Boss, Nobz and boys. After the wash I drybrushed to highlight the skin. Could it be the drybrush highlight "undid" the wash a little ? Would a second wash bring out the details again ?
Senior Member
Join Date: Dec 2008
Posts: 129
Reputation: 5

---
Nice job. I like the gretchin and the warboss best of all. Might have to steal those from the table next time we slug it out on a battlefield
---
Hello,
I've not been very active on the forum. Just wanted to share my Warbikes and Runtherd with you: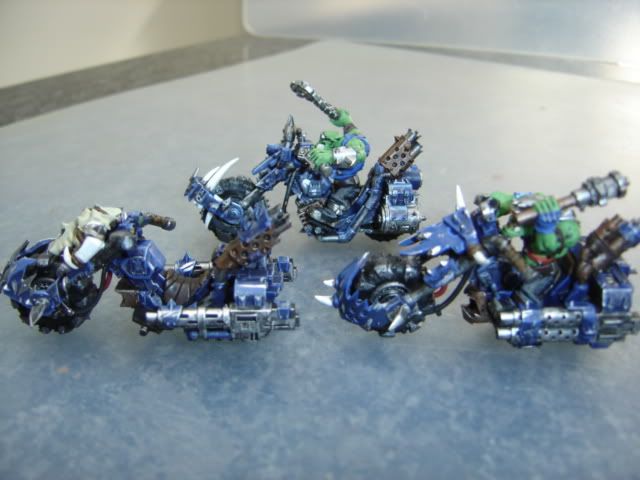 And I've been messing around with Ork skin tones. I like the different looks so I decided to incorporate this into my army.

Senior Member
Join Date: Oct 2008
Location: Down the road from Marty's fishing store
Posts: 529
Reputation: 1

---
well done mate this is some good painting
---
Q:What is the most Ironic death do you reckon ?
A: Umm probably having a hospital land on you
---
Hey, i love those bikes!
- The dark blue and highlighting makes them look almost marbled. Love it!
. I need to get some of them for myself...
---
Angry Marines
:
Flamer ------------ 5pts
Another Flamer ---- 5pts
Shit, Take a Third - 5pts
---
Thanks for the feedback.
Here are some more pictures of the bikes.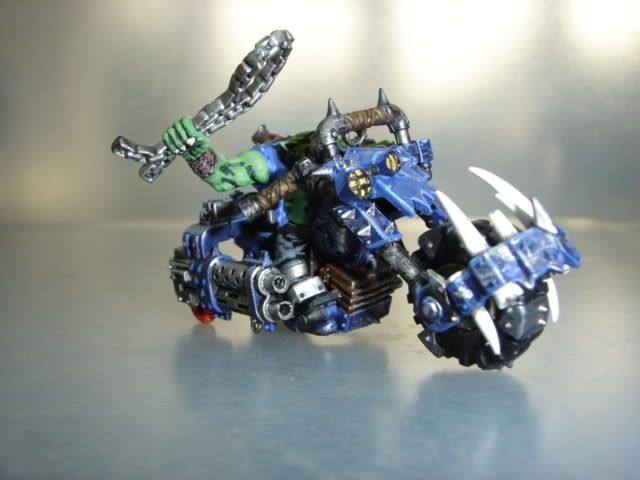 ---
Hello,
Small update on my Orks. The guys with different Skin tones from last oktober now look like this. They are not finished but I'm getting there .... eventually. Guess I'm slow and purposeful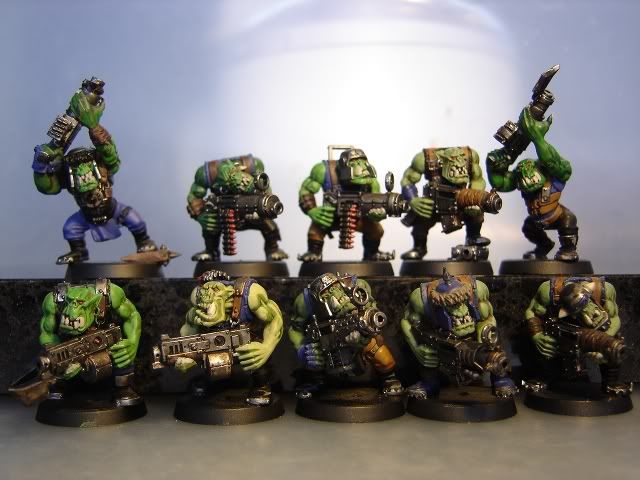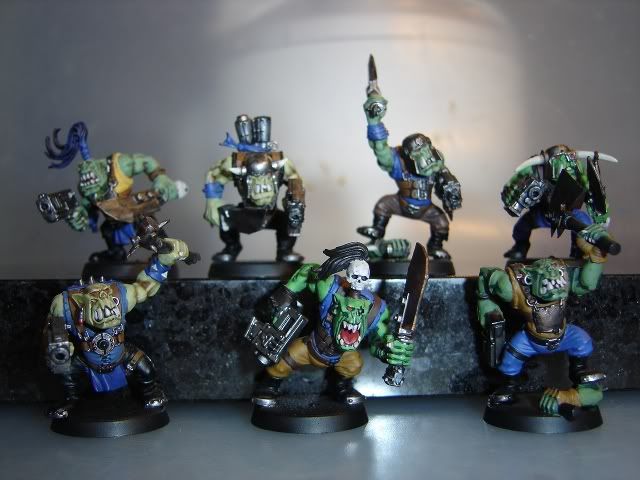 ---
I really love the different colors of the ork skin. Makes them heaps more unique.
Lower Navigation
Ork Deathskulls