Someguy's Black Legion
---
I'm working on a chaos army and in the pretty early stages of modelling it up. I have finished the 3d work on a figure which is going to be one of my sorcerors of slaanesh. I'm not sure if I'll have two sorcerors or a daemon prince and one in the end, but this guy is a safe bet.
Anyway here he is. It's the first time I've tried taking photos like this so bear with me. I think it gets the point across.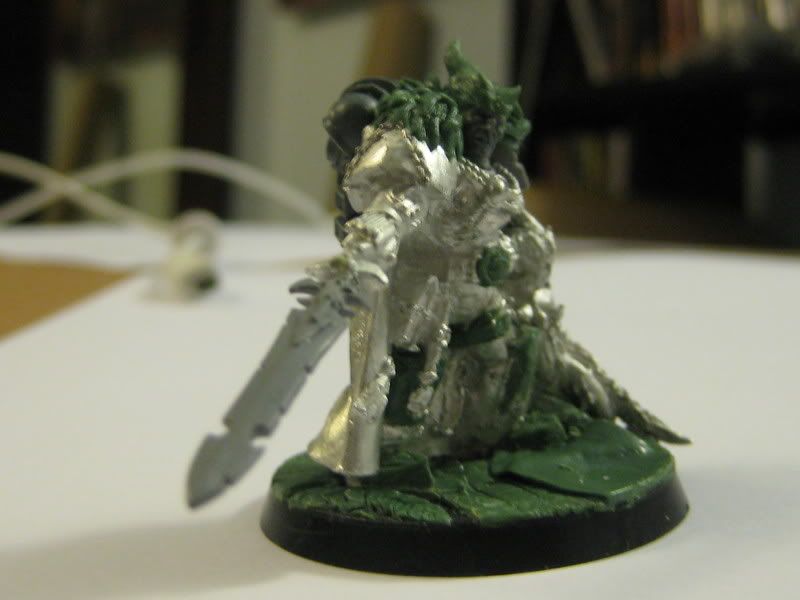 Pity his face is out of focus here. I need to see if I can get a better focal length.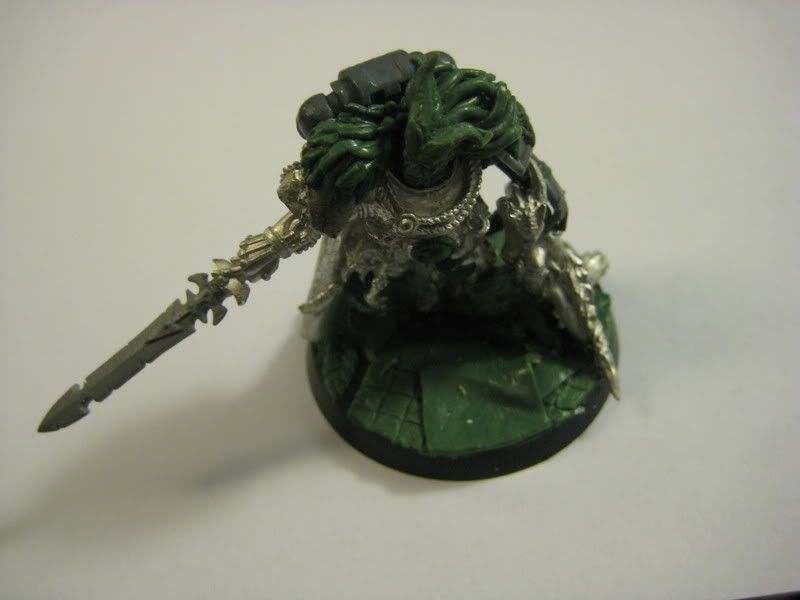 He has tentacle "hair" and twizzly horns like daemonettes as well as fur on his shoulders. These sort of merge together while all green, but hopefully all should be clear when painted.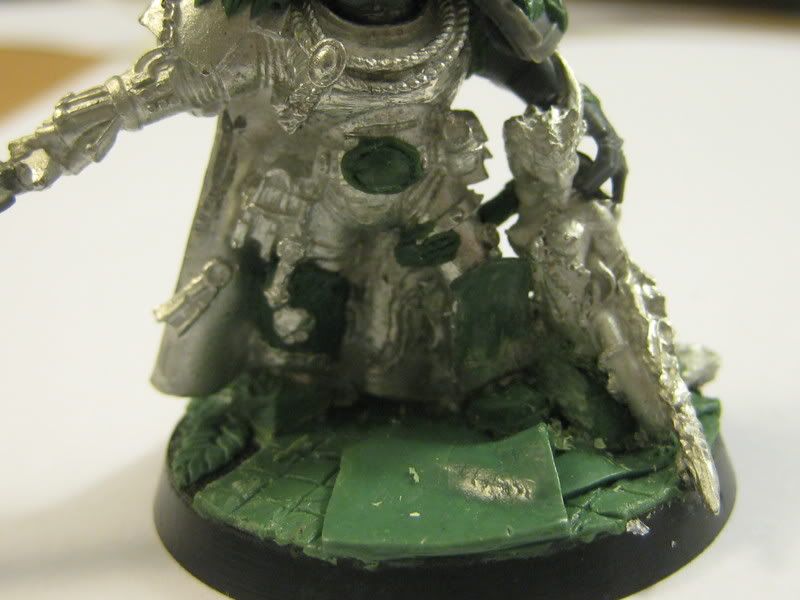 This shows some detail of the base. They have already messed up the carpet. Who's going to pay for that, eh? One result of taking these pics is that I can actually see the figure bigger on screen than with the naked eye. I've been able to go back and tidy up a few bits where there were flakes of green stuff since taking the pictures.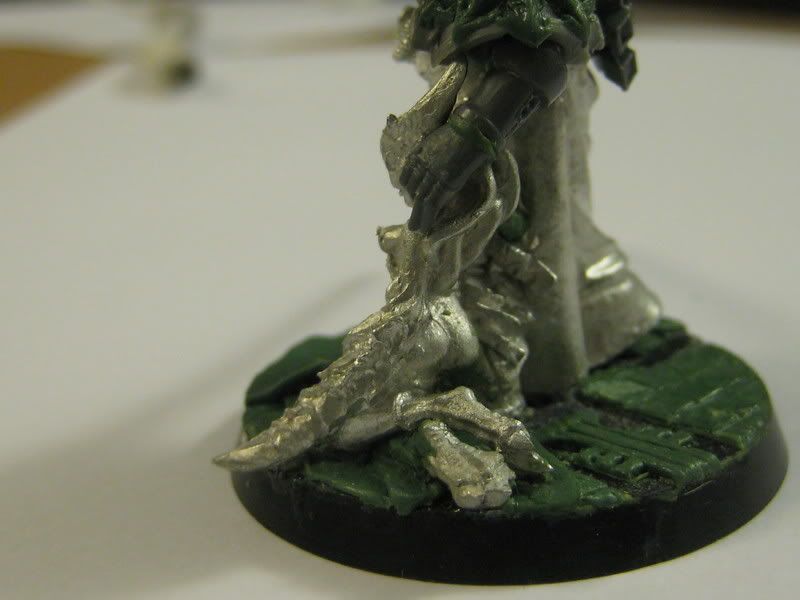 Detail of the Daemonette. I'm not sure if she will count as a familiar or just some detail on the base. It only occured to me that she might count as one after I had modelled her. I guess I have the option now.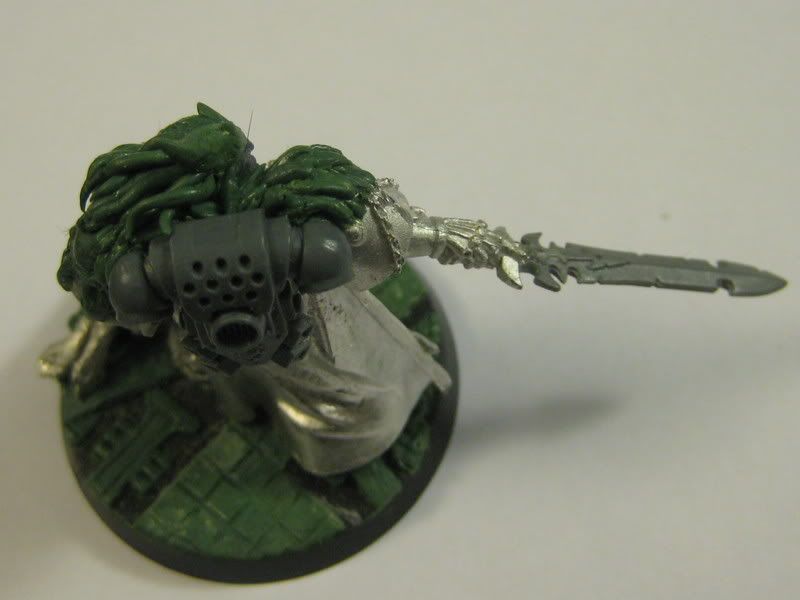 I'm quite pleased with the pose. He looks properly arrogant and commanding.
He is based on one of the "masters of the chapter" figures, the guy with bolter and power sword. Actaully the original figure was probably my least favorite of the four guys in the box so I'm pretty happy with how he's turned out. I'll be using the others for unit champions and the second sorceror if I have one.
I will probably start painting him over the weekend and hope to have something to show then. I'm planning to have a very dark colour scheme and cut down on what I think of as scoobeedoo evil with bat wings and skulls everywhere.
For the bases I'm going with the idea that they have broken into some kind of high security imperial facility - the sort of place where most people would prefer black legion not to be. Different units are going to be in different areas so that will seperate them out well hopefully. This guy is in some kind of chapel area, which is probably a bad sign.
Depending on the level of interference from "real life" and my own concentration levels, there will be more to come I hope.
---
You can have your own opinion but you can't have your own facts.
Black Legion
,
Sisters WIP
,
Feudal IG WIP
.
---
Last edited by Someguy; 12-06-07 at

12:56 AM

.
---
I like it, looking good so far. Be a nice model when it is all painted up.
---
one thing I want is the ability to split my fire everywhere, it makes no sense that a squad of 10 guard or marines or whatever all have to fire at 1 target with everything, is the guy with the lascannon not smart enough to realize maybe he would be better off firing at the massive tank looming overhead instead of the little man no bigger than a squat running at him, or is that far too complex for the 10yr olds?
My Thousand Sons Project Log
My Warriors of Chaos Project Log
My Cryx Project Log
My Necron Project Log
---
Looks good.

I've never seen a good- looking Black Legion army though. Even the studio's army looked naff. Seems a wasted opportunity to have a lot of fun with proper colours.

Happy to be proved wrong though...
---
Reasons for doing black legion include:
I like the fluff of black legion. I really like the idea of a bunch of guys who have been around for 10k years and want to burn everything they once worked to create now that they can't have it.
It allows me to include units from various powers that would otherwise be unlikely to get on together
I think I can do black that looks good.
The studio ones are rubbish and don't look properly evil at all. I haven't really done an evil army before and I think it could be fun.
There are some interesting variant schemes for black legion in the chaos book that I'll take a look at. I'll do some test figures as well.
---
You can have your own opinion but you can't have your own facts.
Black Legion
,
Sisters WIP
,
Feudal IG WIP
.
---
im really glad i looked at this youve inspired me for making bases for my models!!! THANKYOU!!! :D:D:D
---
The Emperor demands.... TACOS!!!!
Join Date: Nov 2007
Posts: 136
---
A++.

...+++++++


....++++++++++++++++++++++++++++!!!!
---
Amazing!

Looking forward to more!
---
'At two minutes to eleven, opposite the South African Brigade, at the eastern-most point reached by the British armies, a German machine-gunner, after firing off a belt without pause, was seen to stand up beside his weapon, take off his helmet, bow, and then slowly walk to the rear.' -John Buchan
Quote:
I can't help but think that every time something is proven, a little bit of the magic of the world dies.
Join Date: Oct 2007
Posts: 32
---
I agree on the sentiments of the above posts!

I would like to see this model with a bit of paint on it. Even if it's still 'WIP' (Work in Progress).

I think the detail will come out more and more and I would love to see how it turns out!

Regards

Orffer
Join Date: Nov 2007
Posts: 128
---
Well done a very impressive piece of work. Seeing as im just starting a small chaos force that is very interesting
*rubs chin with fore finger and thumb
Senior Member
Join Date: Feb 2007
Location: On a mountain arguing with a yeti about whether or not I can use their computer.
Posts: 1,065
Reputation: 2

Lower Navigation
Someguy's Black Legion