---
Quote:
Reasons for doing black legion include:
I like the fluff of black legion. I really like the idea of a bunch of guys who have been around for 10k years and want to burn everything they once worked to create now that they can't have it.
It allows me to include units from various powers that would otherwise be unlikely to get on together
I think I can do black that looks good.
The studio ones are rubbish and don't look properly evil at all. I haven't really done an evil army before and I think it could be fun.
There are some interesting variant schemes for black legion in the chaos book that I'll take a look at. I'll do some test figures as well.
You forgot that they are led by The Despoiler!
Here's my wip
http://s228.photobucket.com/albums/e...ediafilter=all
Join Date: Nov 2007
Posts: 258
---
That is one nice BL...
I want to see it painted!
Oops, wrong smilie!
Not again!
Dammit!
FINALLY!!!
Paint it black
---
I've done quite a bit of painting now. Here's how it's going.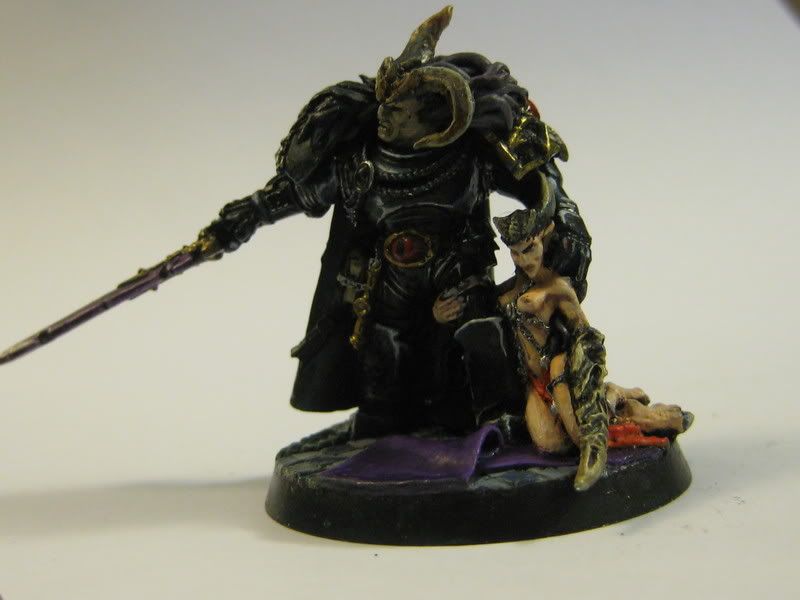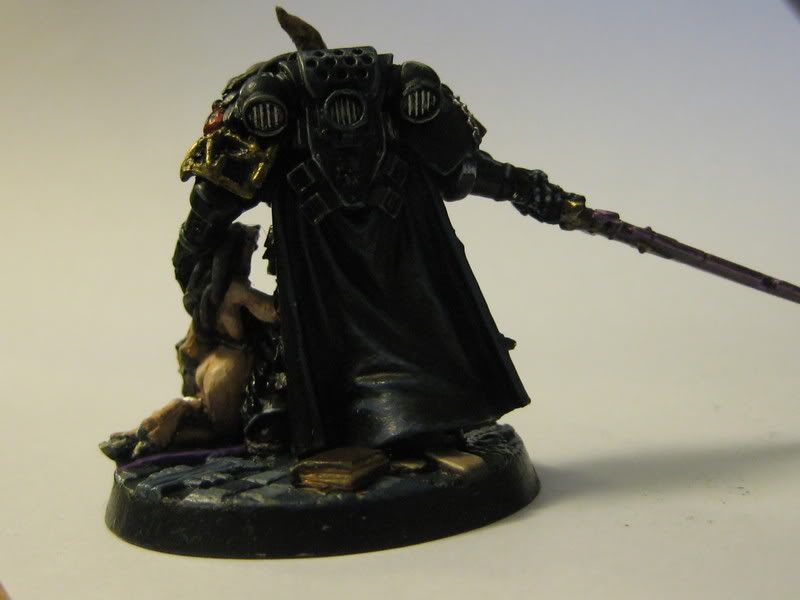 Daemonette looks like this.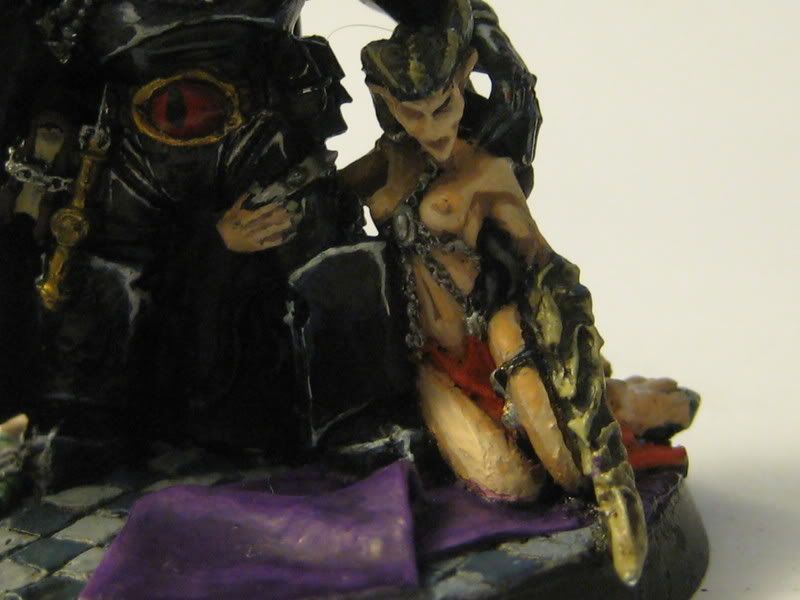 And some images of the base, which still needs quite a bit of work.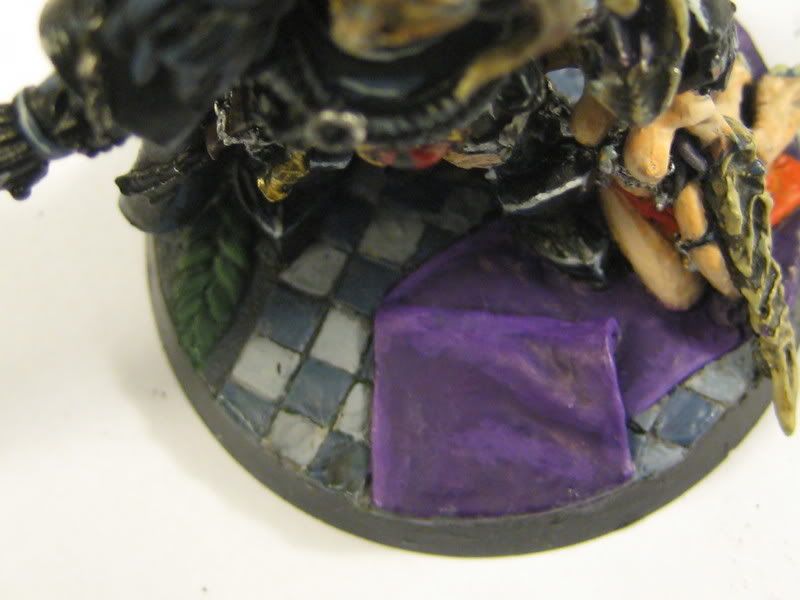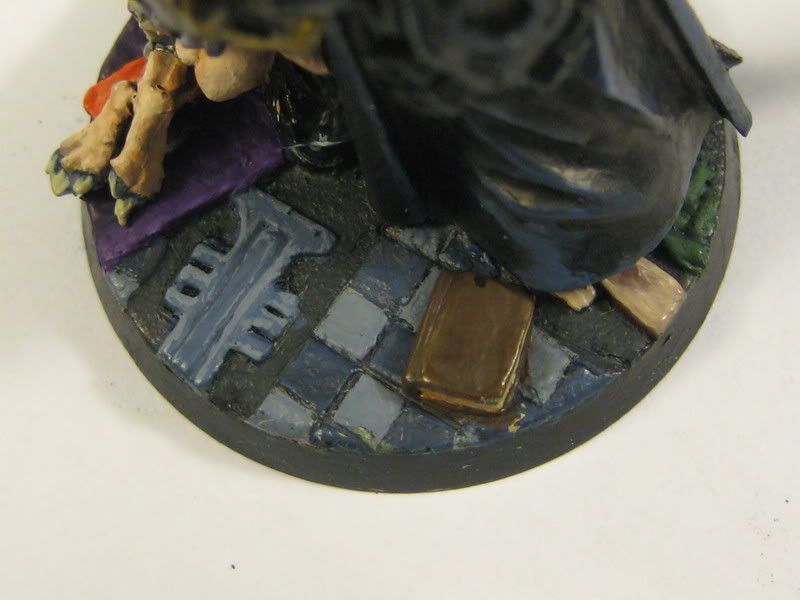 I think that I'm going to need to introduce some colours other than black
A red lining to the cloak will probably work, though I think the back will remain black - maybe with a design of some sort painted on it.
I'm quite pleased with the eyes of horus. I think these will feature on other figures I do, maybe throughout the army.
I'm not sure if I should add more slaaneshi iconography or if the various horns, tentacles and daemonette get the point across. I'm really going for a look that this guy (and other guy in my army) are black legion first and cult second. I'll think about it some more.
---
You can have your own opinion but you can't have your own facts.
Black Legion
,
Sisters WIP
,
Feudal IG WIP
.
Join Date: Dec 2007
Posts: 7
---
Looks more like "Green and Black Legion"
hmmm - "Chaos - now 70% cocoa"...
---
I think it's too black and you've lost some detail. I would also consider varnishing the tiles on the floor to make them appear more ceramic.

Can we have another figure painted a different colour (say red) as a contrast please.
---
I think that the colour of the background hasn't helped with the photos. I think the camera has adapted thinking it's a pretty light photo, and lots of the detail that I've painted hasn't appeared. I'll try a darker background.

The tiles aren't done yet. They are only base coated and still thinking about what colour they will eventually be. A light and fairly colourful base might emphasise the darkness of the guy - or maybe make it look like I haven't painted him yet at all. In any case I'll be doing stuff to make them look more ceramic.

Quite a lot of the detail on the bloke himself isn't done yet. There are various scrolls, gems and stuff that I haven't got round to. I'm not sure what a difference it will make when these are all finished so I think they will be the next thing to do.

I do think I'll put more colour on the guy. A coloured lining on his cloak would give a good background and if the fur on his shoulders was lighter it would show up his "hair" better.

I'm pretty happy with how the armour itself looks but picking an overall scheme is tricky. I might do some trial figs to test stuff.
---
You can have your own opinion but you can't have your own facts.
Black Legion
,
Sisters WIP
,
Feudal IG WIP
.
---
looking great. the greenstuff sculpting is very good.
Join Date: Nov 2007
Posts: 258
---
So freakin cool!!!
Must... see... fully... painted... version...
---
Love it a chaos marine with a sex slave
---
Violence is never the answer, it is the question, to which the answer is, yes

Lower Navigation
Someguy's Black Legion