Commission build; Space Marine Captain
---
I've been asked to build a Captain/Commander for
The Black Hands
Chapter of Mister X-Slash-X on the B&C.
Due to my somewhat busy life at this point I haven't had too much time yet, but I've done a bit of work and I just wanted to start showing it.
Sadly I do not have my good camera at this point so the photos are a bit bad.
I wanted to take step by step photos of everything, but I couldn't spare the time taking pictures every cut.
The Captain will be modeled striding, with a rather large sword on his shoulder and his left arm pointing forward.
He will be slightly larger than normal marines (aided by the upright stance) and should look as if he is advancing while directing his marines to the enemy.
As a requested option, the right arm will be replaceable with a power fist/claw with attached stormbolter.
He should convey both a knightly feel and a techy feel.
Some bionics will be included but not as abundant or visible as with my
Ironbound
.
I started with some legs; I made two versions at this point, both nothing more than reposed yet.
One with Terminator greaves:
One with normal mk6 greaves:
The right greave will receive a piece of spaced armour and some not to obvious bionics.
I also started on the torso, shaving some details from standard torsos and making one slightly enlarged one with a mk8 feel.
The end result should look somewhat like this: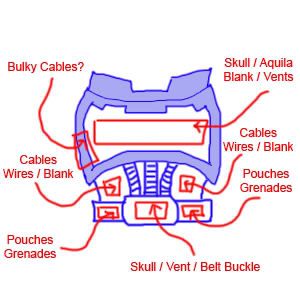 I immidiatly ran into problems here as a mk8 torso is not made for wearing helmets. I put the rim somewhat forward but this looks awkward. I'll be adding bulk to the front to cover this up.
The Captain will be wielding a rather large sword, which will be part chainblade and part powerblade. and based on the following picture:

The black part will be chainblade, the rest powerblade. I made a small start, it's not much but you have to start somewhere.
To do:
- Finish variant torsos
- Start on bionics of the right leg
- Make template for greave armour plate
- Finish variant swords
- Start work on the helmet
- Start work on arms
- Think about a nice techy backpack
Beork
---
Last edited by Beork; 06-09-09 at

08:44 AM

.
---
get this going! it's looks like it has some great potential.
one question concerning the sword: how big will this monster actually be? from the concept it looks like it will turn out as big as the whole marine itself.

dude, just had alook at your ironbounds pics. you have some awesome conversion skills and great ideas! rep+
---
Last edited by Graf Spee; 06-03-09 at

12:34 PM

.
---
it's going to be a big two handed sword, most likely similiar in size as the marine and as wide. A bit like the cloud sword from final fantasy, or like siegfrieds sword in soul caliber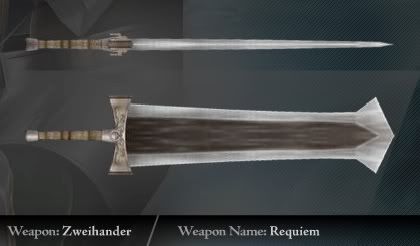 Beork
---
Looking goood there
---
We are charged with the reunification of mankind, throughout the stars, in the name of the Emperor. We seek to establish compliance amongst all the fragmentary and disparate strands. Most greet us like the lost brothers we are. You resisted.'
---
Smallish update, still not feeling to well so working bent over a brightly lighted table trying to do small manipulations was not a very great succes this week.
I did a bit on the heads, first I filed a normal head down, which made a pretty knightly head to start with: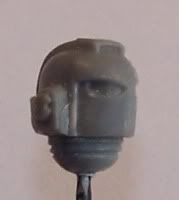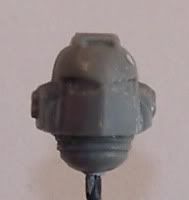 Covered the face with plastic with eye holes cut out. I had to cut them a bit to shape when I added them due to glue deformation (I use 0.3 mm plasticard, which deforms really easily when even a little bit too much glue is used, I know this, but it happens still from time to time).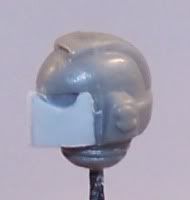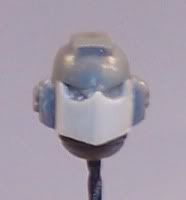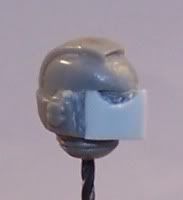 Did the same with a berzerker head: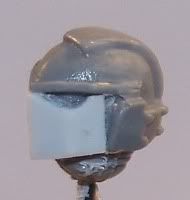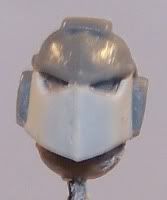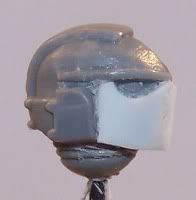 Also did a bit with the torso, if you can see it you win todays grand prize.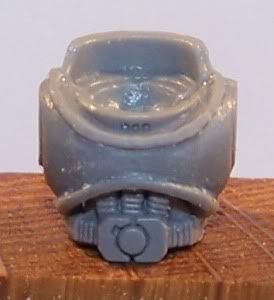 And a start on the bionics of the right leg: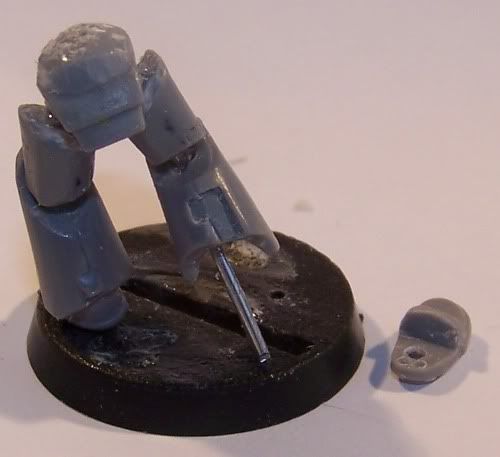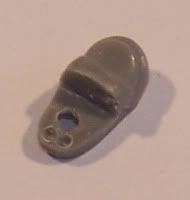 More updates soon, which will hopefully bind the model more together.
Beork
---
i like what your doing so far,
would the plastic card bit be the little strip that goes under the coller(s/p?) and around the bottom of the chest plate?
---
Last edited by yanlou; 06-08-09 at

09:51 PM

.
---
Nice work so far, looking forward to seeing the final result
---
Win/Draw/Loss(5th ed results)
EC: 45/2/12
Tau: 28/3/7
Quote:
Common sense and wargamers are like oil and water
Quote:
'Alessio is to 40k what impotence is to rape.' - Jezlad
---
Quick and small head update, tried some vent carving and wire adding on the less popular helmet: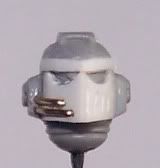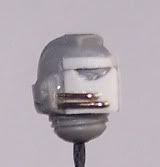 I didn't want to do it on the popular one in case the wiring didn't come out right so it's just been carved at this point: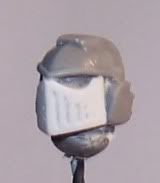 The client wants a bionic eyepiece on the helmet, but I'm afraid it'll look out of place, anyone a good idea to solve this?
anyway, more to come.
Beork
---
---
Quote:
It's not a black and white question really, there are different shades of anal probing,
a rectum spectrum, if you will
Lower Navigation
Commission build for X-Slash-X; Space Marine Captain