---
Dude, this is just outright badass. I can't wait to see the final product, keep up the good work. Your skills are remarkable.
---
Small progress which did cost quite a lot of time, I hate how you can be busy for an hour and not see real progress…
When I made the bionic foot, I made the whole leg a tad longer than the other. Which in turn made him walk with a limp. To compensate for this I gave his left foot an extra bottom layer and to make him look a tad more massive, I added a front plate to his foot.
I always think it looks a tad better this way. It's something I saw in an old picture of a captain or something.
Before I get the
"Is that a giant plate on your powerfist or is he just happy to see me?"
jokes ;
Yes, it is a giant plate.
No he's not happy to see you.
I added wires between fist and shoulder, same idea as with the leg,
bionics incognito
.
More wires and cables are still to be added.
Why it is there? Remember this: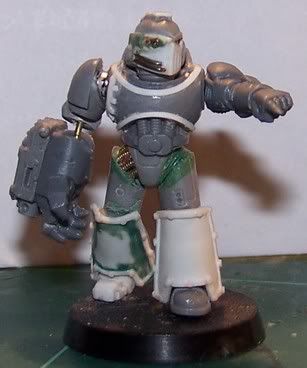 This was kindly vetoed by most of you and, most importantly by X-slash-X (the client).
The plate was meant to fill op the part I filed away, after some shaping it should look better:
As you can see I cut out a small rectangle. I wanted to make part of the powerfist open to show some worky bits and have cables coming out of it. But when I tried to pry open the cut out rectangle, I got some sort of lid. I like the way it looks, especially if I run a few cables from it to under the shoulderpad.
But before I do this I should at least ask my kindly client
Maybe I should've taken a front view of the fist with the lid thingy... oh well, to late now.
Beork
Join Date: Aug 2008
Posts: 66
---
this looks really kool. i think you should go with the idea of having cables coming from the power fist this would look awsome +rep
For Da Boss
Join Date: May 2008
Location: new zealand, the land of the long white cloud
Posts: 2,156
Reputation: 4

---
wow dude that is amazing, great work.
---
omgitsduane's # 1 Fan
Russian Winter Guard Thread
Great Unclean One
Join Date: Jun 2008
Location: cavorting among Grandfather Nurgle's entrails
Posts: 2,611
Reputation: 42

---
Very cool. I love to see 'labour of love' detail-crazy conversions like this, and I'm looking forward to seeing the finished figure. Havest thou some rep.
---
Seriously wicked. +rep.
---
This is a great piece. I really enjoyed seeing it develop. Have some rep for it all. The helmets particularly are great.
Angryman
Join Date: Aug 2009
Location: A wretched hive of scum and villany. Actually PNG. Goddamn this place is a shithole.
Posts: 4,304
Reputation: 22

---
First time i have seen this thread. Absolutely outstanding work. Attention to detail is second to none.
Rep
---
Sanity is for the weak.
'Evil will triumph because good is dumb.' Dark Helmet,Spaceballs
According to LUKEVALENTINE's test i am a diciple of khorne. Figures really.
---
Did You Put this up on the Bolter and chainsword cuz if you have its an awesome model
---
Thanks for the kind words all, it is a labour of love mini indeed.
The trouble is that after building it, I must part with it again...
Oh well, can be worse, at least he'll go to a new home where they will love him and treat him kindly ;)

@ Orkboss:
I mirror post these threads on several fora for maximum coverage. The forum where the commissioner originates from usually gets the premiere with the other fora following within a day usually.

Beork
Lower Navigation
Commission build for X-Slash-X; Space Marine Captain