---
Thanks for all the kinds comments.and Minizke1 he on another planet crushing skulls with his TH. they had no lava flows. lol. well it seems it was time to try airbrushing after seeing troybuckles eldar wich came out lovely. picked up and cheap used one for $15 bucks add a yardsale. it came with 4 tips and a compressor. figured cant go wrong for the price.here are some pics.this pic has everything it came with in the box.
this is the 4 tips it came with.now have to figure out what the sizes are.
and this is the compressor. it says testors on it how bad can it be.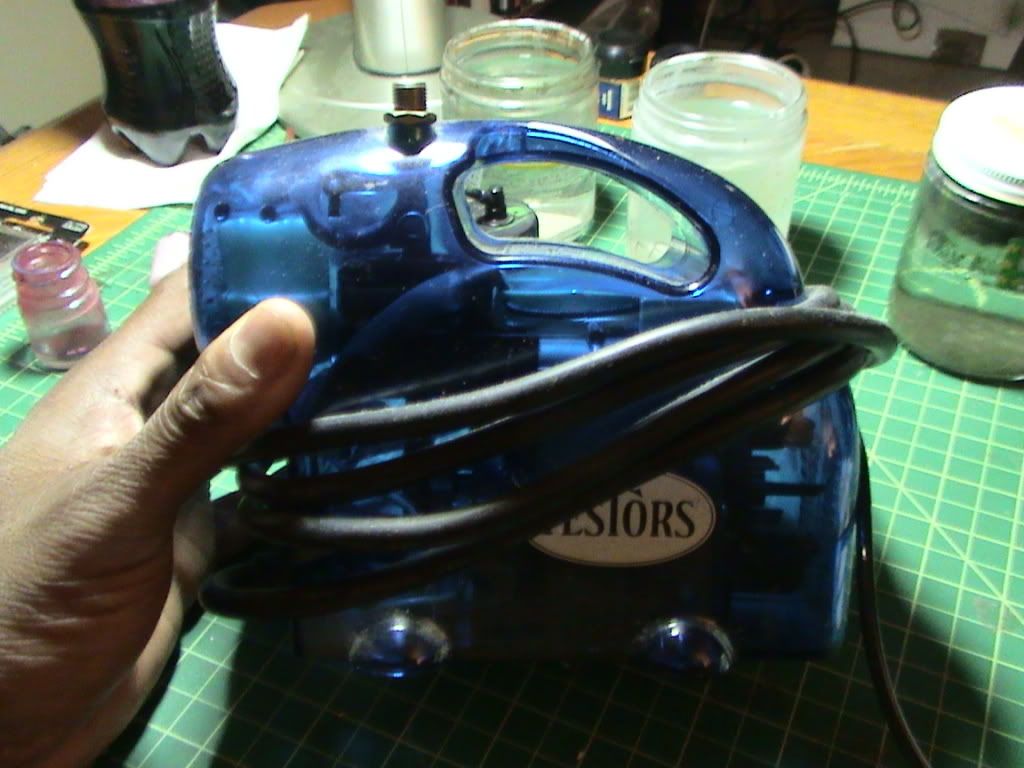 all C&C welcomed.
---
well i got my sternguard today. dont like the weight of the finecast models they feel flimsy.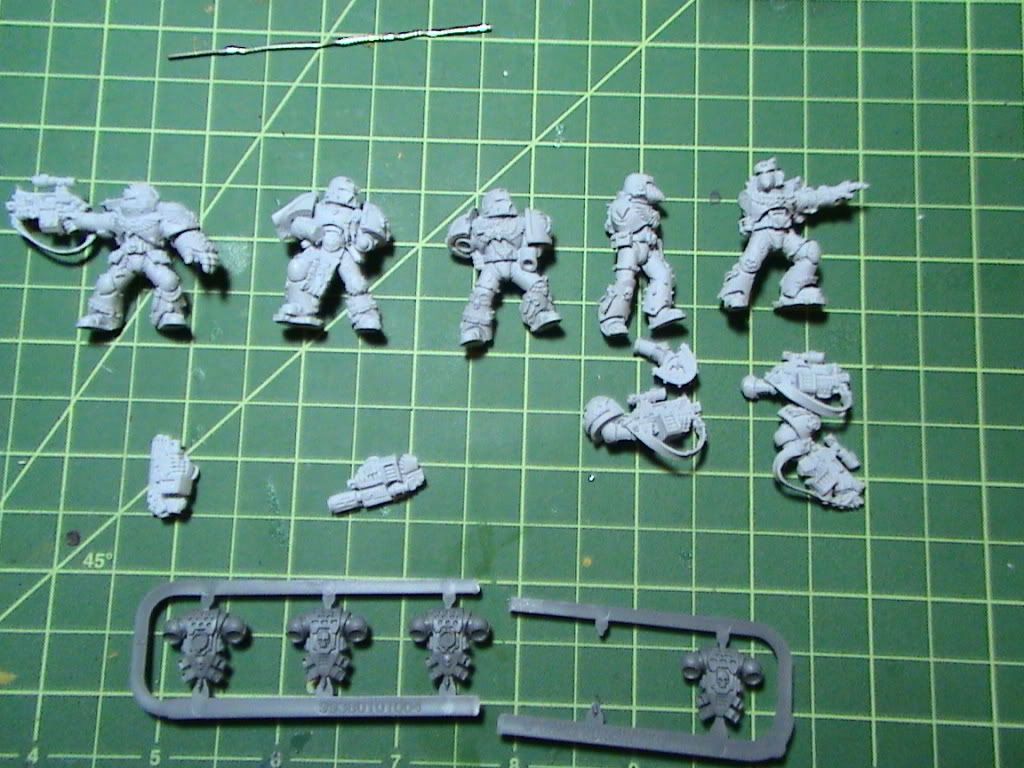 .
and here is the vanguard. i got them in a trade so they have been primed but never painted.
does anyone think it a good idea to remove the metal tab for the slota base and pin them to a resin base.all suggestions and comments are welcomed.
time to start on the guards.
---
Fair argument. ahahaha. Can't wait to see the veterans painted.
---
Win/loss record for The Fists of Vengeance- 20 - 1 - 8.
Hive Fleet Kraken- 7 - 2
The Unnamed Clan- 0 - 0 - 0
---
got a vulkan hestan model as a gift.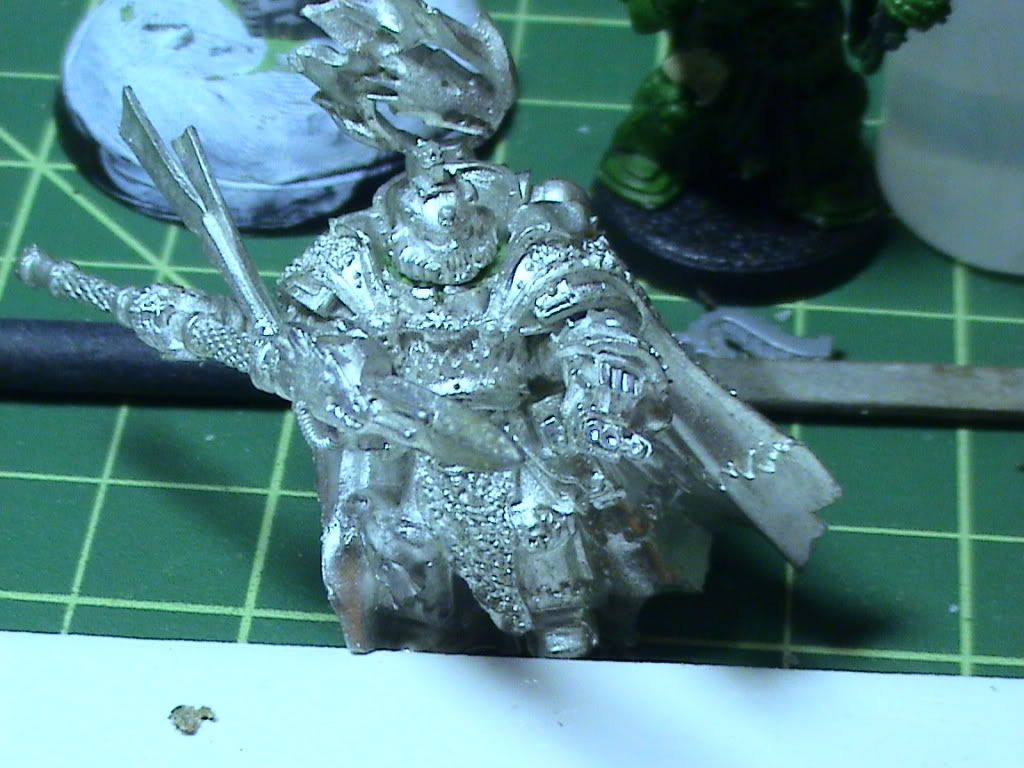 this techmarine is going to be my master of the forge with a conversion beamer since i dont have the thunderfire canon. maybe i will scratch build one later.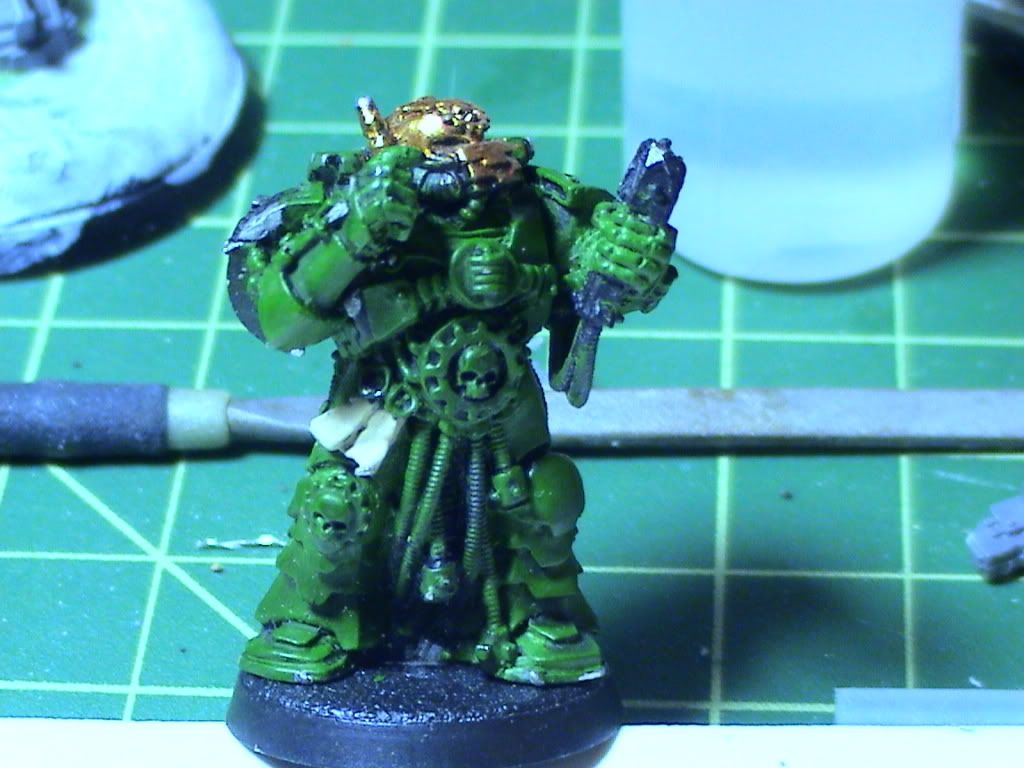 got these guys built and primed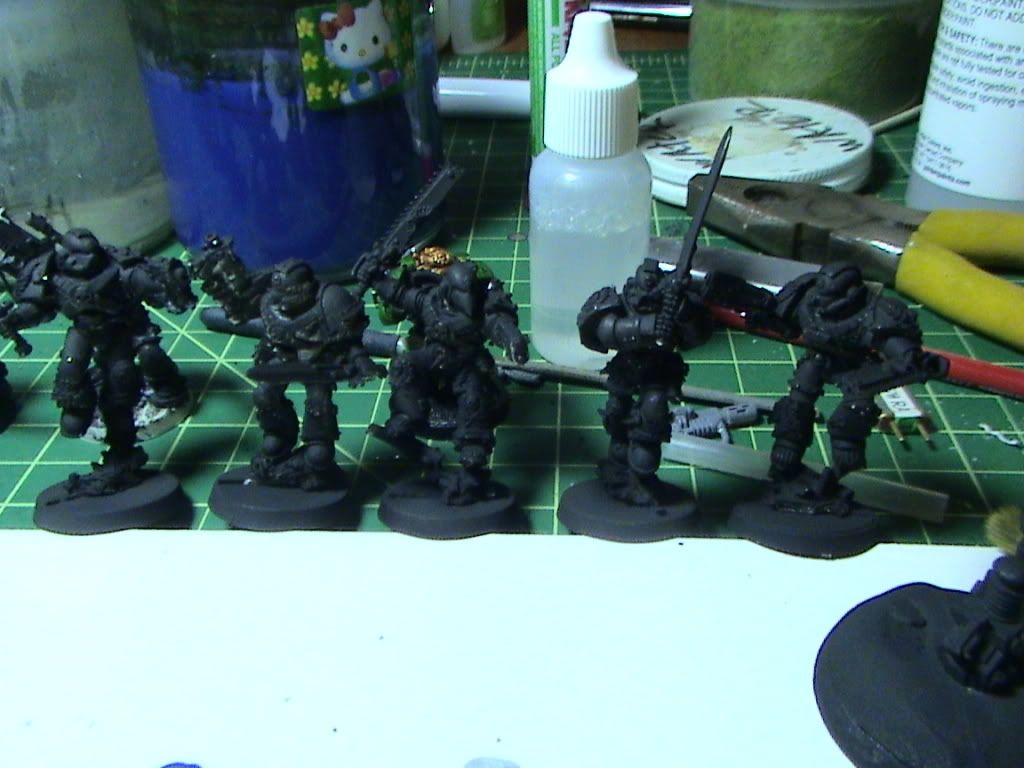 and working on 2 objective markers.
this one im taking opinions on cause it has 2 version but only 1 wil be used.this one the book will say TOOLS OF THE TRADE.
this one the book will say(this is my rifle there are many other like it but this one is mine.
all C&C welcomed and wanted
---
here are my sternguard almost done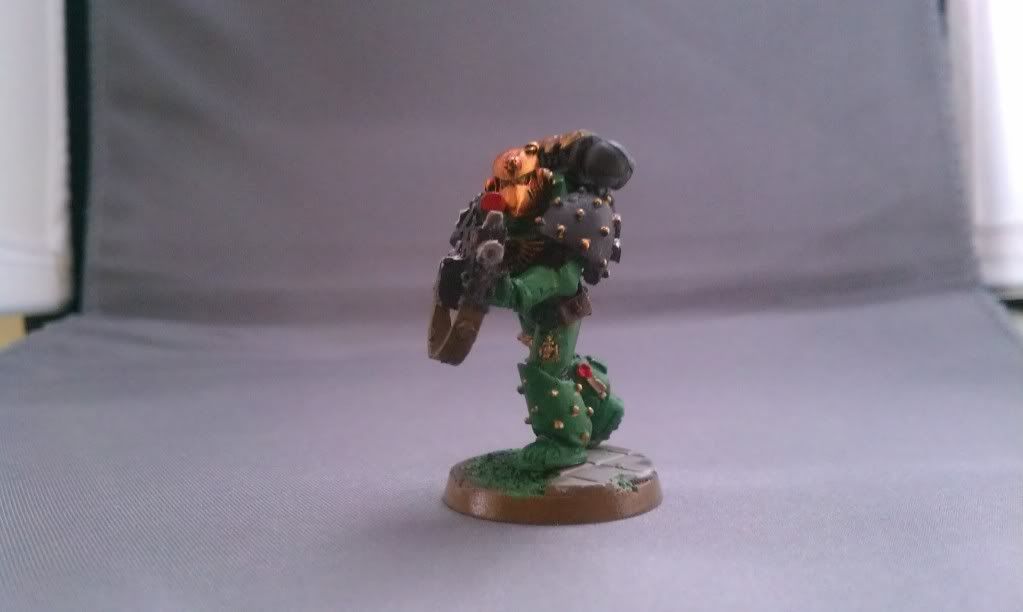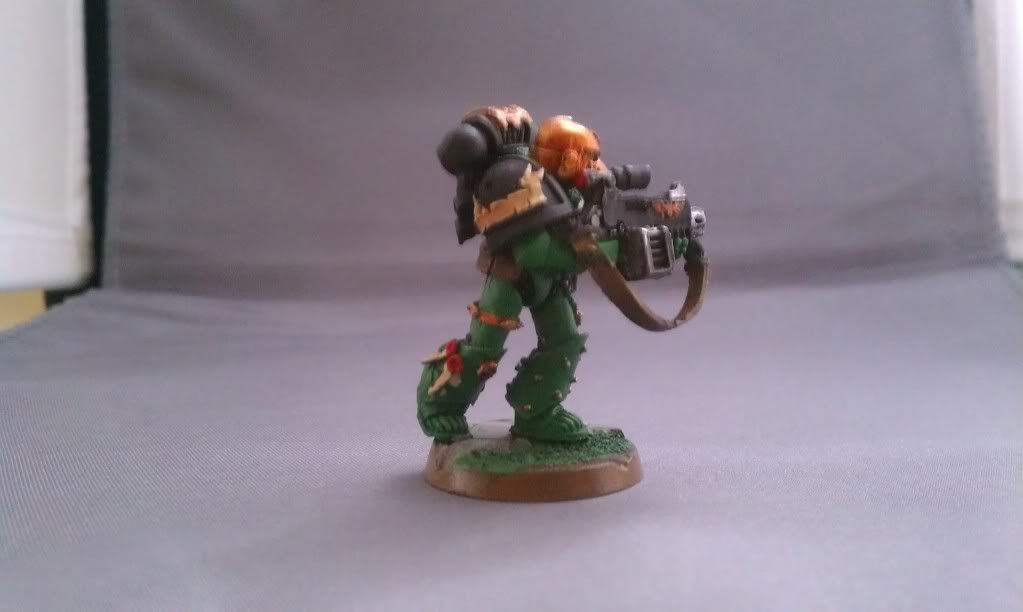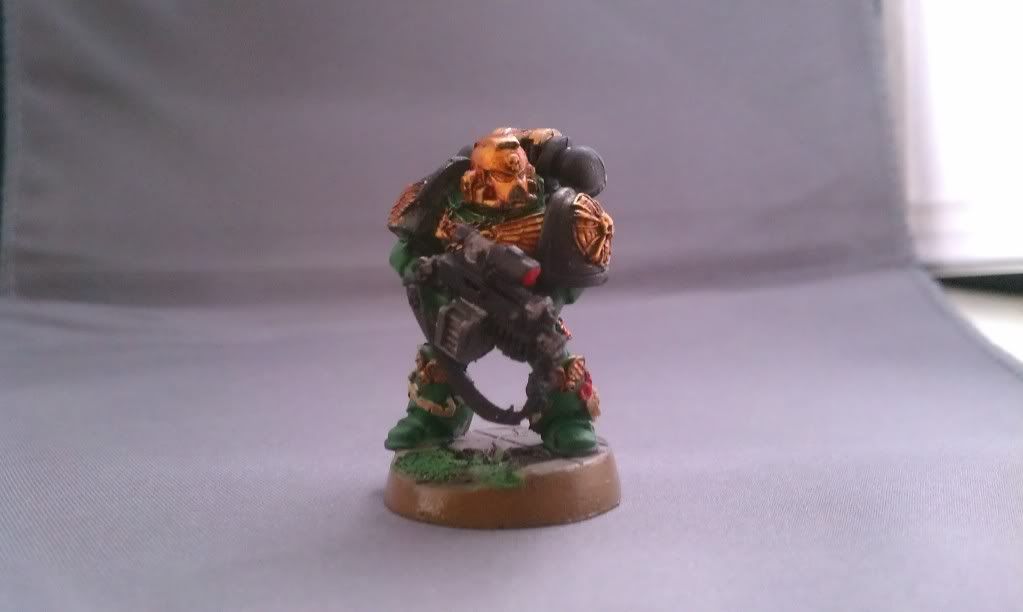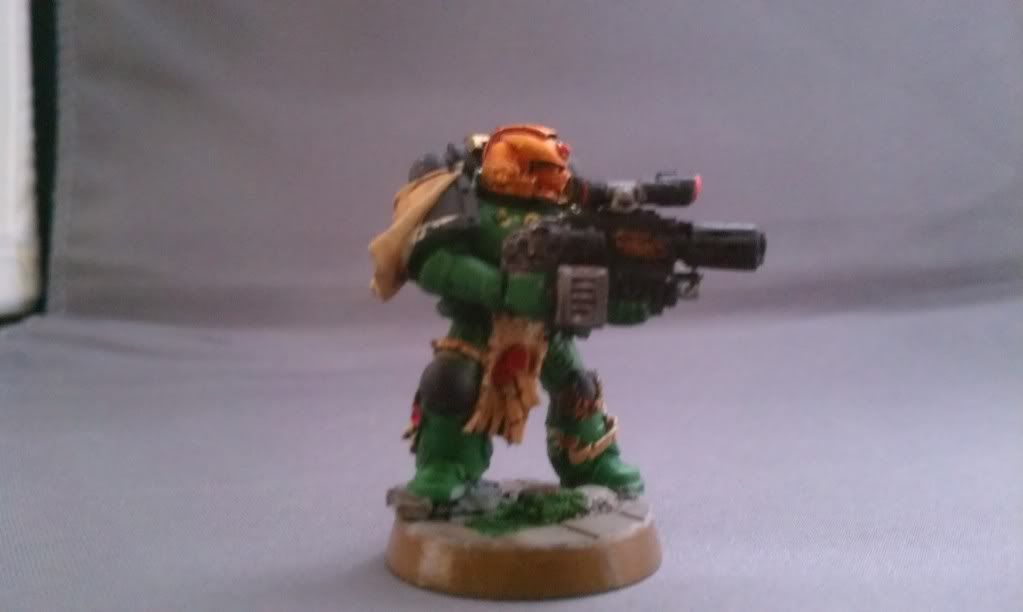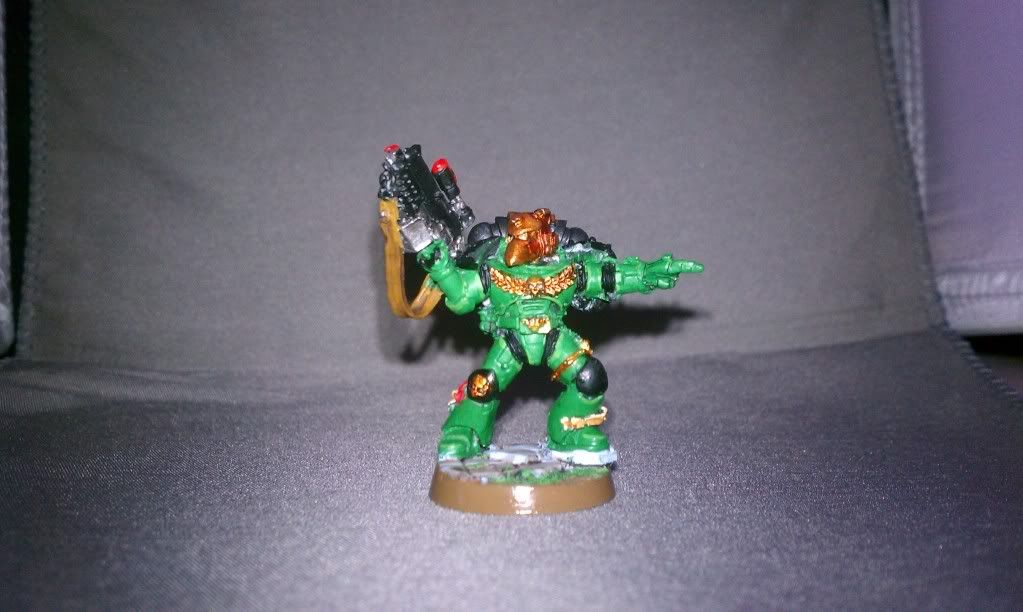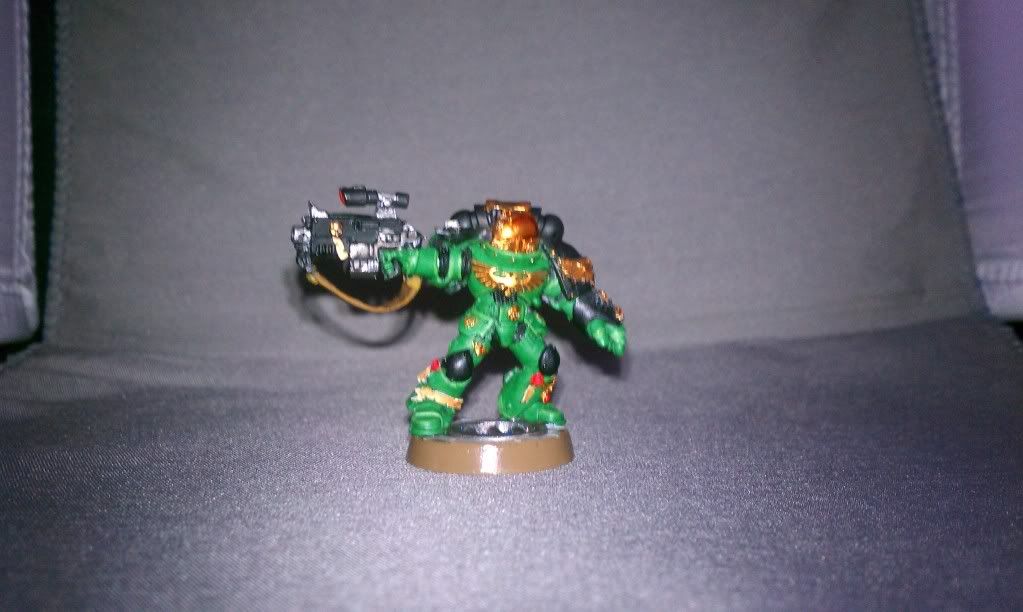 ---
Looking good mate! Pics are a little blurry, but from what i can see you have the colour scheme down pretty well. I hope you don't mind if i make a few small suggestions

The gold is a small bit flat, i think if you go for a 2:1 mix of Gold and Scorched brown, followed by a wash of gryphonne sepia and then a drybrush of shining gold over the top. This helps keep the gold from distracting from the rest of the model by dulling down the shininess a small bit

The only other thing is that maybe you should water your paint down just a small bit, it is almost perfect in consistency, but i think a drop of water would do a world of good.

Have some rep for your work
---
Quote:
Originally Posted by McMuffin's Law
As an online discussion about 40k grows longer, the probability of a comparison involving Squats approaches 1.
Quote:
Keep in mind you are arguing "realism" about an army of genetically-altered supermen that are able to shrug off rocket propelled explosive bullets because someone is waving around a cup full of blood that reminds them of their long lost Super Daddy that was killed by there Extra Special-Super Uncle.
Space Wolves Tournament Results W:24 D:8 L:8
Jaws-ing my way to victory
Salamanders stolen again
---
OK the warp has asconded(stolen) my sallies for a 3rd time.this time i know who stole them. So I will start a new army which will be a joint force of 2 chapters of space marines the Astral Swords whom were created from the Dark Angels and the Storm Wardens with marines seconded from other chapters to fill the ranks to watch the eye terror.been bummed about my sallies being stolen coming out of my sadness and moving on. pics to follow soon.
---
Wait, someone straight up took your minis? You know who it is? Can't you grab a baseball bat and go retrieve them or something?
---
SUFFER NOT THE PONY TO LIVE.
- - AMATEUR KHORNESTAR: MY BLOG THING - -
---
Last edited by venomlust; 03-03-14 at

12:09 AM

.
---
Sorry to hear that mate, any chance you can get them back? I like the idea for the new project (storm lords ftw) but surely some redemption is in order if some asshole stole your stuff.
---
My Salamander Logs & Army Showcase:
The Ashbringers 3rd co.
:::
Into the fires of Battle
:::
Army Showcase

Currently Painting:
Landraider Redeemer
Lower Navigation
SALAMANDERS a work in progress.