Scratch Built Tau Manta (WIP) w/ Pics
---
Hi all.
If you read my introduction post you would know that I used to be a tau player. During this period of stupidity, a friend of mine cut out the rough shape of a Tau Manta from solid blue Styrofoam and sold it to me for £5. This I have then since sculpted to give the more defined hull of a Tau Manta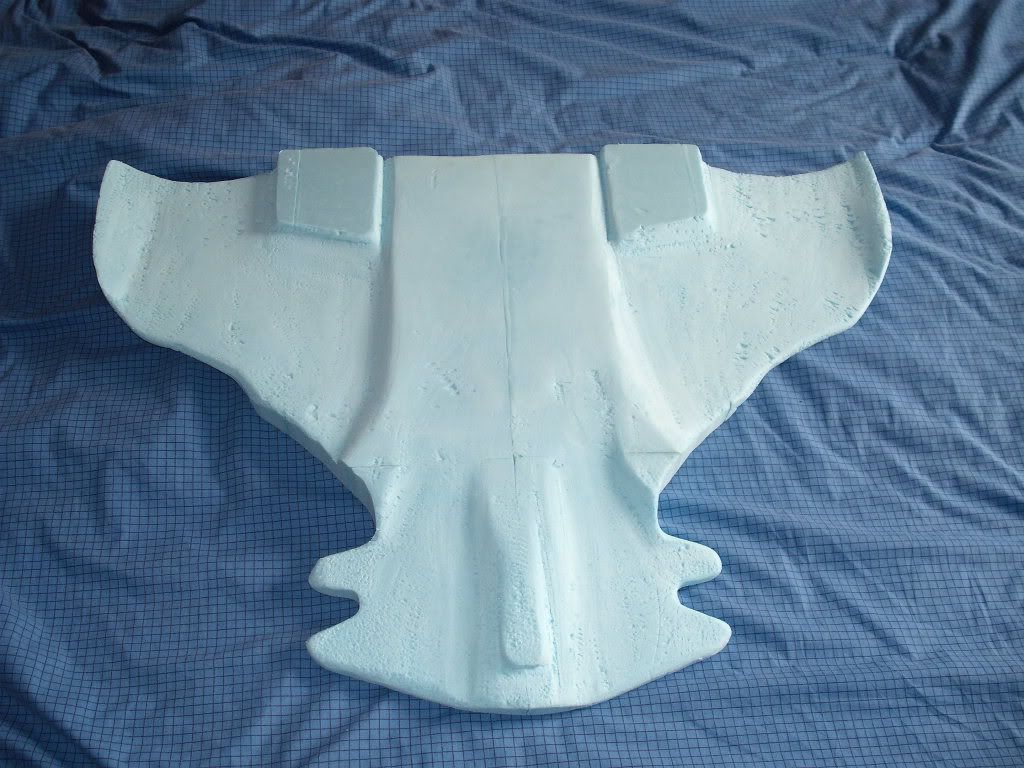 This took ten hours to sculpt from 3 inch thick styrofoam. I used a scraper/former (Kind of like a cheese grater with a handle) and emery paper.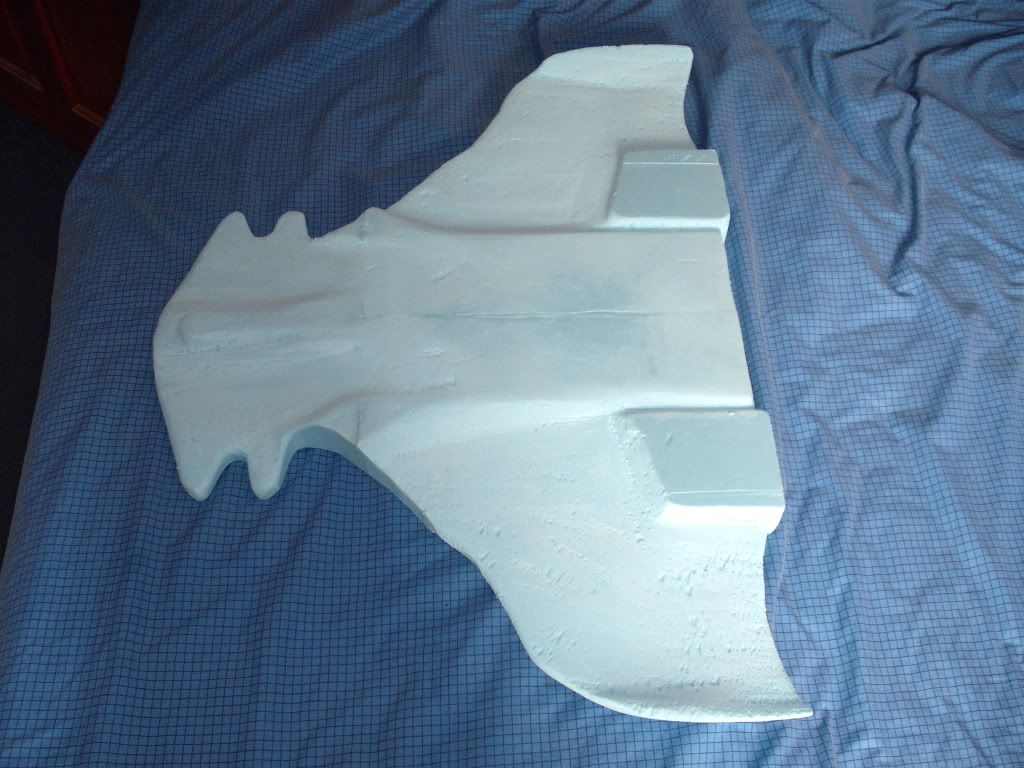 The next stage is to sculpt the troop bay which fits below the hull. This will then be glued into position. The next part involves purchasing about £50 of tau weaponary, and making their recesses and attaching to the hull.
After this the hull will coated in filler to fill in all the imperfections of the styrofoam. This will then be sanded down to give a smooth finish. Finally touch ups and additions will be done, like the lines along the hull will be scored into the filler coating.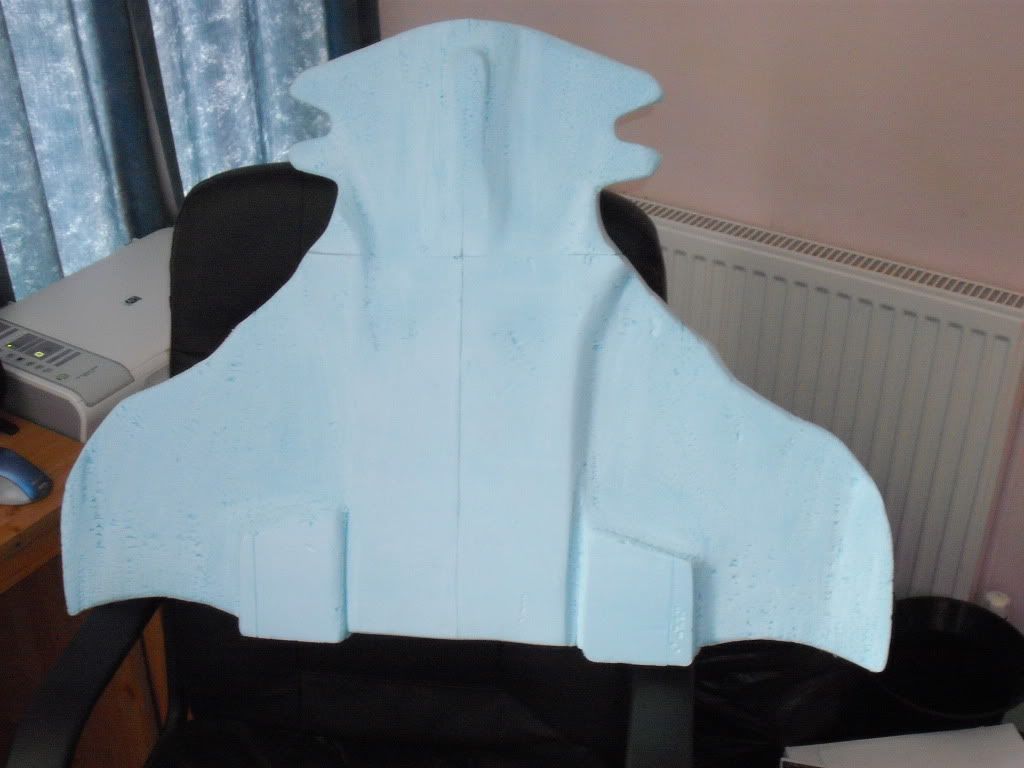 The picture above shows the size of model as it is resting on my office chair. This Manta will have no interior detail, like the Forgeworld model, and no opening troop bay. But I am hoping that it will be an impressive "representation" that can be used in Apocalypse games. EDIT >>> Also the model is extremely light. I have never felt the weight of the resin model but I would have to say it has to be at least half its weight.
The project is on hold at the moment due to final year exams at Uni.
If anyone has any comments or suggestions, feel free to post.
---
Tactica: Space Marine Bike Armies
SCRATCH BUILT TAU MANTA (WIP)
Adeptus Mechanicus Army (WIP)
I have a rendezvous with Death, At some disputed barricade...
---
Last edited by Epatus; 05-18-09 at

11:49 AM

.
---
I have no suggestions since I know nothing of using styrofoam, but this looks like a great start man! Props to you for using the foam and doing something creative!
---
---
Well done so far! With a Styrofoam model that scale, however, it will be quite fragile if you don't coat or treat it with 'size' prior to painting it. I would suggest even using muslin with the size to make it extra strong. (Although, that may be over-kill)
Keep up the good work and keep us posted.
---
Dude, that is epic! Great work, it must of taken ages to do this! Have some rep for some motivation!
---
HorusReborn thanks for the support I need all the motivation I can get to finish this project. I started it last year. My friend gave me the cutout in 6 pieces. I stuck them together to give the rough shape. It was flat on both top and bottom and was about three inches thick. (The side face, the three inch thick face, also need scultping) He then told me that we would be playing Apocalypse. I didn't start scuplting until the day before. Covered my room in plastic to catch all the dust, and started scraping for about 9 hours straight and then cleaned it up with emery paper for another hour. Worst 10 hours of my life!

When we plaed with it the next day, everyone was impressed with the scuplting, but was a little cheesed with the Apocalypse Manta Death Blow Cadre rules. Basically everything with 24 inches of the manta needed to take a morale check, and as long as my commander was alive, everyone was fearless. first or second turn disembarked troops behind his IG. Force them to take morale test, because of the manta, they fail, fall back, caught in crossfire, 6 units dead without firing a shot. After the game we decided I would never play with it again until it was complete. But now that I have sold my Tau that is a bit difficult.

Damned Fist thanks for the suggestions. You are indeed correct, it is fragile. I have not broken it yet, but you know when you hold something and you know that it could break really easily? This is one of those times.

gwmaniac thanks for the pick me up, after what I described above, the model has been moved from house to house (being a student) just in case I want to work on it. Maybe now after my exams finish (29th+(party)), start of June sometime I can start work on it again.

I'll keep you updated if I make any progress.

C&C always welcome
---
Tactica: Space Marine Bike Armies
SCRATCH BUILT TAU MANTA (WIP)
Adeptus Mechanicus Army (WIP)
I have a rendezvous with Death, At some disputed barricade...
---
I assume the tool you used to do this was a rasp.
Looks excellent. Where did your mate get the foam from? I am finding in very hard to get this stuff anywhere in the UK.
This is certainly something I will be interested in seeing completed, but you will need some serious dedication to get a fully detailed model done.
Regarding weight, I'd say it going to be much less than half the FW models weight.
Damned fist - Can you explain more about 'size'?
---
Your toast has been burnt and no amount of scraping will get rid of the black bits.

---
what kind of filler are you gonna use for that?

I don't know if it's compatible with styrofoam, but you might want to try a polyurethane type liquid for the final coats, after you have all the etching and scoring done. It does wonders for protecting things from dents and scratches that you normally get in softer, lighter material.
Powered by Squig Tea
Join Date: Jan 2007
Location: In da Toolz cupboard in da Mekshop
Posts: 7,589
Reputation: 53

---
Wow, Im impressed so far.
Don't worry about the time scale. I have spent about a year doing a Slaanesh Questor Scout Titan and its got a fair way to go still.
My log for it may be of some use to you as many of the problems will be the same.
https://www.heresy-online.net/forums/...ad.php?t=10755
Couple of suggestions for you.
Get some of those metal wire coat hangers and cut re enforcing rods from it. Slowly push it through and spin it in a drilling motion and the pinched end that you clipped will drill it through.
Trying to cut those neat little lines that are on Tau vehilcles through a coating will be hard work if you coating is too thin (and Brittle) it will snap out chunks rather than a neat line.
I really look forward to seeing how this goes for you.
PS. would you like this thread moved to project logs? It would be more at home there if its a long term project.
---
I have no idea what filler I am gonna use yet. I know that is gonna be required because the surface finish at the moment is very poor.
I have spare pieces of styrofoam so anything I am thinking for trying on the manta will be tested first. I have no intention of lossing ten hours worth of scuplture.
Never thought of supporting it with coat hangers, but come to think of it, it would be a really good idea cos at the moment it is held together with PVA. Again Vash you are sopt on I am expecting difficulties with the lines. I intend to trial a fillers first and see what sort of results I get. But I understand exactly the problem you are refering to. If the filler crumbles when dry it will be very difficult to cut those lines.
Well the next expected time I can start work on it is probably the 1st of June. My last EVER exam is on the 29th so doing anything for the three nights after that is out of the question. I should be able to finish the troop bay, stick it on, and depending on money, order and fit the weapon bits. Then it will actually look like a proper Manta.
Thats a point does anyone know a RELIABLE bits store preferably in the U.K.?
Ok put more pressure on me
. It might be best to move this to project logs.
Thanks for all the support and advice
---
Tactica: Space Marine Bike Armies
SCRATCH BUILT TAU MANTA (WIP)
Adeptus Mechanicus Army (WIP)
I have a rendezvous with Death, At some disputed barricade...
Lower Navigation
Scratch Built Tau Manta (WIP) w/ Pics