Powered by Squig Tea
Join Date: Jan 2007
Location: In da Toolz cupboard in da Mekshop
Posts: 7,589
Reputation: 53

---
Great to see you back LTP.

As always superb paint. I prefer the Achilles in your scheme to the Minotaurs bronze, makes the mini look better.
---
Cheers bud. Neither can I lol. I thought it would be really hard to get back into since I've been away so long but I've found it partically easy so far
.
. You might see a thunderhawk on my return from afghan next year lol might treat myself.
LP's back too ;)
Update!!
Sooo I have been working on the black side of the achilles today.
Finished most of the highlighting and added some more freehand.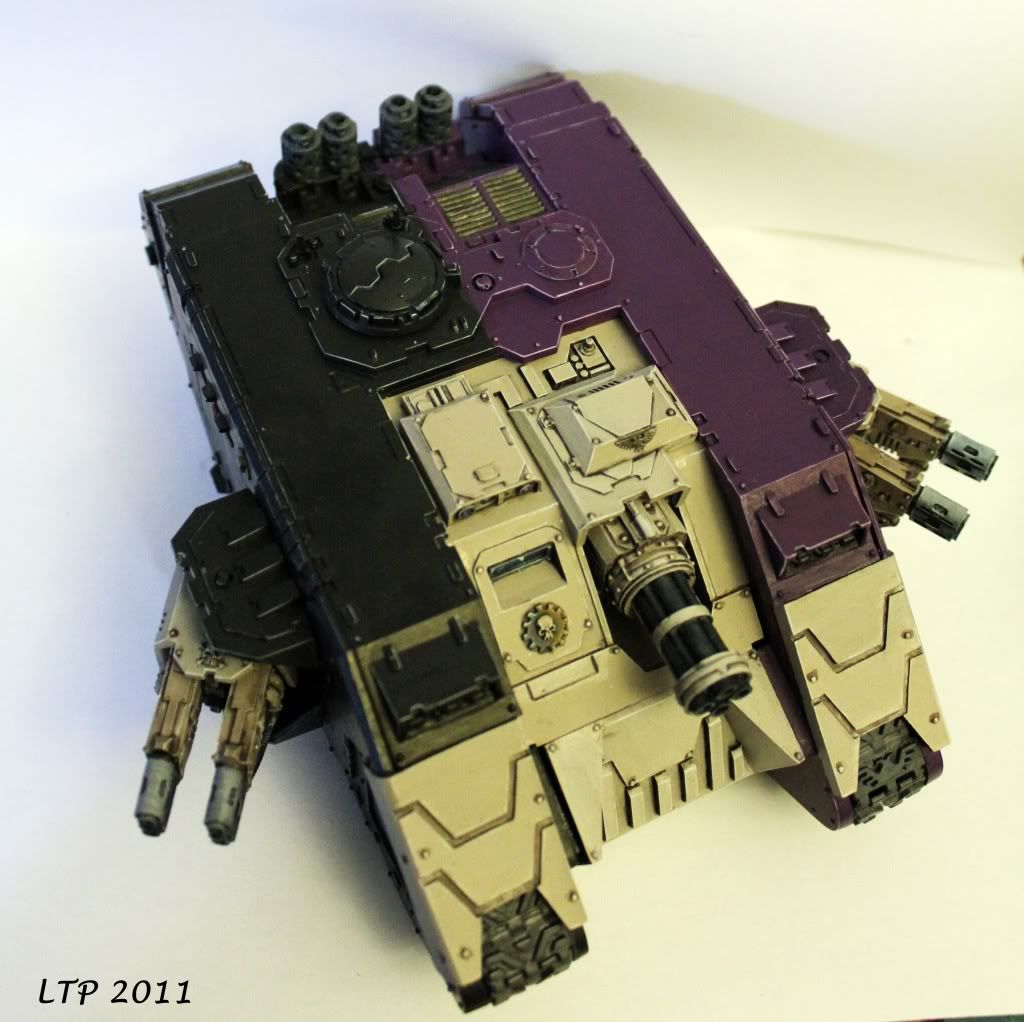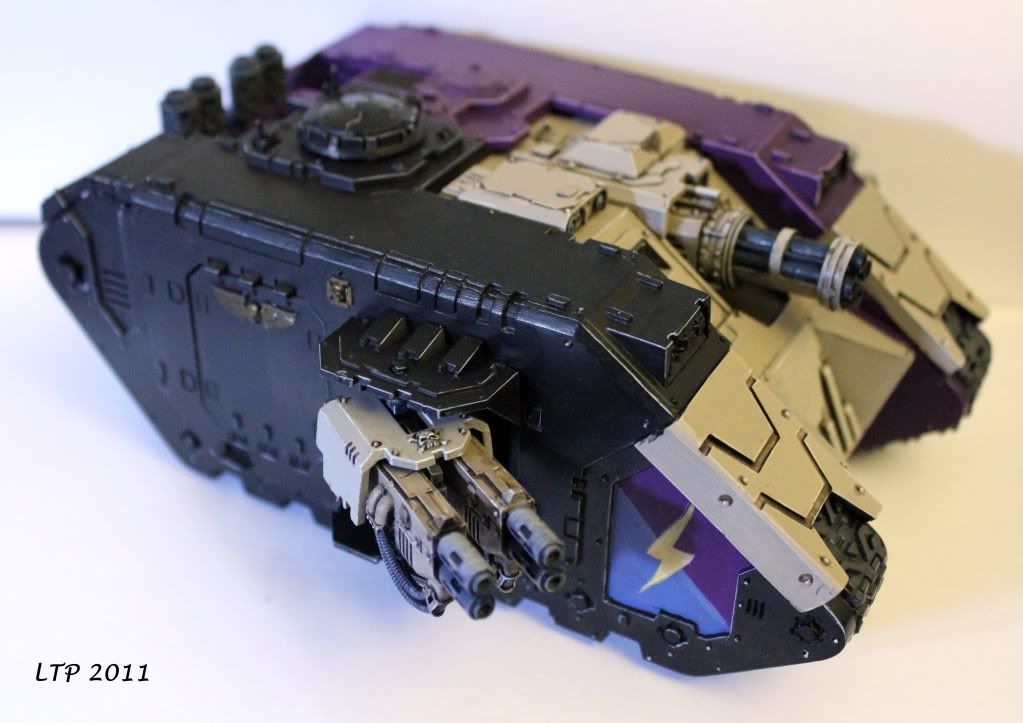 Moar tomorrow!!
---
No love? ... lol ah well..
Here.... right now... is an update.
In between playing on my new laptop and having a life I have managed to complete the purple side of the LR.
I have added some freehandness.
"PICTURES NAOW!" is what I hear... fine I'll be quiet
Here you go...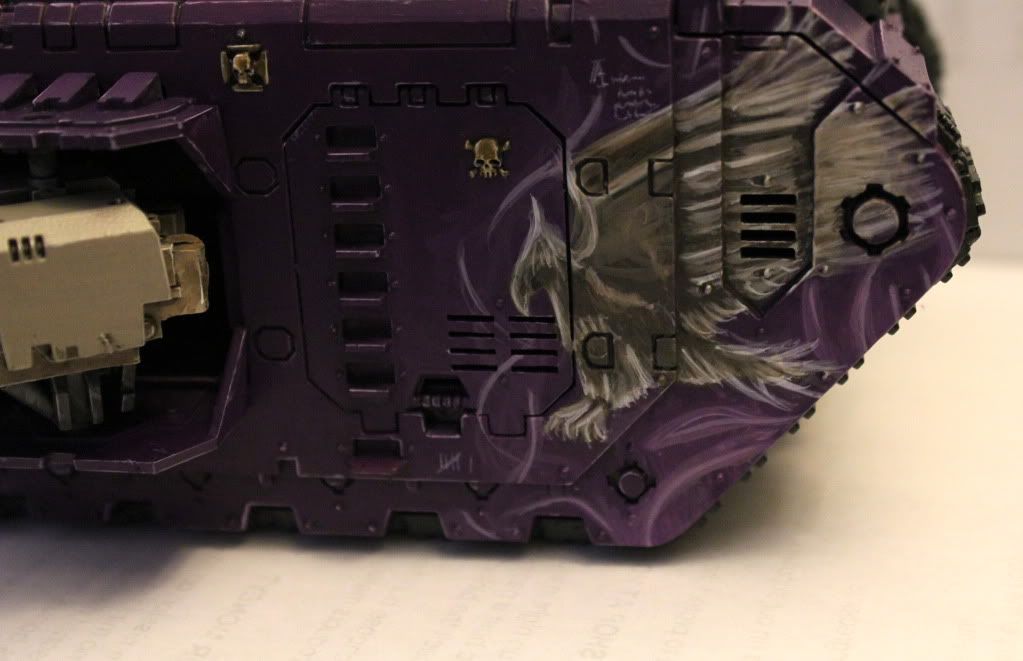 It's supposed to be a hawk.. but a very flowy kinda freehand hence why i worked on the purple around it too. I'm pretty happy with it. Only problem now is I've got to think of what to put on the other side lol.
That took me about 4 hours.
Cheers!
LTP
P.s. Over 20000 views woo!
Powered by Squig Tea
Join Date: Jan 2007
Location: In da Toolz cupboard in da Mekshop
Posts: 7,589
Reputation: 53

---
Very nice free hand on the hawk LTP,
can you feel thee love yet?
It's always great to see your freehand work and you carry it off well without cluttering the mini which is a common error with such things.
The only thing I would suggest is giving it an eye, I know you are after a flowing form but it seems to be lacking without the eye on the hawk.
Maybe a big ol strike of fork lightning on the other side?
---
Heh Vash your love comment reminded me of this XD


LTP - That is some nice freehand right there, the hawk is nice and...flowy? Interesting what you do on the other side. You could mirror whats on the purple side. A small hawk in the opposite spot to the current lightning, and a big lightning opposite the current hawk... or something like that. Keep it up!
---
I am with the others, the Hawk looks great and I love the flowing purple designs that compliment it so nicely. I look forward to seeing what you do on the other side!
---

Commissions, Project Logs, and Galleries
Follow me on Twitter: @MidgesWorkshop. You can aslo follow me on face book Here
---
Love the free hand LTP! quite jealous.
---
Looking great LTP, glad to see you back and splashing paint around.
---
Holy sweet mother of Ordnance Barrage.....that's a gorgeous tank.
---
Win/loss record for The Fists of Vengeance- 20 - 1 - 8.
Hive Fleet Kraken- 7 - 2
The Unnamed Clan- 0 - 0 - 0
Lower Navigation
Lightning Hawks My DIY Chapter