---
Just found this and....WOW!!! really really good, solid and cool...was actually thinking about starting an Eagle Warriors army to be the nemesis to my Death Guard...and this has just solidified the decision great work

+ rep

WKG

*EDIT*
without having to do a tut how do you get your white so crisp, and do you use a codex grey basecoat for it?
---

---
Last edited by WarlordKaptainGrishnak; 01-14-10 at

09:36 AM

.
---
Can't believe I missed this till now. Beautiful army. +rep.

Also rep to Grishnak, I wouldn't have seen it if you hadn't posted.
---
Fantastic work, it takes a lot of patience to do a force of that standard and that size (more than I have). Add to that the effort it takes to get that much pristine white using a black undercoat... Pheeeew. Hard work, have some well deserved +Rep

How are you working up to the white by the way? Are you using the foundation pale grey?
---
Sorry for the late replies everyone, I've been taking a bit of a break from painting, and subsequently, reading forums and playing games.
First of all, I'd like to thank people for the comments and the rep. Secondly, I'll give a quick overview of how I paint the white:
1) paint a basecoat of adeptus battlegrey
2) first coat is fortress grey, but astronomicon grey would serve just as well
3) I have mixed up a pot of 'white' that I use on all of my marines, this consists of 8 parts skull white to 1 part of fortress grey. I keep applying this in multiple thinned down(not so thin that it runs) layers until the white is the way I'm happy with.
Thats it, just a bit of time and patience. It takes me nowhere near as long as it used to, now that I've painted so many models.
---
Eagle warriors project log
https://www.heresy-online.net/forums/...ad.php?t=31913
Eldar project log
https://www.heresy-online.net/forums/...647#post366647
---
Unfortunately, I don't have much of an update for you. Most of my painting has been tidying up a unit here, adding a model to a unit there. as a result, apart from the finished droppod, you've seen these models before, just not as clearly.
the sternguard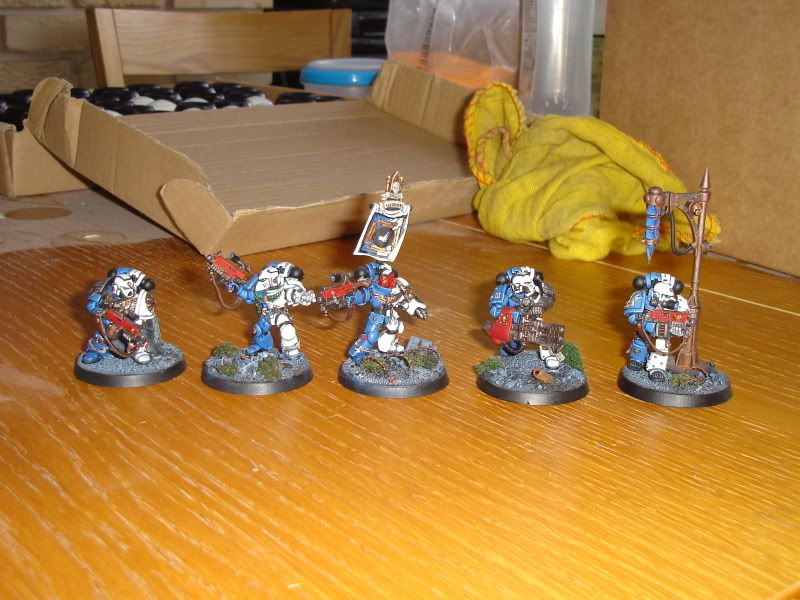 bike squad. The last time I showed this squad, one of the bikes was minus a rider, he's on there now and I'm in the process of painting 2 more bikes to go with the squad. This will end up as a full squad.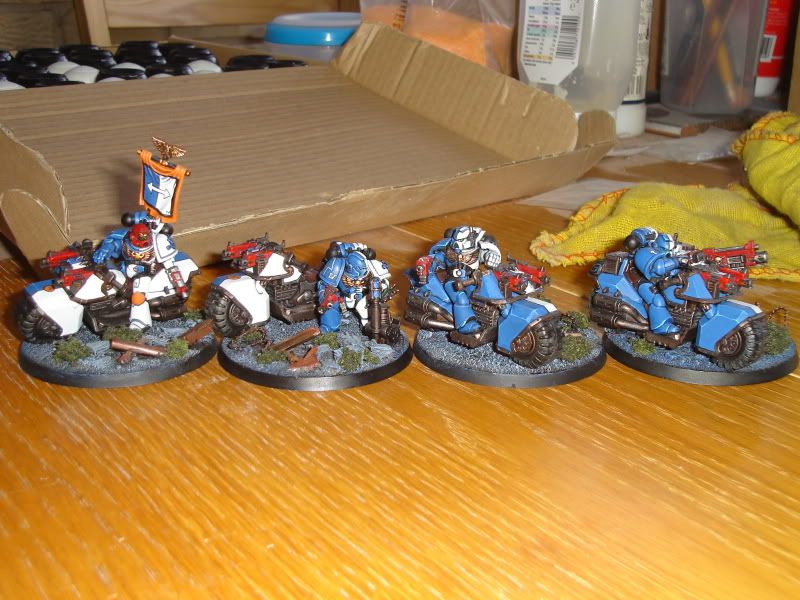 bike captain. This is just a better quality shot of the model.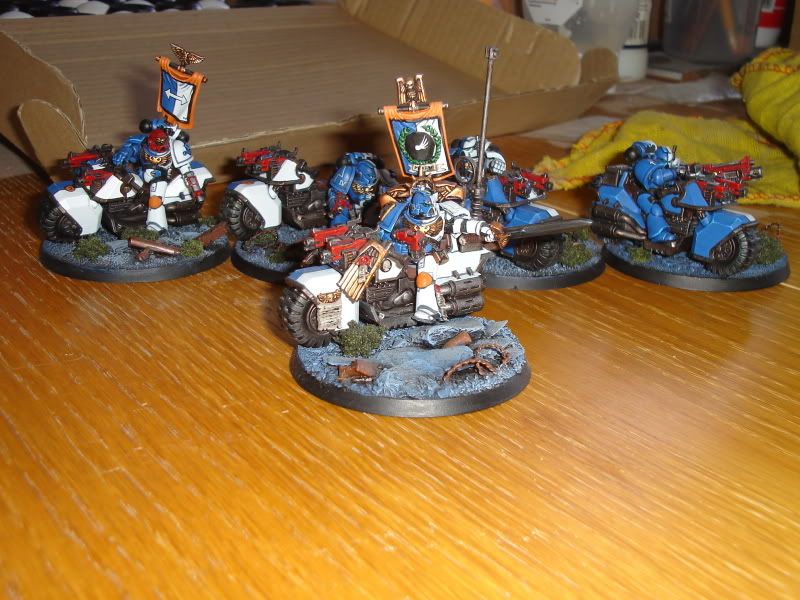 You've seen this tactical squad before, but the photo was rubbish, so I thought I'd show you again, this time with a drop pod.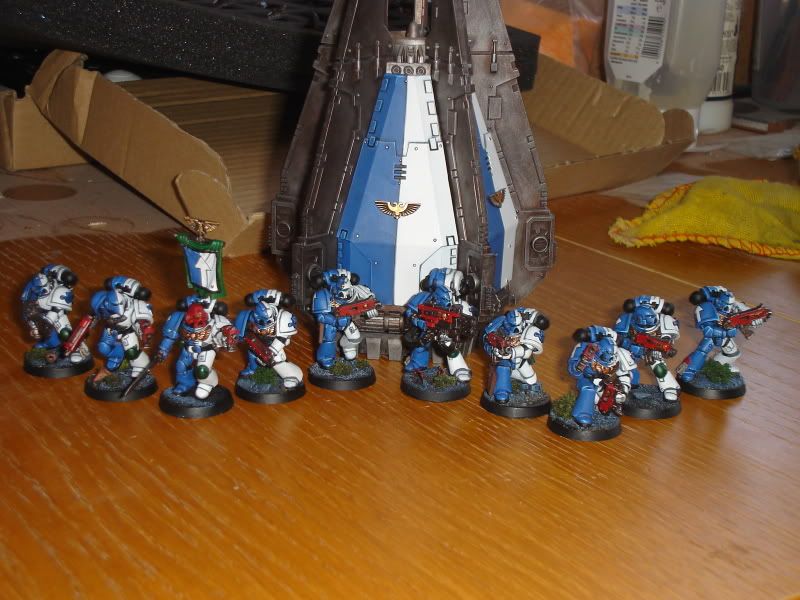 ---
Eagle warriors project log
https://www.heresy-online.net/forums/...ad.php?t=31913
Eldar project log
https://www.heresy-online.net/forums/...647#post366647
Join Date: Mar 2010
Posts: 5
---
Just read the thread all the way through. Very nice work, the poses and quality of paint job really sets them apart!
I shall definitely keep following this thread and look forward to any future updates!
---
I think your work is brilliant! Not too sure if I have posted here before, I am to lazy too go and look
Have some rep and keep up the good work!
---
Nyctophobia- Fear of the Dark Angel.

"No one ever spoke about of those two absent brothers. Their separate tragedies had seemed like aberrations. Had they, in fact, been warnings that no one had heeded?"

'Killing a man is like fucking, boy, only instead of giving life you take it. You experience the ecstasy of penetration as your warhead enters the enemy's belly and the shaft follows. You see the whites of his eyes roll inside the sockets of his helmet. You feel his knees give way beneath him and the weight of his faltering flesh draw down the point of your spear. Are you picturing this?'
'Yes, lord.'
'Is your dick hard yet?'
'No, lord.'
''What? You've got your spear in a man's guts and your dog isn't stiff? What are you, a woman?'
---
These guys are looking great, the colour scheme is superb, and you have pulled off the painting of it in a big way.

ElTanko
Lower Navigation
DEATH FROM ABOVE!!!! Aegius' Eagle warriors log.