---
There is but one word adequate for your efforts mate.. (well, two acutally) FRIGGIN' ACE!

Those marines look the works, as do your vehicles, and your bloody Thunderhawk
I'm jealous of your poses :d

have some much deserved rep!
---
Eeeep!!!!!!!!!

First of all, an apology: I'm sorry for being away for so long.

second, an explanation: I had to battle a serious bout of depression, which also resulted in me losing my job. Because I like to have a few beers now and again(well, quite a few actually.), the doctors made me go through it without medication. The good news is that I'm all better now, talking to someone really does help.

After getting over the depression, I moved house.

After moving in, space hulk was delivered to my door.

I haven't abandoned the Eagle Warriors entirely, but progress will be slower until I get all my space hulk models painted up. I'll try and get some shots up over the next few days as I've actually gotten quite a few models painted up during my absence from here.

I finished my sternguard squad. (Including a heavy flamer.)
I only have 2 more marines left to paint in my tactical squad.
The biker captain is finished.

Once I have finished the last 2 marines in the tactical squad and the last remaining biker in my bike combat squad, I'm going to review the army and see what direction I want to go in next. I have to admit, a 10 man terminator squad with cyclone missile launchers is sounding quite tempting, but then again, so does the thought of adding multiple drop pods to my collection.

I think I've jabbered on enough for now. I'm going to leave you folks in peace.
---
Eagle warriors project log
https://www.heresy-online.net/forums/...ad.php?t=31913
Eldar project log
https://www.heresy-online.net/forums/...647#post366647
Join Date: Jun 2009
Posts: 122
---
You'll be right mate, that sort of thing hits people at the worst times and for no apparent reason.
Good on you for blasting that sunnuvabitch down. You are the new Duke Nukem.
Keep on trucking.
---
Well good to see you have battled your way back man. and I have seen those space hulk models and they are sweet. just too bad they Blood Angels but still sweet models. cant wait to see some of yours painted.
Junior Member
Join Date: Sep 2009
Posts: 3
Reputation: 1

Wow
---
I was debating whether or not to try the eagle warriors color scheme, but after seeing your models and how magnificently well painted they are, I just have to try it now! Sir I humbly request a PM or perhaps just a reply here on this thread with painting tips for this chapter. I gave it a shot, and I did okay. now after getting past the crossroads on whether or not to pursue building on particular chapter. Eagle warriors it is!
By the way you must have some idea as to what their armoury looks like (# of tanks, Thunderhawks).
Once again great modelling!
---
I know its already been said, but amazing work man. + rep.
---
Army strong Cav tough! Stay Cav live the legend!
If your in it u get it.
---
Thanks for the kind comments and rep everyone, time for an update.
I've not got my normal camera on me, so I've had to take pictures with my camera phone. I'm sorry for the poor quality, but it's only a 2mp camera.
First up is a progress shot of my tactical squad
I'll be glad when this squad is finally finished, the bad news is that I've got to start another one as soon as I have.
Next up, we have the captain on bike.
Not exactly my best work, but he is a decent commander model for my 6th company
Next is the 5 man sternguard squad with heavy flamer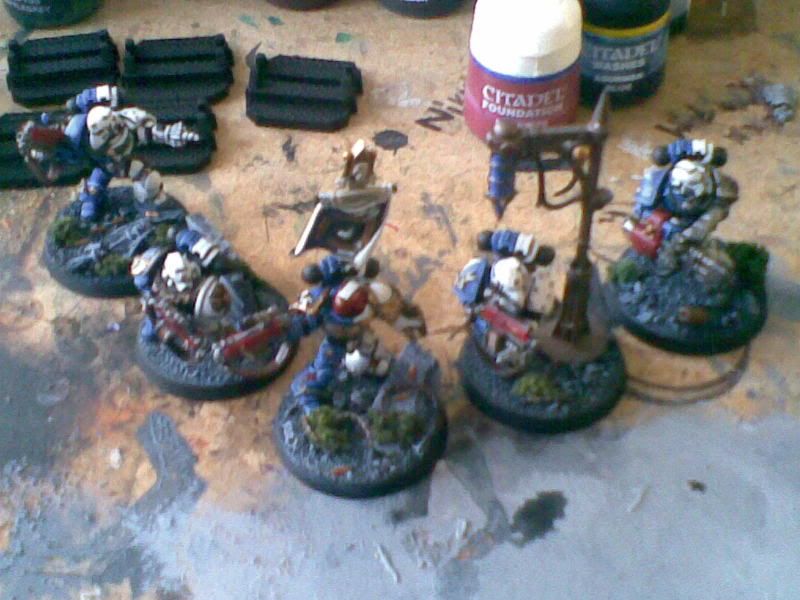 I've also included a picture of the heavy flamer on his own.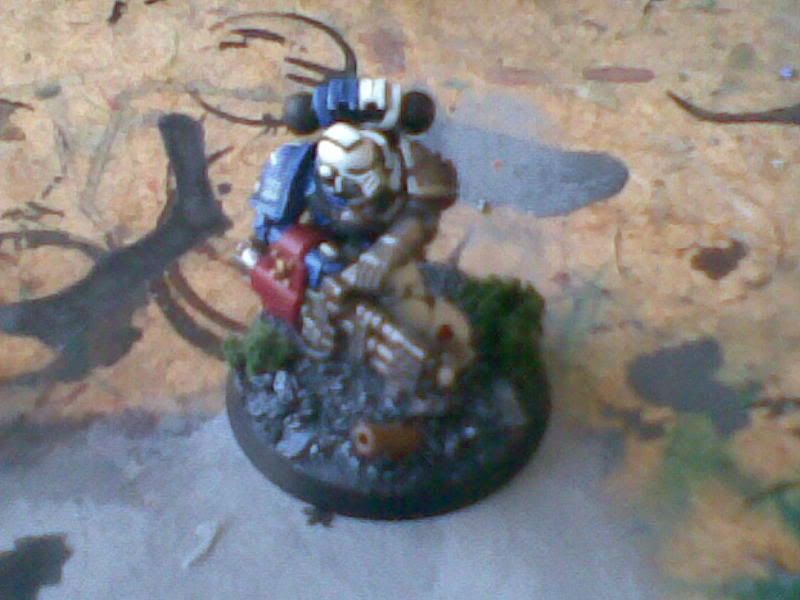 @ captain feicco: I'm not sure as to the size of the Eagle warriors armoury. The really good thing about collecting a chapter such as the Eagle warriors is that there is no published information on the armys size, this means that you can build your army up however you see fit.
As I don't have my camera with me at the moment, making a painting guide would be a bit pointless, as the colours would all wash out. I'm going to prepare a guide at some point when I've got my camera back, I may even take some more pictures to replace the ones in this post, but we'll see.
I'm off to bed now. Hope you enjoy these pictures despite the poor quality.
---
Eagle warriors project log
https://www.heresy-online.net/forums/...ad.php?t=31913
Eldar project log
https://www.heresy-online.net/forums/...647#post366647
---
Just read the whole thread through, really great work on everything.

The bikes are especially amazing, i've never seen a bike squad that looked that cool!
---
very nice i wish i was that good you make my army look bad with youre amazingness!
---
This is a beautifully painted and executed army with great conversions. What more can I say but have some more rep my good man.
Lower Navigation
DEATH FROM ABOVE!!!! Aegius' Eagle warriors log.