---
I love all these models. I actually choose between the eagle warriors and Ultramarines when picking a chapter. The thing that made the decision for me was that FW have more Ultra stuff. Not that I can´t add a squad of eagle warriors as allies sometime in the future
Keep up the good work!
---
There are no friends in the real world, just less hostile enemies
---
Quote:
sorry that I've not posted in ages, I have been hard at work with mah speez muhreenz. I'll try to get some piccies up over the next couple of weeks.
Look forward to it mate
---
I have had a very busy year, this has included moving to a completely different country( ok, from England to Wales, but that counts right?) for a girl, getting dumped by said girl, getting back together with said girl, getting a pet dog with said girl, getting dumped again by said girl and finally getting a new job. So I do apologise for my tardynessismness, but I've got excuses.
piccie update:
First up we have an attack bike, nothing special here, just an attack bike, but I've painted it, so it is going in this log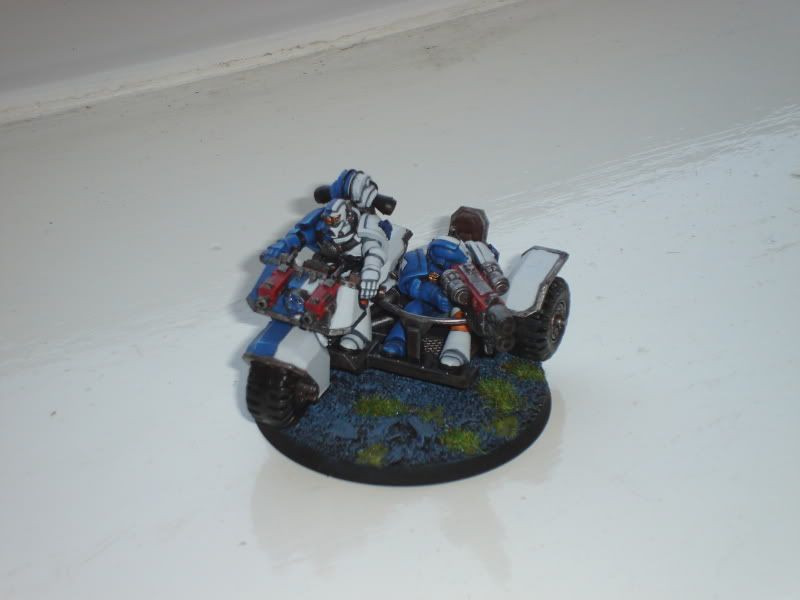 next up we have 2 landspeeder tornados, these things rock, they melt things in every game I use them in, I may have to get some more at some point. I've painted the squad markings (which can't be seen in this photo) in 7th company colours as the 7th company provides landspeeder crew as well as tactical squads.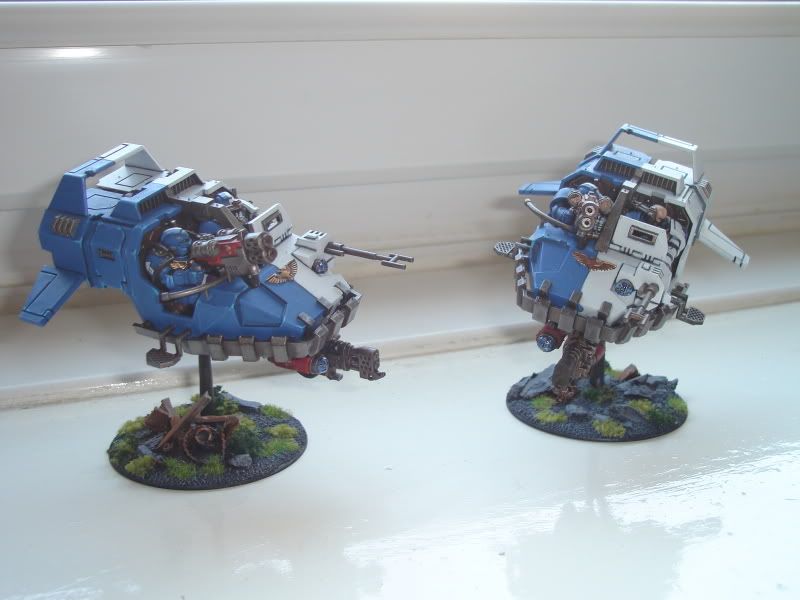 next is my one and only vindicator. These things seem to work better in pairs, so at some point I'll be buying this one a brother to play with.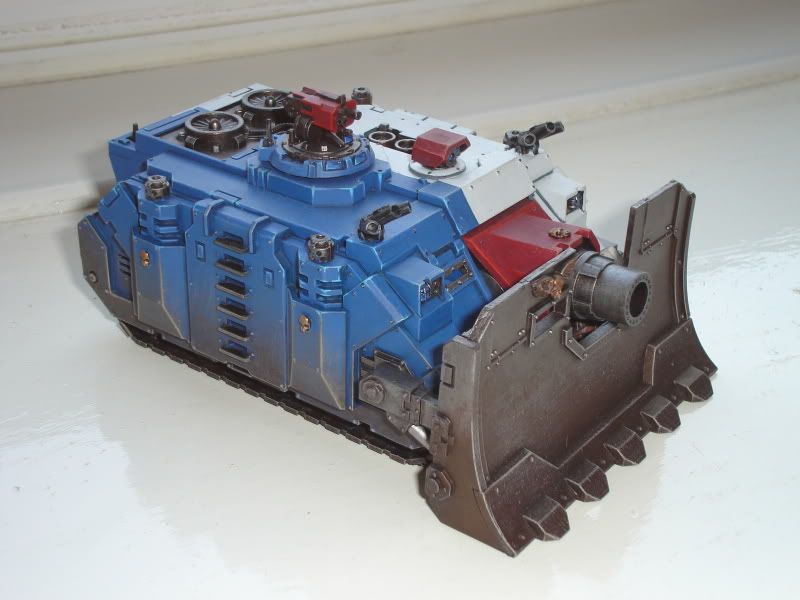 Now we have a tactical squad with plasma gun and cannon. I'm loving using the plasma cannon, I want more of them. I'm even going to try using a devastator squad with 2 plasmacannons despite what the internet tells me about them.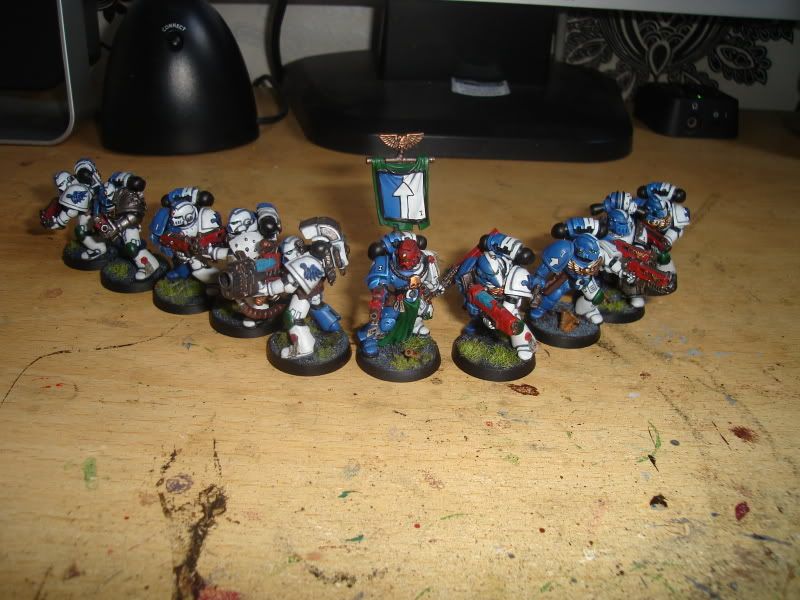 scouts with CCW/BP now. These are a repaint of some old models, I didn't bother stripping the paint first, I just repainted, 'cos that's the way I roll.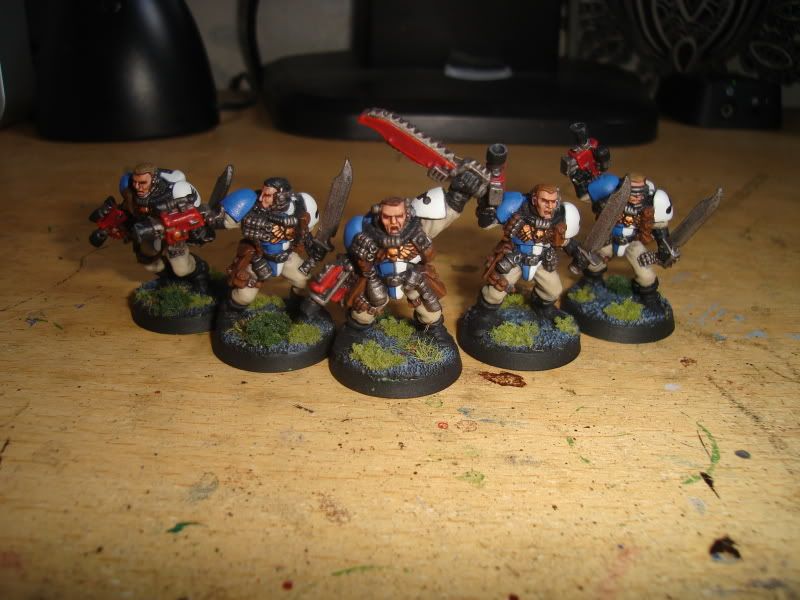 finally we have a conversion that I've wanted to do for ages, bolter scouts in camo cloaks, jus 'cos.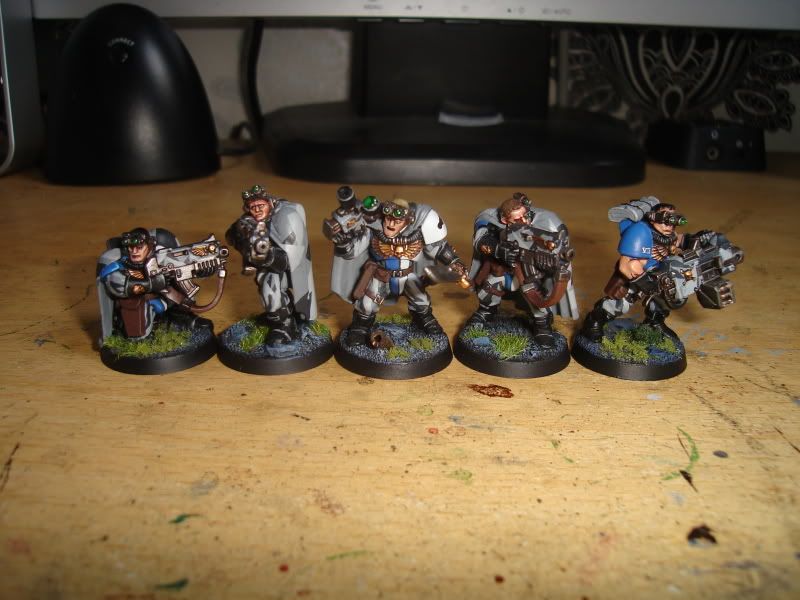 I do also have a rhinoback(yes, rhinoback) painted, but the picture had my wireless key in the background, so I thought better of letting all you fools know how to steal my internetz, so that'll have to wait for now.
Hope you've enjoyed the piccies, I may take some more at some point, but then again, with a new job coming up it may be a while, if so, sorry.
---
Eagle warriors project log
https://www.heresy-online.net/forums/...ad.php?t=31913
Eldar project log
https://www.heresy-online.net/forums/...647#post366647
---
Nice to se your backa again, I was actually wondering where your marines hade gone. And you have done a great job on these new minis
---
There are no friends in the real world, just less hostile enemies
---
Fantastic to see your glorious return, love the scout conversion with cloaks looks pretty boss.
As for palsma cannons, damn the interwebz! They are fun and an AP2 template at Str 7 is never bad! (unless it drifts into your units)
Thanks for the much needed insperation to paint my log back up to speed!
---
Life is all anatomy lessons and paint brushes
---
Nice to see you back around the boards mate and with shiny new models to boot! nice work on everything man! Your marines are fantastic!
---

Commissions, Project Logs, and Galleries
Follow me on Twitter: @MidgesWorkshop. You can aslo follow me on face book Here
---
Glad to see you're back. I enjoyed this log. Rep for returning with new stuff.
Senior Member
Join Date: Sep 2008
Location: Newcastle, England
Posts: 1,083
Reputation: 5

---
One of the oldest and best Plogs resurrected on Heresy, good times.
---
Cant believe that I have never seen this thread!!
Wicked!!
Love your Bike Marines!!
Am in the process of doing some myself....so gonna nick some of your ideas!!
Once again....wicked work....keep em coming!!!
Lower Navigation
DEATH FROM ABOVE!!!! Aegius' Eagle warriors log.