---
This is probably the best painting I've ever seen. Ever.

More importantly I'd never heard of Eagle Warriors until today and you sir, just gave me the excuse I needed to start a marine army.

Definitly +rep.
---
Very nice stuff, glad to see you back posting
.
These look cool. Ernie the sternie looks awesome, and great name too ;). The assault marines look really cool aswell! +Rep I tihnk
---
thanks for the kind words y'all.
update time. The jumppack-less assault marines are finally finished. Thats only taken me about 8 months to do, well better late than never I guess.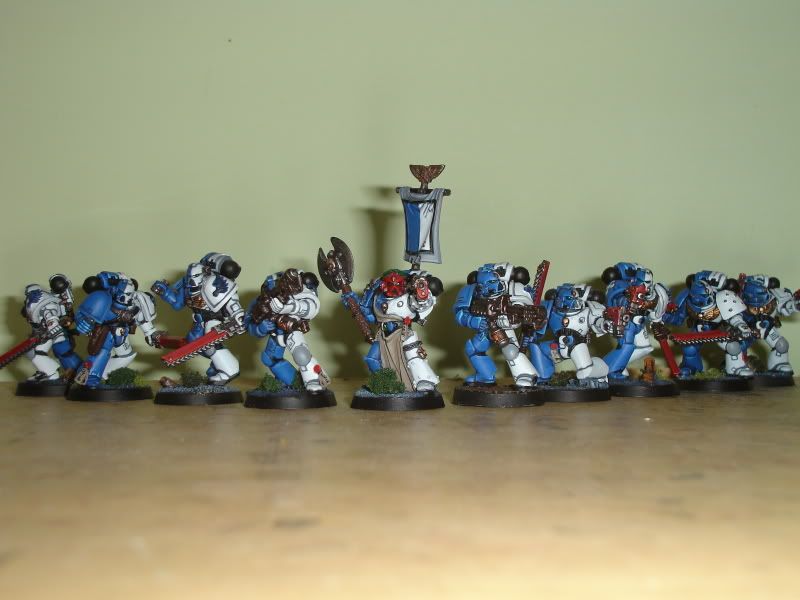 all of the models do have iconography on their right shoulders, even though it may look like they don't in the picture.
My next ten man squad to paint (slowly no doubt) is a tactical squad with plasma gun and plasma cannon. I've already made a start, but I've not made a lot of progress.
---
Eagle warriors project log
https://www.heresy-online.net/forums/...ad.php?t=31913
Eldar project log
https://www.heresy-online.net/forums/...647#post366647
---
More superb work! Loving the look of these Eagle Warriors, another chapter you really don't see enough of!
Looking forward to more, have some rep for your troubles.
---
The painting is ridiculous,
The models are ridiculous
The poses are amazing,
YOU my friend are RIDICULOUSLY AMAZING.
The paint is amazingly crisp and neat, the poses are dynamic and show movement.

I love the sternguard. They are someof my fav models from GW and the way you have presented them makes me want to have 2 full squads of 10 of them....thats $140 US lol.

Again, amazing work.
Cheers,
Bears
Junior Member
Join Date: Oct 2010
Posts: 1
Reputation: 1

---
Must ... Revive... Thread!

How did you get the lines so crisp? especially on the white side of the models? im starting an eagle warriors army at the mo and im an intermediate painter looking to get the expert look you've achieved!

Chard
---
Hows the Tac squad with the plasma weapons coming along?
Lower Navigation
DEATH FROM ABOVE!!!! Aegius' Eagle warriors log.