The Silent Co. of Korsk, a Mechanized Guard Blog
---
So, I've been working on a new Guard army for the upcoming codex (Can't wait til MAY!!!!) and thought I'd post some stuff up here. Some of this is kinda old since I've been working on it of-and-on for a while. They were put on hold for a while when it was first anounced IG was next in line, but now with the rumors flying, I am back on them.
The Silent Company of Korsk
Korsk is a world that was overrun by depravity and crime. Criminal empires spread the breadth of the planet and fought wars for territory and resourses. Until the Inquisition came. Inqusitor Rhaal chose to set up his base of operations on Korsk to give him a place to recruit and train the hardest elements of the Empire. Being of the Ordo Hereticus, Rhaal needed troops that could move through an urban environment and clear it of all Heretical elements, whilst staying completely untainted themselves. Rhaal had developed a new method if "indoctrination" that left the subject completely loyal to the Empire, while retaining its skills aquired in a less than loyal lifestyle. A side effect of the indoctrination process leaves the subject unable to utter a word.This is how the Korskan Silent Company was born. Used to clear the most heretical of worlds, the Korskans can be exposed to a much higher level of heresy than the normal Imperial Guard unit without fear of taint, or the spread of heretical information.
Many a Heresy has died in the face of the eerily silent warriors of Korsk.
I used vostroyan bodies and some Pig Iron heads to give them a heavy armored/equipped feel while still looking slightly archaic (I want them to look WWI ish). Kind of a poor-man's Death Korps, but something "unique" as well.
By popular consent (and what I was thinking was going to be it), here's the final scheme/weapon for the 5th Silent Company of Korsk (I made them the 5th to cover the "V"s that are sculpted on the models in places ;D)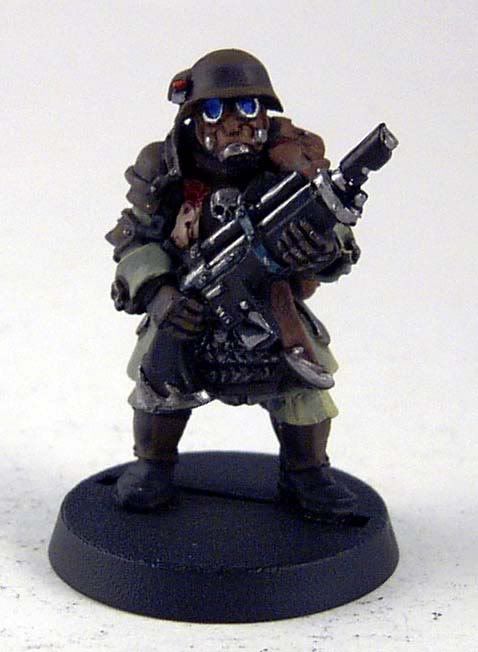 Now to do 60 or so more of them.... ::sigh:: what a glutton I am.
---
Strange, but not a Stranger.
---
New post, no filler.....
So I have been tinkering with the Mortar/Sniper conversions, and assembled one Lascannon team, plus re-converting my other two test models to have the same lasgun configuration I settled on. Waiting on the Brown Stuff to dry and I'll get some pics up.
I basically took the two Snipers and put the body of the Mortar into their hands to look like a stocky short patterned Missle Launcher. The two mortar guys are the loaders. The guy with his hands over his ears was a REAL pain in the ass. I didn't want both hands over his ears, and settled for placing one hand kinda shielding his face.
The Lascanon loader also was fun with his binoculars. I had to cut out the head carefully and replace it with the gasmask head I'm using. All of my loaders were given Lasguns, as none of them have them modeled on them. Basically just slapped them on their backs, after shortening the barrels to match the metal ones.
OK, finally some shots!!!
Just some Troops to start out with. I am still puzzling over how to do my Chimeras.
first off, an Infantry squad with Rocket Launcher. I am still working on a Melta gunner for the squad and two more regular troopers to make a full squad.
A second Rocket Launcher team for B squad
two Jr. Officers for my Platoons and a Plasma gunner for the command squad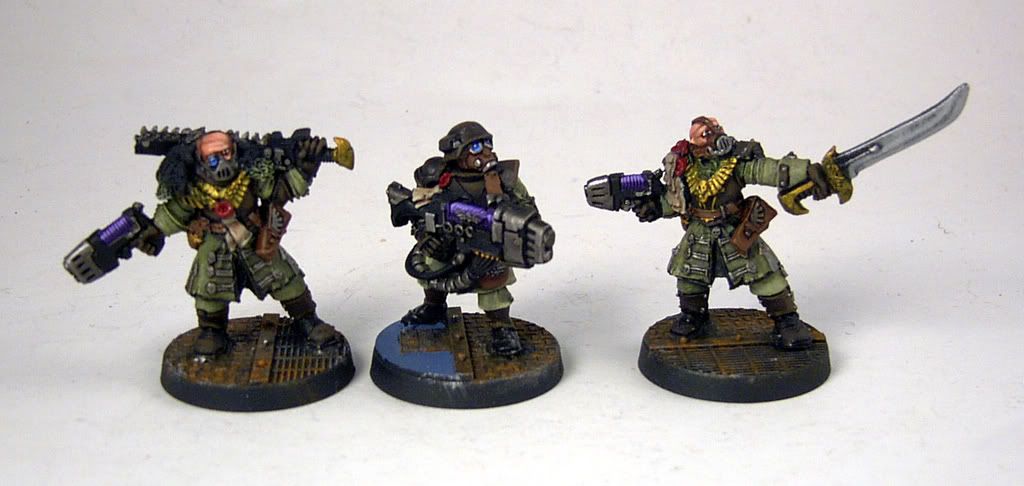 and some Stormies/Grenadiers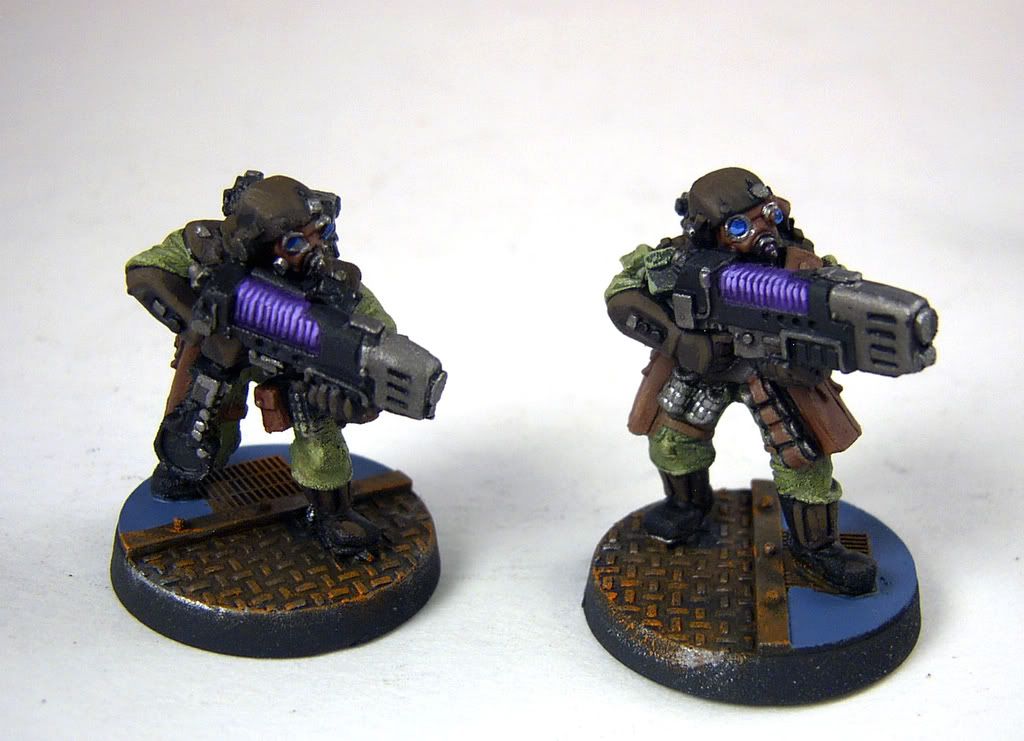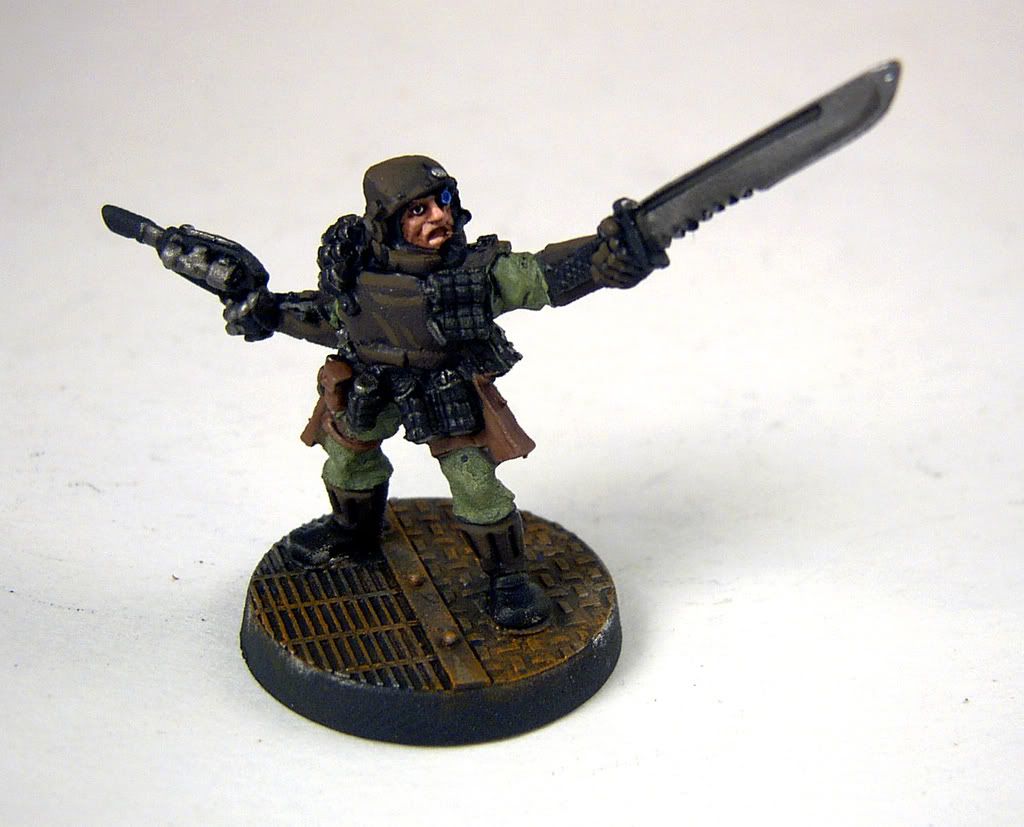 Still a little bit to do (nothing like huge pics to bring out the errors!) like make the gray areas of the bases more concrete-like and other small details.
---
Strange, but not a Stranger.
---
OK a few WIP shots of the Korsk...
first a Lascannon dolly I just assembled tonight.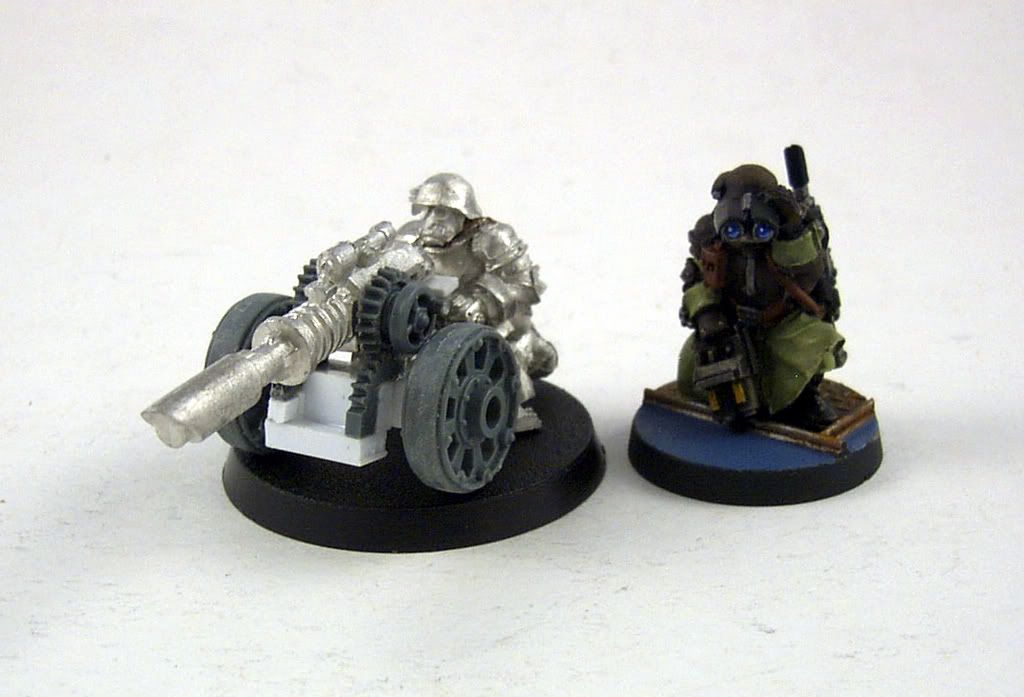 A cookie for anyone IDing the bits used! ;D
A few non-GW models that were just too cool to not include in my army.
L-R they are: Heavy Weapon for my Hardened Vets/Command squad, Ogryn Bodyguard/Bonehead, HQ Medic.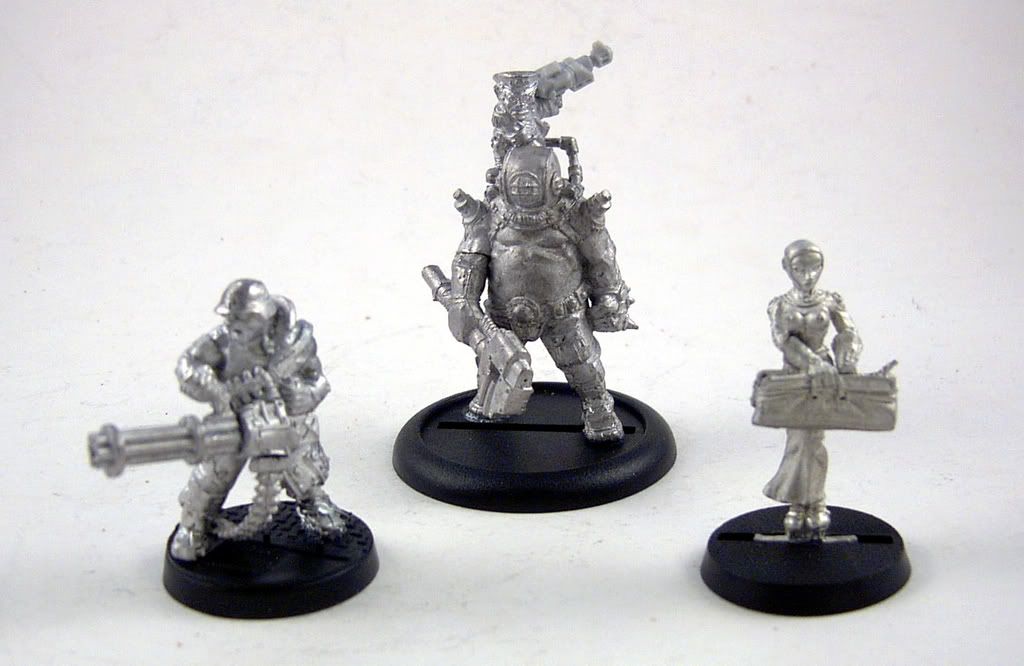 and finally a reall WIP of my Chimera so far: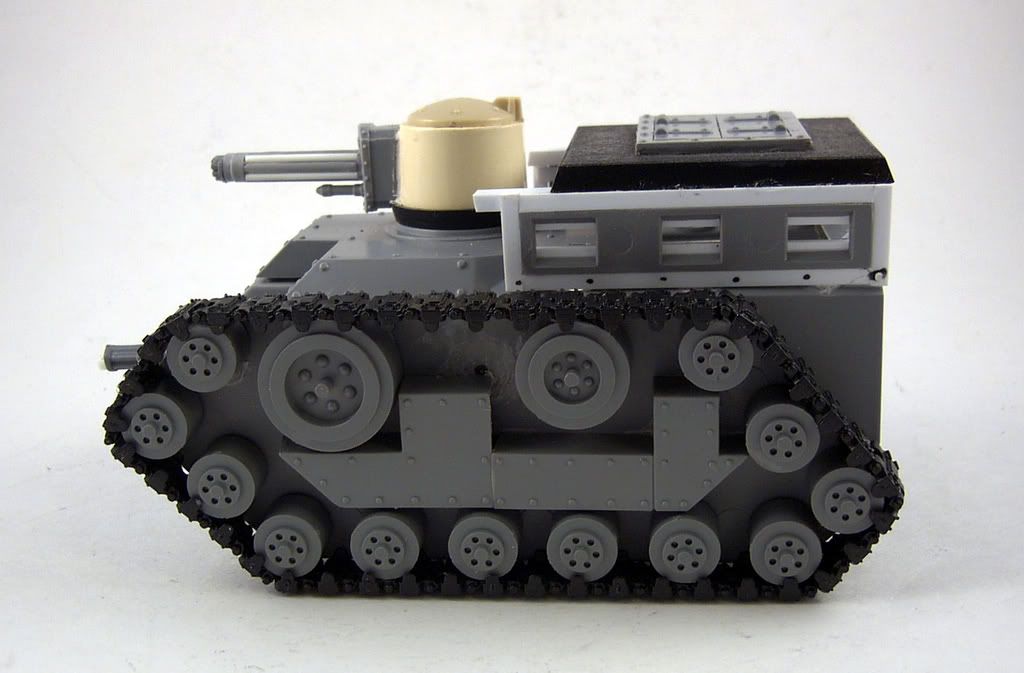 ---
Strange, but not a Stranger.
---
OK so I'm getting the Silent Co. of Korsk ready for the new codex (C'mon MAY!) and thought I'd get started on some heavy armor.
The Before shots: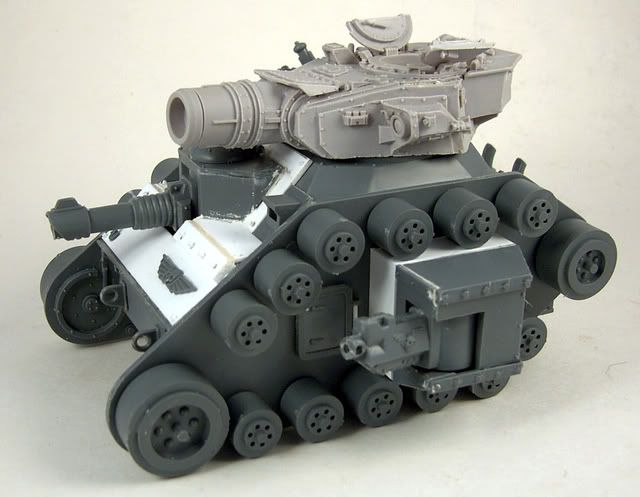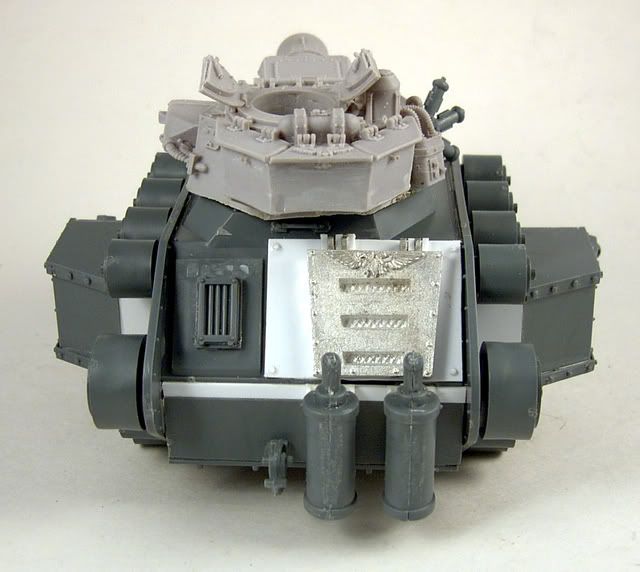 A Vanquisher conversion from the extra turret!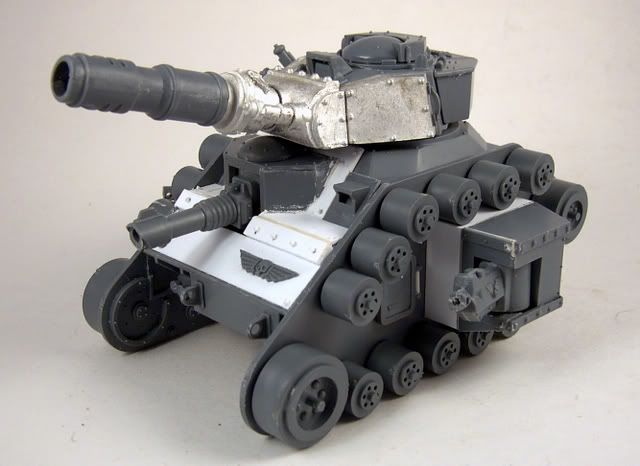 With Meltas!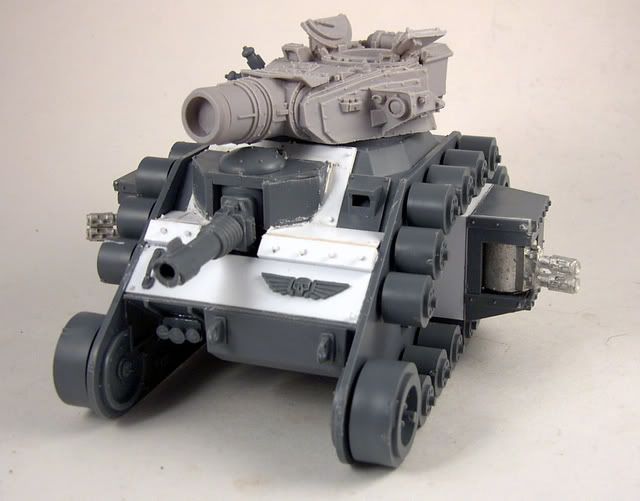 With Plasmas!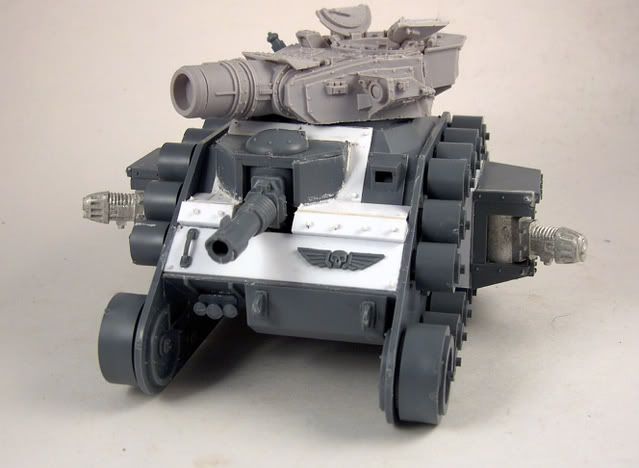 ...or no sponsons at all!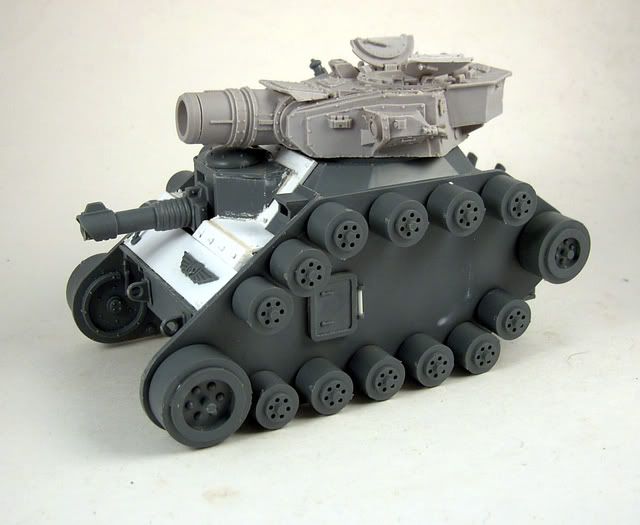 Yeah she doesn't look like much without the tracks on her, but they'll be on when she's painted.
Priming as we speak!
---
Strange, but not a Stranger.
---
It's like Christmas!!!
Got more bases, New Pig Iron heads, bits for Lascannon teams, and cool new models all in the mail today (from five different places!)
Plus...
Just got my first tank done for the Korsk!
a Demolisher called "The Emperor's Voice"
A few models for my command squad. I am reluctant to paint them in case they change the rules up a lot, but man do I want to!
My HQ Colonel (Thanks for the torso, Jon!)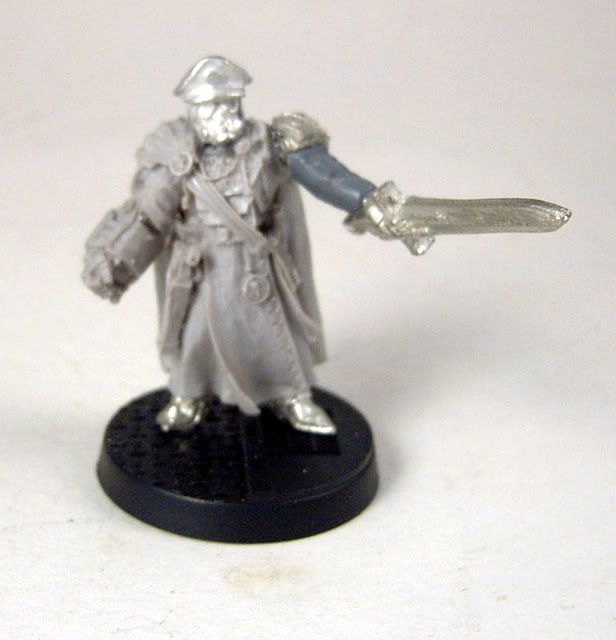 Medic or Preacher?
Standar Bearer
---
Strange, but not a Stranger.
---
A bit of priming going on tonight...
A lascannon squad
Officers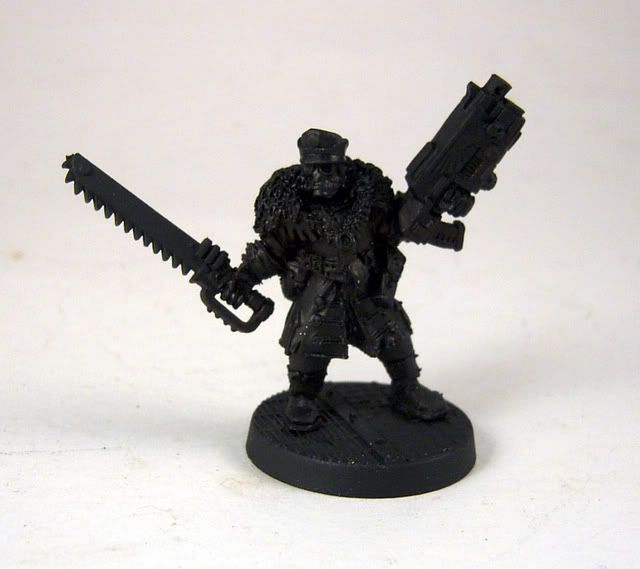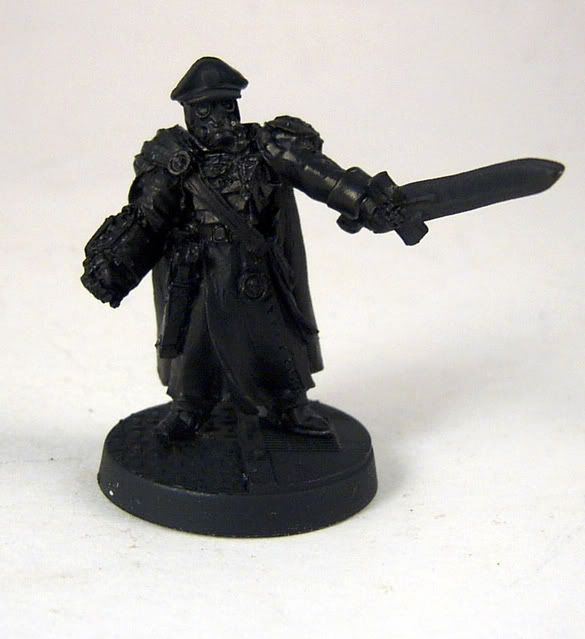 Standard Bearer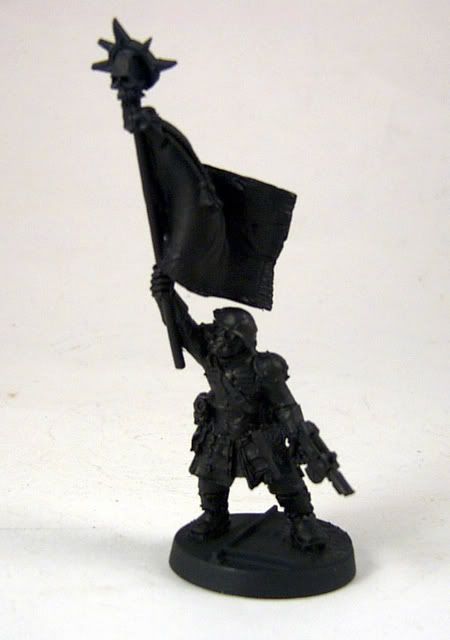 Inquisitors
I also primed 2 squads of Storm Troopers and the last (7) of my regular infantry I converted today. With these done I will have al lthe infantry I currently own painted. Then it's on to the 7 Chimeras I have in boxes.
---
Strange, but not a Stranger.
---
Looking good, I hope you don't have to change too much for the new codex!
---
sweet army nice going man love the pig iron heads
---
"Raghnarr Dosent Lose but he dose not like power claws"
5th ed Scores
Angles of absolution:W=6 L=0 D=1
Imperal Gard :W=9 L=0 D=1
Space Wolves :W=9 L=0 D=0
Hive Fleet Gorgan :W=7 L=0 D=0
City Fight Tau :W=4 L=0 D=0
---
I must say that you really have your rust effects down pat and your bases are really cool (wouldn't mind knowing how you did them to be honest). The colours work well for the theme and the models and cleanly painted. I will watch this thread with interest.
---
one thing I want is the ability to split my fire everywhere, it makes no sense that a squad of 10 guard or marines or whatever all have to fire at 1 target with everything, is the guy with the lascannon not smart enough to realize maybe he would be better off firing at the massive tank looming overhead instead of the little man no bigger than a squat running at him, or is that far too complex for the 10yr olds?
My Thousand Sons Project Log
My Warriors of Chaos Project Log
My Cryx Project Log
My Necron Project Log
Lower Navigation
The Silent Co. of Korsk, a Mechanized Guard Blog