---
Good looking there. I like your heavy weapons on wheels. And your rough rider idea is nice, very original. Good job have some rep from me sir.
---
Great idea with Cyber-Mastiff Rough Riders
Keep up the good work, this army is coming along nicely!
---
Win/Draw/Loss(5th ed results)
EC: 45/2/12
Tau: 28/3/7
Quote:
Common sense and wargamers are like oil and water
Quote:
'Alessio is to 40k what impotence is to rape.' - Jezlad
---
OK a bit of an update...
Working on the last four Chimeras I decided to paint the interior pre-assembly. Got them finished and just need to get the passengers painted to get them all put together. Then exteriors to pain!
I'm happy with the consistency between them, both on paint and conversion.
Enjoy!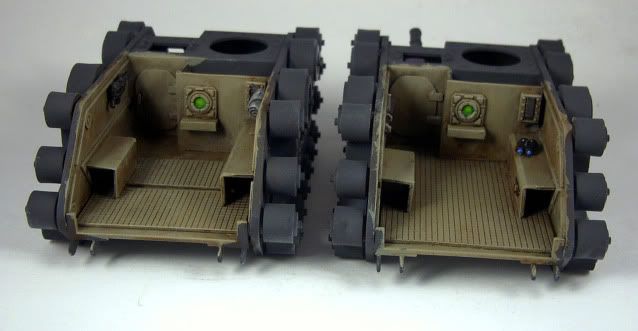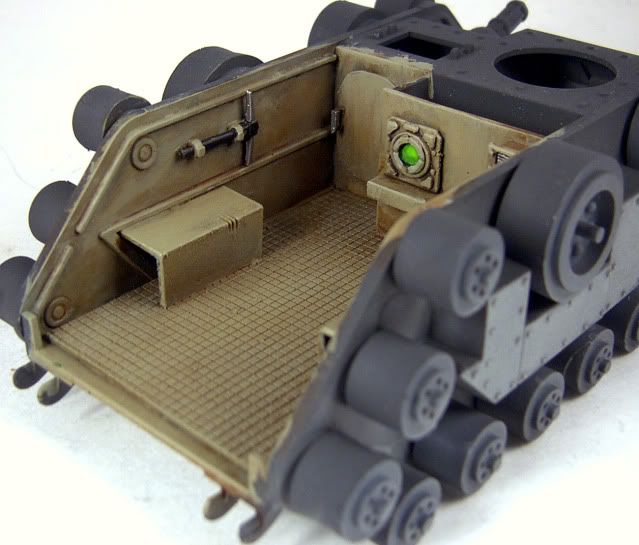 ---
Strange, but not a Stranger.
---
A really nice army. Well painted with several characterful units. The cyber mastiffs remind me of K-9 from doctor who with his nose laser.
---
Blackadder: They do say, Mrs M, that verbal insults hurt more than physical pain. They are, of course, wrong, as you will soon discover when I stick this toasting fork into your head.
Vulkan: "How careless of you. Of course we have big guns. We're the Salamanders. We've got plenty of things that explode, burn, explode and burn, explode then burn, and stuff that shoots lots of small things that explode and burn" Lastie From the funniest fanfic
ever
---
Nothing to see as of yet, but I am working on this army again. Pics imminent!
---
Strange, but not a Stranger.
Angryman
Join Date: Aug 2009
Location: A wretched hive of scum and villany. Actually PNG. Goddamn this place is a shithole.
Posts: 4,304
Reputation: 22

---
Found this log for the first time. Magnificent,original concepts executed to perfection. I like the non gw units also. they all fit in very well.
One question. The big guy in the dive suit with the little bloke on his back with the laspistol wouldn't be paying homage to Master-Blaster from mad max would he?
The wheels on the lascannon teams look like the ones off the cart drawin by a pony in the battle for skull pass box. Am i right?
Most repworthy
---
Sanity is for the weak.
'Evil will triumph because good is dumb.' Dark Helmet,Spaceballs
According to LUKEVALENTINE's test i am a diciple of khorne. Figures really.
---
This is a truly excellent IG army you have here. I'd never have thought of mixing Pigiron heads with Vostroyan torsos but they work beautifully. Love the paint scheme as well, top notch.
+Rep from me.

PS. Are those Dragon Forge bases?
---
Great army, looks very consistant throughout and i'm digging the theme.

HOWEVER, i am insanely jealous of your gun nosed dogs. Dogs with guns for noses is both insane and awesome, and you've pulled it off exceptionally. Well done sir!
---
My Salamander Logs & Army Showcase:
The Ashbringers 3rd co.
:::
Into the fires of Battle
:::
Army Showcase

Currently Painting:
Landraider Redeemer
---
Thanks for the comments guys! I'm getting excited about this army again!
shaantitus- Actually they are Dwarf cannon wheels, close though!
Ebsolom Dhaark- They are actually from a company called
Champ Industries
Varakir- Thanks, glad you like them. Not sure if you understand what "HOWEVER" means though...lol
OK so on to the UPDATE!!!!
Yes it has been a looong time (put this army down to work on other things) but the Silent Co. of Korsk is back!
Got a tourney next week and I have a few (ok a LOT!) things to get done for it. Also played in a doubles tourney week before last with only 1K and went undefeated! (Thanks for the help, Bossman!)
First up is two of the four Chimeras I have painted. (almost done, still have a few tidbits/details to do). this will give an idea of the direction I am going with the cammo. I wanted to stick with the iron brown look but added some concrete colored jags with the airbrush. Weathering/rust to follow along with squad markings. I still have two more to complete my 2K army. They are about 3/4 assembled, basically lacking the rear crew compartment conversions.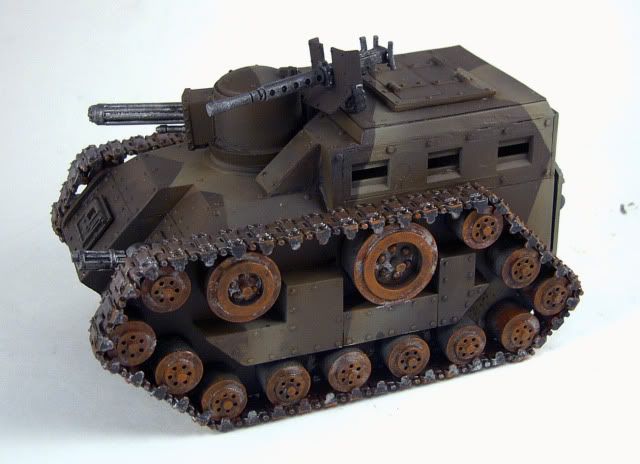 You can also see the magnetized Heavy Stubbers on these as well.
They are the Stormlord ones as I like the shield on them.
(I still need two more...anyone????)
Here are a few things I am working on for fun to break the vehicular monotony.
Converting some Ogryns with gasmasks to fit into the theme. Also beefed up their weapons a bit.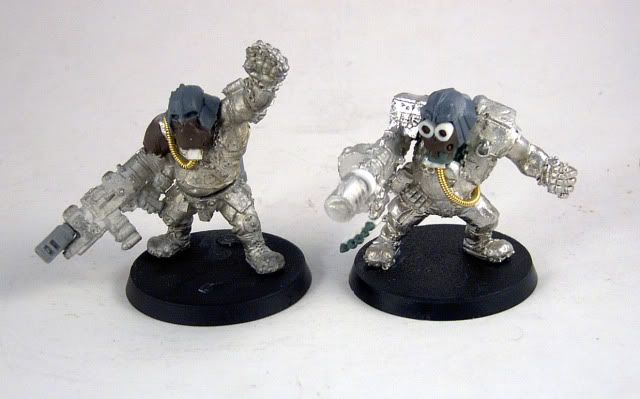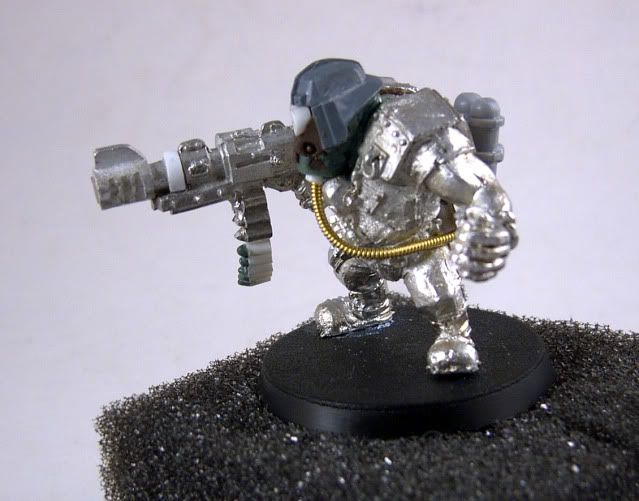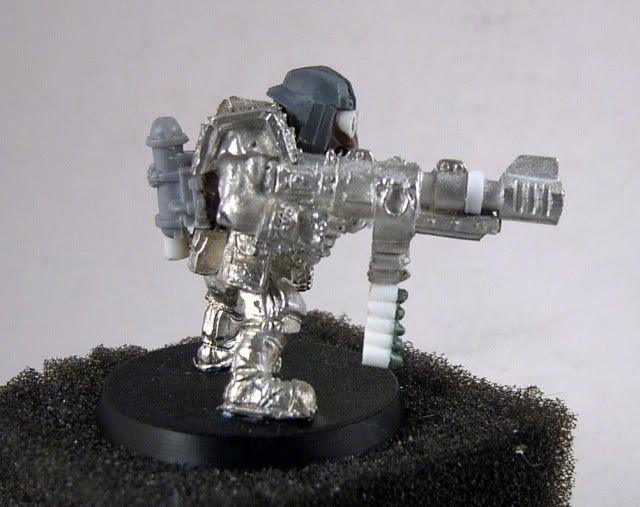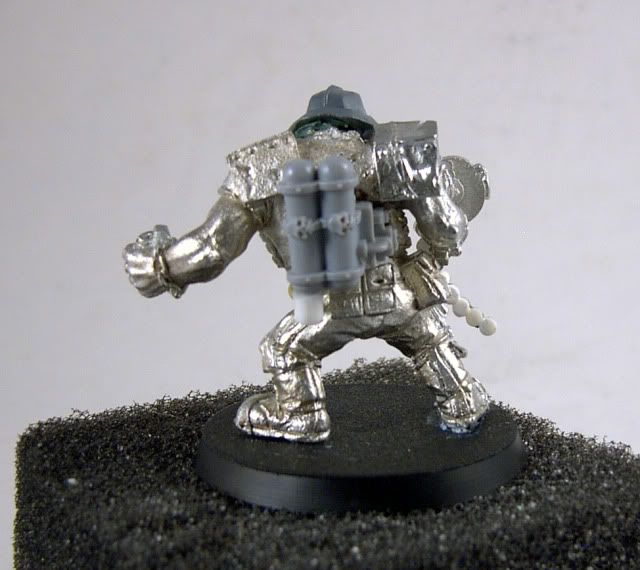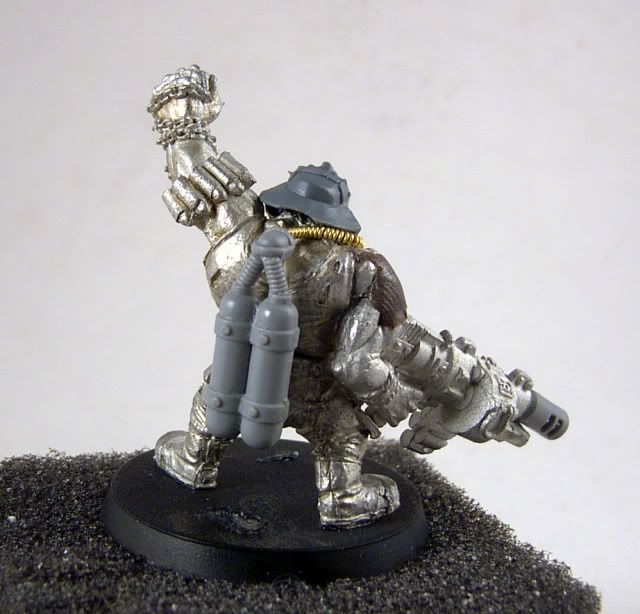 The last one is very WIP. Just thought I'd show the two different mask styles.
::sigh:: yes, a very pitiful update for the months I have been off this. Take heart that I have a tourney imminent and will be scrambling to get things actually done.
One last teaser, I have bits inbound for two very challenging Manticore conversions. If they go as planned they may be the most original/cool-ass thing so far for this army!
---
Strange, but not a Stranger.
---
Wow....just......wow....
Might I recommend, as an artillery pirrcr...or...pieces; a battery of "Organ Grinders"..or something similar to the German nebelwerfer pieces.
Such as this?
I think it would add a pretty nifty unit to your great looking army, hell you could probably make it from scratch...small dowel rods or maybe straws...spare bits...yeah it'd be cool.
Anyway, +rep, great looking army!
---
"From the darkness we strike: fast and lethal, and by the time our foes can react... darkness there and nothing more."
— Raven Guard saying

Lower Navigation
The Silent Co. of Korsk, a Mechanized Guard Blog