Join Date: Feb 2009
Posts: 78
proving my devotion to nurgle
---
yes this is on a couple of other forums, i just joined so im putting it up here also
im going to be starting a nurgle army soon, while i get some $ togeather to get the figs i decided to build a nurgle tank squadron. it will be a stormblade, shadowsword, and to top it all off a plague reaper.
i will scan the drawings i did today at school. some stuff will have to get moved around depending on where the details end up and such but it gives an idea on what i want to do with them.
morbidus -- plaugereaper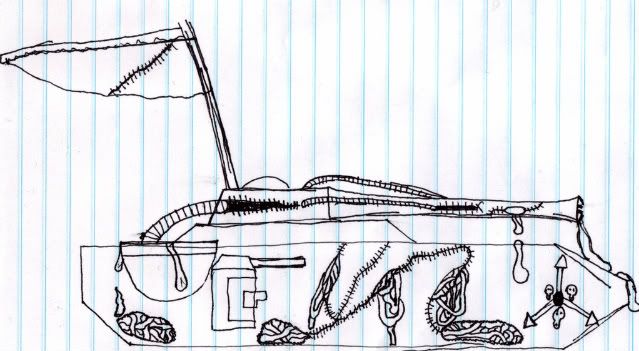 this is the best drawing (i think) the stuff coming out of the end is some toxic goop stuff
excessive yet deadly -- stormblade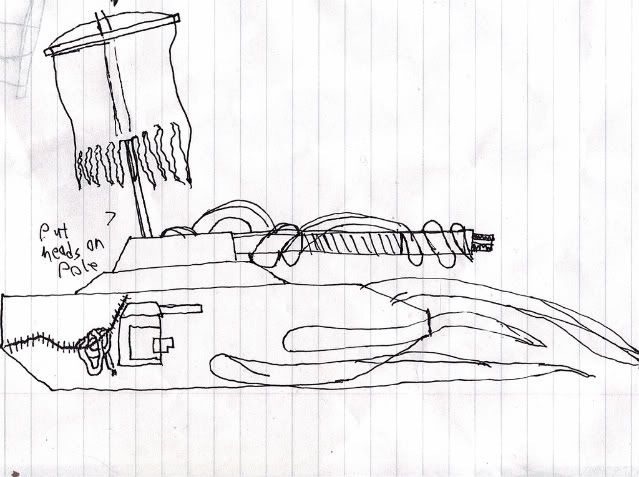 this one will have tentacles pulling it along with its tracks falling off, also it will have one wrapped around the barrel
pestilence -- shadowsword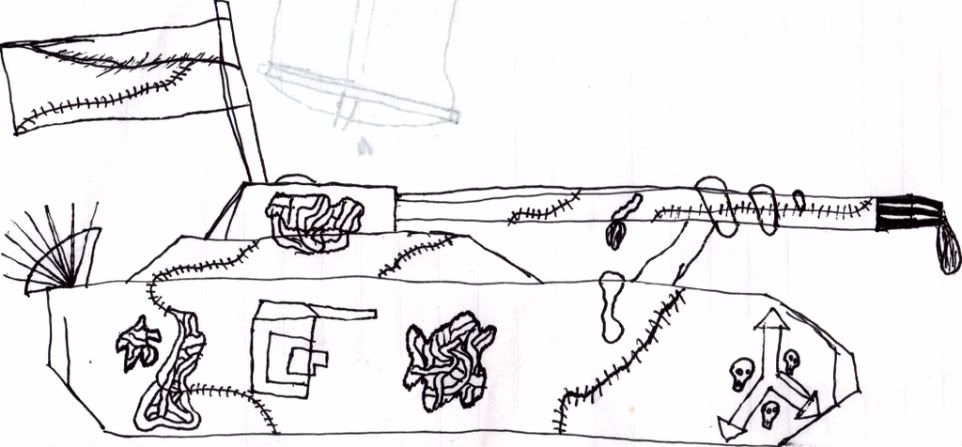 this one also has some goo hanging out of the barrel and from a hole in the barrel.
i tried to draw some guts stuff hanging out in places, probably didnt do that good but i tried.
finally the link to the album, ill be putting it all in this album from now on
http://s244.photobucket.com/albums/g...ck_638/nurgle/
edit: can someone tell me how to do the expanding thumbnails thing?
im building one with the template out of cardboard over the long weekend we have (yay no school) to see how it goes togeather and such
also someone donated a GW baneblade to me (now i have to build a shrine to him in my closet) so tues i will start working on it, its already converted some but its free so im not going to complain
Join Date: Feb 2009
Posts: 78
---
(i didnt want to edit this in, i think it would make the thread longer than anything i would type and then ppl would think i would type a lot each post and be disappointed or something)
i want them to have guts looking like they are inside the tank so i cant really put them on the outside, and i think it would be a bit hard to do something like that when i fold the track guard so im thinking about cutting the outer plate off and sculping it before putting it back on later. this would also let me have some good looking tracks on it with the little wheel things and such (little wheel things it a technical term BTW). anyone have any other ideas how i could do something like that to it?
http://i244.photobucket.com/albums/g...spdf-pages.jpg
Quote:
note: i didnt make this and i dont take any credit for it, i got it from BWC archive, and it says who made it
also any ideas what i can use for treads? i want them to be plastic not rubber (and with the little wheel things) so i can add some nurgle goop to them (
http://s3.zetaboards.com/The_Ammobunker/topic/176206/1/
) on the outside.
im taking a trip to the local dollar store to get some cheap for sale signs i can use instead of plasticard later today, so there will be pics of them so far tues (im also planning on using sprue on the inside for supports so its got more GW parts
)
also i am getting a handful of guard, some will be converted into cultists to be walking along side the plague reaper with pitchforks, filling up the vats. others will be squished under treads or on the ends of pitchforks. my brother has decided one of the cultists needs to be named egor (from van hellsing) with a hump and everything "You try to get egor but egor get you"
Join Date: Feb 2009
Posts: 78
---
(wow, no replies yet... is that good or bad?)
these are the track guards, i have a bit more done but these are the olny things i have gotten around to playing with. waiting on GS to show up but untell then these are the entrails i made with wire. im getting the baneblade today and will have pics of it pre nurgle tomorrow
i put togeather the guards thinging they were for diffrent sides, they wernt so i pulled the plats off. then went to bed and the next day did the same thing, the glue weakens the card im using (i pull it off and it pulls off parts of the plate) so i decided i would just make more later and use these,
the first one i had done, the bottom stuff is a bit to close to the edge, but i reinforced it a bit to help.
(back)
(front)
(close front)
(close back)
close ups of track guard 2, just started on this one
(front)
(back)
Quote:
TY to my brother for taking the pics, he knows how to work the webcam
im still trying to get better pics but no one has brought there camera (i asked though)
---
Quote:
(wow, no replies yet... is that good or bad?)
You will find that the replies will start coming a bit more as you post more pics. At least, that has been my experience in general. Keep it coming and don't get discouraged
---
one thing I want is the ability to split my fire everywhere, it makes no sense that a squad of 10 guard or marines or whatever all have to fire at 1 target with everything, is the guy with the lascannon not smart enough to realize maybe he would be better off firing at the massive tank looming overhead instead of the little man no bigger than a squat running at him, or is that far too complex for the 10yr olds?
My Thousand Sons Project Log
My Warriors of Chaos Project Log
My Cryx Project Log
My Necron Project Log
Join Date: Feb 2009
Posts: 78
---
ok, i copy and paste it from another forum so im not that discouraged
i know i implied that i wouldnt play with the baneblade untell i posted pics, but nurgle wouldnt let me (and i couldnt find anything better to do) so ive started messing with it a bit, pics tomaarrow
Join Date: Feb 2009
Posts: 78
---
this project is about half paused, there is a tank battle coming up soon and maby an apoc game, because i dont have enough chaos for an apoc game im building a tigershark and some drone turrets for now. im still working on it but the updates will be slower. also, can anyone tell me where i can get some sponsons for the scratch built ones? every one i build dosnt look right for some reason...
Lower Navigation
proving my devotion to nurgle