World Eaters on the Turn
---
Hello .
I am making a World Eaters Army that has started turning to khorne.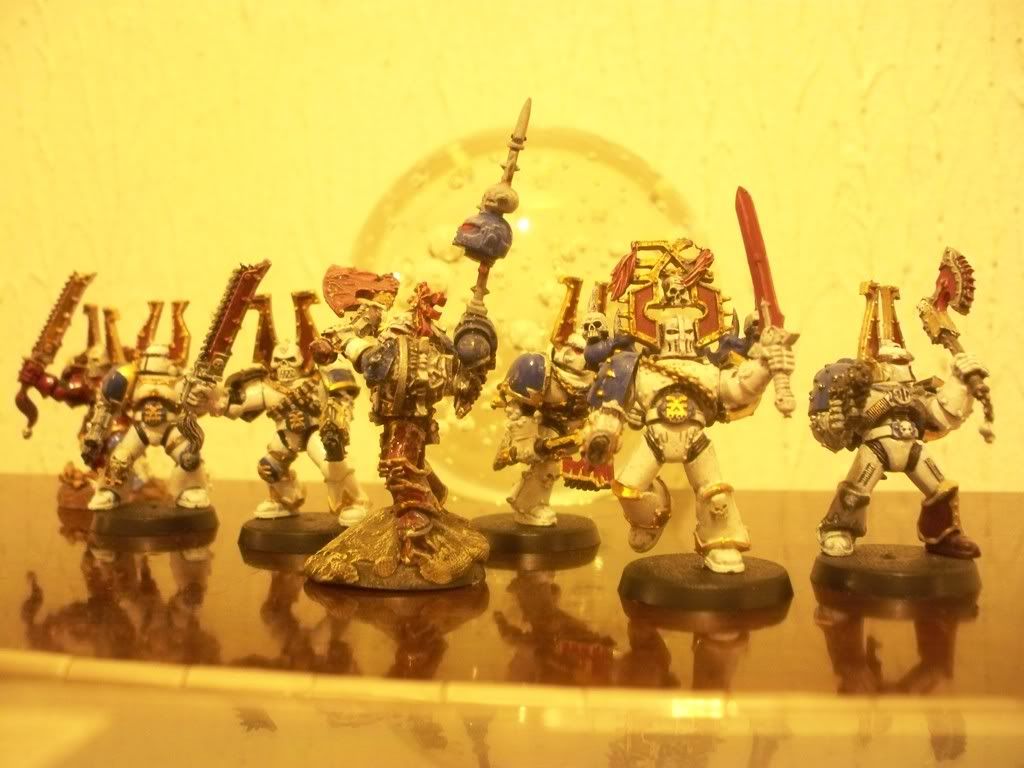 The idea is that senior ranks and bezerkers are the first to begin the change and that the rest of the W.E follow suit more slowly because of course they are busy fighting all over the place.
Most H.Q and Bezerkers (plus the vainglorious rapter squads) will be more advanced in their khorney-ness. They will have khorne symbols and red and bronze/gold with skull faces in some cases.
The remainder will feature more traditional space marine back packs, faces and the full original W.E colours on their armour. Some of these squads will be led by khorne champions.
I need to obtain more chain axes and chain swords plus transfers.
The squad above is not completed yet ...you will spot missing backpacks and painting/flash errors i need to get a grip of , and yet i am very happy with the look and feel of this force already
The next models i will have a go at will be the chaos/tactical marines with no gold or red....
I have seen an amazing army online somewhere in white and blue similer to mine but better painted and smothered in gore. I plan to keep my force clean as if they are in transit between wars. I am certain that W.E as well as standing for relentless bloodshedders would also be dedicated fighters who would clean and repair their armour so that nothing fails , slows them down or desrupts their hand to hand killing.
In the photo there is a khorne lord , a skull taker and some bezerkers. It was an easy choice sticking a ultramarine head on the spike.
---
Last edited by LimitingFactor; 01-26-09 at

06:14 PM

.
Powered by Squig Tea
Join Date: Jan 2007
Location: In da Toolz cupboard in da Mekshop
Posts: 7,589
Reputation: 53

---
Its a good striking colour scheme.
I will be interested to see how the army comes together.

Could you give us some close up shots of individual Minis at all?
---
You can expand that image twice, click it once and then click the lower left corner...if you knew this, sorry to teach you how to suck eggs...
Give us a couple of days and i will try and get them smarter and then post some closer images
i am not a great painter but even i am not happy with current standard enough to post zoom-up hehe
here are some of my guides.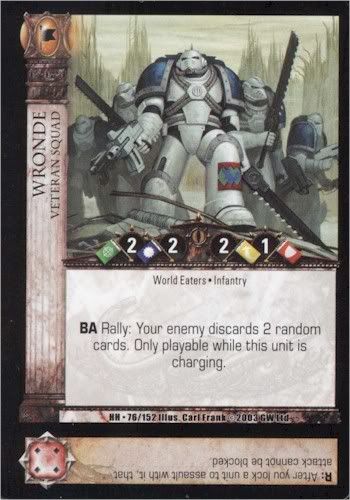 ---
You can see the skull champion . Tonight i hope to improve it .
He reminds me of that Zurg thing from toy story two.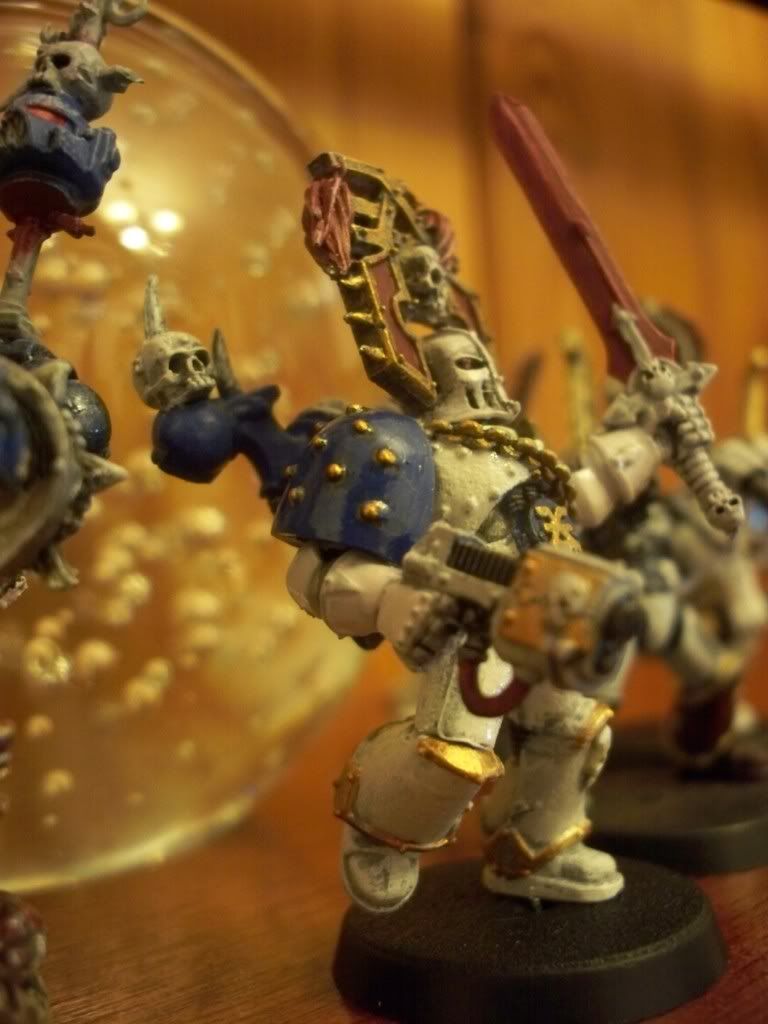 ---
Last edited by LimitingFactor; 01-28-09 at

02:32 PM

.
---
lookin pretty good man, nice use of the Khorne Lord from the WFB line! just for future reference, there are glaring mould lines on the legs of the figure which really detract from the work you've done. Careful attention to them would add a little more to the figure. Looks like a few washes and you're all set!
---
---
I guess i need some sort of file.
Does wet and dry paper (200 grade) work on this plastic?
I will de mould/flash the next lot.
G.W should have flash-monkeys to do all that work for us.
Yes
I used its head! I have the juggernaught and i plan to mount an old biker chaplain pair of legs onto it, then add a chaos torso.
That means i will have a spare fantasy khorne lord (with the other head option) and a box of tau/kroot and crisis suits (all in a black under coat ...thin coat) to sell soon. Where may i advertise those?
---
Last edited by LimitingFactor; 01-27-09 at

10:21 AM

.
---
nice pics dude cant wait to see more!!
---
Let the Galaxy Burn.
---
Two things: flash removal is required and you need to pick out the trim on the gauntlets. Nice work to start though, keep it up.
---
one thing I want is the ability to split my fire everywhere, it makes no sense that a squad of 10 guard or marines or whatever all have to fire at 1 target with everything, is the guy with the lascannon not smart enough to realize maybe he would be better off firing at the massive tank looming overhead instead of the little man no bigger than a squat running at him, or is that far too complex for the 10yr olds?
My Thousand Sons Project Log
My Warriors of Chaos Project Log
My Cryx Project Log
My Necron Project Log
---
They look pretty good. I have heard the World Eaters dyed their armour with blood but your transitional army will likely be very interesting too.
---
"need to pick out the trim on the gauntlets."

i am unsure so far which way to go with those.

i can either give gold trim like the legs have got or make the entire hand gold , the same as the bezerkers in the uppermost guide image.

Im leaning towards gold trim on white hands.
Lower Navigation
World Eaters on the Turn