A Tale Of 4 Gamers(uk)
---
As you may be aware White Dwarf magazine recently ran a series of articles called "A Tale of Four Gamers", these articles followed four staff member's journey with a new army from start to finish.

I for one don't posess the time or money required to start a new army or buy and paint at the frenetic pace set in the magazine articles, but what i do posess is an unfinished Tyranid army and some free time when im not at work!.
Also three of my friends who I game with regularly are in the same boat, so we thought we would get ourselves organised (as if!) and do our own version of the tale.

The main differences being we have already started our armies and some units are half or even fully painted, the aim however is to encourage us to get off our butt's and start the new year with the challenge of regularly painting and modelling our armies each month with you as our witness!.

The tasks set will be decided on an individual basis, based on what each participant has to hand within the respective army.
We will be using a similar points system to reward the players each month based on their painting and gaming sucess the rules for this will be posted each month so you can see what we have to do.

I also hope to provide the slavering horde (you guy's and gal's!) with some battle reports and updates each monthon our progress,with some nice shiney pictures too.

Right thats enough of that, its's time we introduced ourselves and our armies (in their unfinished glory!)
---
First off we have:
Craig Beacham,
He is a 28 year old Assistant Manager of a home furnishing store,
The army he will be painting is a Dark Angels sucessor chapter the Disciples of Caliban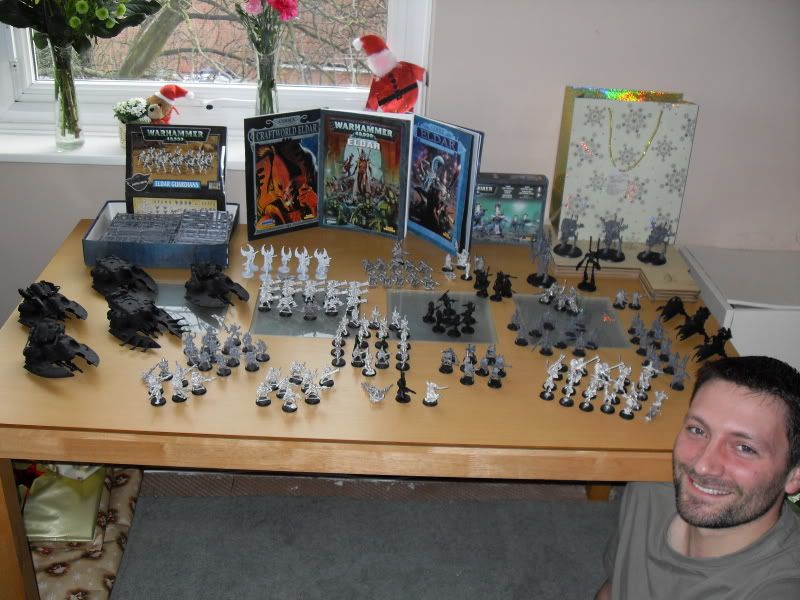 Neil Beacham (Craigs elder brother), (aka Pandapaws)
He is a 29 year old telecoms engineer,
The army he is painting is an Exodite world Eldar force
Stuart Lambert, (aka Rubystylz)
He is a 29 year old assistant manager of a leisure center,
The army he is painting is a pure Dark Angels force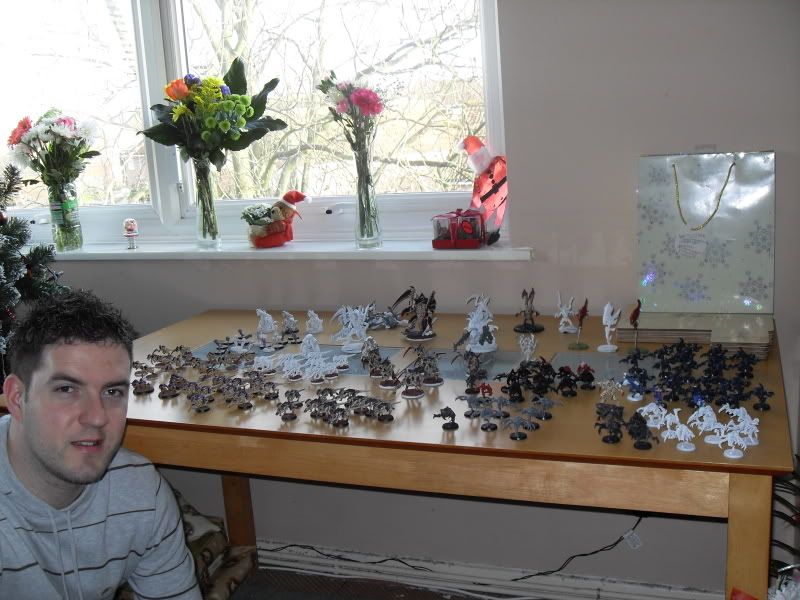 Finally myself David Richardson, (aka Munky)
Im a 29 year old maintenance engineer for the above leisure center,
My army is a Tyranid force (and yes im infected by spore sickness thats why i look pasty and ill in the photo!)
---
Last edited by Munky; 12-20-08 at

02:30 PM

.
---
For month 1 we have the following tasks:
Craig - Assemble a 5 man boxed set and a 3 man "click" together set and fully paint them, Craig hasn't painted for a while so an easy start for him (hehe)

Neil - Will finalise his army colour scheme as well as the base colour, and assemble and paint 10 Guardians. Neil also is a bit rusty with the brushes.

Stuart - Now that his missing Landraider instruction have turned up!, will finish assembly and painting of the Deathwing Redeemer/Crusader including magnetized weapon options.

Dave - I will finsh the 6 half painted shooty warriors and the magnetized gun arm options and the half painted 10 BorerGaunts.

The points are as follows:

Models painted ontime - 5
Models late - 3
No models - 0

Battle report win - 3
Battle report draw - 2
Battle report loss - 1

The deadline for the above is 31:01:2009 lets see what happens eh guys!
---
Woo Hoo! I'm famous!

And before any of you ask... no Munky and I do not live together... he came round to take a photo! The flowers and cuddly toy are my girlfriends and will play no further part in this little scheme of ours! Although surely using the bear in place of a Wraithlord is acceptable...!?!? No? Well, thought it'd save me some painting time! /wink

Yup... 10x guardians (at least) from me... have settled on my main colour scheme, and my choice of base terrain seems set as well... just giving some thought as to how best to paint the various aspects, as I'm not one to copy GW.

I think Munky will update this thread at least once per month, obviously with our scores and achievements... but I'll still be posting all over the site, no doubt seeking advice and/or comments with regards to my painting as I'm not too great! Just need practice!

Hope you all pop back and have a nose on here.

Laters
PP
---
Quote:

The flowers and cuddly toy are my girlfriends


They all say that
Good luck fellas, update time comes around before you know it, believe me!
---
Stick a V8 in it!

Quote eric, I'm sure Madonna has her own awards shelf. It doesn't make her any good.


Painting Great War Germans. Mmmm... Flamethrowers.
Join Date: Jan 2009
Posts: 7
Hello
---
Hello to all that are reading this!!!!!
Well, where do i start? I have only had my army for about a year now and have played about 10 games i think. I cannot remember how many i have lost or won though ( I'm sure Pandapaws will leave a note) thank you Paws if you do - apparently that's what big brothers are for
I am starting to paint my army (not great at that) but getting better. Just have to remember to take my time - pouring a whole tub of paint over one marine is not the way to do it. (the cost is a bit high too)
I will add some pictures when i have some.
Laters all.
---
Last edited by hodgepodge2204; 01-05-09 at

10:53 PM

.
---
I'm interested in why two of the four of you chose Dark Angels as your armies. Get a good deal or was it just coincidence?
---
Quote:
*sigh* I have to point out that despite what you see in games, lasrifles win wars. Just because lasrifles suck at killing superhuman killing machines in power armor does not mean that they are bad weapons. You are shooting them at the wrong targets. The most common enemy the Imperium faces is lightly armored humans armed with lasguns or autoguns, NOT SPACE MARINES.
-me
---
well Neil also has a dark angel sucessor chapter too! im the only non angel loving player in this lol in fact my space marine army hates em, thats right its wolftime!(once the new codex is out anyways!)
---
Space Wolves were always the best. Roll on the new codex.
Although I can't see too many drastic changes beyond bringing their points costs back in to line.
Lower Navigation
A Tale Of 4 Gamers(uk)