---
Cool army
I love the organ-master vox :d makes me think of some mad pianist for some reason :d
have some rep :p
---
So sexy mate, these are really good. Havnt seen a Mordian army before this log except for in the Codex
---
Thanks Proccor for the awsum sig
After 10 years of relentless shelling, the hive is reduced to naught but rubble and dust, two years after all signs of life ceased and five years after the hive issued its unconditional surrender.
I dont want to hear any more flashlight joke alright, there just guide lights for the artilery
---
armys looking great,think all the mrdian army on the forum should join u and battle against a common foe. lol
Sweet
---
Truly magnificent!
I can't imagine the time and effort its taken already...
---
I support Exterminatus.
---
This army is the best Mordian style army i've ever seen!!
I love the white and gold!! Kinda Navy style Great Job
---
Thanks!
A while ago someone said i should get a superheavy tank, so here it is!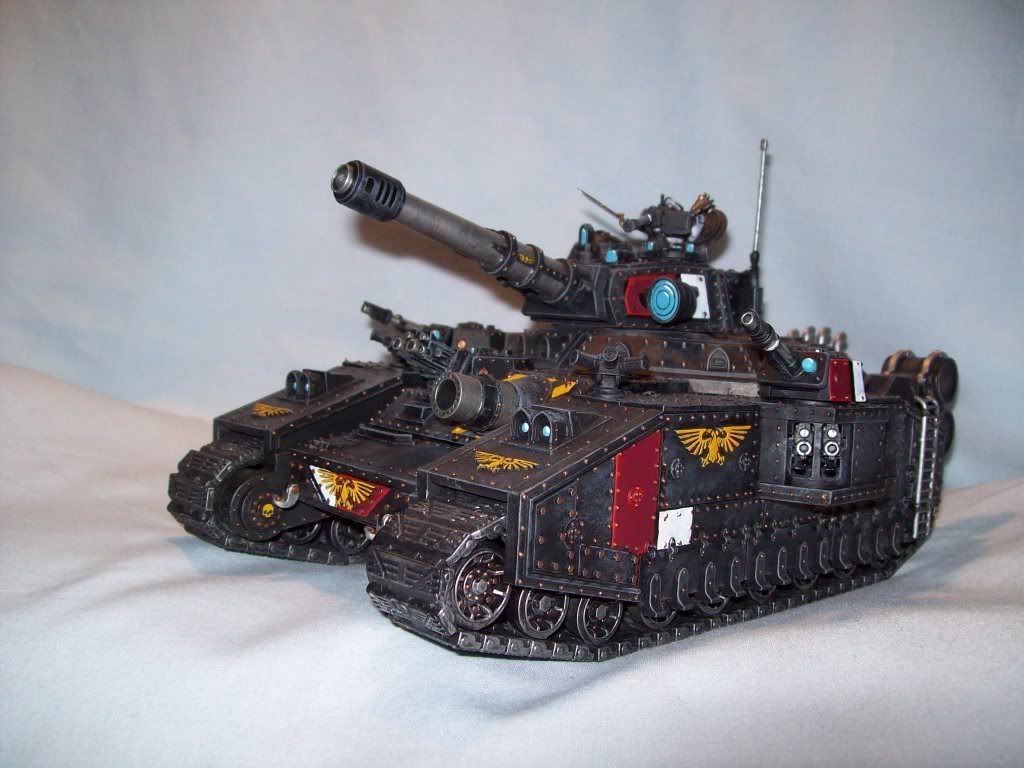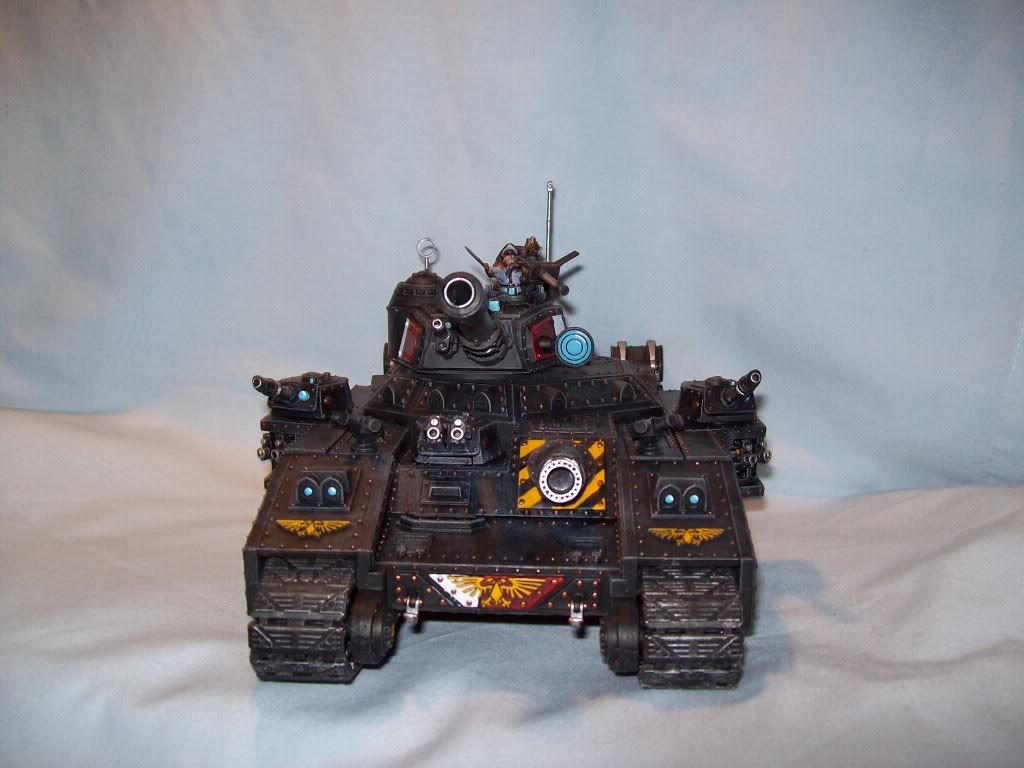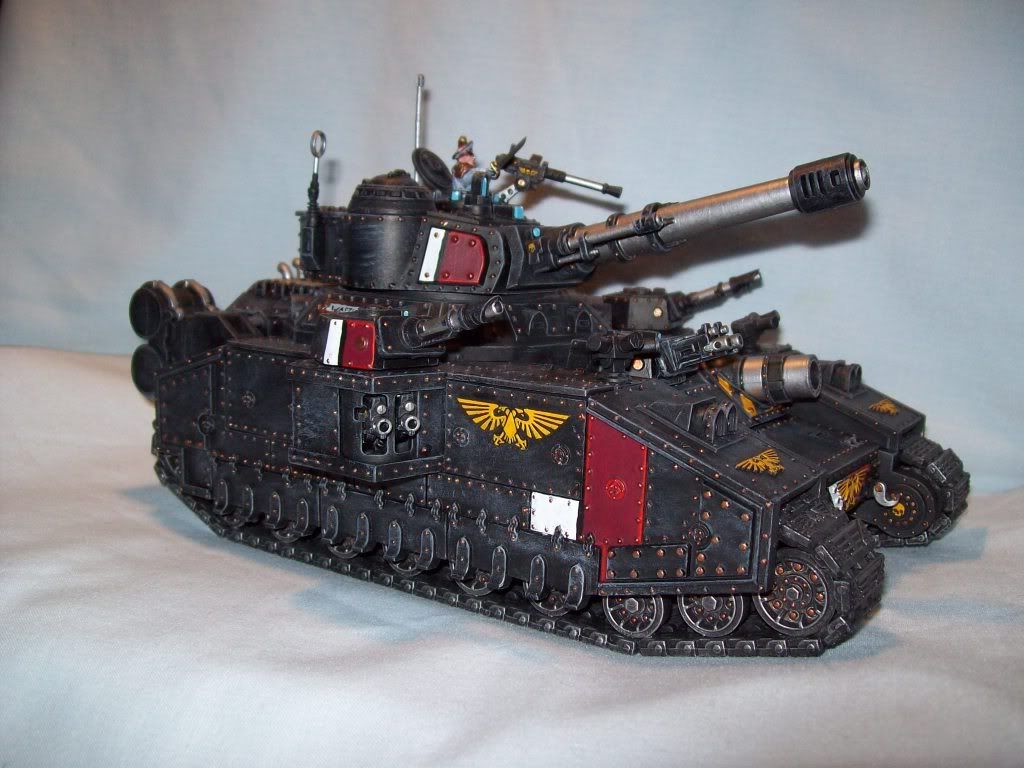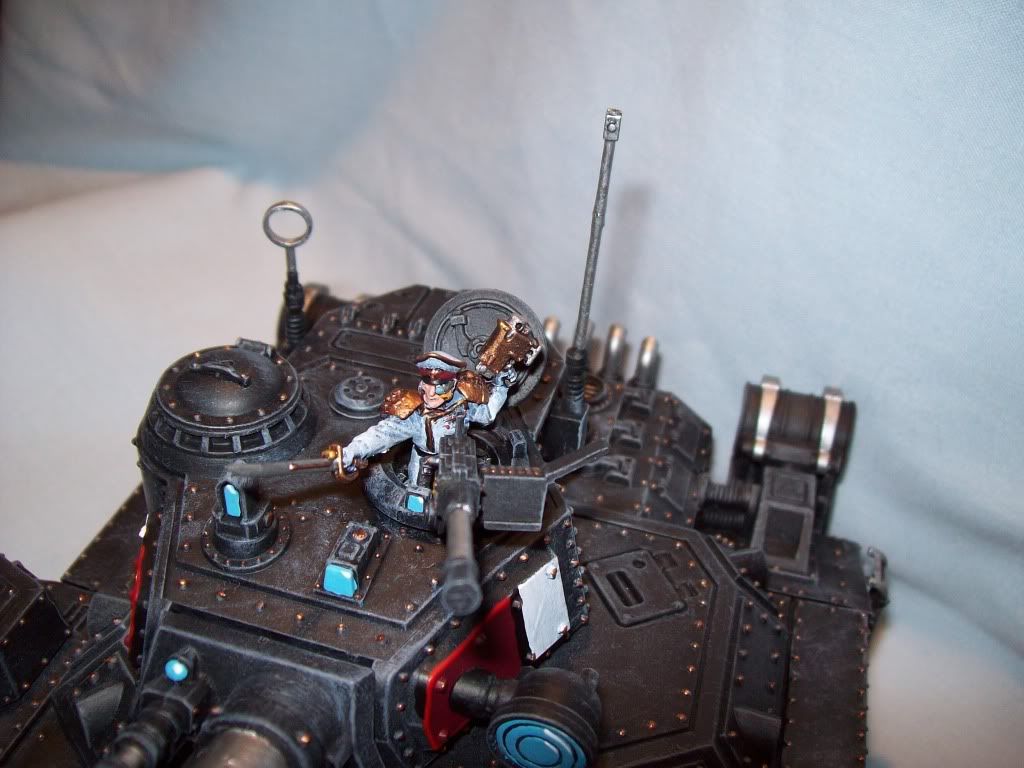 There are about a thousand of those little rivets on a Baneblade, and I had to put a dot of paint on each of them
bleh. lol.
Anyway, there it is. I think I'll order a pair of Vanquishers and an Executioner from Forgeworld sometime in the near future (before they release the new Leman Russ kit), so I'll put pics up when they're done. I've also got another 20 (!) mordians that need painting, so there's another project...
Other than that, there's not much new. C&C are always appreciated!
---
Thanks!
Well, here are a couple "test subjects"
The one on the left is my first penal trooper/conscript (#A01). Eventually, there will be 49 more like him, and at least one squad of actual penal legionaries. The other guy is my first "red coat." My red coats will be the meat shields of my army, sort of like the red coats on Star Trek.
Anyway, there will be two standard infantry squads of red coats, with no upgrades whatsoever. Just sergeants and lasgunners.
And here's a full-army shot. The bases are now 100% done, even the rings around the bottom have been painted (they weren't before)
I'll be ordering those tanks I mentioned earlier sometime soon, so I'll have pics of them up whenever they're painted.
C&C are appreciated!
---
Special character time! Most of the models for the special characters seem to be rather cadian, so I have to make mordian ones myself
.
Here's Creed: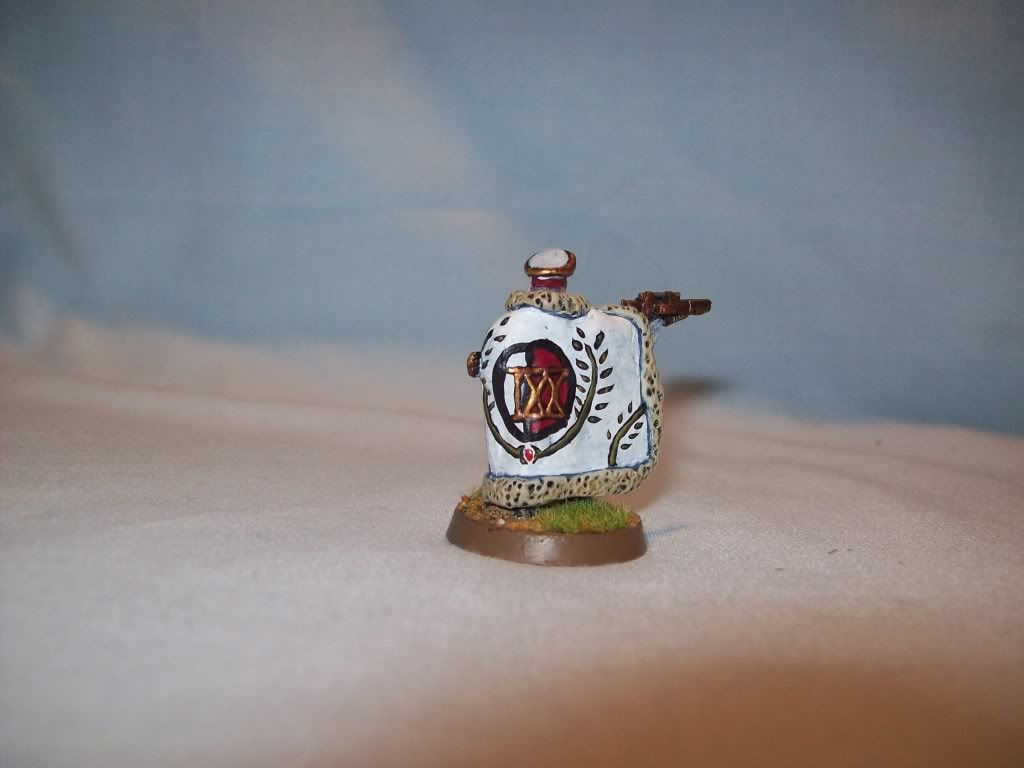 And Kell: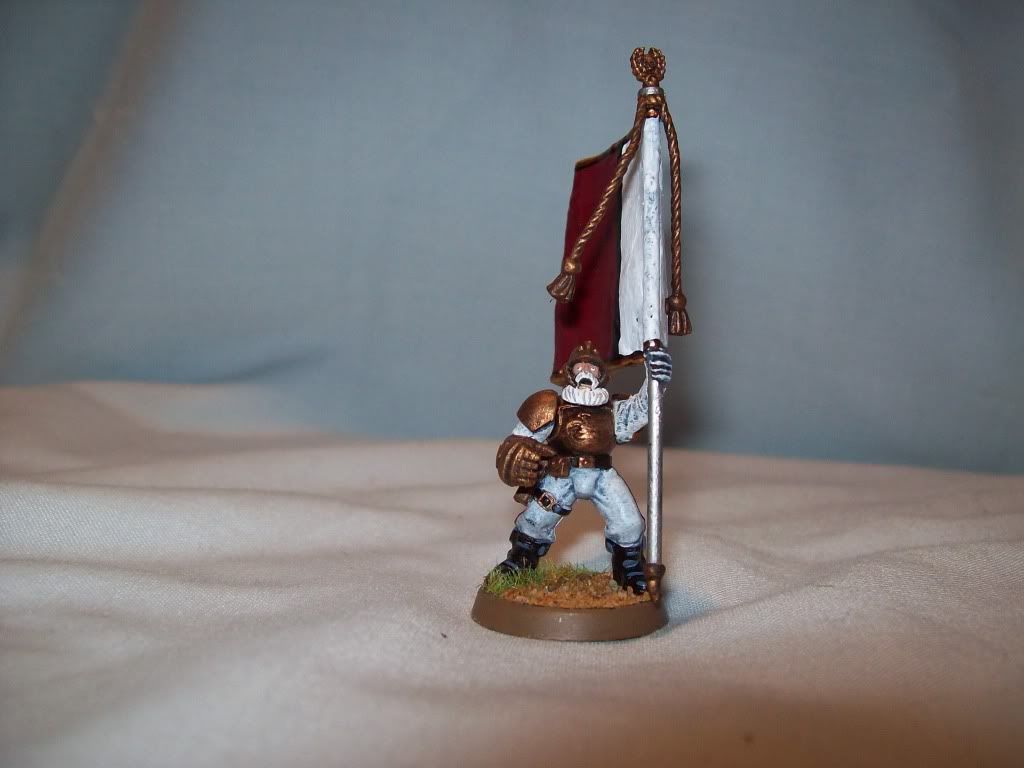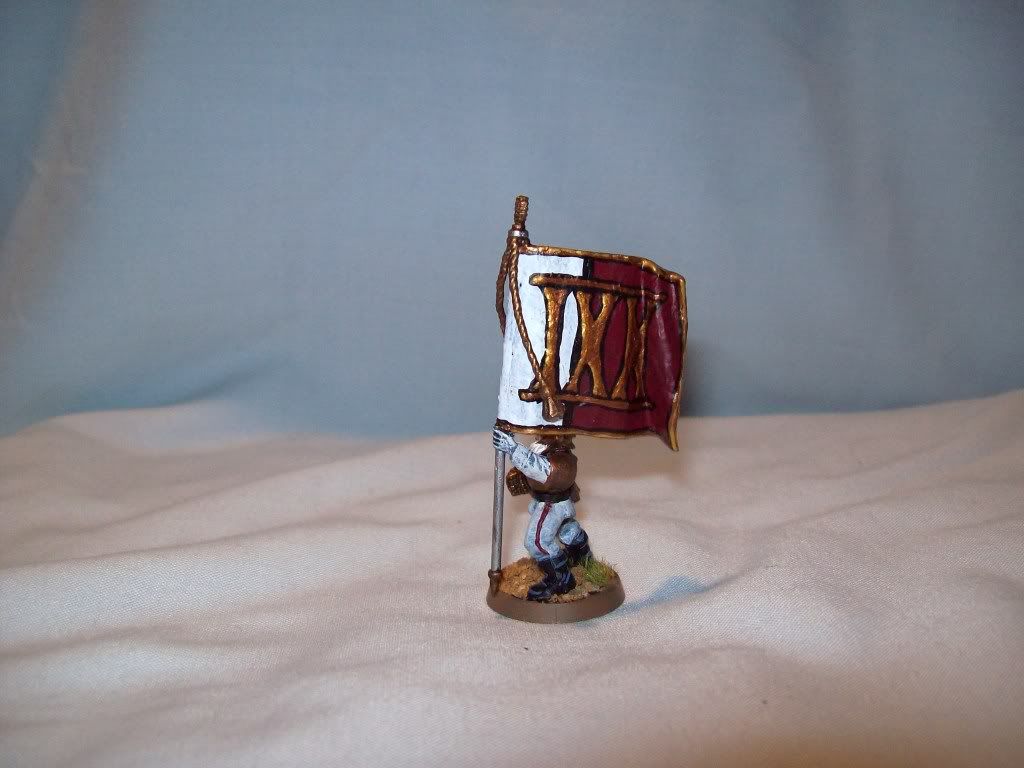 And I've decided that Straken's stat line would best represent my current General (the one made out of the oop Marneus Calgar).
Also, here's a slew of red-coats (I've almost painted 2 squads of them):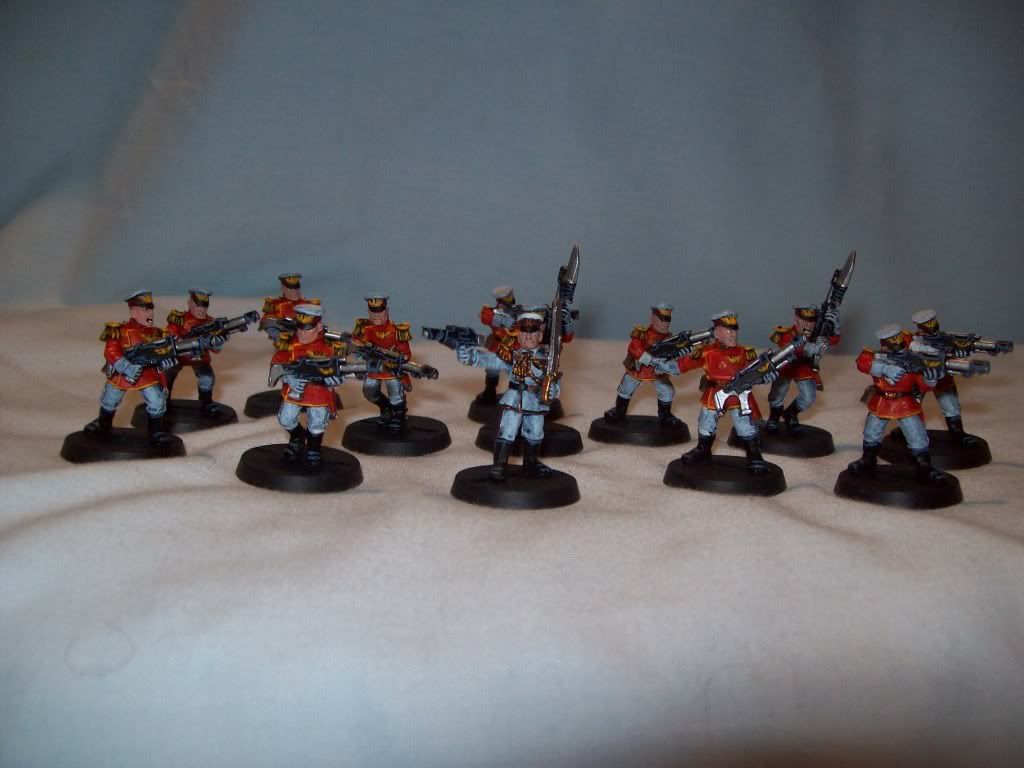 On the penal legion front, I've made a command squad for them (a disgraced officer and 4 lasgunners, because would penal troops really be trusted with anything more powerful?) and most of a 3-melta veteran squad (lots of stolen equipment. Eventually, they'll have "acquired" a cadian chimera...). I'll post pics when they're painted.
I also received my Forgeworld tanks today! Two vanquishers and an executioner will be completed soon. Whoo, I'll be busy...
C&C are always appreciated!
---
Last edited by Lord_Murdock; 08-01-09 at

02:09 AM

.
---
This is awesome Murdock!
Pretty much all the time now whenever you see guard project logs they are Cadian and Catachan (Which isn't technically bad!), but seeing a Mordian army is really refreshing and great to see!
Nice army, especially superheavies, keep it up it's great
Lower Navigation
Nearly completed Mordian army...