---
Thanks everyone! Well, it's pretty much done now. So, without further ado...
The Macharian IXX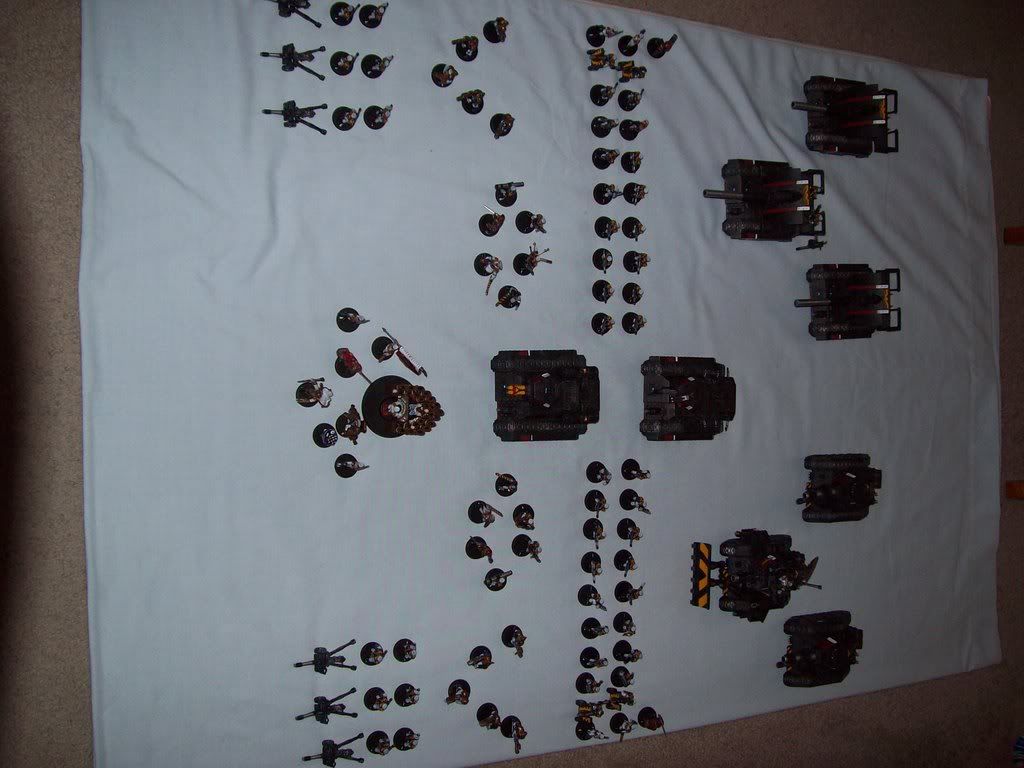 Here are some random closeups: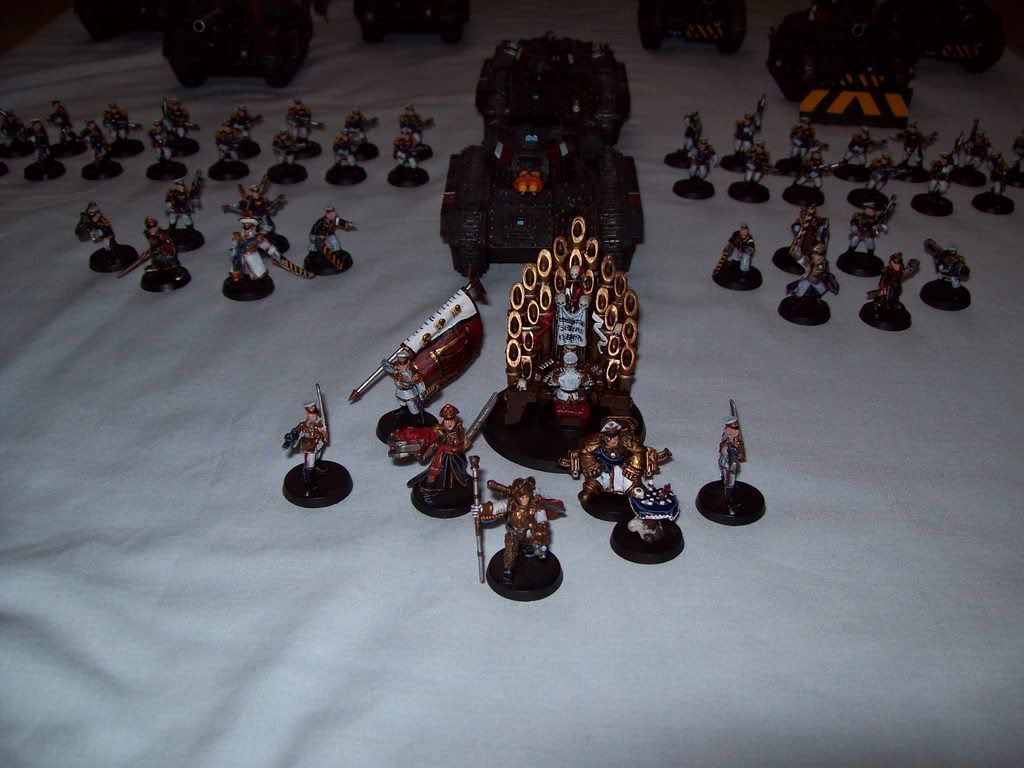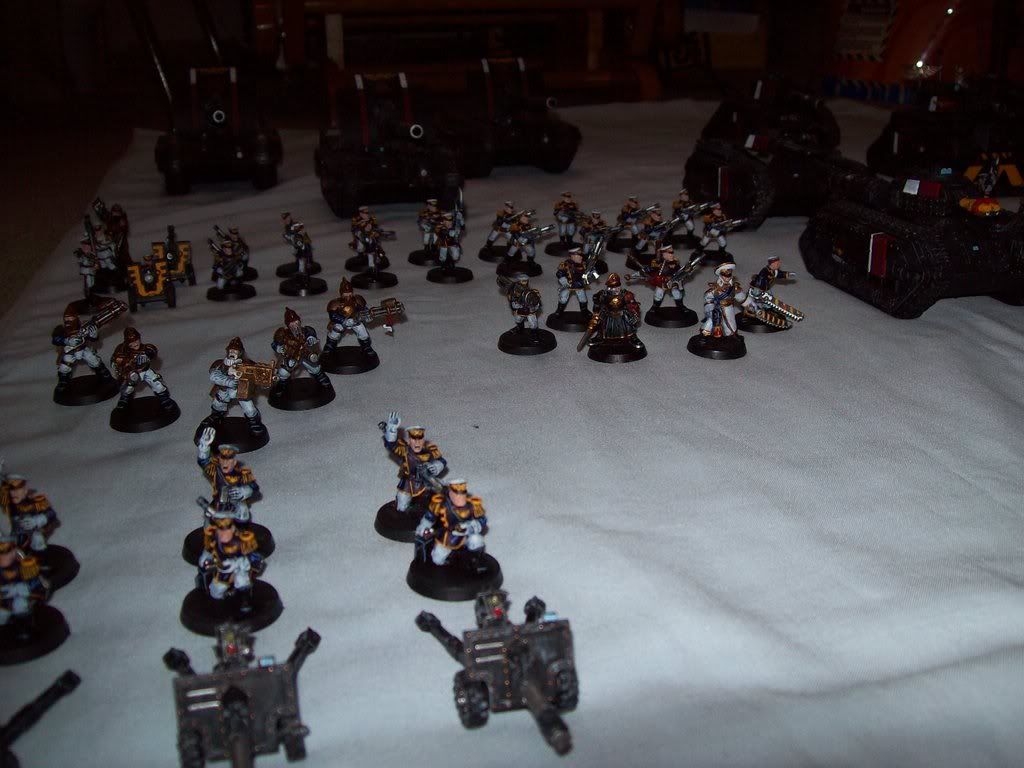 Here are my Leman Russes:
And some massed infantry:
That's just about it. If I add anything else really crazy to this army, I'll post it up here as well, but my basic 1750 - 2000 point army is done!
So, what do you think? C&C are appreciated! Oh, and if you want closeups of anything in this army, just let me know! I'll post them up here as well.
---
That is just beautiful *sniff, wipe a tear*. Exactly the kind of Imp Guard army I want to field some day. Have you had a chance to play with it yet? How effective is it.
---
"We were born of necessity. Given life to cleanse this sector of chaos and return it to the belief of the true Emporer of mankind, that they might feel once again the light of his embrace. His blood runs in our veins. Fight for his honor. Live for his virtue. Die for his glory."

-King Cyrus Predragon at the embarkation of the thousand year crusade.
---
It's actually quite effective as a gunline army. 3 Basilisks can really lay waste to the enemy really quickly, and my deep-striking stormtroopers easily make their points back nearly every game (deepstrike next to some Berzerkers, 4 plasma shots, 4 hits, 4 dead Berzerkers!). The General is pretty nasty too though. He and his Commissar buddy have taken out a 5-man terminator squad in CC before.

It really is a fun army to field and play with though, and I must say it's interesting how many people stop and take a closer look at it during tournaments/mega battles at my local GW!
---
looking good! i have to say i love that organist conversion!

only critisism is that as far as my roman numerals go (studying latin), for 19 it is XIX, as it is "1" then "9"

thanks

M
---
Yep, you're right... oops, my bad... Oh well. Looks like I just made up a number
---
The Mordians are still alive and well...
Just like to point out that I have now officially completed my Basilisks! I have now added crew members to the other two: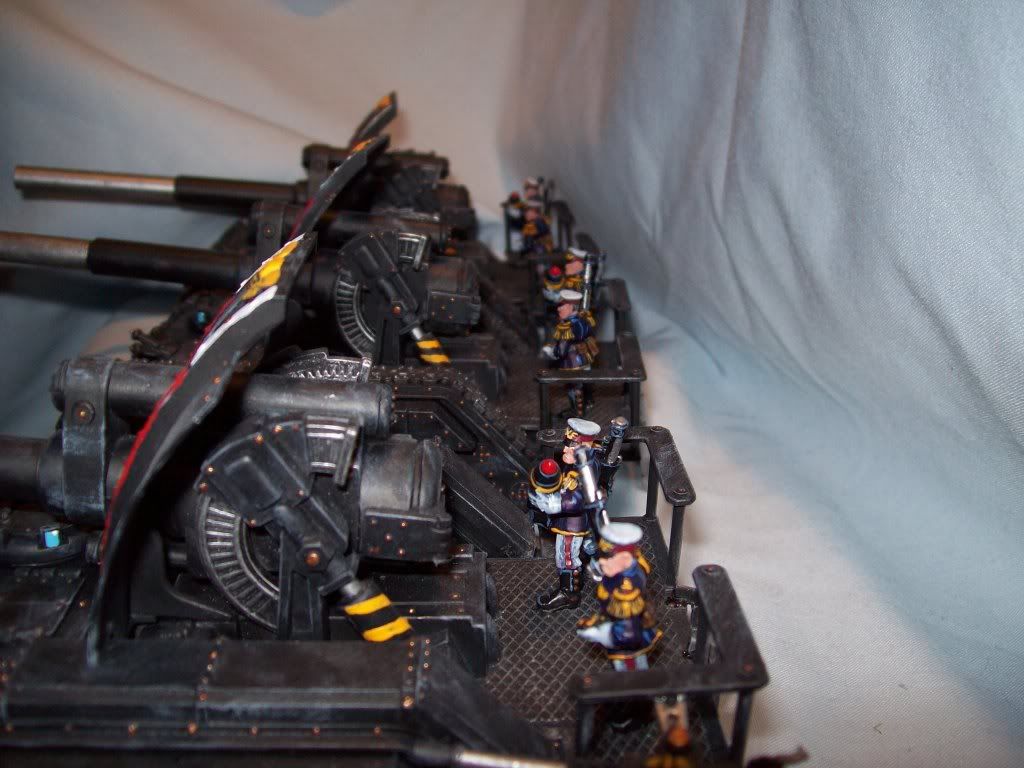 I was greatly dismayed to find out that Conquerors will not be in the new codex... so I decided to convert mine into a Punisher using a Hellblaster Volleygun
However, I haven't started that project yet...
Other than that, I'll be making a few Executioners sometime in the far future as well. Stay tuned!
Senior Member
Join Date: Jul 2008
Location: Lurking in the Shadows between the Darkness and the Light
Posts: 323
Reputation: 1

---
Just out of curiosity, what exactly does themed army mean?

I really like the dedication to actually painting a quality infantry heavy IG army, most of the time its treadheads who play IG and when its not you get a ton of guys with a spraycoat, 1 shoulder pad and a face painted.
---

All That is Gold Does Not Glitter
All that is gold does not glitter,
Not all those who wander are lost;
The old that is strong does not wither,
Deep roots are not reached by the frost.
From the ashes a fire shall be woken,
A light from the shadows shall spring;
Renewed shall be blade that was broken,
The crownless again shall be king.
---
allways loved Mordian guard.
Yours are very nice .
I like the bloody minded , 3 basilisk option. My army would have to hide alot from yours
I think you require some APC now , unless your like my Tau, playing friend who deploys dead centre and then spends the rest of the game falling back while shelling, zapping everything trying to close with his forces.
your heavy weapon teams are nasty also , very nasty.
A very scary looking army indeed , i think you have done great.
have some rep
Lower Navigation
Nearly completed Mordian army...