Join Date: Aug 2008
Posts: 10
---
It looks really good...hey wait a minute 3 wins...ok i can believe that, but 0 losses.
Or have i just imagining my past 10 battles against you?
---
The army is looking good man, keep us updated! Look at picking up a fondation red, that sound do away with the transparent red, or apply a couple more coats of red over what you have not to deepen it. Very cool so far.
---
Ok, so here's the pipe organ: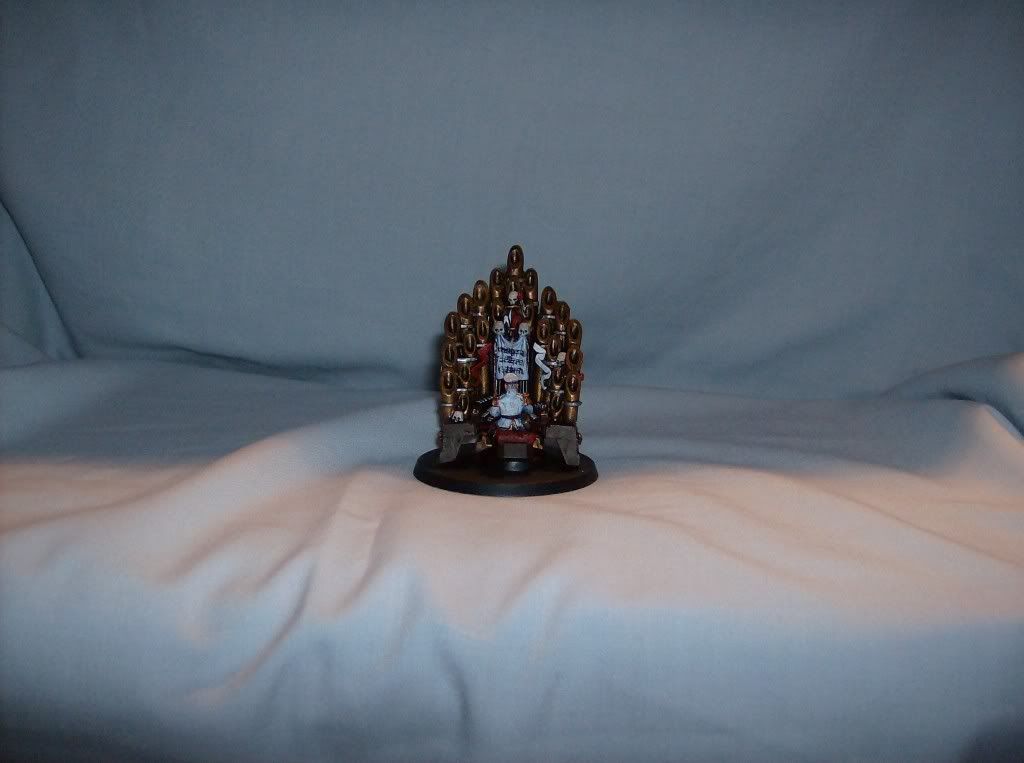 Here's my new updated command squad (aside from the organ, not much has changed... Actually, I did give the standard bearer a stabby bit at the end of the flagpole!):
As it turns out, small suitcase keys make good cellos. Guess what my next instrumentalist will have!
---
Very well done army here, I like the scheme and the cleanliness of the paint as well.
---
one thing I want is the ability to split my fire everywhere, it makes no sense that a squad of 10 guard or marines or whatever all have to fire at 1 target with everything, is the guy with the lascannon not smart enough to realize maybe he would be better off firing at the massive tank looming overhead instead of the little man no bigger than a squat running at him, or is that far too complex for the 10yr olds?
My Thousand Sons Project Log
My Warriors of Chaos Project Log
My Cryx Project Log
My Necron Project Log
---
The pipe organ master vox is awesome. Looking forwar to an entire mordian army picture
---
If a child asks how Santa lives forever, simply reply he drinks blood.
Old aunts used to come up to me at weddings, poke me in the ribs and cackle, telling me, "You're next." They stopped after I started to do the same thing to them at funerals.
---
Well, my orks are taking up a lot of my time, but I haven't forgotten about my Mordians! So, here are my lascannon squads:
The number of unpainted Mordians in my army can be counted on one hand now, so expect a full-army photo some time in the near future.
---
I love the pipe organ for the master-vox operator, that would be amazing. And i assume the bag-pipes and what not are regualr vox-casters. Amazing work so far, keep it up.
---
Quote:
Trevor_Drake: If you invested $1,000 in Delta Airlines last year, you would have made $43. In AIG, you would have made $33. In Leihman Brothers you would have made $0. Spent that money on beer and recycled the empty cans, you would have made $214. I call it a 401-keg.
Trevor_Drake: Americans walk roughly 900 miles per year, and consume on average 22 gallons of beer a year, so the average american gets 41 miles to the gallon!
Grish: hahaha
Katie_Drake: XD
---
Got some nasty firepower there already.

Trying to imagine that organ on one of your tanks.
---
always loved the Mordians, well done man!!! Lord Macharius is fantastic!
---
Lower Navigation
Nearly completed Mordian army...