---
Yeah, I see what you guys are saying and I think the same thing a bit every time I finish one of their vehicles... But, I (personally) think that they would look pretty bland if they were just entirely rust brown. Not only would they all just blend together, but they would not at all match the bright reds and yellows that the infantry wear. Call it an after effect of spending my childhood (and the rest of my life) watching cartoons, but I like using bright colours! Again though, I agree with you guys completely. The red is far to bright to be properly weathered, and the only weathering pattern I went by was "wherever my paintbrush happened to land."
How would I go about weathering the paint? I don't want to get rid of it entirely, because it kind of ties the entire army together, and that rust scheme was never meant to be the primary focus of the models anyway. I guess what I was trying to do with the Vostroyans was to create a paint scheme that was vastly different than the dull greens and greys of my orks and Mordians. I guess I was trying to make them look less serious? I dunno...
Thanks for the advice though! I'll see what I can do, but to be honest I'm sick and tired of painting for now!
---
For starters I think you don't have enough of the "original paint job" in some places. I know the army paint scheme is old and weathered to an extreme, but I think it needs more of the original, but possibly faded, in key locations. For example, the head is sheltered by the top carapace, so the nose should still have paint on it.

I agree the layering is too clean on top of the rust, so how about being a little more messy with the "primer " layer? So dry brush the black edge, make nicks with bolt gun metal and mithril silver, smoke damage, leaking hoses, mud on the feet. I think more paint on the feet as well. Blood on the feet as well would be sweet. dry brush a darker red over the lighter red to represent sun damage like you see on old cars. When paint chips off cars, it exposes bare metal, so mabye silver colors around the paint or fresh rust being brighter brown and green?
Anyway, just ideas. I still love that you are reincarnating such and old (and in my opinion) beautiful model.
---
Sorry for all the double posts, but also: you said it needs to match the infantry. Well, its a slow moving behemoth that was left and forgotten outside in a snowy nuclear Winter wasteland. how about it being covered in snow?
---
I agree the red could do with a bit of weathering, but on the whole it's a damn fine job.
Damn, just had a look at armorcast titans on ebay.
They go for stupid money. I'm not even gonna ask what you paid.
---
Hello everyone! It's been a few years. About 4 or so. Yeah, life's been busy.
Well, I'm happy to announce that I'm back into building and painting models! Sort of. Nothing major as of right now, but I do have a couple small projects planned/started.
First of all, I finally figured out how I'm gonna handle my Moridan Heavy Bolters and Autocannons. I think it was about 5 years ago that I made a post about that? Wow, I've been at this a while. I've decided to base them on old civil-war style artillery pieces. Similar to my Lascannons seen earlier in this log, but a lot less ornate. These ones are clearly built to be used and carted around, not just for sitting in the back and looking fancy! Here are some pictures of my first prototypes. I like how they turned out, so I don't think any major changes need to be made to the design.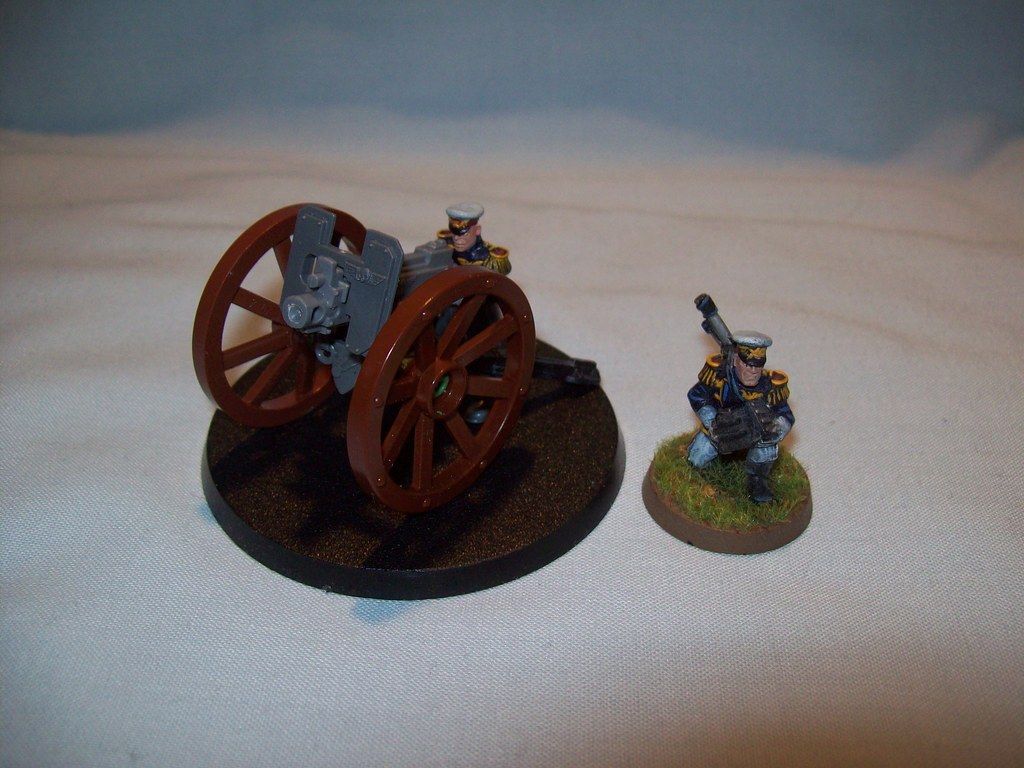 Heavy Bolter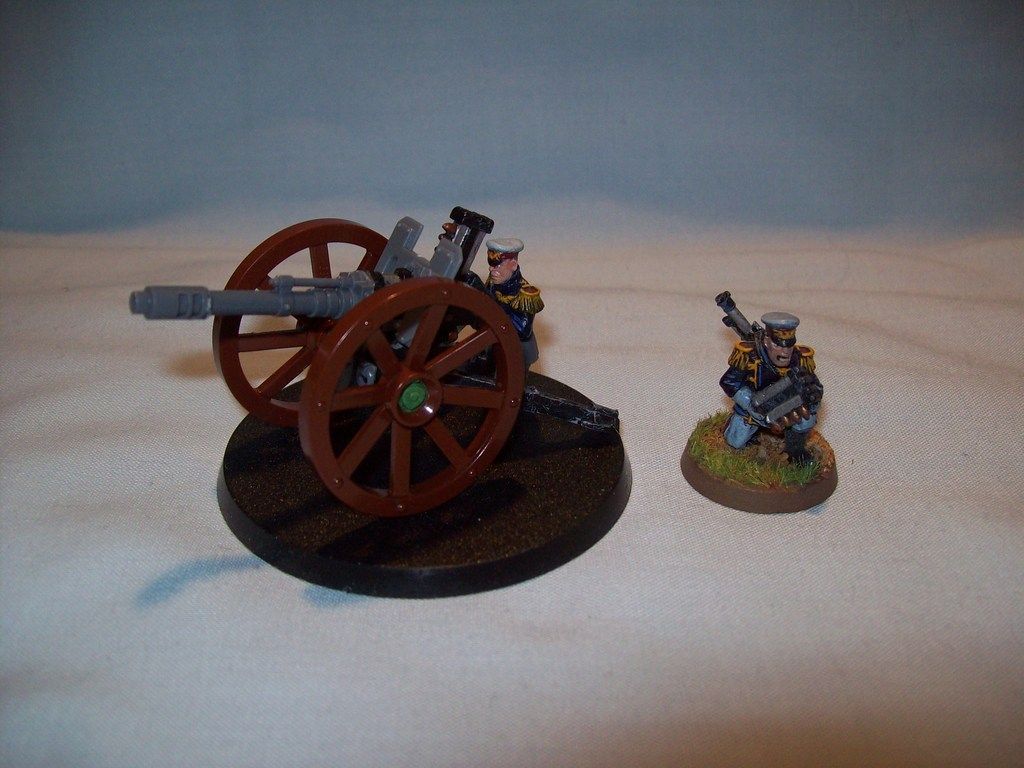 Autocannon
The Autocannons in particular are a bit of a pain to make, because the second member of the crew is holding extra ammo for the "older" style model of Autocannon. That means I still have to incorporate that into my conversions somehow, and I can't simply use the plastic Cadian heavy weapons like I can with the Heavy Bolters. A bit of sawing here and there solves the problem though.
The main body is made of the old metal Lascannon chassis that I no longer use from my old Mordian Lascannon models. Now that I have my fancy plastic ones, my old ones were just sitting on my shelf. Well, now they can be of some use! Combine them with some Lego wagon wheels, and they're good to go! Once again, Lego has come to my rescue. Anyway, I just primed these two today, so hopefully by the end of the weekend I will have them painted up all nice.
Another thing I want to do in the foreseeable future is add a platoon of Valhallan troops to my Vostroyan army. Turns out, a guard army made up of only veterans doesn't work so well on the table. It just doesn't have enough bodies in play! Valhallans still exist on the online store, so I feel like I should get some while I still can. Maybe 30 or so. It'll also be a good way to differentiate between who is a veteran, and who is just a regular guardsman.
Reading through old posts here, it is a shame my Vostroyan tank colour scheme turned out the way it did. I would like to improve it, I really would, but I'm just not... I dunno... Skilled enough? Patient enough? To make that work. Those probably aren't the right words, I feel like I could do it if I just knew... how. I know what I want it to look like, but I just can't figure out a good way to put that vision to my models. It's not that I think they look bad or anything as they are, and at least they're consistent, but they don't really reflect the look I wanted them to. Oh well, they are what they are. At the end of the day, the entire point of that army was for me to get away from gravel/grass bases and tanks with completely uniform colour schemes. Artistic expression, I guess.
Anyway, enough of that. I have two more Autocannons and two more Heavy Bolters to make. C&C are always appreciated!
---
Great to see you working on the guard again! I spent some time looking back through your plog and it has inspired me to get my old metal guard out again, especially now the undead is at 1000 points.
---
Hah, thanks! Always nice to inspire people! I do miss the old metal guard armies.
Well, I've finished my two prototypes. One Heavy Bolter, one Autocannon. Here they are: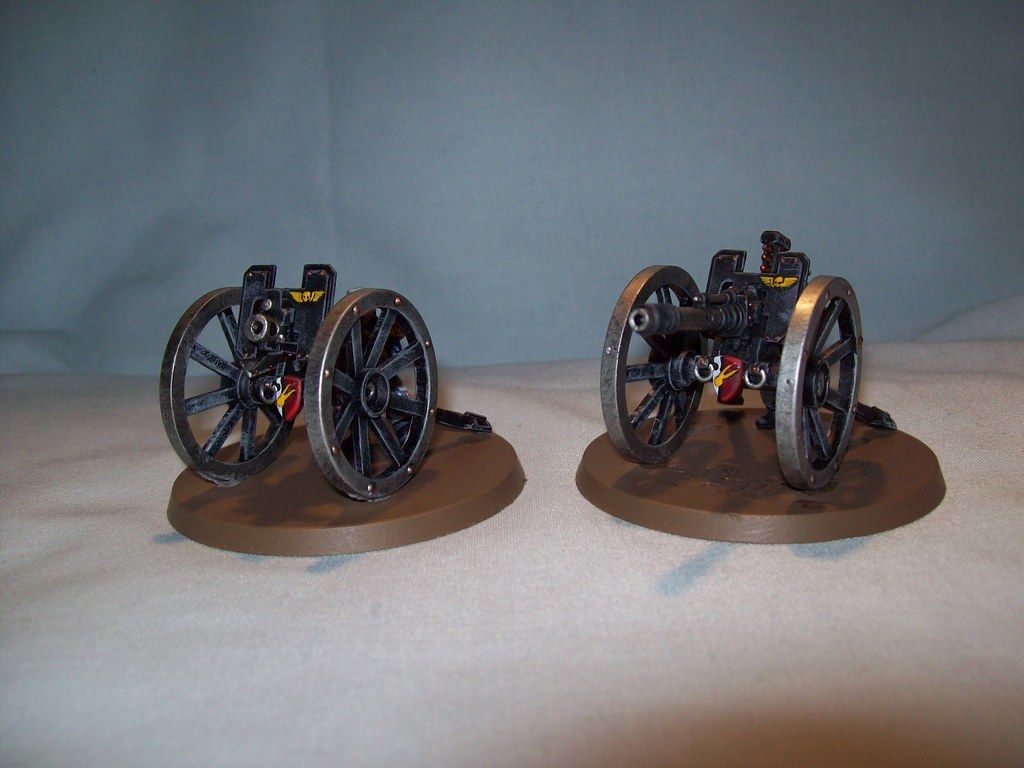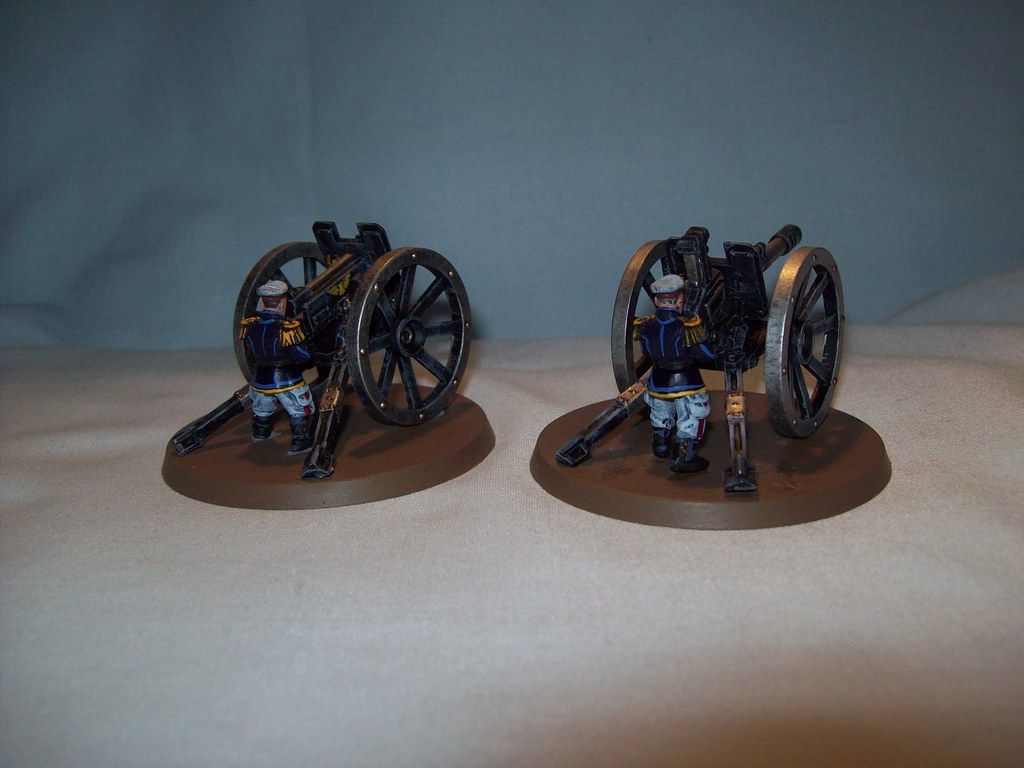 The other four have just been primed, so hopefully I'll get around to them soon. It feels good to have finally figured out what to do about Mordian heavy weapons!
---
Just went through your plog, excellent stuff, your Nork is great, a well deserved rep cookie for you sir!
---
---
Thanks! I don't think I've ever really used Nork, but yeah, I'm pretty happy with how he turned out.
Well, here is my new battery of Mordian heavy weapons!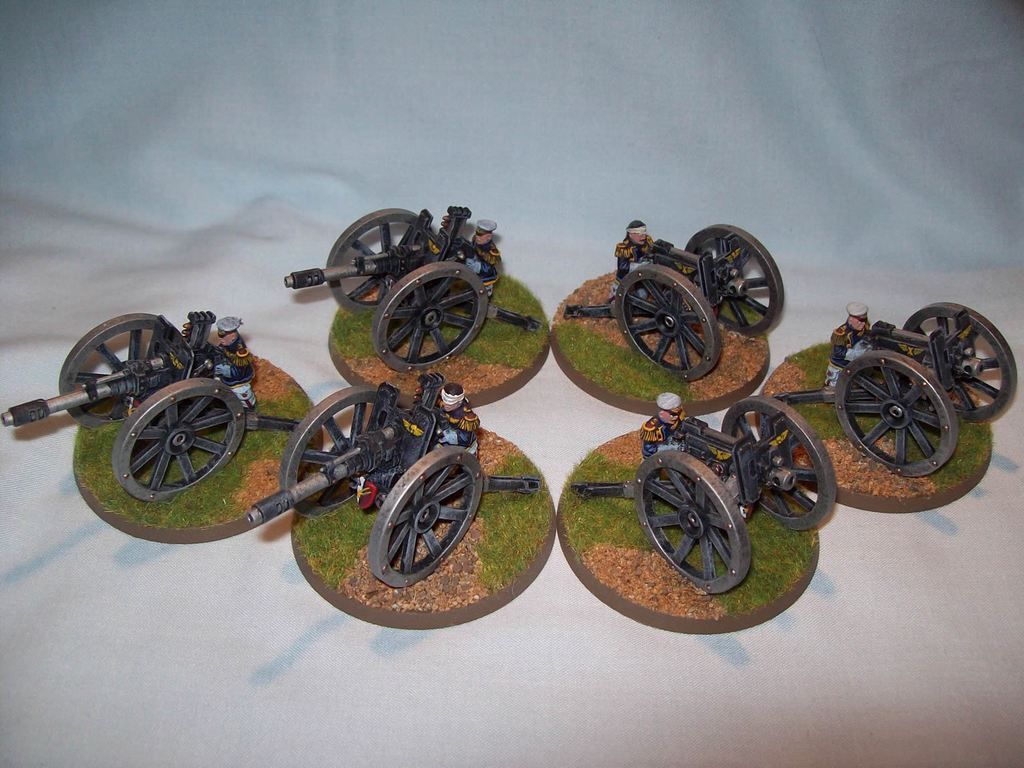 The thing I'm most proud of is the little shields in front. Only three of them are real. The other three I molded myself out of greenstuff! You can't even tell the difference without
really
inspecting closely. Even then, the only thing different is that the fake ones are a little thicker.
I actually have another announcement to make regarding one of my guard armies: I just bought a whole platoon of Valhallan troops on ebay. Heavy weapons and all. I've looked through the new guard rules, and I know that the whole "platoon" structure is kinda out the window now, but darn it, I'm gonna keep on using it! It's the only life I know. Speaking of new rules, I'm extremely disappointed with how the new blast weapons work. I guess you can't really call them "blast" weapons any more, can you? More like big, unstable Heavy Bolters. Ugh. Why is my Leman Russ' hull-mounted Heavy Bolter going to be more consistently dangerous than its main Battlecannon now? I get what they were going for, I really do, but I still don't like it. Horde armies are going to run rampant now that "blast" weapons are useless (I cry for my poor, ordnance-heavy orks), mark my words.
Anyway, enough salt from me. Point is, I'm not giving up on my Russian army just yet. Heck, even the vehicles. Giving them another good look-over, I realized that my paint scheme isn't that
bad
, it's just
unfinished
. All those paint chips just need a good weathering/rusting over, and I think I'll have the look I wanted. Maybe in another 5 years I'll figure out a good way to do it.
C&C are always appreciated!
---
Last edited by Lord_Murdock; 06-16-17 at

01:08 AM

.
---
I can't really tell on the gun shields myself. Would never have guessed without you mentioning they are different.
---
Age of Sigmar: Skirmish looks compatible with 8th edtion 40k. Doing Skirmish in both the Dark Imperium and the Mortal Realms!
Lower Navigation
Nearly completed Mordian army...