Assault on Black Reach WIP - Ork Warboss
---
I am painting up my Black Reach minis starting with my Warboss. After looking through the box I was overwhelmed at the amazing detail for plastic minis and simply couldn't help myself but to start painting them. I have started with the Ork Warboss, which is my favourite in the set. Here are all the WIP shots taken so far: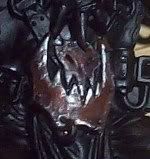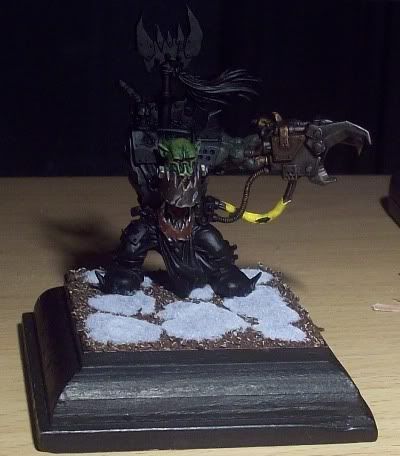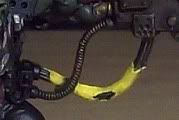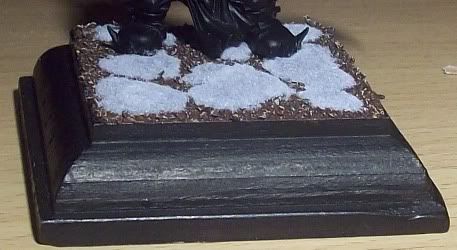 Comments and Criticism welcome.
Regards,
Jake.
EDIT - Very sorry everybody but could a Moderator please move this to the correct forum, I have realised I posted it in the wrong place... how embarrasing. Sorry!
---
Regards,
Jake.
---
Last edited by Red Corsairs; 09-21-08 at

09:13 AM

.
Join Date: Jul 2008
Posts: 78
---
Thats coming along really well - looking great.
Are you doing to do checkers?
---
I don't know too much about Ork Clans but are Goff Clan the ones with checkers? I'm not sure which clan I'll do them at the moment but I might try out checkers to try out something new.
---
Regards,
Jake.
---
Goff have checkers. This is looking awesome, I may have to get the boxed set sooner than I was originally going to!
---
Thanks for the confirmation! It is a good set and well worth it. I'll hopefully do some more on this chap later today after I get back from Warhammer World.
---
Regards,
Jake.
---
Well checks are used by all klans along dags and glyphs. Goff's are known for using black and white checkes. I have used checks in all my ork armies blue and white for my deathskullz and red and white or red and yellow check for my speed freaks.

This is looking good so far the skin is coming along nicely.
---

Red Orc
"Ahh, isn't Morfang sweet, like a great big 350-pound (that's 25 stone, UK users!) ball of cuddly death...?"


God, gives children to people so that death won't seem so disappointing.
---
The warboss is looking pretty darn good even in this WIP stage. The work on the flesh is rather good. Any chance you'd impart your painting technique on orky flesh?

Good luck and good gaming,

Nate
---
"If you can't stun them with your tactical brilliance, baffle them with your superior grasp of BS."
"I refuse to engage in a battle of wits with an unarmed man."
Quote:
Well, seeing as how you capitalize your characters, use proper grammar and punctuation, I'd say you qualify.
---
Great! Thanks a bunch, I will probably use a red and yellow Checkered pattern in that case to match my Ork so far. Thanks for the help guys, it is much appreciated!

EDIT - sorry Shogun, missed your post. Sure, here is how I painted my Orks Flesh:

For the skin I started with a basecoat of Catachan Green,
Next came a highlight of Knarloc Green,
Followed by a 50:50 highlight of Knarloc Green and Gretchin Green,
Highlight Gretchin Green,
Highlight Camo Green,
Finally a final wash of Thraka Green to blend the colours together.

Hope that helped a bit.

Regards,
Jake.
---
Regards,
Jake.
---
Love it! Looks really good, especially how you got the metal to look.
Plus I love the head you chose for the warboss, I did the same thing ;)
---
Wow, that is prime looking, especially for a wip. Can't wait to see this one done.
---
one thing I want is the ability to split my fire everywhere, it makes no sense that a squad of 10 guard or marines or whatever all have to fire at 1 target with everything, is the guy with the lascannon not smart enough to realize maybe he would be better off firing at the massive tank looming overhead instead of the little man no bigger than a squat running at him, or is that far too complex for the 10yr olds?
My Thousand Sons Project Log
My Warriors of Chaos Project Log
My Cryx Project Log
My Necron Project Log
Lower Navigation
Assault on Black Reach WIP - Ork Warboss