---
And finally something totally different.
I got myself the Deathwatch:Overkill box, mainly because of the minis, but i also want to improve my painting skills. So i tried something new and for the first of them, i followed a tutorial from
Tale of Painters
As you can see, they used 40 GW colors (plus primer). But since i don't want to buy new GW-colors (trying to switch completely to Revell, Vallejo, ArmyPainter etc.) i used my own mix, which you can see below.
Also i gave an app called PaintMyMinis a try to log the used colors and different blending-techniques for further projects. The handling is a bit unusual, but after a while i really liked this app. Sadly it's not for free, but there are some Articles about it online, so you can check out if you could use it.
But enough talk, let the pictures do the talking :D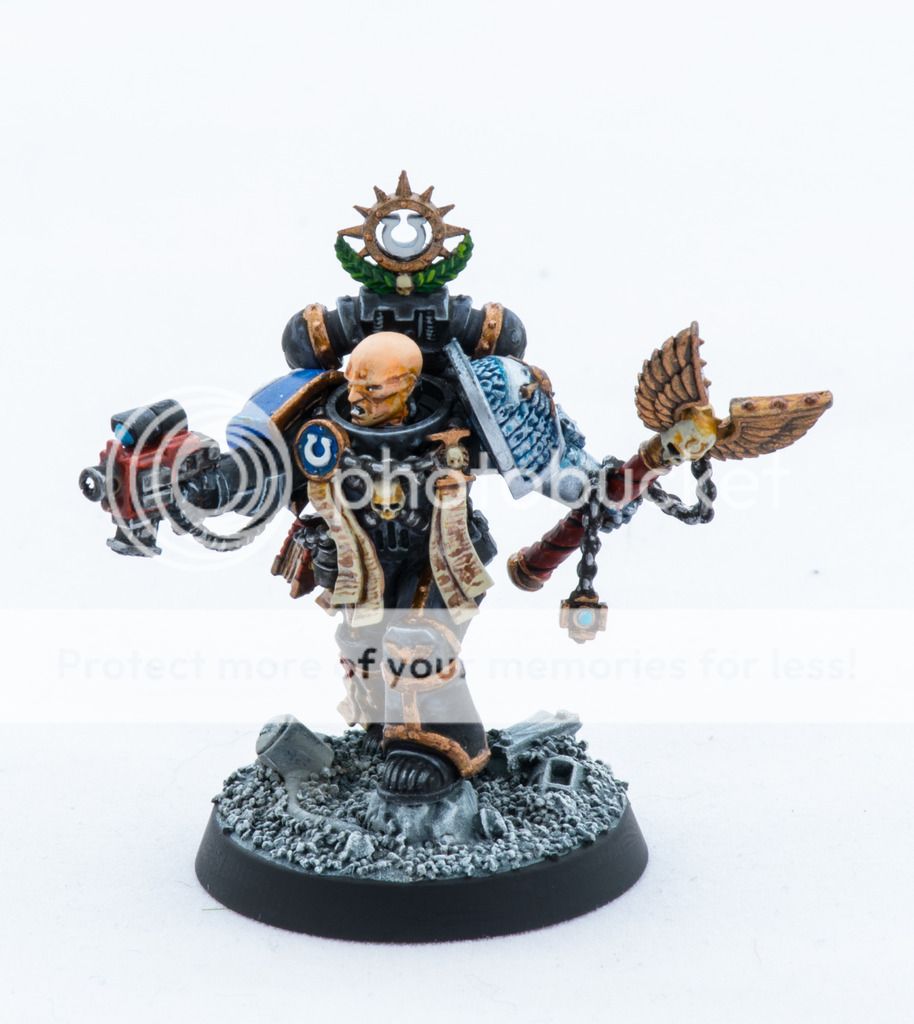 Some things didn't work out at all (especially the black and gold armor parts), but with most of the others i'm very happy and i definitively learned a lot. What do you think? C&C welcome
And HiRes via tumblr
Chaplain Cassius
---
Small update. Nearly finished three Sniper-Scouts and the second Deathwatch-Member.
The scouts were from ebay and their former owner put some thick paint on them. I wasn't able to remove absolutely all of it, so their details lack a bit of sharpness.
When these guys are finished, there will be four more Assault-Marines. Right now my old shadow grey reaches it end and i'm not quite sure if Vallejo Sombre Grey hits it perfect. Will try to blend it with some black/blue washing...
---
To complete this, here just the old pictures with the broken links restored. Sadly i can't edit the old post to include them there. If this is possible, please tell me how
"It all started with a bunch of tanks. I had lots of old Rhinos here and a few from the newer ones. Just a few snapshots of my tank/transporter-base. Better pictures will follow."
Also i finished a venerable dred which was waiting here for years. He still needs to get a nice free-hand painted banner...
With so many heavy Wargear, there definetively has to be someone to keep them all up n running.
Some old WIP-Pictures...
The finished Terminator-Squad...
Command-Squad including an upgraded Apothecari
That's it for today. I realized that there are still some Minis i haven't shown here yet, but due to the fact that i want to repair and improve some of them, they will have their place in front of the camera sooner or later
C&C welcome
---
Long day, had to honour Tabletop-day with two matches X-Wing. One win and one draw, fine day.
After that i prepared my first 5-marine-squad from the Betrayal at Calth-Box. I wasn't quite sure what to do with all the minis of the box. Many of the parts will be used to be mixed with other bits and lot more parts from FG and at least i want to paint one 10-marine squad as Salamanders. But also some shall be recuted nearly 'pure' and just with some small bits-upgrades like the five below.
Maybe they will be from the 5th or 6th company, still hadn't figured out what marking my different companys have; a little late for that :D
I also started to paint the next for assault-marines (as the 4 before, the old metal ones). Sadly my Shadow Grey is empty and i tried to replace it. After a bit testing i'll give Vallejo Sombre Grey with 1-2 layers of Army Painter Blue Tone Ink a try. Before i start with the tactical guys from above, the assault-guys have to test this mix.
Also i want to adapt some of the finer techniques i learned from the Deathwach guy.
So here they are just with a first layer Sombre Grey. Next comes Shading and Highlighting and after that the ink to blend it all together and add some more shadow. Hope this will work out...
Oh and i finished also something. At first the second Deathwatch-Member. Red goes really good but shading and blending together still needs more practice (and maybe a fresher black ink, this one is getting reeeeaalllllly dark)
And some more old metal-minis. Three more snipers
I looooove Sniper-Scouts but painting Scouts is never something i really like. Somehow all the bags and the small detailed stuff disturbs me in the painting process. But after the stuff i learned from the Deathwatch-training, these came along quite good. Will add some pictures of them finished together with their brothers within the next week or so.
---
And here is finally the completed second half, together with their other brothers. I also added company-markings on the knee-caps. When you take a closer look, you can see some small advantages in painting.
A bit annoying was my search for a good replacement for GWs ShadowGrey. I tried it with Vallejo Sombre Grey together with ArmyPainter BlueTone Ink and after that shading it again with SombreGrey. After all it got quite close to the original color, but the effort is way too high for my taste.
So there we have eight stoneold metal-minis finally finished
As always, C&C welcome
Hi-Res-pictures as always
via tumblr
.
Member
Join Date: Jun 2016
Location: UK
Posts: 69
Reputation: 4

---
Those deathwatch guys are stunning!
---
Great job! Kharn approves.
---
Thanks a lot
Maybe it's time to add some GreyKnights as support force. Or some assassins first?....
---
Time for some updates.
Well at first here is my third Deathwatch-Member:
It's cool to see the small improvements over time. Especially faces are now a real joy.... I keep repeating myself, aren't i?
While i still didn't manage it to shoot the finished scouts and my finished 5 30k-marines; here are some WIP-shots of actual stuff.
At first, there's this Scriptor-buddy i got cheap via ebay some years ago. The armor got a little bit to dark to fit to the rest of my terminators, but on the other hand, it fits to his special status, together with my first approach on cork-basing, better pictures will follow.
Although i wanted to go for the next 5 30k-marines next, somehow these guys popped onto my painting-bench. You can never have enough scouts...
Beside this i re-arranged my collection of bits and started to give some old tanks new live.
I still have some pre-based old and new rhino-kits here, together wild old metal-tank-stuff (thanks to ebay.... again) and tried to make something out of it. Main-problem is, that the pre-owner of the old rhino-kits really tried to mess them up. Luckily he didn't used a melting-based glue, so i could take most of the bits i don't need/replace off with a sharp knive. Nevertheless, these tanks will get a very hard weathering, to hide some of the old scars.
First i thought about putting the metal-parts up on the new rhinos. But the scaling-difference is quite hard, especially at the predator.
And last but not least, after nearly six months my order at chapterhouse studio arrived, so i can finally start working on that gunship :D
But wait, what's that?....
Seems like FW isn't the only one with resin-problems. Right now i can't guess how difficult this will be. Maybe it'll be easy to fix by heating the parts up with a hair-dryer. Does anybody here have experience with resin-fixing?
---
Last edited by Flatlinerunner; 08-09-16 at

04:44 PM

.
Critique for da CriticGod
Join Date: Aug 2010
Location: Philadelphia, PA USA
Posts: 3,351
Reputation: 43

---
I've only done a little resin fixing. My understanding is that you heat and reform the resin then cool it. A hairdryer might work, but I've also heard of using hot water to soften it then cold water to set the new shape.
I've only tried the hot water method on some bent resin weapons. I had mixed success. I had to heat, bend, and set the parts a few times before they held the correct shape.
Maybe @
xenobiotic
or @
Svartmetall
or @
Blackadder
will have some suggestions. I know there are other members I should be thinking of who have endured serious resin travails but they aren't coming to mind. Sorry!
Lower Navigation
Dark Justicars - SM Chapter with mixed imperial allies