---
Just a quick little update with three more minis: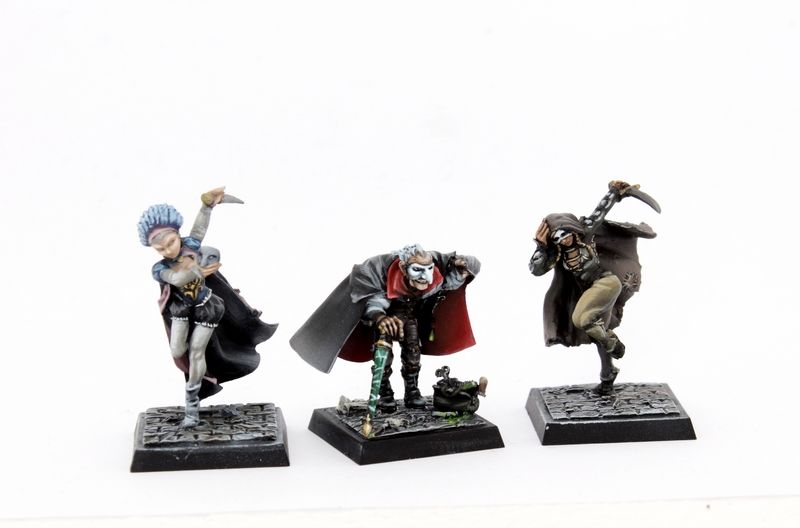 The lady in the left you may remember me doing in late 2012 IIRC. Twice, even. So this is the third time I'm painting the mini. The old guy in the middle is an amazing sculpt. Very funny. I like the lady in the right too, unfortunately the casting around the mask and her eyes especially seem to be a little wobbly for some reason. Maybe I'm just misinterpreting the mini though.
---
Update!
Hope you like it.
---
A few more Freebooter's Fate guys: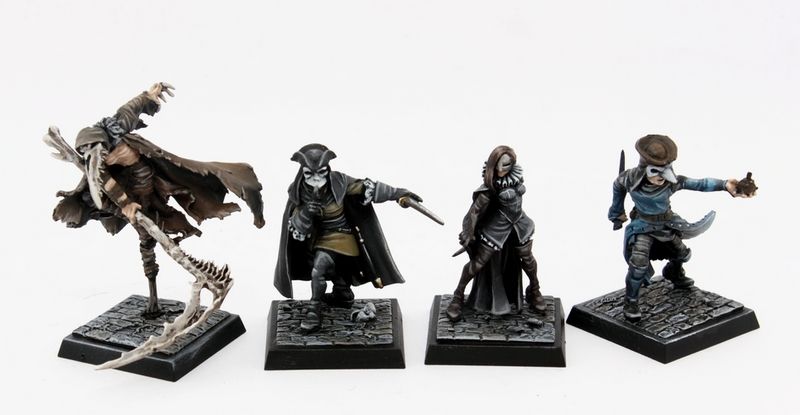 The two in the middle are finished, the guys in the left and right still are WIP. That eccentric guy in the right is really a crazy cool model. :D
---
Aren't they all eccentric? And crazy?


Alright, and cool as well. No really, I like them!
---
Quote:
Aren't they all eccentric? And crazy?
...
Good point. :D But out of all of them he's wearing a very elaborate costume to make people poop their pants. :D
---
Damn! This is fantastic mate. Top quality work, and very beautiful models
---
Quote:
If you go down to the woods today, be wary
---
@
JAMOB
: Thanks very much. And I agree - the models are amazing.
After an annoying cold and some shenannigans before that today I got back to do proper stuff and you can hardly get any more proper than some of those mighty fine Brotherhood models. The two in the middle, The Raven and the Queen of Shadows (such amazingly lovely figures. Loved doing the QoS again and I'm blown away by The Raven. Really proud how the colour scheme on her worked out). The two in the left and right are WIP. Really like the red lady too though. She probably got involved with the Brotherhood but thought "why dress up in all grey and black if I can dress up like a goshdarned superhero with a crossbow?". ;)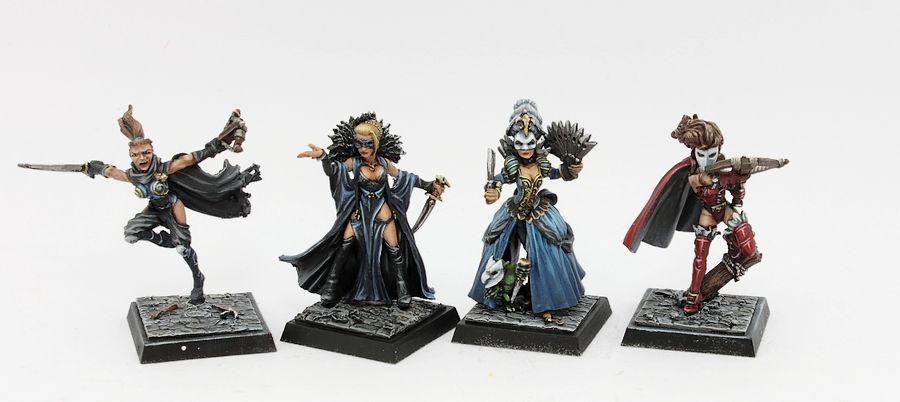 ---
Some really great work there, well done.

Are they the same scale as warhammer? Seeing some potential standins for female vampires.
---
---
Thanks @
Gunslinger
. I would say that they're about 32mm foot to eye so a little taller than GW figures. And of course the style is quite different (insert rant about CAD-designed figures versus proper traditional sculpting here ;) ). But I could see them work for vampires.
---
First off, a mercenary for the Imperial warband, so he's wearing a little red and turquoise:
I wanted to make this one look really handsome and pretty much like the most awesome dude in the history of mankind. The kind of exotic danger dude you'd find in a penny novel and such. So he got these eyes.
Here's half-face-half-skull dude. Very, very cool model again. He's part of the Brotherhood warband.
Speaking of whom...
Aw yeah, done and done.
Hope you like them!
Lower Navigation
Battle Brush Studios set sails - Freebooter's Fate (Empire, Brotherhood)