Join Date: Aug 2008
Posts: 27
CSM WIP Army
---
OK this is going to be a sortive slow moving blog because i can relax, my original deadline was the 15th of this month and i clearly did not make it...(I think it was supposed to be 1000-1500 points)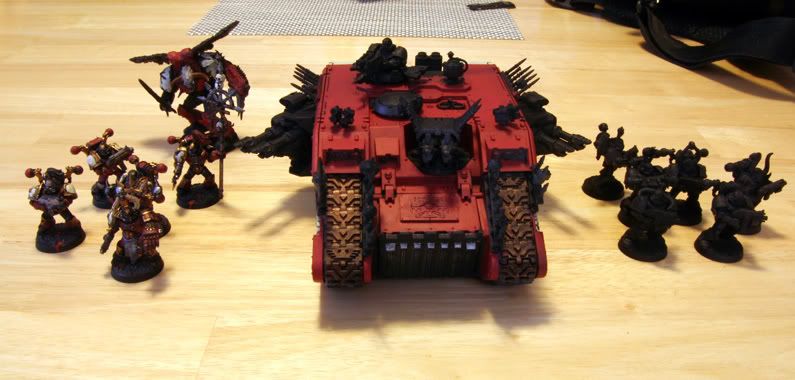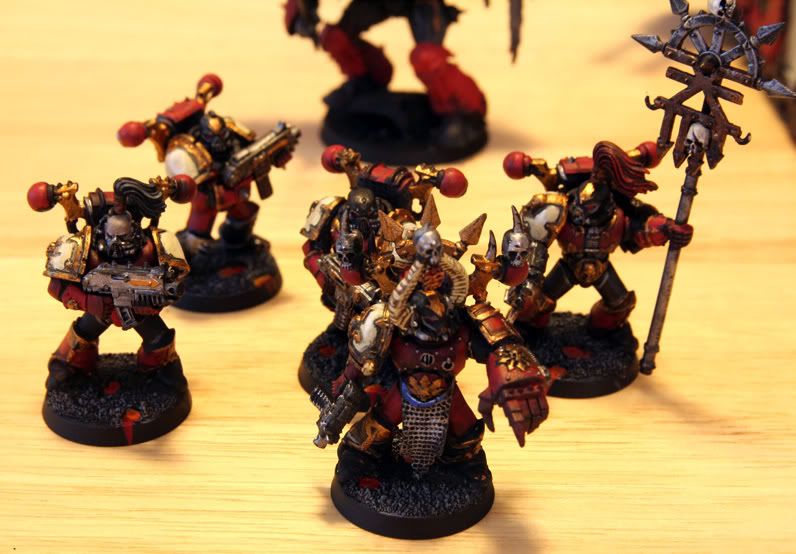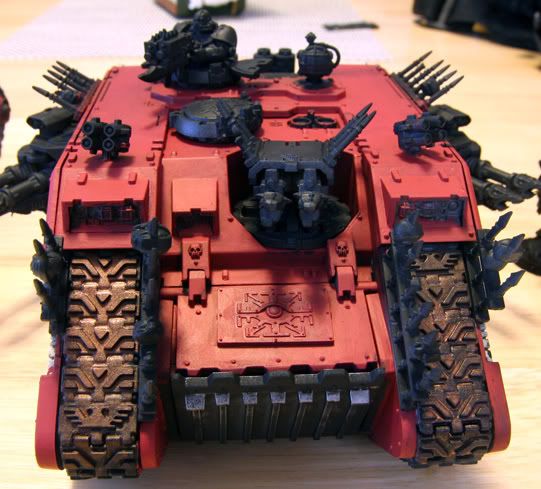 More stuff to come!
---
nice aolours man like it
---
"Do You know What They Call Me In The Ancient Legends of The Dalek Homeworld? The Oncoming Storm"
"Never Forget Doctor, You Did This. I Name You Forever, You are The Destroyer of Worlds."
---
Yeah, the red, white and gold is AWESOME!
---
Have to agree with the colour choice. Good start on the landraider. Looking forward to seeing it completed.
---
Your toast has been burnt and no amount of scraping will get rid of the black bits.

---
Kind of like the Inquisition colours, except without black.
Daemon Prince pics please.
---
Wicked dude, love the scheme. and its good to see gold used sparingly, sometimes people overdo it and it just looks awful! nice mix here.
---
red is usually a very hard colour to get a nice clean finish with but you seem to have mastered it good job, also i like the white shoulder guards as it gives your models a striking focal point want someone looks at them good job man, my only criticism is if its a khorne dedicated army ( which im guessing it is from your bearer ) I dont think they should have bolters, give them a bolt pistol and a chain axe, Khorne frowns upon standing back and shooting. good luck with the project and looking good so far. JD
---
" YOU ARE MY UNBROKEN BLADES , YOU ARE THE DEATH GUARD ! "
---
nice looking stuff there man
---
How ironic it is that as fast as we spread progress and hope throughout the galaxy, the Tyranids spread death and despair. Only united can we hope to stand against them.

Aun'shi of the Tau Empire
---
Good looking stuff here mate the scheme is cool.
This could be Blood Ravens 5th company
---
Very nice, damn good work.


Moving to Ongoing Projects as that is where continuing blogs go.
---
one thing I want is the ability to split my fire everywhere, it makes no sense that a squad of 10 guard or marines or whatever all have to fire at 1 target with everything, is the guy with the lascannon not smart enough to realize maybe he would be better off firing at the massive tank looming overhead instead of the little man no bigger than a squat running at him, or is that far too complex for the 10yr olds?
My Thousand Sons Project Log
My Warriors of Chaos Project Log
My Cryx Project Log
My Necron Project Log
Lower Navigation
CSM WIP Army