Join Date: Aug 2008
Posts: 27
---
So many questions, well i have to start some were...
Ok, wheres his mask is because he has almost nothing underneath it and with the vials on his pack help keep him alive with the powers of the warp... like Fabus Bile.
OK I'm going to try to get rid of the blue, but it look really cool far away like abstract art.
Quote:
Originally Posted by zboy234
but the head on that marine is awesome, I'm tempted to buy a box of chaos marines and make and execution squad with heads like yours
That would be awesome, a count as unit of Khorne Berserker's, lets see brain storm: scary masks, Chain weapons, blood splatter, Rusted metal, bio-shock feel to them = AWESOME!!! I'm converting my last 9 marines into Executioners(aka Khorne Berserker's)
Quote:
Originally Posted by bloodthrister
so have you bought those renegade heads and converted them even further? Or have you used them just for inspiration?
Inspiration, if i had money for this this would be a different army, but there is only so much money a 15 year old boy can buy...
Join Date: Feb 2008
Posts: 1,196
---
you can buy money?
Join Date: Aug 2008
Posts: 27
Update!
---
Quote:
you can buy money?
Worst typo ever...
OK, so i started working on my Berserker's and there looking really good right now but i only have one finished, lets see if i can get a picture, what wait were did my camera go?
I'm going to have to wait before it gets back...
Join Date: Aug 2008
Posts: 27
Update!
---
Ok, time for a real update!
There slowly shaping up to what they should look like: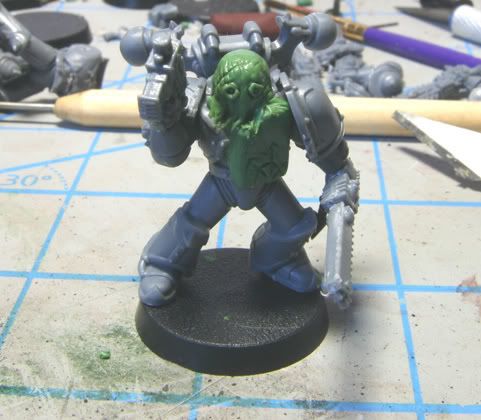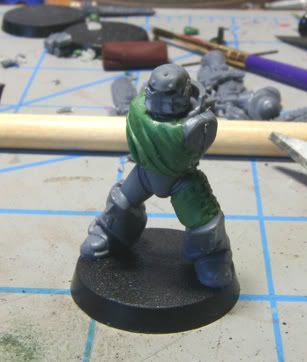 C&C welcome!
Join Date: Feb 2008
Posts: 1,196
---
Okay so are these your Berzerkers?
Also, nice going with the dude with the chainsword bandaged to his arm. You are
the
master of GS, my friend
---
wow, this is looking very nice!

really caught my eye this one, and thats something that for me doesn't happen very often since i see so many wips!

good stuff, keep it up!
---
Looking good, gs is tops!
---
one thing I want is the ability to split my fire everywhere, it makes no sense that a squad of 10 guard or marines or whatever all have to fire at 1 target with everything, is the guy with the lascannon not smart enough to realize maybe he would be better off firing at the massive tank looming overhead instead of the little man no bigger than a squat running at him, or is that far too complex for the 10yr olds?
My Thousand Sons Project Log
My Warriors of Chaos Project Log
My Cryx Project Log
My Necron Project Log
Join Date: Aug 2008
Posts: 27
---
[QUOTE=Fenrakk101;166881]Okay so are these your Berzerkers?[QUOTE]
Yep there going to be my berzerkers, I just need to find a way to make them more crazy! More Chain swords!!
Anyone have any suggestions for what i can add to my to make them more berzerk, I have some ideas:
Hand Drill
Fabus bile
Khorne ability's
Blood!!
I need some ideas!
Lower Navigation
CSM WIP Army