---
Seven Years Ago

This was impossible. The plan had been perfect. There was no way the Orks could have known their location. Then how? Treachery? Or had the Orks simply struck out wildly into the jungle and stumbled upon them in a case of extraordinary luck?

All of these thoughts passed through Captain Shrikes head as he sped through the deep undergrowth of the great Equatorial Jungles of Draygus. Solid slugs shot past him with every step as hordes of Orks pursued.

The 3rd Company had been striking at the invaders for months. The once continent spanning Ork force now broken down to disconnected, ill supplied warbands. Easy pickings for the newly arrived Imperial Fleet now entering the system. But the Raven Guard too had gone too long without supplies. It was time for them to withdraw. It should have been easy, no contact was expected. Until a force of some three hundred Orks struck at the Astartes final bastion. What followed was a desperate running battle through the dense dangerous jungles as the Raven Guard made for the extraction point.

"Brother Vokor, report!" Shrike spoke into the vox, his voice still calm and level despite the severity of the situation.

"Extraction in T-minus 2 minutes Captain." reported the Thunderhawk pilot.

"Be advised, LZ is hot."

"Understood Captain."

The clearing that made up the landing zone was just ahead, Shrikes helmet detecting the greater light levels as the jungle canopy thinned. As he broke from the tree line and into the open he was thrown to the ground. Pain fired up his left side and his armour reported multiple breaches to his pauldron, back plate and greaves.

"Fought yu cud run 'umie?" A deep grating mocking voice asked behind him.

Shrike rolled over and looked up at Warboss Bone-Crusher. Standing a head higher then any Astartes and an arm wider, he was encased in a suit of heavy armour, a masterpiece of crude Ork cunning encompassing a giant double barrelled cannon and even larger claw. This the Ork snapped, taunting the stricken Captain. Shrike tried to get to his feet but a heavy four toed foot like a dreadnought slammed down on his chest. The air was driven from his lungs and pain lanced through the cracks in his chest carapace. In that moment Kayvaan Shrike expected to die.

No blow fell and as the pressure on his chest was lifted the Captain looked ahead. It was Hayder Kol. The newest and youngest member of his retinue now doing battle with the great beast. The marines danced around the Warboss with a grace that belied the bulk of his wargear. Though Kol was driving Bone-Crusher back, he could land no telling blow against the Ork's massive armour.

Then there was an explosion. A missile detonated between Shrike and the desperate duel playing out in front of him. He did not know which side it had come from or whether it's target had been deliberate or random. The air filled with smoke. As Shrikes auto-senses fought to compensate, the Captain sent a thought through his armour. His body was immediately pumped with a cocktail of pain-killers, combat stimms and adrenaline strong enough to kill a grox. The World came back into view and Shrike got back to his feet. He broke into a sprint and passed through the smoke. What he found threatened to wrench his soul from his body. Brother Kol, held up off the ground by the crackling Ork claws penetrating his sternum. Shrike had no time to acknowledge his grief however. With a controlled burst of his jump pack he launched forward, claws outstretched. Still savouring his victory, Bone-Crusher was too slow to react and his armour no match for the direct force granted to the Raven's Talons. He was borne to the ground, claws penetrating his body. He could only roar his final defiance as Shrike finally drove his claw down through the beasts sneering face.

Looking up, more Orks were upon them. The main body of the horde closing in. Then heavy fire erupted from behind Shrikes back. He turned to see a trio of Thunderhawks, accompanied by a flight of Storm Talons opening fire with heavy bolters and assault cannons. The edge of the jungle was torn to shreds and Orks died in droves. The attack faltered, then turned into a full rout under the weight of fire.

"Apothecary! To my position!" Shrike yelled into the vox. Apothecary Vyr appeared a moment later.

"Captain? Are you hurt?"

"Not me. Him!" Shrike said, pointing down to shattered form of Hayder Kol. "He does not die."

As Vyr knelt to examine him he spoke. "Captain. These injuries. They-"

Shrike grabbed him by the gorget and pulled him until tip of his MK6 helm was a mere inch from the Apothecary's face. "He does not die. Am I understood?" he spat.

"Understood Captain." Vyr replied as two more Astartes arrived, picking Kol up and rushing him to the waiting transport. Shrike only a step behind.

-----------------------------------------------------------

Hayder Kol. That was my name. It still is. Do not mistake me for one of the poor ancients, trapped down here slumbering for centuries at a time until they have forgotten everything but hatred and anger. It has been but seven years since I have taken this form. Young Kol the others call me. Even the neophytes.

My Brothers would visit me, after the transformation. They would ask me many questions, but one was most pertinent. What is it like?

It is cold. No matter the blazing heat outside I am encased in cold metal and submerged in icy fluid. I no longer feel the touch of a star on my skin or the heat of volcanic air in my lungs. I feel heavy. Though my organic body floats weightlessly, my limbs are thick and cumbersome. In life I was swift, graceful, a predator in the night. Now I am none of those things.

But there are things I can do now that I never could in life.

------------------------------------------------------------------------------------

Now

The Wartrukk flipped end over end and crashed into the one beside it. Young Kol had burst from the alleyway in the centre of the Raven Guard ambush. His powerful strides broke rockcrete beneath them and the might in his arms sundered metal and bone in equal measure. He was the implacable fury of the Emperor incarnate. As those Orks still living tried to escape the wreckage of their vehicles Kol bathed them in cleansing flame. He had no time to delight in their screams however. Beside him an Ork dreadnought staggered clumsily towards him. As it swung a buzzing circular blade towards him, Kol grabbed it's arm in the vice grip of his claw. Turning, he followed with his seismic hammer, smashing a hole clean through the Ork constructs armour plating. The arm in Kol's grip went limp and he let it fall. Reaching inside, Kol extracted the barely living pilot, threw him to the ground and crushed him underfoot.

In these moments, he thought, death was not so bad.
----------------------------------------------------------------------
Update time. I got my Ironclad finished. And only 7 months from acquisition to completion. That's good right?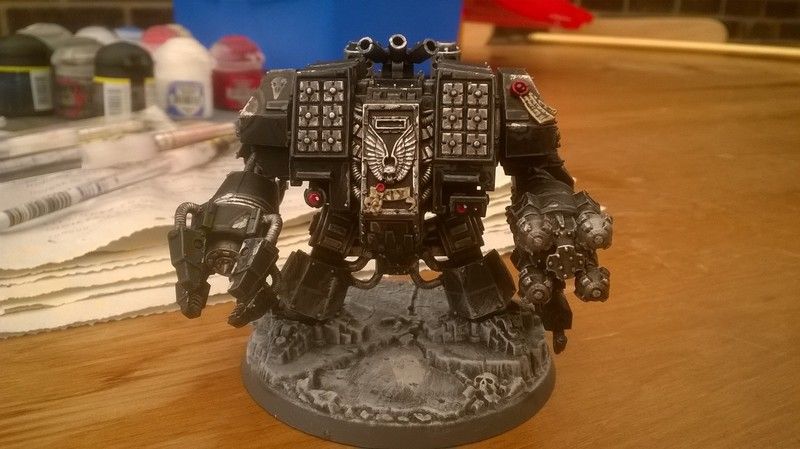 ---
'There is no record of any force designated 'Rapier Squad' on Hephestia Prime.' - Imperial Records
Lower Navigation
Never Despair - Raven Guard 3rd Company