My Brass Scorpion (not typical build)
---
So, I have a World Eaters army that is over 8k by itself. World Eaters have always been my favorite of the Chaos Legions, and I decided with an army this large I really need a super heavy. I really don't like the Brass Scorpions I've seen though. I found one over on Warseer that I did like a lot though. This isn't an exact replica of that one, but I used his basic idea's for the hull and built from there.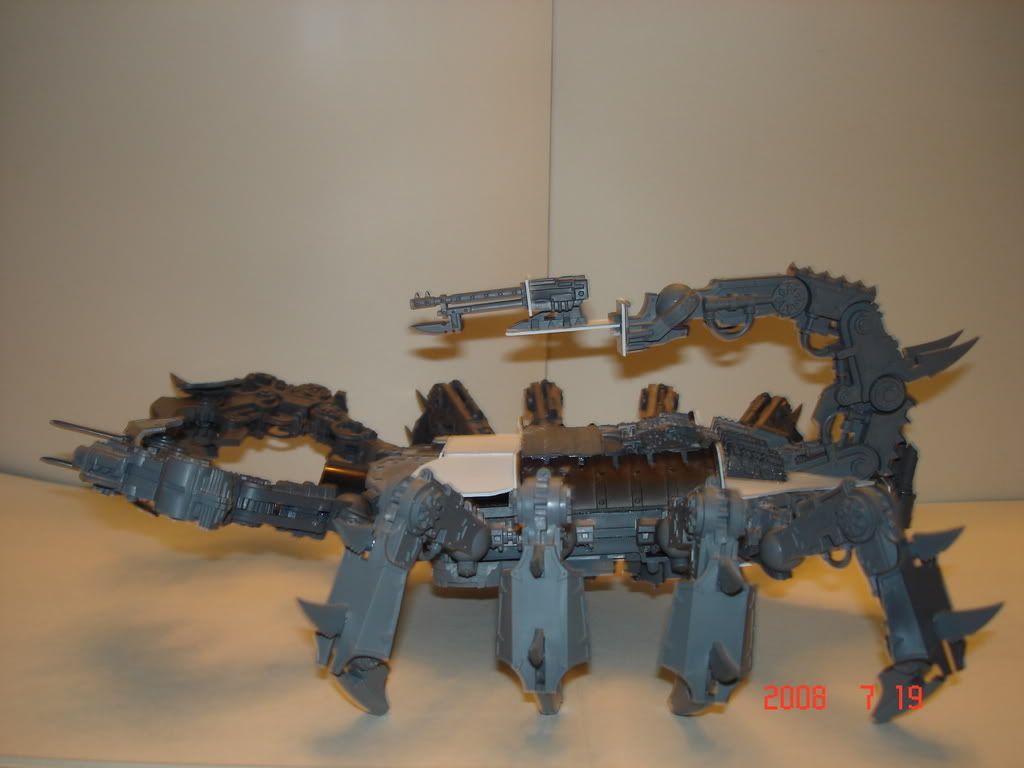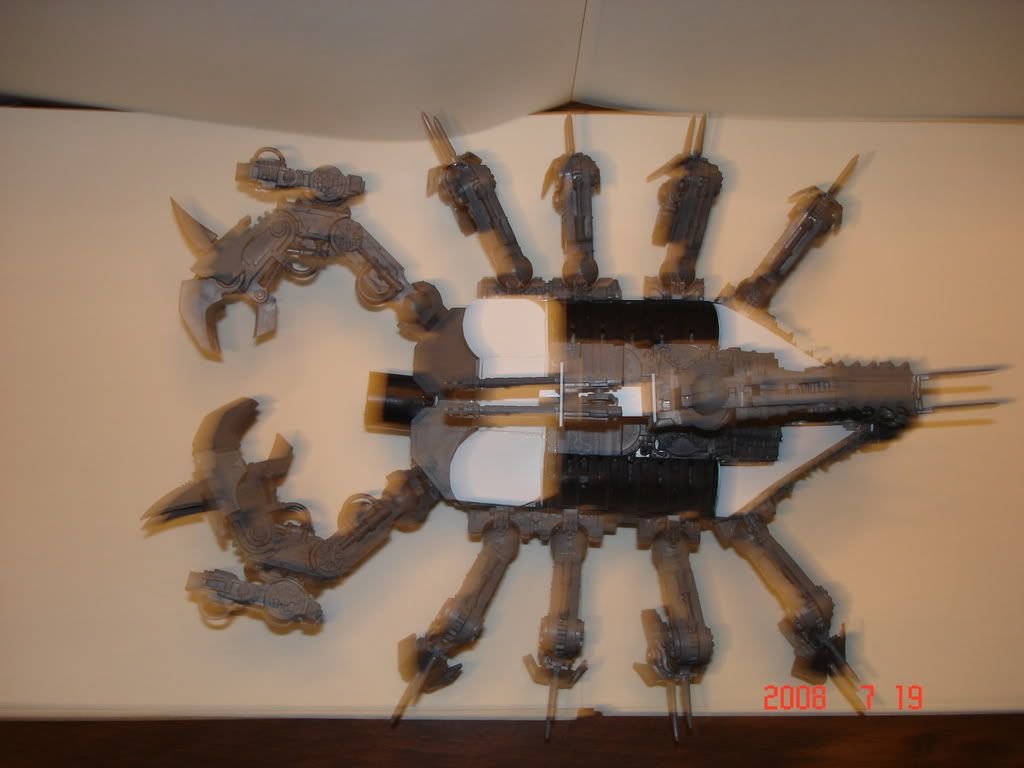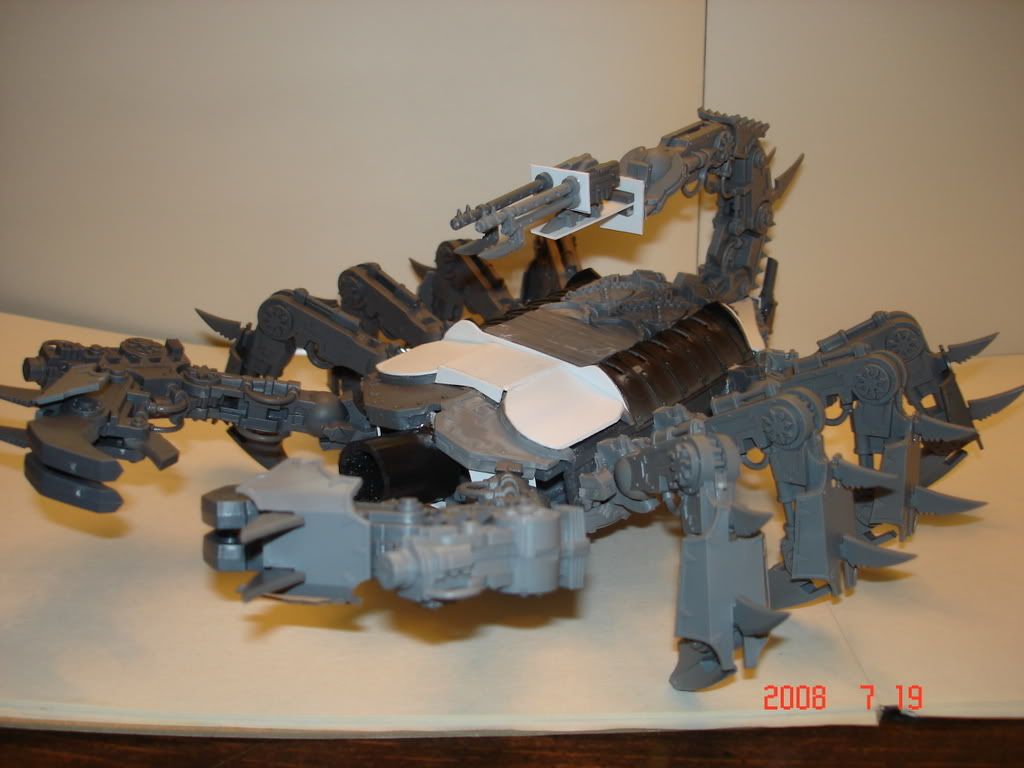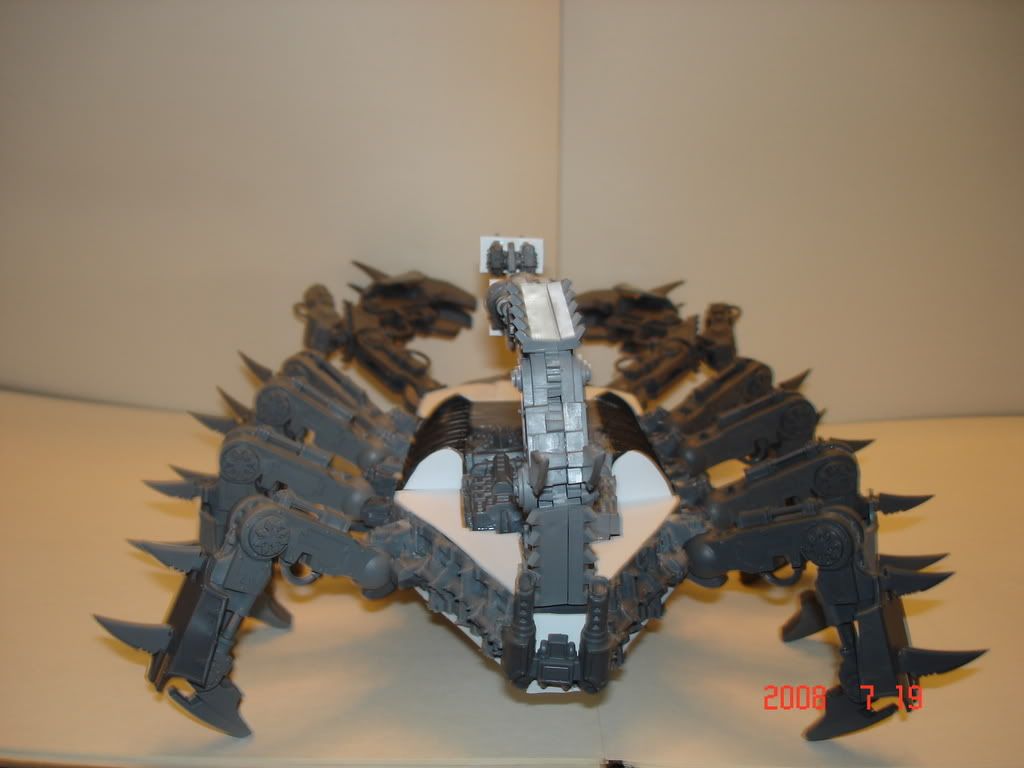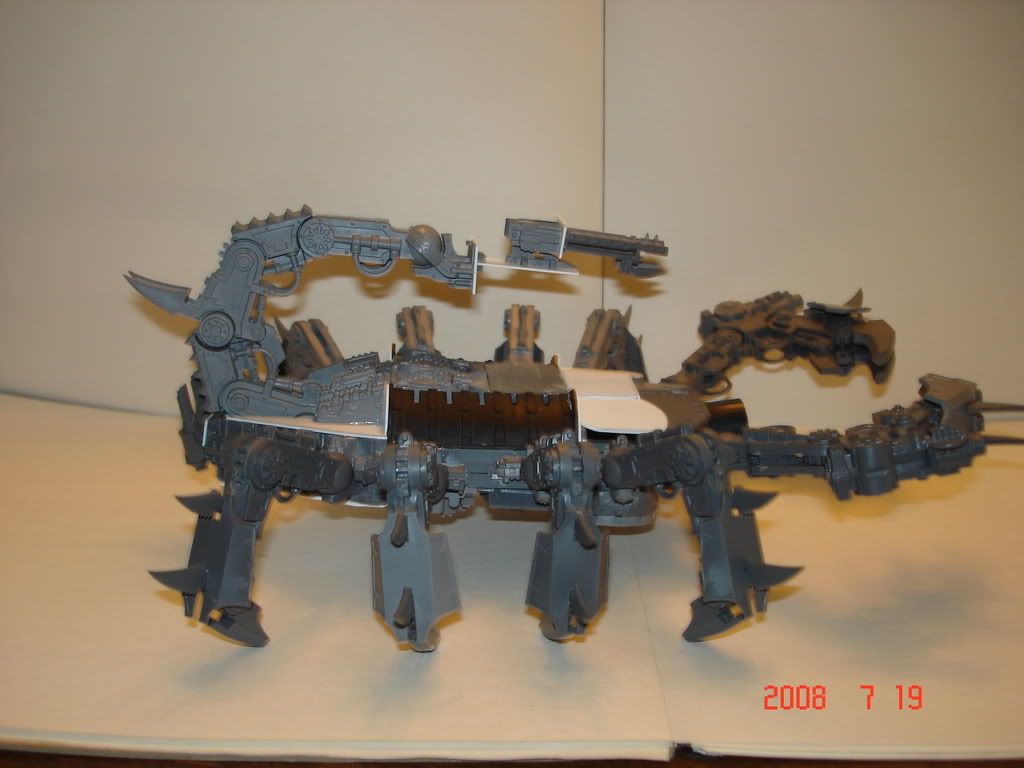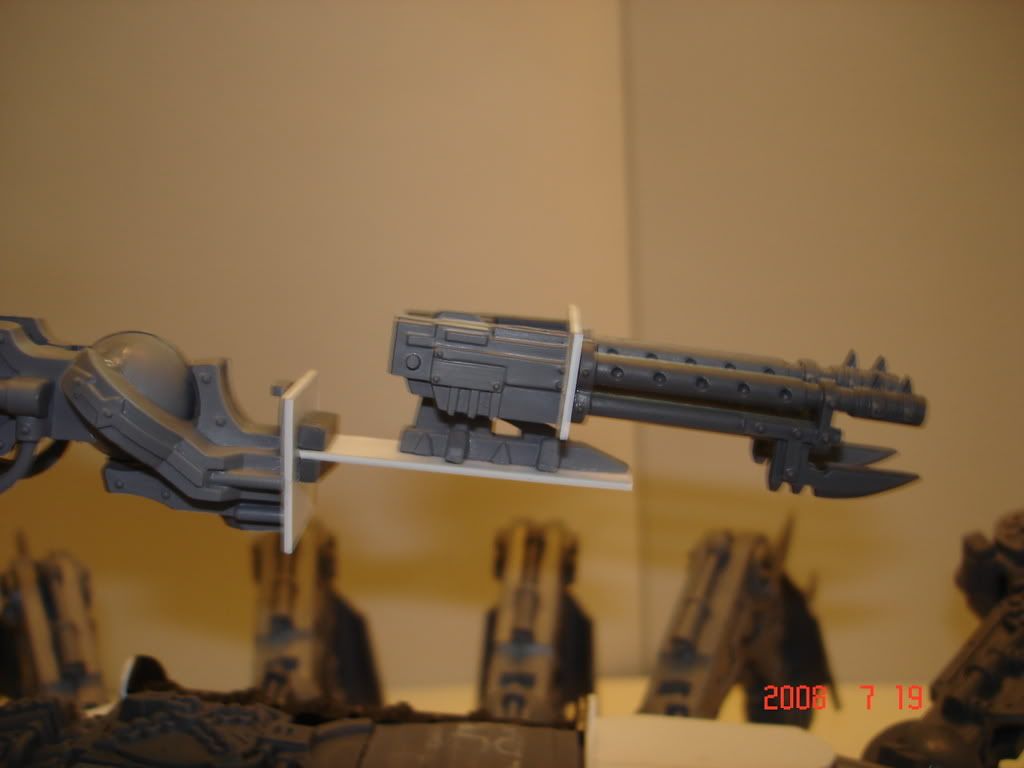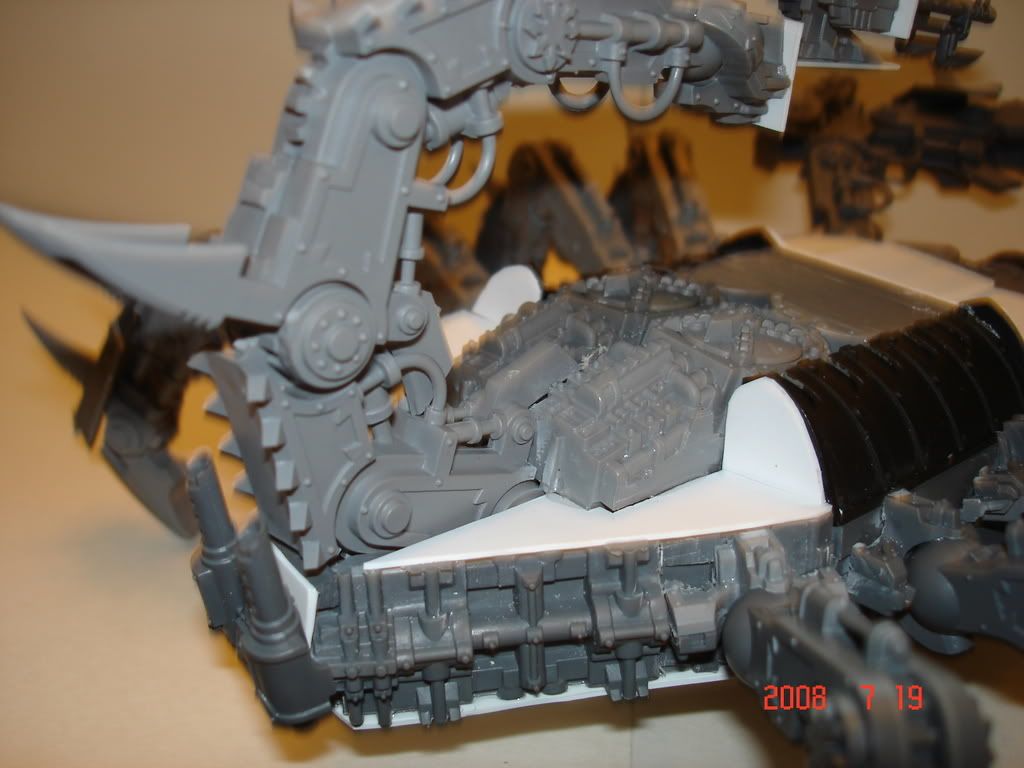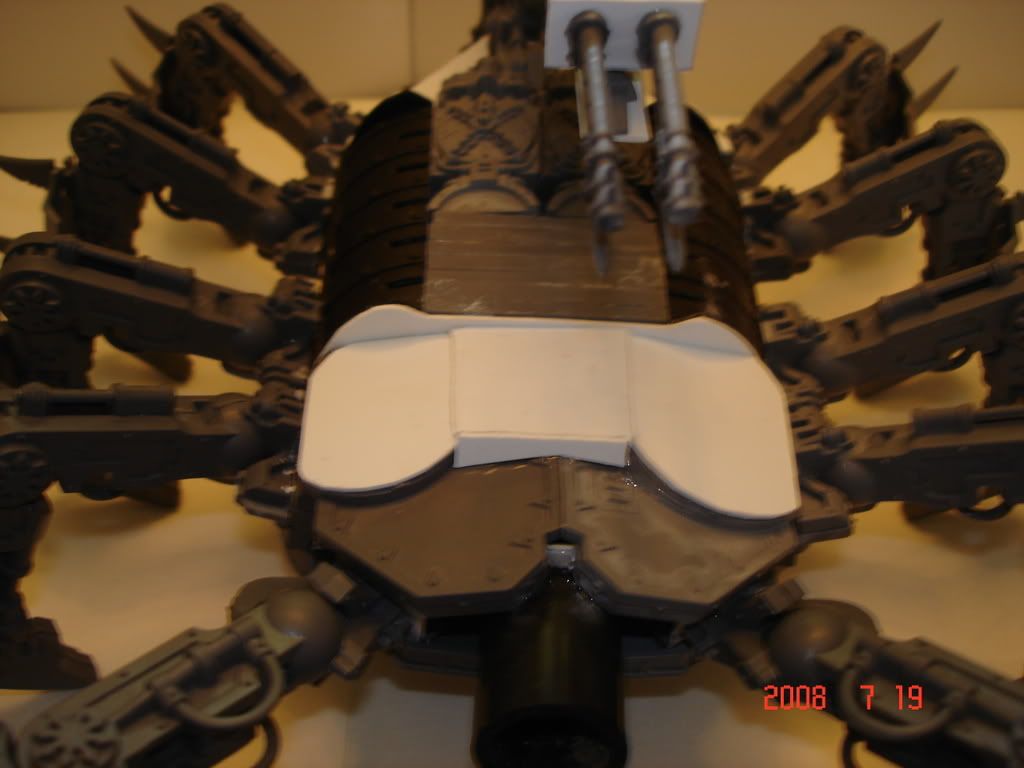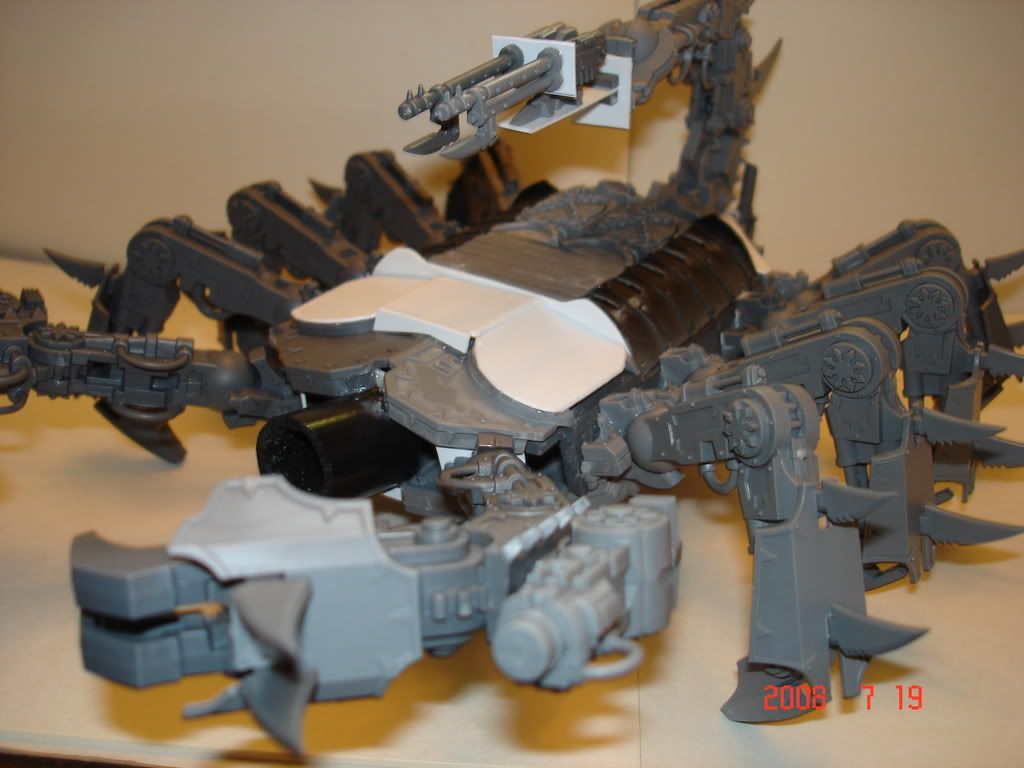 I do have to apologize for one thing though. There are no pictures of this Scorp before this stage. I had planned on doing a tutorial for this, but the day I was building it I forgot my camera. I built the entire Scorp in one day at work and then did the plasticard the next day. If I build another I will make sure to take lots more pictures during the build. If anyone wants to build one similar to this I can explain the process and give you a bits list that should help.
It isn't completed yet as it still needs a good bit of detail. The Scorpion Cannon isn't quite finished either. It will get another pair of Autocannons (cut down like the current ones) mounted on the underside. Unfortunately, I melted the pair I made for it while trying to heat them for a bend.
The Hellmaw Cannons on the claws also need the ends drilled so that they actually look like cannons, but a friend of mine is borrowing my pin vice at the moment. After that I only have to do some green stuff work and toss some detail bits around (especially where the sprue bits are still showing on the top). Once its done I'll post updated pics.
Anyway, let me know what you think so far or anything you think could make it a bit better. Thanks guys C&C welcome.
---
Last edited by pyroanarchist; 07-19-08 at

07:42 PM

.
---
If that thing gets any wider it'll be a brass crab!
---
Thousand Sons: 5W - 2L - 0T
Emperor's Children: 7W - 1L - 1T
Necrons: 1W - 2L - 1T
Salamanders: 3W - 1L - 1T
---
Yeah, I was planning on using my extra plating that is normally on the legs to make a gun shield... but I want to get the other two attached first and I've got to bit order them. The biggest thing for me was making it look like a super heavy. I think I've accomplished it. I'll have to get up some comparison pics, but its almost as big as a BB and it has one less structure point, so I think it works.
---
Yeah i agree with plug but other than that it look great i like it good job
---
---
Looking great so far, mate!
Yeah, I'd agree that the autocannons need covering...but sounds like you've got that taken care of. I dig the wider body; looks much closer to an actual scorpion. You gonna go crazy with the green stuff?
Keep going...looking forward to seeing the end result (and perhaps the whole thing in person?)
---
Quote:
Originally Posted by Navar89
if I hang out with you any more I just might pick up 40K...You, sir, are dangerous.

Holy shit, I've a plog again!
---
Looks much bulkier and scorpion like than the ones ive seen floating around. really like this build. I would bulk out the gun mount a bit though. looks flimsy. although i see now your not finished : )
---
Trust is a dagger, the hilt as sharp as the blade.
Death to the Imperial dogs
.
---
That is impressive to me. Very well done indeed.
---
one thing I want is the ability to split my fire everywhere, it makes no sense that a squad of 10 guard or marines or whatever all have to fire at 1 target with everything, is the guy with the lascannon not smart enough to realize maybe he would be better off firing at the massive tank looming overhead instead of the little man no bigger than a squat running at him, or is that far too complex for the 10yr olds?
My Thousand Sons Project Log
My Warriors of Chaos Project Log
My Cryx Project Log
My Necron Project Log
---
Thank you for all the remarks guys. I'm still in a bit of a snag until I can get ahold of a couple more reapers to cut up. Payday is tomorrow though, so I'll order either a new Defiler (good excuse to have another) or bit order the guns. I also picked up a nice new pack of Khornate Brass Etchings from Forge World so this Scorps going to get the royal treatment. I hope to have some new pics up this weekend.
---
very nice scorpion pyro, the other ones are just way too skinny for my taste. I like things big and fat... like Papa Nurgle
---
"Employ your time in improving yourself by other men's writings, so that you shall gain easily what others have labored hard for."
-Socrates
Lower Navigation
My Brass Scorpion (not typical build)