[Commission] Tau Kill Team and army
---
Hey peeps, I'm currently working on a few Tau models. It's a Kill Team with a little army attached lateron.
First the test mini for the Kill Team's colour scheme: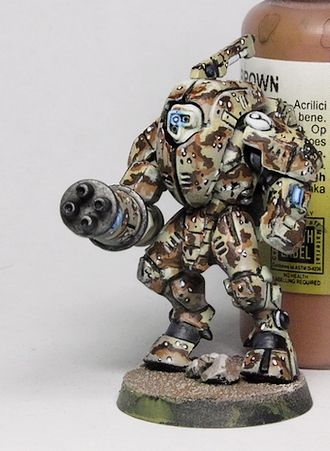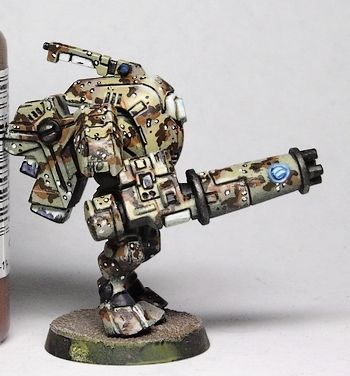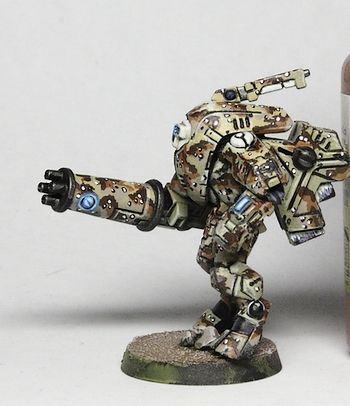 It's a team of six Stealth Suits. Those are supposed to look proper "behind enemy lines" so there's some wear and tear going on and some dirt and soot. The old "getting in/out of stealth mode" effect was considered but dropped. The model is still WIP as I'm still figuring out what colours are to go where. I probably will add some orange marking as well. Hope you like the guy so far.
---
Possible tutorial maybe?
---
01000110011011110111001000100000011101000110100001 10010100100000011001110111001001100101011000010111 01000110010101110010001000000110011101101111011011 110110010000100001
---
Liking that very much!
Got a couple of boxes of unbuilt Tau that my Son bought and left, lost interest.
Thinking of building them myself.

Once again VERY NICE work!
---
God damn that's nice!
Really want to know how you did that!
---
@
Shas'Ui
, Ddraig Cymry: Thanks for the comments, guys!
And for the gif. :D As for tutorial: I don't know, I'm sure it's rather obvious. First splats in a light beige, then splats in a red brown, then splats in a darker brown, black spots, add white spots into the larger black spots and that's it. I used some real world camo scheme as a template of course and if you look at those via google image search it's usually rather clear which splats go first. I really don't want to come across as rude but personally I'm not a huge fan of tutorials, especially when it comes to something which is really just a fair amount of work with no tricks behind it or anything. In my opinion nothing ever beats sitting down and trying out things.
@
Wookiepelt
: Thanks very much!
@
CubanNecktie
: Cheers. I kinda like the new Stealth Suits. The 'eavy metal paintjob is very, very plain though. Oh, and thanks for the rep of course. ;)
Alrighty, here are three more guys who aren't finished at all: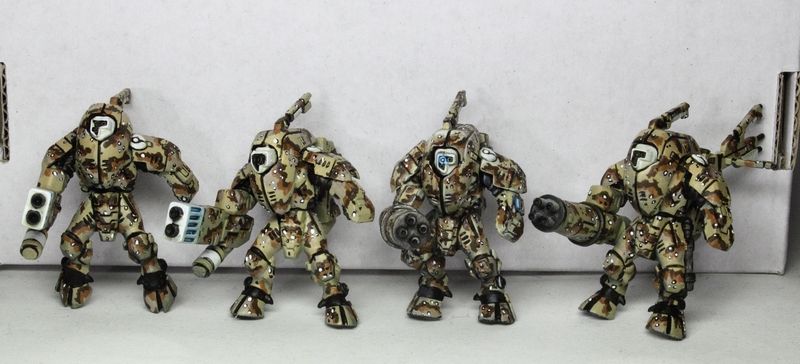 The guy in the left I converted a little to have him flying around, guy in the far right is the comms guy of the kill team, thus he's got a large antenna on his backpack.
See you tomorrow, I suppose!
---
@
locustgate
: :D It's okay, most of the time I despise myself as well.
@
CubanNecktie
: I hope so. Once they're more "done" I'll put them on my little sandy presentation thing.
New update!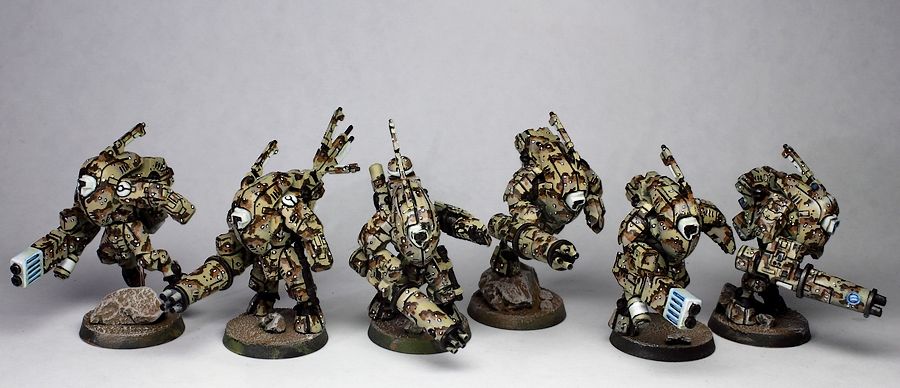 really not so much new, but that's the full team now (sans gun drones of course).
Fly guy in the left was converted, second from the left is Comms guy, next to him is leader guy (with some additional thingies added to his jetpack and the encouraging fistpump/pointing fist, then we got assaulty guy and "other fusion gun guy" and "other burst cannon guy". All still very WIP of course. Bases I might have to redo a little.
Lower Navigation
[Commission] Tau Kill Team and army