---
@
Jolnir
: :D Thanks very much for the compliment!
@
Iraqiel
: Thanks muchly. 28mm scale camo is rather tricky. I really enjoy using these modern desert camos. Very pleasant to work with.
Riptide WIP:
The legs are a bit more further in than the upper body, especially in terms of weathering and such.
Shadowstalker WIP: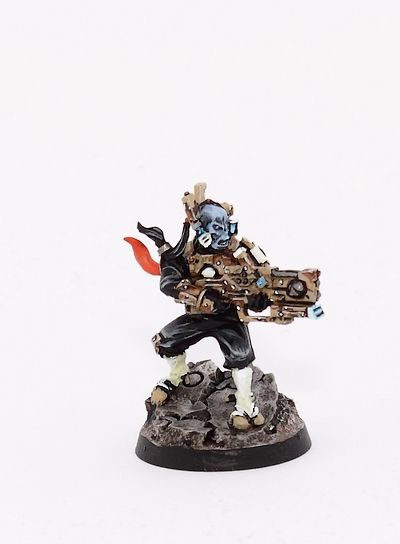 It's a bit of a clichée at this point but: "He's prettier in real life" :D
Hope you like them so far!
For a little off-topic thing..
Had another test game of "X-Wing adapted for WW2 pacific" last night. Time's getting tight for Austrian Salute where it's going to be showcased but the whole thing looks like it's working rather well. Last night we added changing of altitudes, changed a few things about heavy AA gun fire and japanese aircraft properties.
Should look very interesting at the show once the Japanese carrier is added and such.
---
Last edited by Sigur; 02-28-14 at

05:29 PM

.
---
Well, let's turn on the disco lights...
I hope he works for the army's big eye-catchy thing. Full well knowing that this is going to be his job (that and shooting things with ions) I ramped up the pizzazz, or panache if you will, a little bit.
Over the past months i noticed this trend of people using black background for their miniatures. It certainly looks very moody and makes certain colours come out much better. It also hides little mistakes, crappy painting and so on which for some people surely is a nice thing. Today on Facebook, which in some cases may be the biggest collection of bad miniatures photos in the world, I saw a picture that kind of took the cake. It was a black and boltgun metal painted mini with a little bit of OSL strewn in. That was visible but the rest of the model - nope, nothing. It wasn't badly painted (I think) and the photography wasn't bad either but it just baffled me how somebody chooses a matte black background for taking pictures of a black and dark metallic model.
It goes without saying that tomorrow I'll go out and pick up some black cloth. Because despite the fact that there are a ton of things I despise about trends in miniatures painting (or rather presentation thereof) nowadays I gotta "stay in touch" with that. Usually, when I start doing it it's often rather fun but many things I just don't get.
Anyway, the ramblings of some person who spent more than 20 minutes on 40k-related Facebook groups today. Five minutes really is the threshold before some of the things that go on over there get my blood boiling. But hey, if I still can get mad about the annoying people means I'm still alive, right? :D
Well, that turned dark and rambly quickly. It's good to be able to rant every now and then. What I MEANT to say is this: The Riptide's finished, I hope that you like it. Tomorrow I'll pick up a new background material which should lead to some really pretty photos as well.
---
I love the lighting you painted for the symbols and such. Definitely an eye-catcher, although any of your others look great too. I'd just love to see this force on a table with some sick terrain and scenery. It would look so epic.
---
These are lovely. I'm not usually a fan of camo but you have done it very well and it pops so much. would love to see an army group shot of what you have so far
---
@
Jolnir
: Thanks very much!
@
troybuckle
: Thank you. At this point in time I actually use different weathering techniques on each new project just to stay more flexible.
@
LTP
: Cheers. I'll see that I can get some army shots done once everything's finished.
Alrighty, new WIP! This time it's Tetras:
I really like these little things. Along with the Remora drones these must be my favourite FW kits for Tau. They look just fun and unarmed and sleek and not too complicated. They're basically city cars for two. ;) Really fun models.
---
@
Varakir
: Thanks for the comment, much appreciated!
Tetras!
Hope that you like them! Weird mood tonight so the less I write the better! :D
---
I can't believe it's been over 10 days since the last update. Well, I've been to Austrian Salute of course, got through the aftermath of that, reworked some of the Crisis suits, finished the commander and here are some drones now: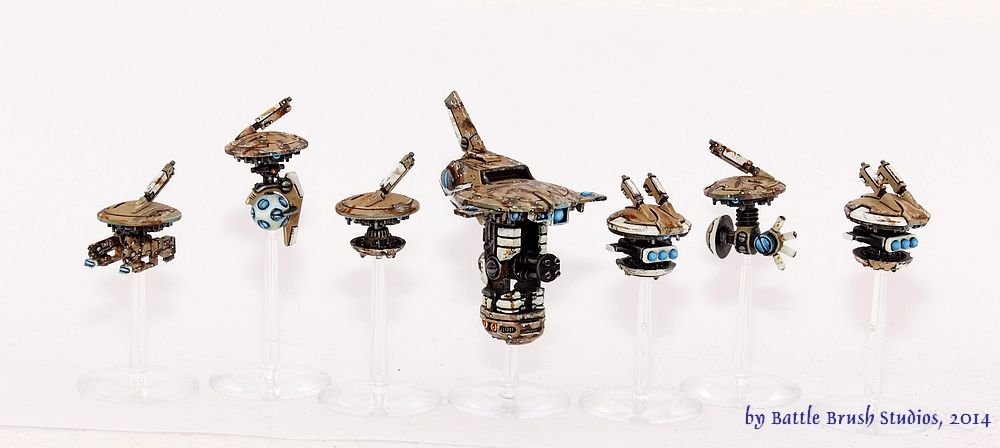 It's all the drones for the Pathfinders. They're all magnetized so all the options are available to them. Camoflage scheme'd drones are of course for the Pathfinders, the missile&shield drones will go with the Riptide (those are not magnetized), the regular (non-camo) drone discs on top are just placeholder on lower parts which are meant to go with the pathfinders drones. These regular drones (and some more) will go with the Crisis suits and are in part magnetized. Hope you like them!
Oh, by the way. That big drone is HUGE. I wasn't aware of the size of that thing when I got the Pathfinders.
And just in case you missed it, here's my report on the 4th Austrian Salute 2014. Not quite up to the scale of the original. Yet!
http://www.battlebrushstudios.com/20...lute-2014.html
Hope you like it!
---
Tau Empire is a Go!
Lower Navigation
[Commission] Tau Kill Team and army