---
Ooh ya fooker!
Nice...very nice...extremely nice...fook....just plain ol awesome!
---
@
Jolnir
: Thanks very much.
@
zxyogi
: Cheers, you fooker. ;)
Heya, time for a little update. Here's a first WIP of the Remoras: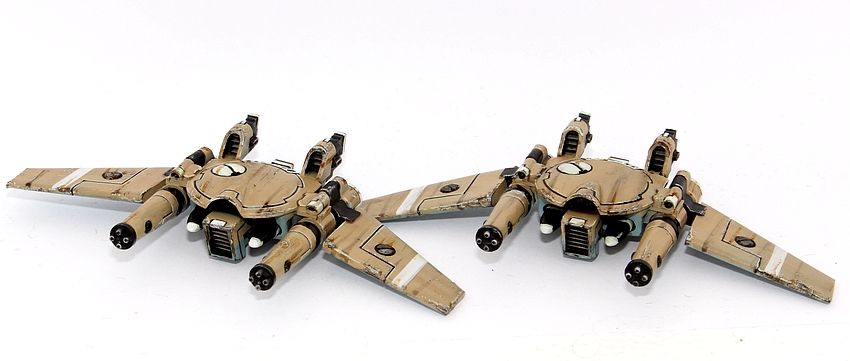 Hope you like them so far. They'll get some more colour on them soon.
---
Last edited by Sigur; 02-18-14 at

02:46 AM

.
---
Here we go, finished Remora Drones:
I think that the lights and such add enough colour to the models to give it an interesting look without looking too fancy. Hope that you like them.
---
Very nice. Love your wear and tear that was added. The fact that they are technically camo'd from above and below is pretty neat.
---
.....What was it I said last time?.........Foo.......k.....er!
Wicked stuff!
---
Outstanding paint job! I love it.
---
I am the Infantry !
---
Simply amazing.... I think the remoras with the dual camo is my favorite. Real pro look
---
@
Jolnir
: Thanks muchly. At first I considered doing a red underbelly , indicating that the sky on that planet is red as well but then I decided to go with the regular old eggshell blue.
@
zxyogi
: :D Thanks.
@
Corporal Chaos
: Cheers, much appreciated!
@
cole.mvb
: Thank you. I tried to keep the colour scheme very simple, as on modern aircraft, just with the blue downside added for colour and the usual lights and lenses.
Commander WIP: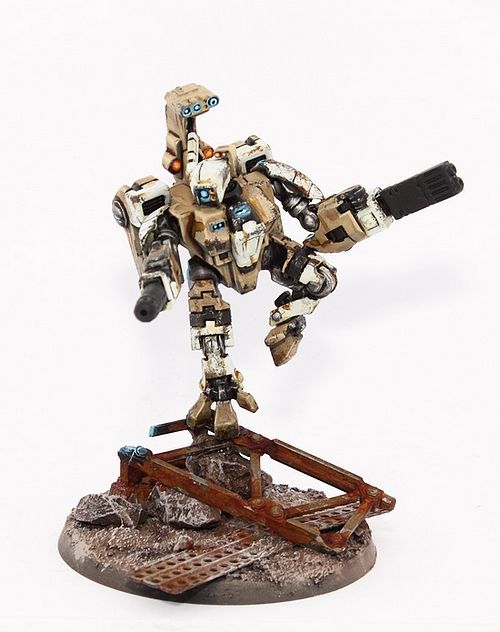 I decided to add a bit of colour to the base and help connecting it to the look of the models by having bits that were hit by tau weapons badly have a bit of a blueish afterglow. Helps making the guys and their weapons look a bit more dramatic and alien.
---
You are the master of all things. That base is so sweet. The whole scene is so dynamic.
---
Hear hear, very well painted. I think your transition between colours is very well chosen and the distinction between the advance scouts and the heavy infantry is well thought out and will look good. You've also done a good job of breaking up the models' camo without making them indistinct, despite the camo's purpose of disrupting the visual silhouette.
Lower Navigation
[Commission] Tau Kill Team and army