Starting my DA force
---
I am starting a new DA army, but as money income is low at the moment, its going to be a little slow, though i do already have a few units from it, so they will be up as soon as I get around to painting them. Anyhoo, heres a few models ive completed already.
First up, Venerable Dreadnought Vicarus
Next up, Chapter Champion Armanus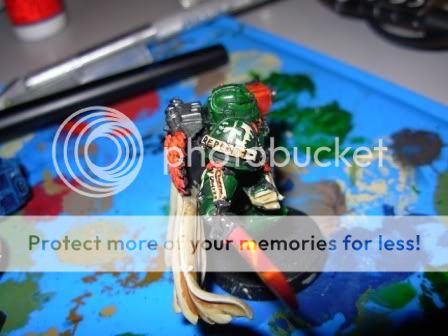 And finally a standard DA marine
---
Nice work mate, I'm about to start a small DA army myself. Hopefully they will turn out as cool as yours
---
Love the Dreadnought!
Love all the freehand. Very nice models
One thing though: i've got a DA army underway at the moment, but having painted all their bolters red, I now find myself regretting it. I think I may paint 'em all bone instead.
Senior Member
Join Date: Jan 2007
Location: The beautiful, and mighty Scotland.
Posts: 821
Reputation: 1

---
>> Dreadnought is especially cool. Some good work mate. The rest of yer minis are welol impressive.

>> @ Bishop. I reckon bone weapons would look rather cool.
---
------------------------------------------------------
>> This is just an opinion. If you agree with it cool. If ye dont, its still cool.
>> Here I am and here shall I die.
+++ attributed to Leman Russ at the Battle of Rising Fell +++
---
Looking very nice! I must say I'm especially partial to the quartered paint scheme on your Dread's rocket launcher...dunno why, but I like it!
Yeah...keep 'em coming, man
---
Quote:
Originally Posted by Navar89
if I hang out with you any more I just might pick up 40K...You, sir, are dangerous.

Holy shit, I've a plog again!
---
i really like the dreadnought and grey knight conversion!
---

---
that dread is nice. i really like the paint scheme.
---
Trust is a dagger, the hilt as sharp as the blade.
Death to the Imperial dogs
.
---
rats, i just noticed i missed the LC side of the dread, its like my favourite part!!! Ill throw a pic up once i get the cam and dread back from my local.
---
All very good. Your comander looks very sweet, i would be proud of him.
---
How ironic it is that as fast as we spread progress and hope throughout the galaxy, the Tyranids spread death and despair. Only united can we hope to stand against them.

Aun'shi of the Tau Empire
---
Looking good hoss. I love the dread and that chaos cape looks fantastic on the one model.
---
one thing I want is the ability to split my fire everywhere, it makes no sense that a squad of 10 guard or marines or whatever all have to fire at 1 target with everything, is the guy with the lascannon not smart enough to realize maybe he would be better off firing at the massive tank looming overhead instead of the little man no bigger than a squat running at him, or is that far too complex for the 10yr olds?
My Thousand Sons Project Log
My Warriors of Chaos Project Log
My Cryx Project Log
My Necron Project Log
Lower Navigation
Starting my DA force