---
@
Jacobite
: I will be looking at a few to see what the standard they're producing is like, but I've got one better! I've used ADB as inspiration, if you've read Betrayer, there's that scene where...(SPOILER ALERT)
. That's what I'm aiming to reproduce.
The faces on the Vostroyans have so much character that the majority of GW's models just do not, especially the plastics.
---
That's quite an epic attempt right there, will you use the FW models as a base?
---
@Jacboite: The base models will be the FW ones - the Lorgar should be fairly easy to be honest, as it's such a static pose with nothing really covered up, it just depends on whether or not the cape is attached, though by their previous ones it shouldn't be! Angron will be a little bit more challenging, though his legs aren't far out of the pose that I'm looking for - angled correctly and a little bit of playing with the feet (not as wrong as it sounds...) it's not too dissimilar from the braced position I'm looking for.
To the meat of the matter then,
I've got a lot more progress done on the Daemon Prince, and more besides this since these photos - started on the legs properly now. Incidentally, the legs are an absolute pain to repose, so one of them may have to be tactically covered up by something...depends on how it turns out.
Anyway, here's the finished shots of its head, I don't think I'll add anything more to it, perhaps a symbol in the crest, depends on my mojo and if there's anything that strikes me at the time. Its got the butchers nails sculpted into the back of its head. Originally, it was going to have a Myrmidon gladiator helmet, but sculpting the brim was driving me crazy; so I pulled it off and settled for a more conventional helmet and kept the plume, 'cause I'm quite partial to it, and it should be quite fun to paint. Also pressed in a small chaos star, though whether it's very good or not is up for debate..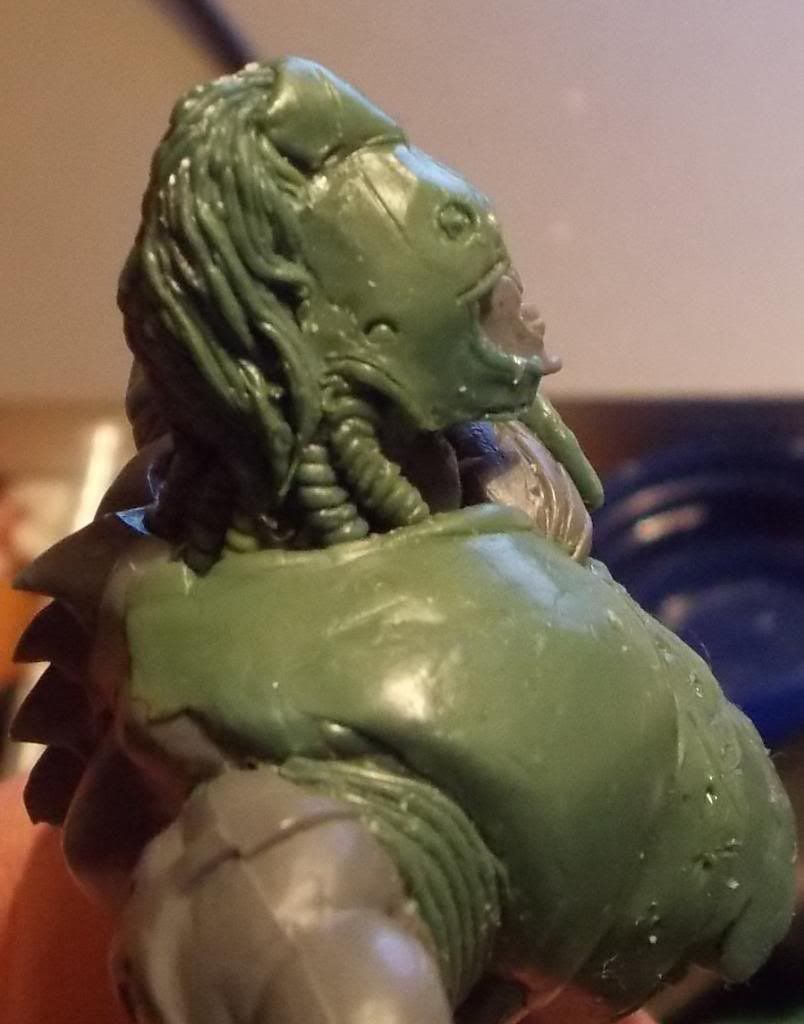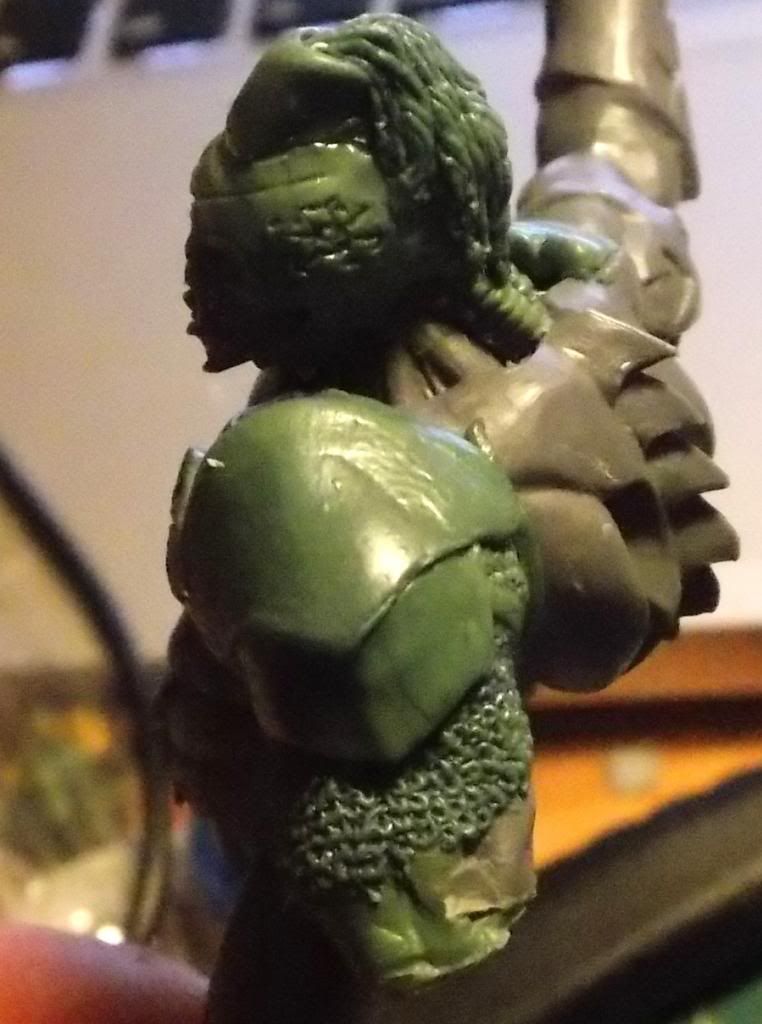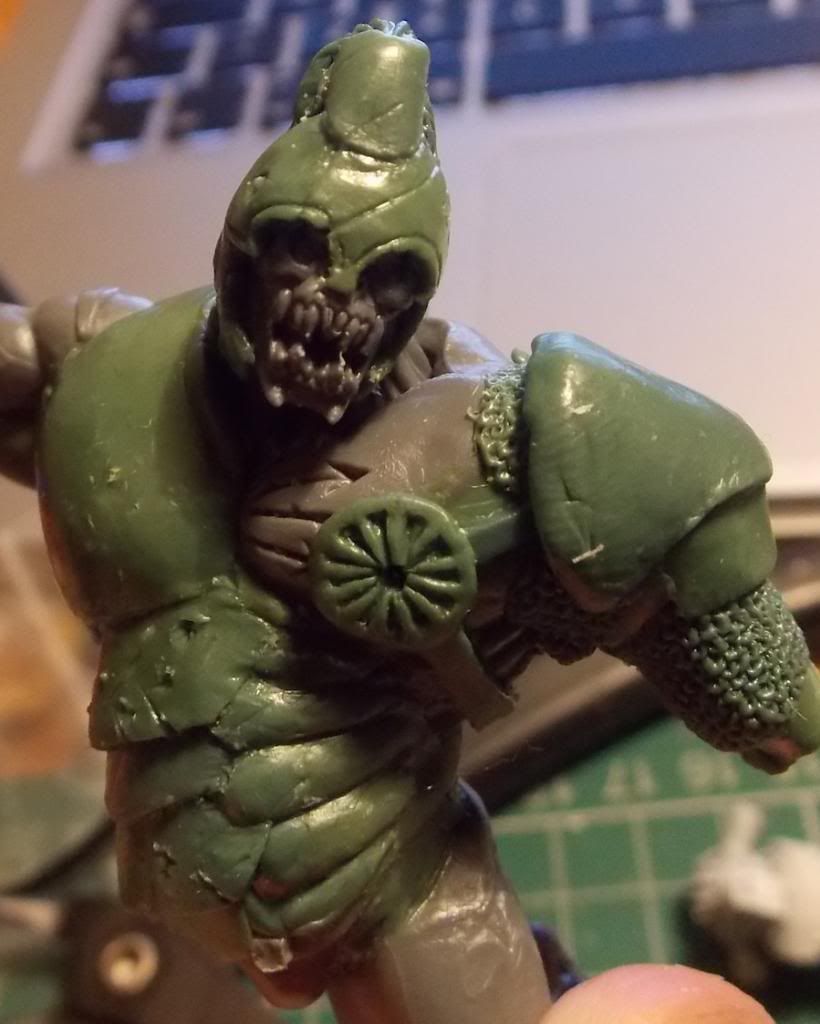 [/URL]
Sadly, the one thing I've forgotten to do is weather the helm like I have with the rest of the armour; it looks a bit smoother than the rest of it, though I suppose one could argue that with the Daemon Prince being such a huge ...thing... it takes a long reach to hit him in the chops...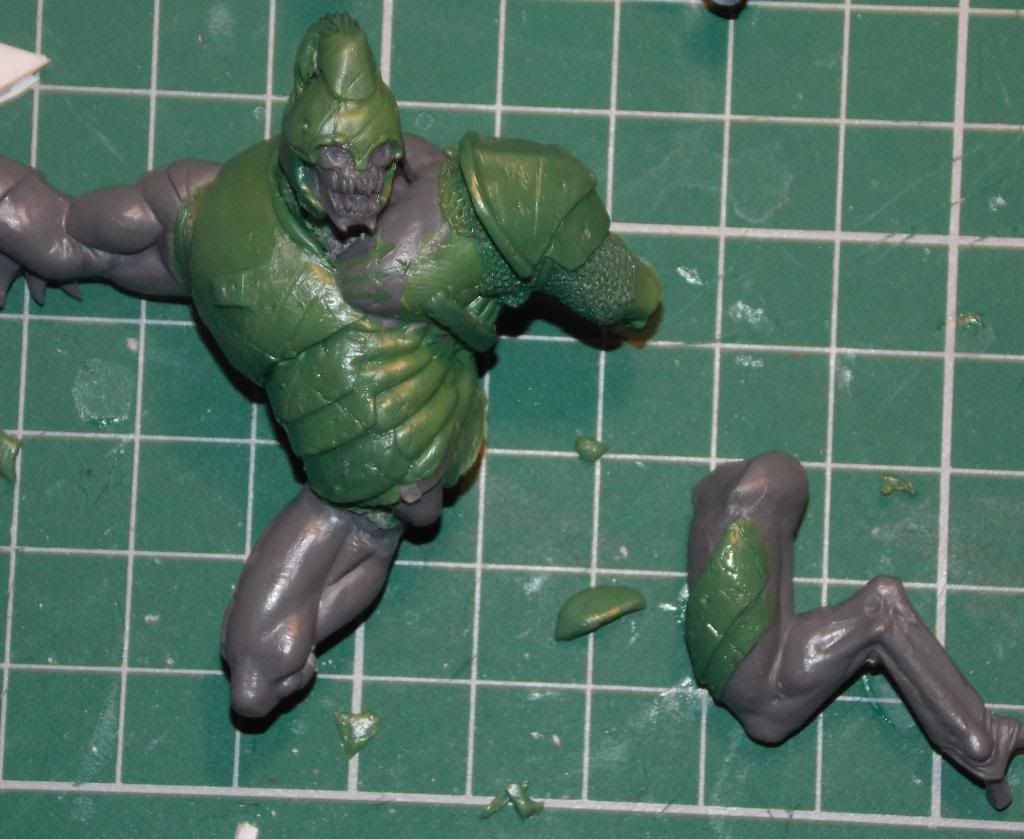 [/URL]
Since this image I've got the main breastplate touched up and weathered, the beginnings of the armour plating for the right arm blocked in - nothing fancy at the moment; the leg armour is also proceeding apace: the shin plating is complete, it's just awaiting either straps, or a few incisions and a bit of GS to look as if it has grown out of the skin, it depends on what people advise/practicality of the sculpting itself.
Any comments, questions or queries are more than welcome, and if anybody has any ideas or suggestions I am more than open to them!!
Junior Member
Join Date: Nov 2011
Posts: 3
Reputation: 1

---
Quote:
Originally Posted by
Blissful Brushes
View Post
Looks fantastic!
Where did you get the smaller silver chain?
---
@
Andytwo
: eBay, cost about £5 including postage for 18", it's a right pain to work with though, it's stronger than the big copper link that's used in the weapon.
Wasn't sure where to post this, I'll probably make another thread for my smurfs once they get going properly, but knowing how much i flit from project to project, I'll end up with 10 threads and 10 models..
Righty then, my first Marine is finished! (Unless anyone can think of anything else that needs to be added to him anyway) After looking through Veteran Sergeant's awesome
log
I decided that I'd try adding an extra spacer mid-shin, and while it's certainly a bit more work, I'm happier with the results. The only issue is that because I suck so badly with plastic-card I have to just use it as a tiny spacer then GS around it which is a pain in the proverbial, but such are the problems of life.
Here's the obligatory scale shot, bearing in mind that the Ultra is in more of a squatting position than the standard marine, and the MkIII helms are quite tall. Compared against one of my pathfinders - the upright sculpt - he towers over it nicely.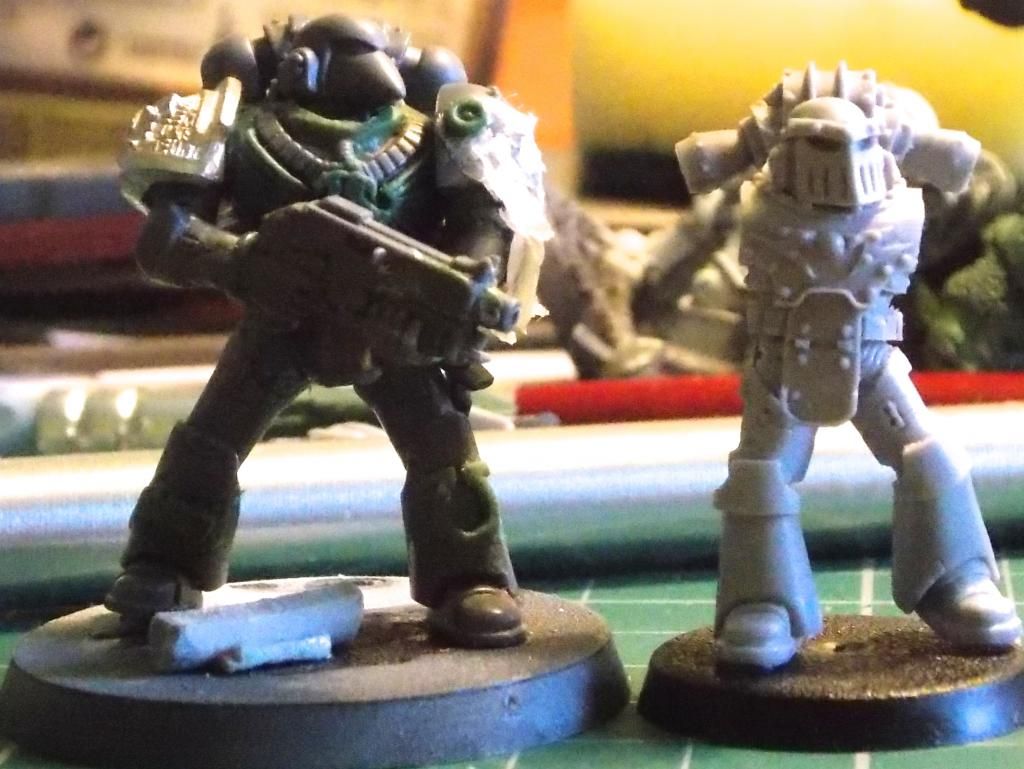 Here's a few better images of him, the only thing that I'm not sure about is the positioning of his head, but that can be worked out if it's deemed a bit awkward.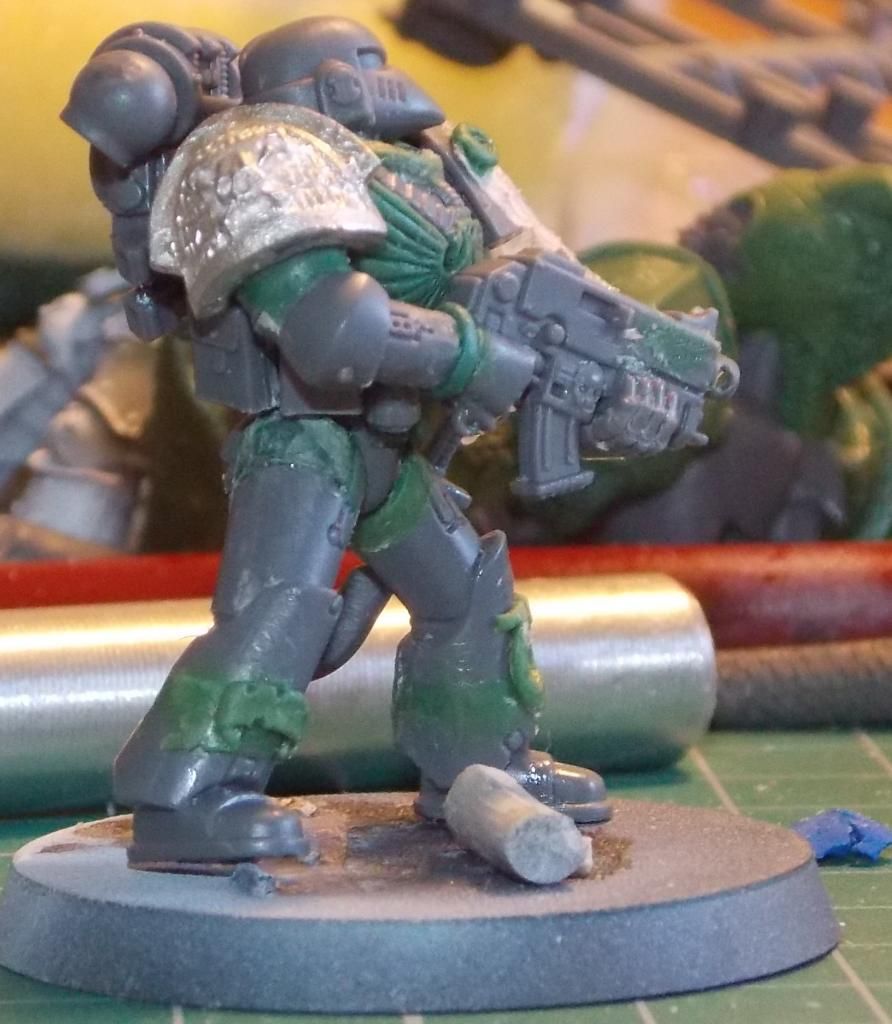 I filed down the back of the combat knife and made it look a bit more deadly, saw teeth at the back and an edge at the rear. The paper towel is going to be the battered remains of a squad banner (his old squad) in place of the customary Chapter/Legion symbol on the left pad. How I did it comes from our good old GS guru BCK's
Log, Page 47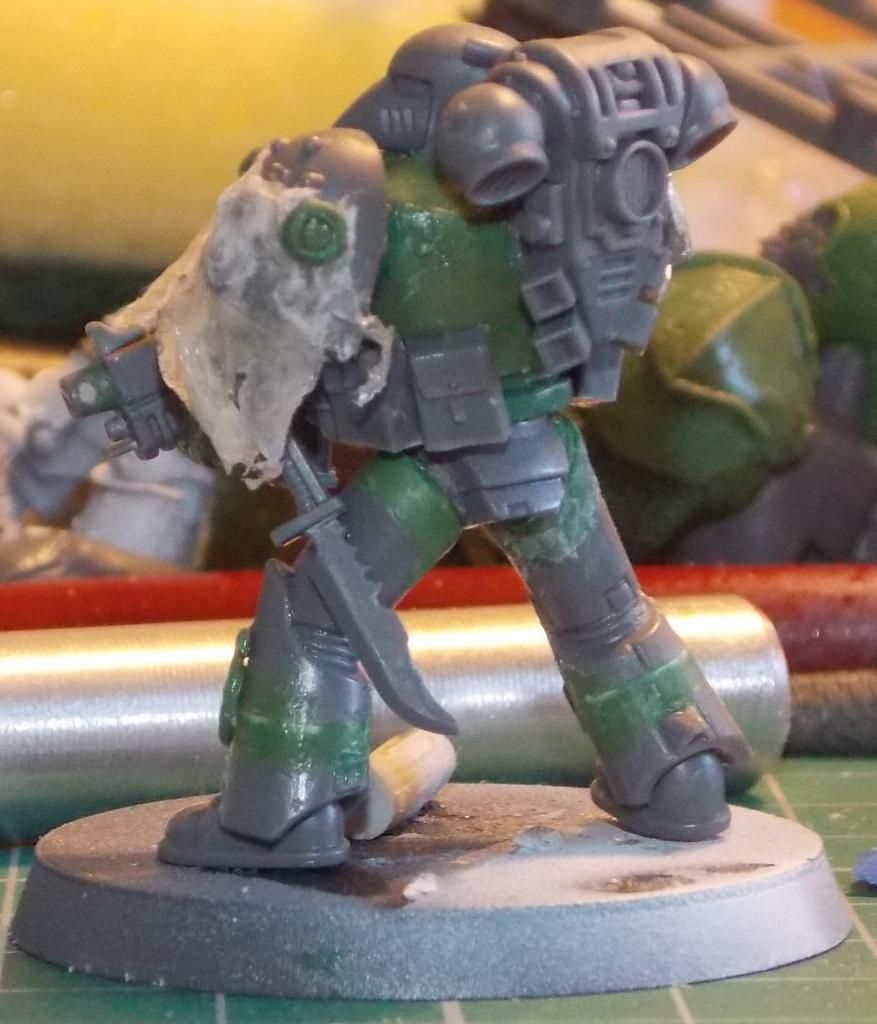 Thought I'd throw in a close up of the aquila on his chest because I'm very happy with that, took me a bleeding age to finish though! I'm not sure if it can be made out properly, but where the GS is on the bolter I moved the skull down to the magazine housing, stuck the barrel in line with the cocking handle and in that thin layer of GS etched a small kill tally. It should show up with a couple of washes hopefully though!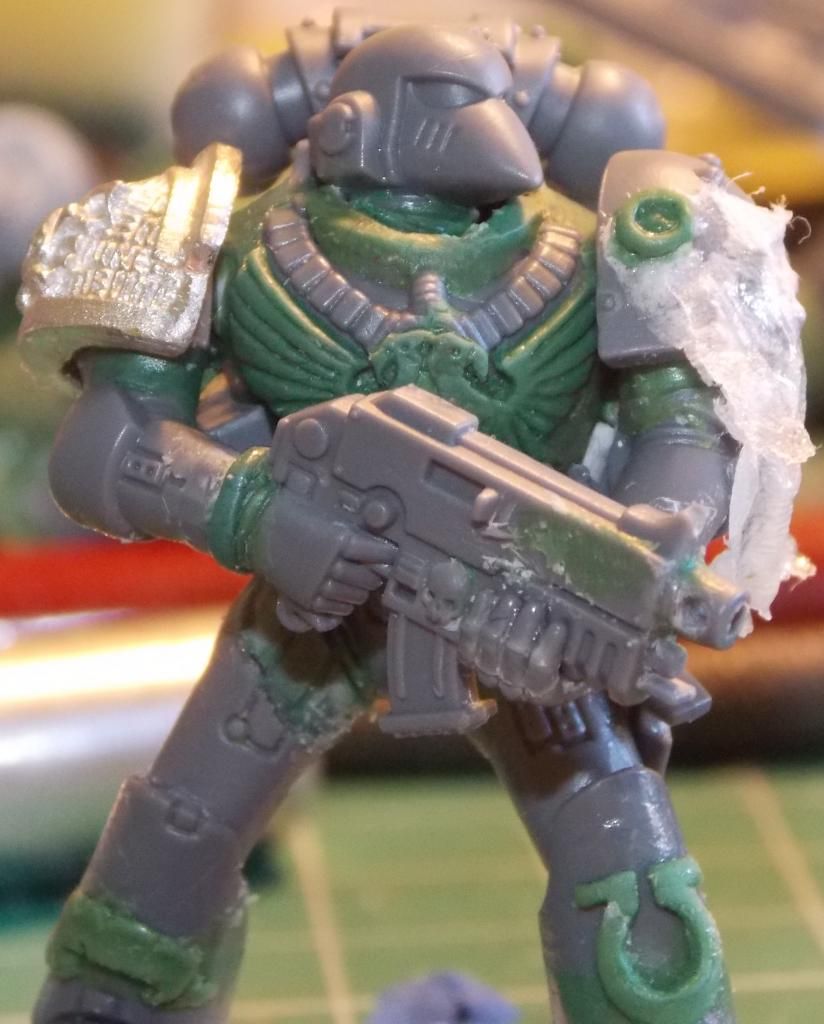 I hope people like it, any suggestions would be appreciated, let's hope it's time to force people to like Smurfs again..damn you Ward...
C&C is welcome one and all.
Lower Navigation
The Bloody Twelfth, The Lords of the Sands