---
Well it has been dark on the hobby table for about a month, but I'm back! This last two weeks I have:
Brought the Bullgryn Squad up to 5: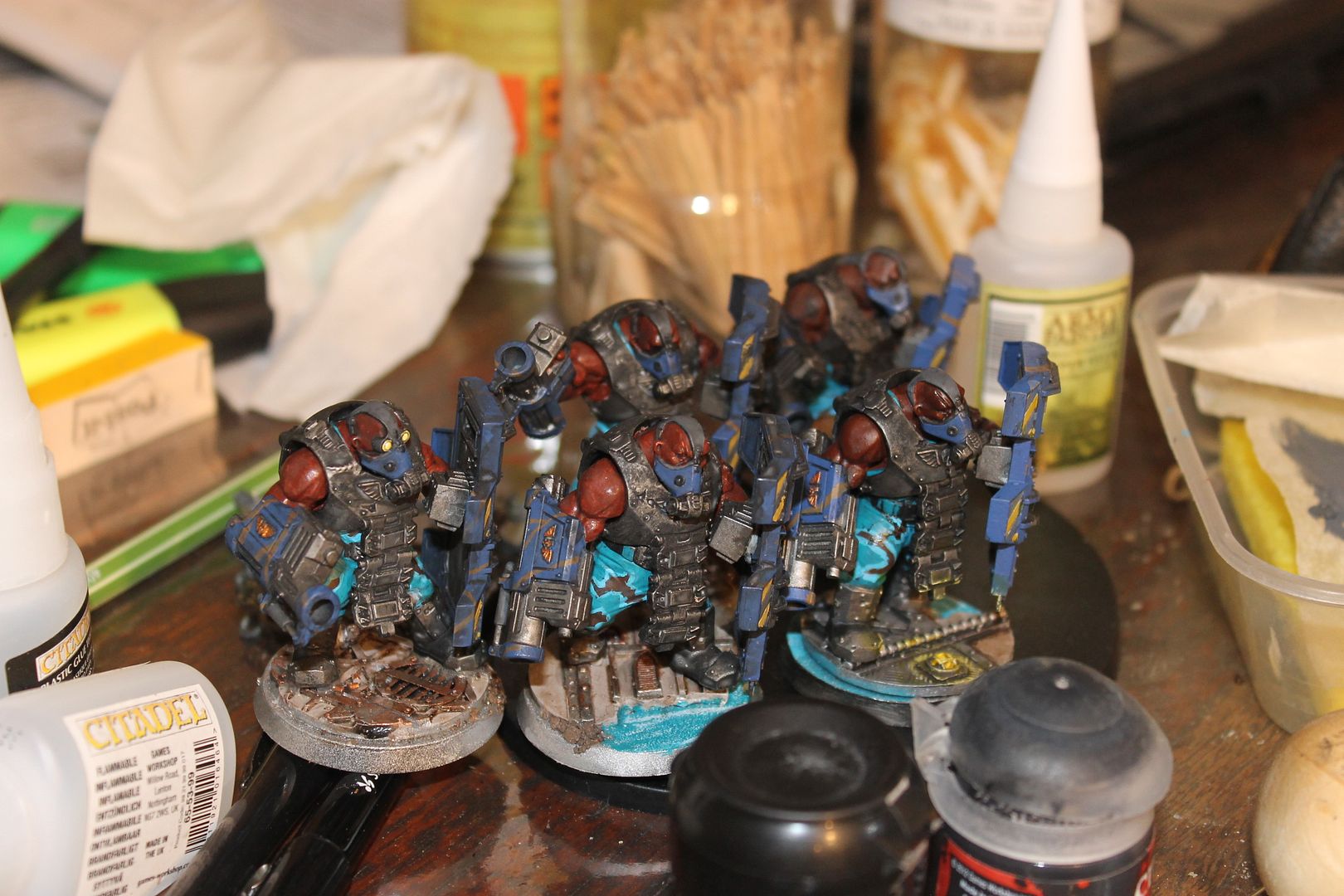 Nork Deddog I did some time in December, but don't seem to have a picture. I'm particularly proud of myself for doing OSL from the base onto the boot of Bullgryn 5 on the left here: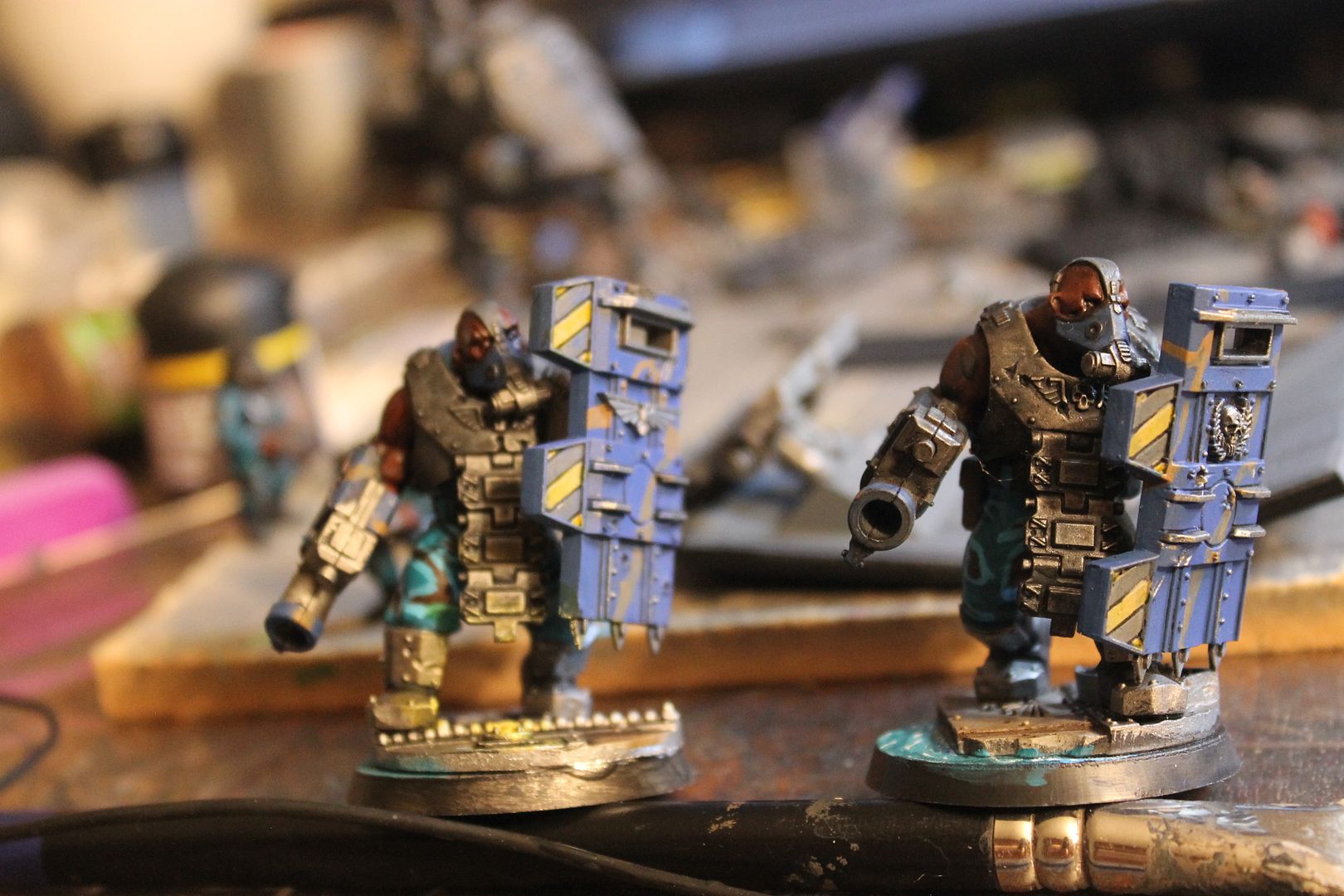 (though I seem to have unwittingly focussed on his bro to the right...)
I'll amend that photo later.
Also in the works has been my third valkyrie, bringing me to a current total of 3 valkyries assembled and painted, 3 vendettas assembled and painted, two vultures assembled and painted. One Valkyrie to go and my air mobile force will pretty well be complete except for a scion here or there...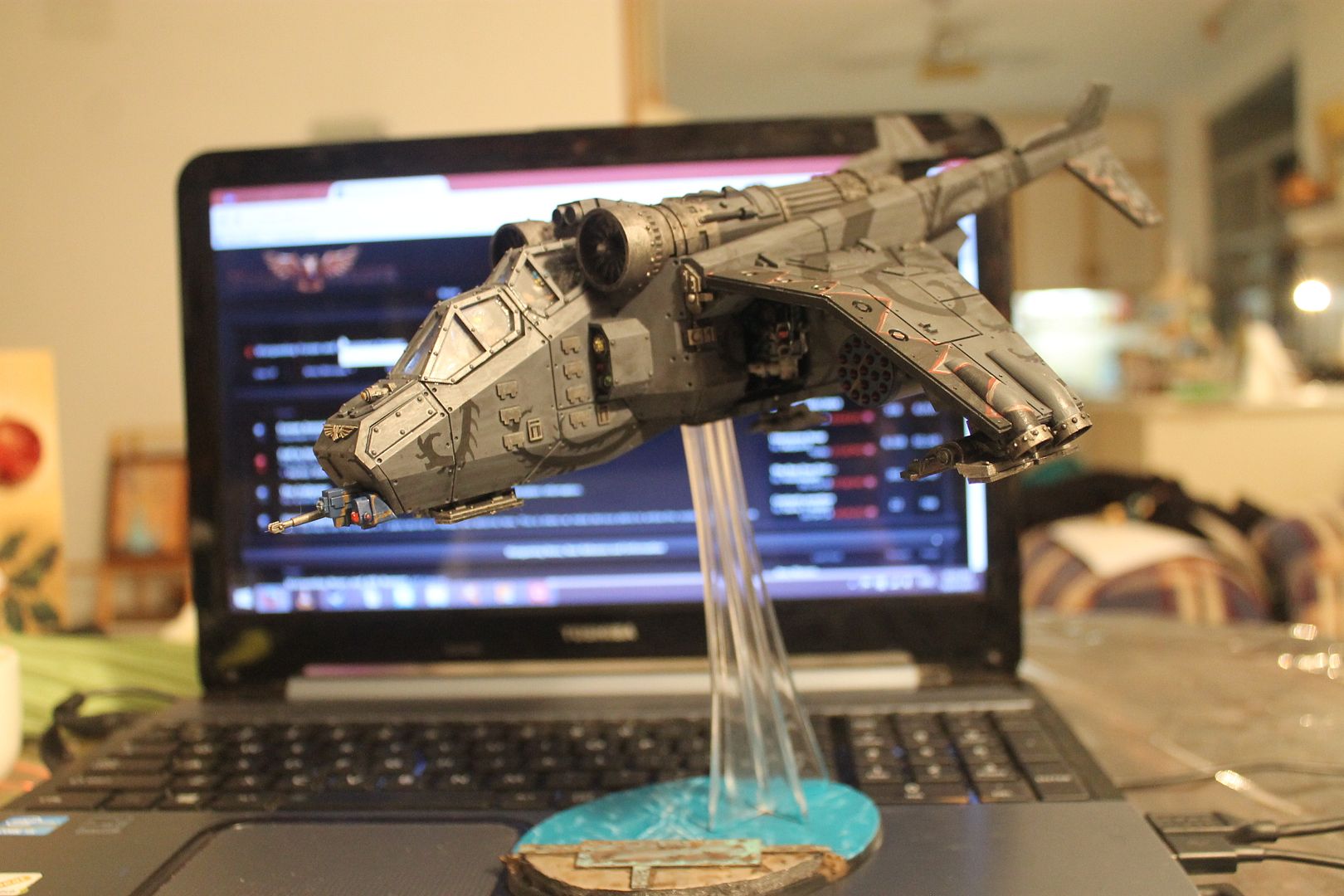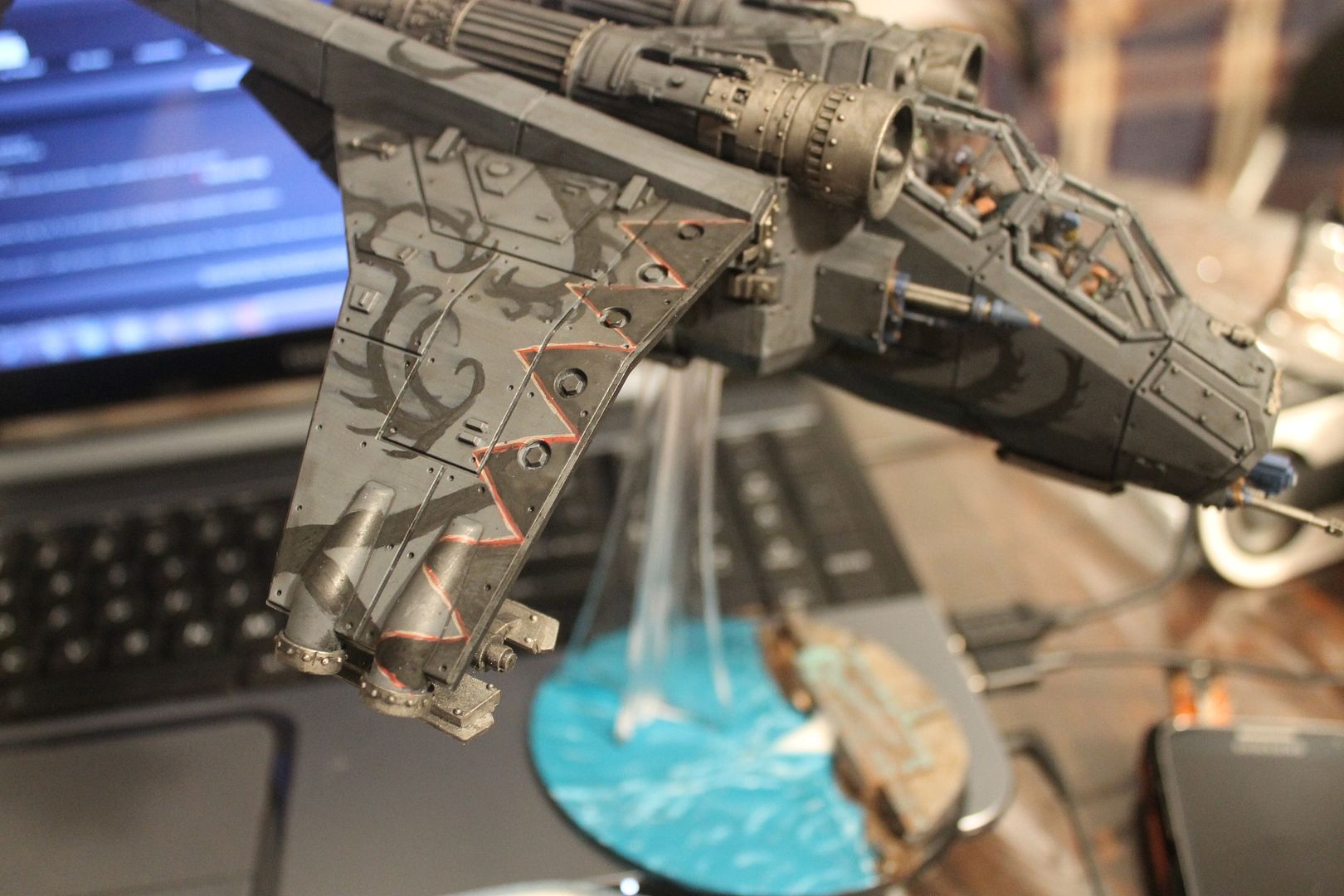 I also managed to get a game in today, a friend brought an undisclosed tau list and we fought short edges, tactical escalation 1000 points. Dice did not favour him for three turns (he normally plays chaos so I suspect the pantheon's involvement) but when his crisis suits finally made it in he made back some ground and made it to a respectable 6:5 defeat to my IG.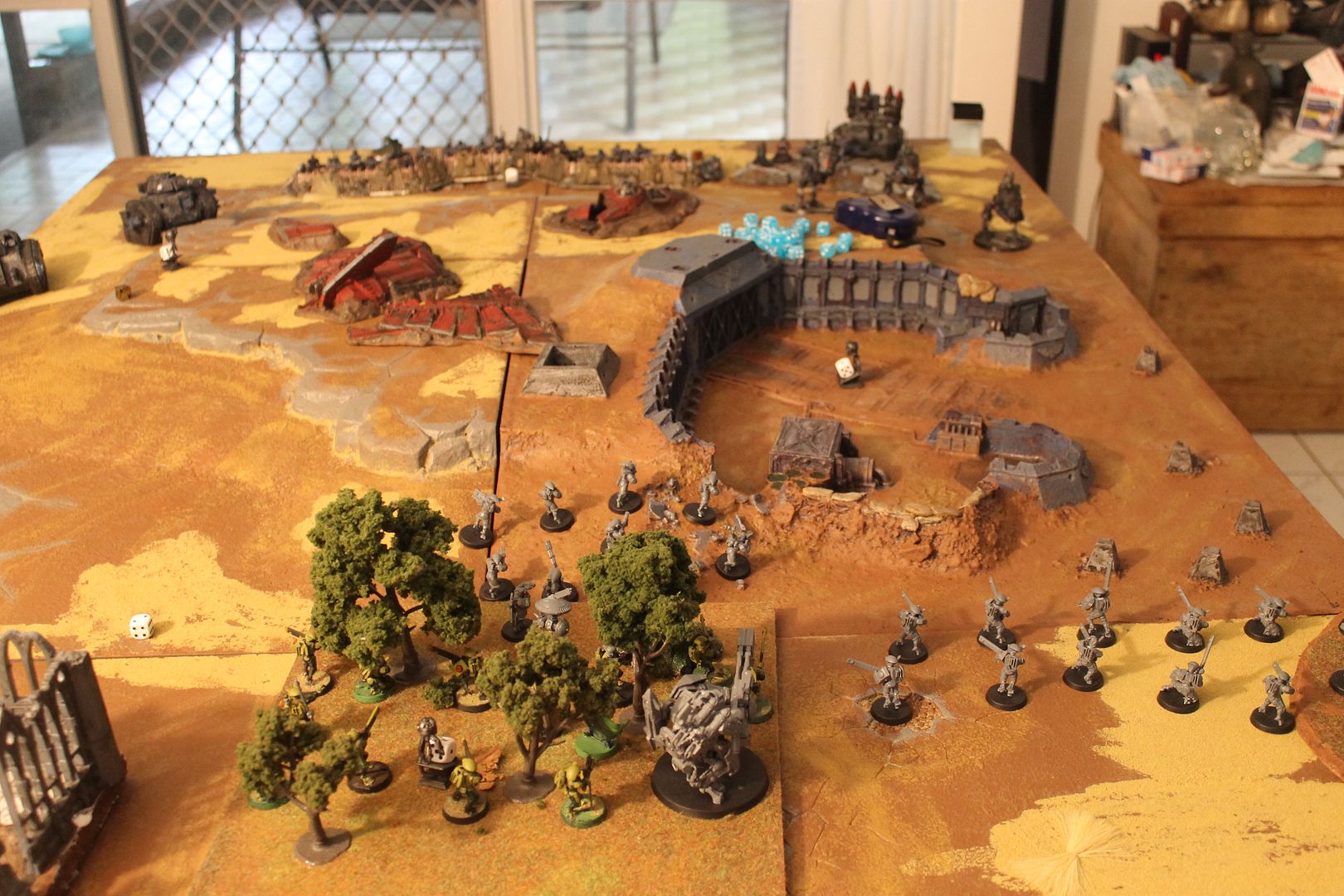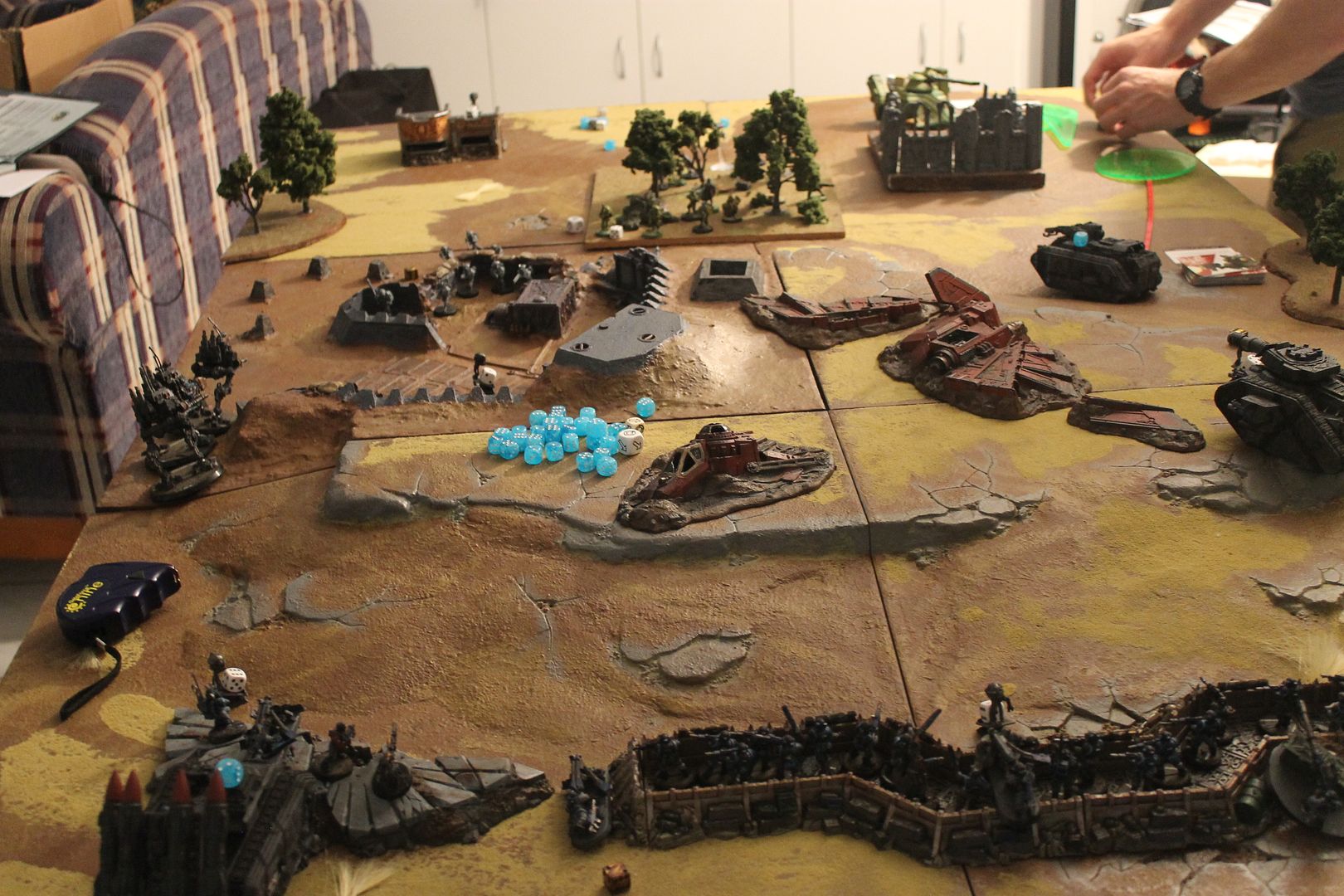 My list was:
CCS w med kit, vox, autocannon
PCS w HB, vox, sniper
20 man infantry squad with 2x heavy bolters, sniper, grenade launcher
Lord Commissar
Manticore
Leman Russ with Sponson and hull HB
Armoured Sentinel Squadron with 2 Autocannons and a Plasma Cannon
Hellhound.
An approximation of his list was:
Etherial
Longstrike
Broadside
2 fire warrior squads
Pathfinder squad
Pirhana
Stealth suit team
Crisis suit team
My plan was to sit in rear slope defence with my infantry and artillery and let my armoured assets do the talking. It worked brilliantly at first, my hell hound careening forward and burning the advancing wave of infantry to a crisp, over turns 1-3 his two fire warrior squads were turned into a lone survivor and his pathfinders lost half the squad and ran halfway back into his deployment zone. The Etherial escaped death and, indeed, managed to make it through to the games end despite some concentrated firepower from sentinels and artillery.
His tank hunters were neutralised early on with longstrike immobilised behind ruins on the first shot of the game (manticore) (Longstrike was left with LOS to sentinels and the hellhound's route, as well as the LR) and his broadside destroyed by sentinels on turn two. It took the intervention of the rallied pathfinders and longstrike to eventually bring down my hellhound, and then the sentinels seemed to fall over on turn 4 and 5.
His deep strikers turned the game right around, despite losing the entire stealth suit squad to mishap, with his crisis team landing on a flank of my guard blob and then mowing into them with flamers and burst cannons, killing the lot over two turns. I didn't charge with the 15 survivors of the first round, more fool me.
The end of the game saw the board looking very bare, ruled by the Leman Russ on the hill but with his support faltering behind and on either flank. A fun game for me, but I hope my opponent thought so too! Although for three turns it looked dire, it ended up being a very close game.
---
In something of a photo dump, I have some shots from the last few months of games to put up:
Armies on parade entry from last year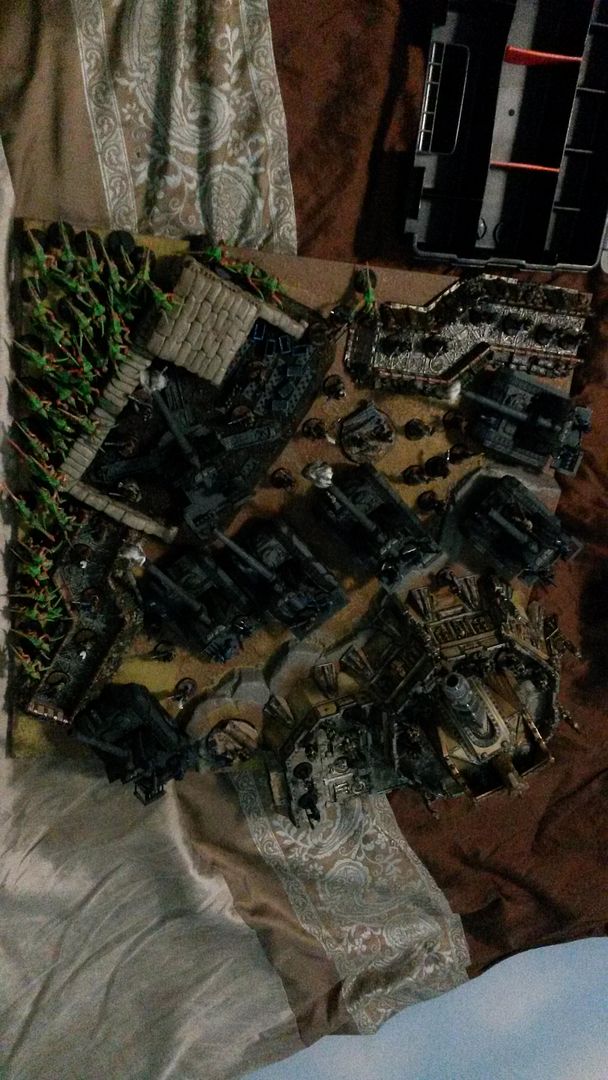 An army I fielded against orks in a 4000 aside game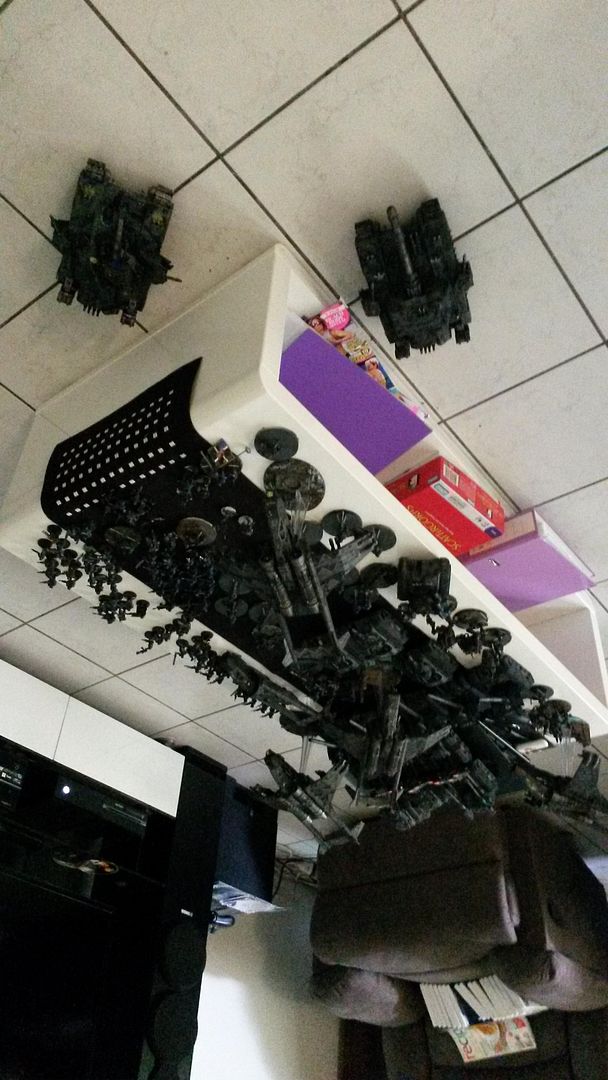 and a photo from that game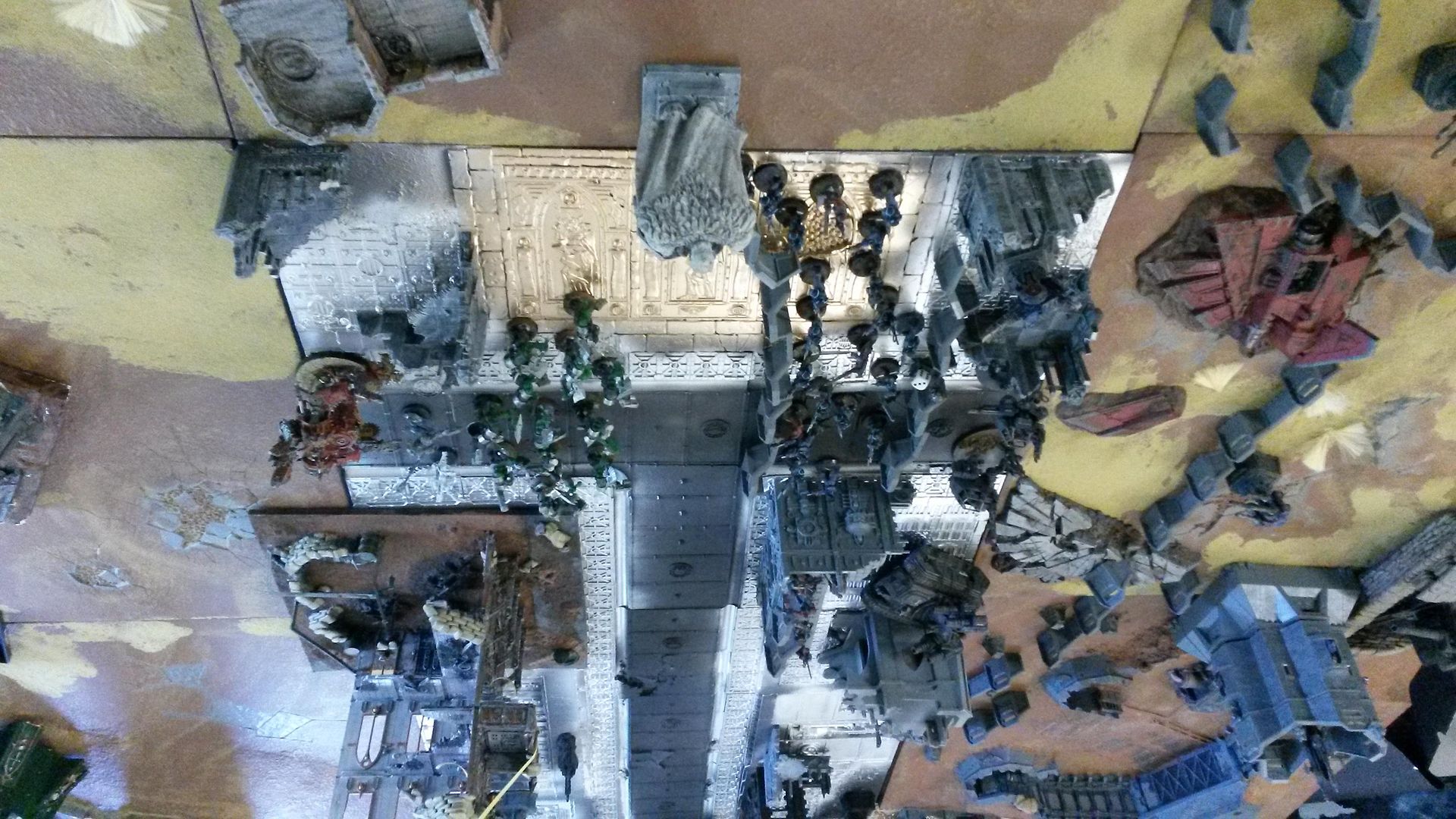 A series of shots from three or four games I had playing against a 1500 point ork list with my commandos, who sadly found that plasma does not realiably a gorkanaught kill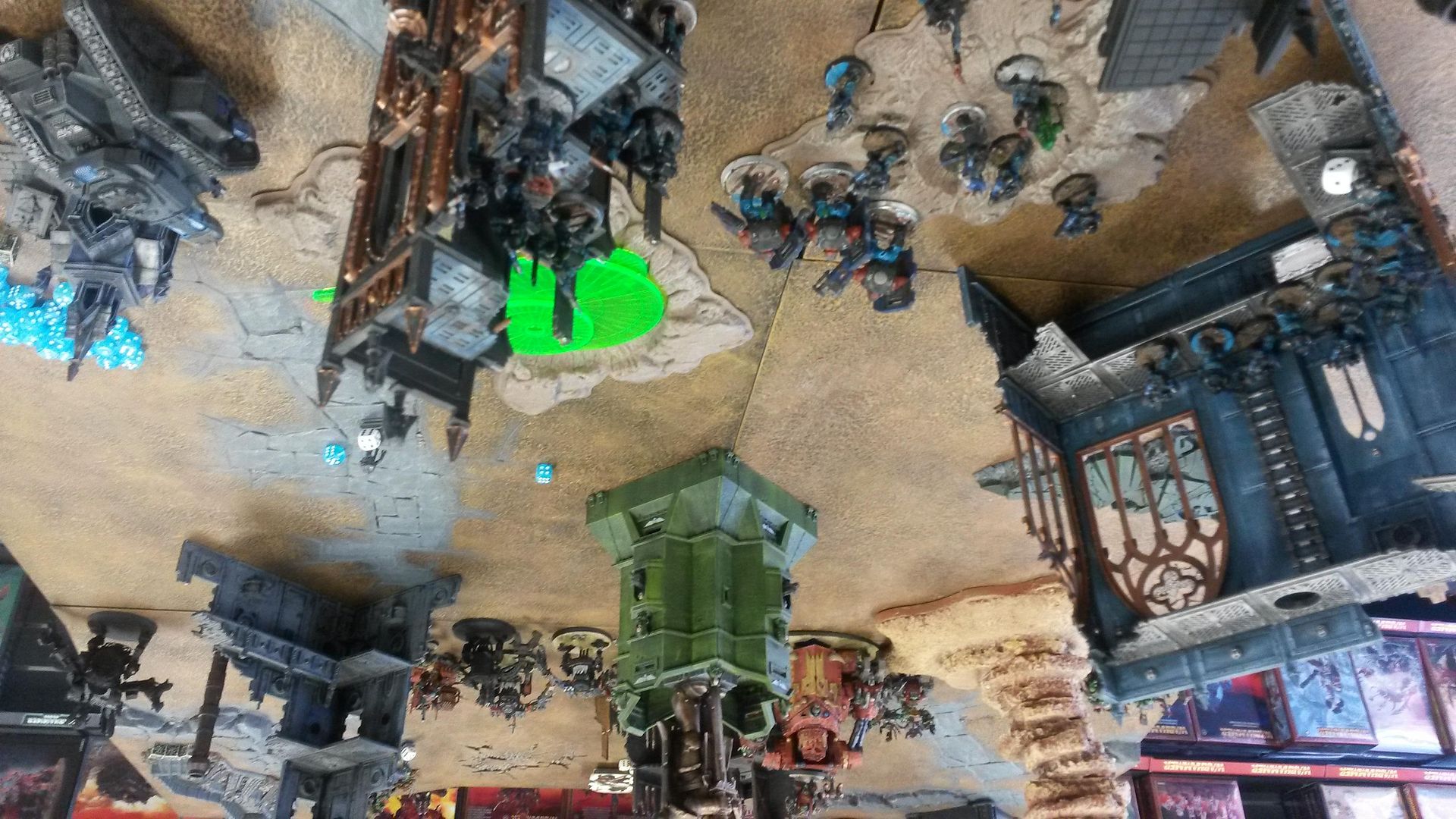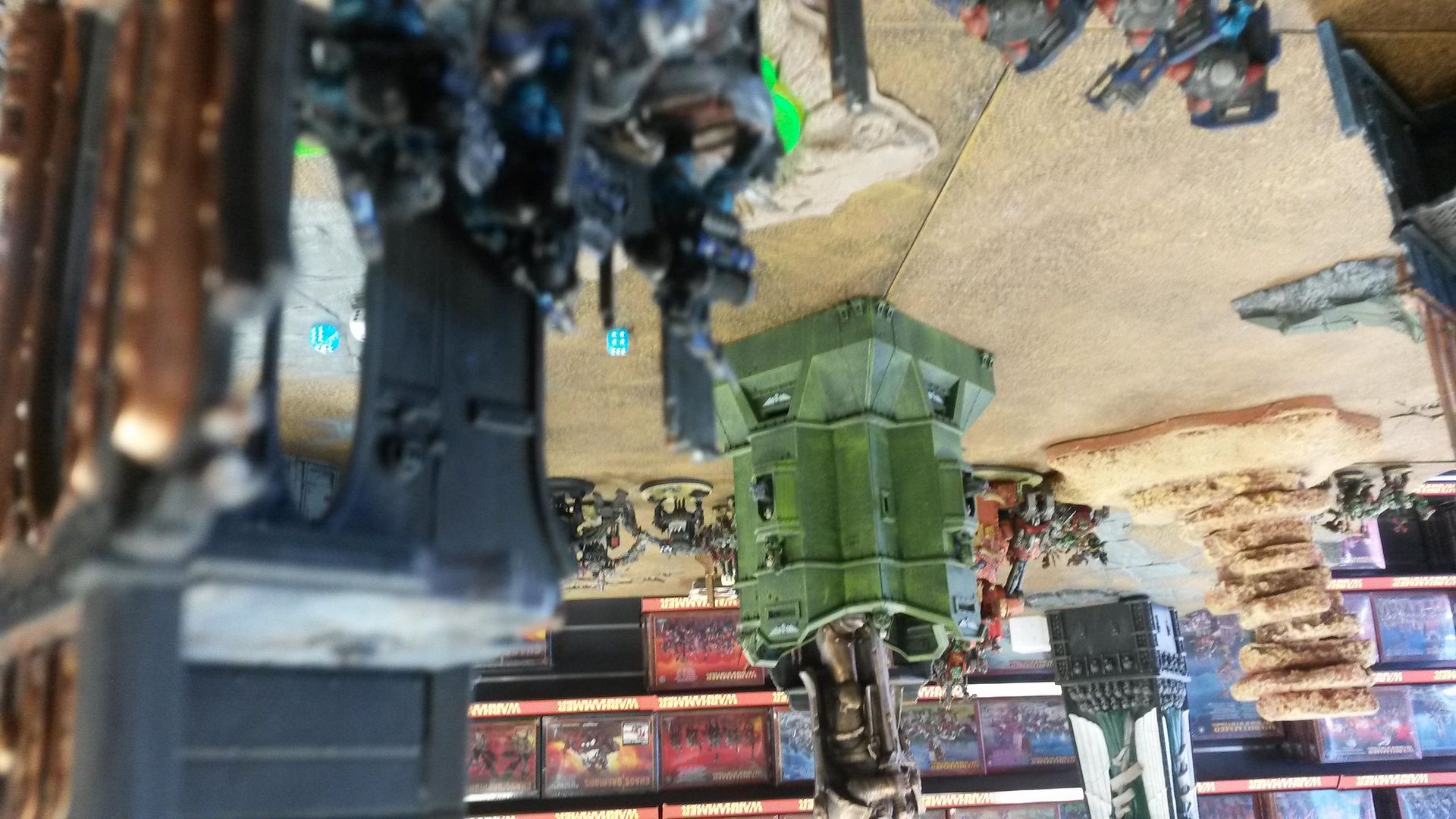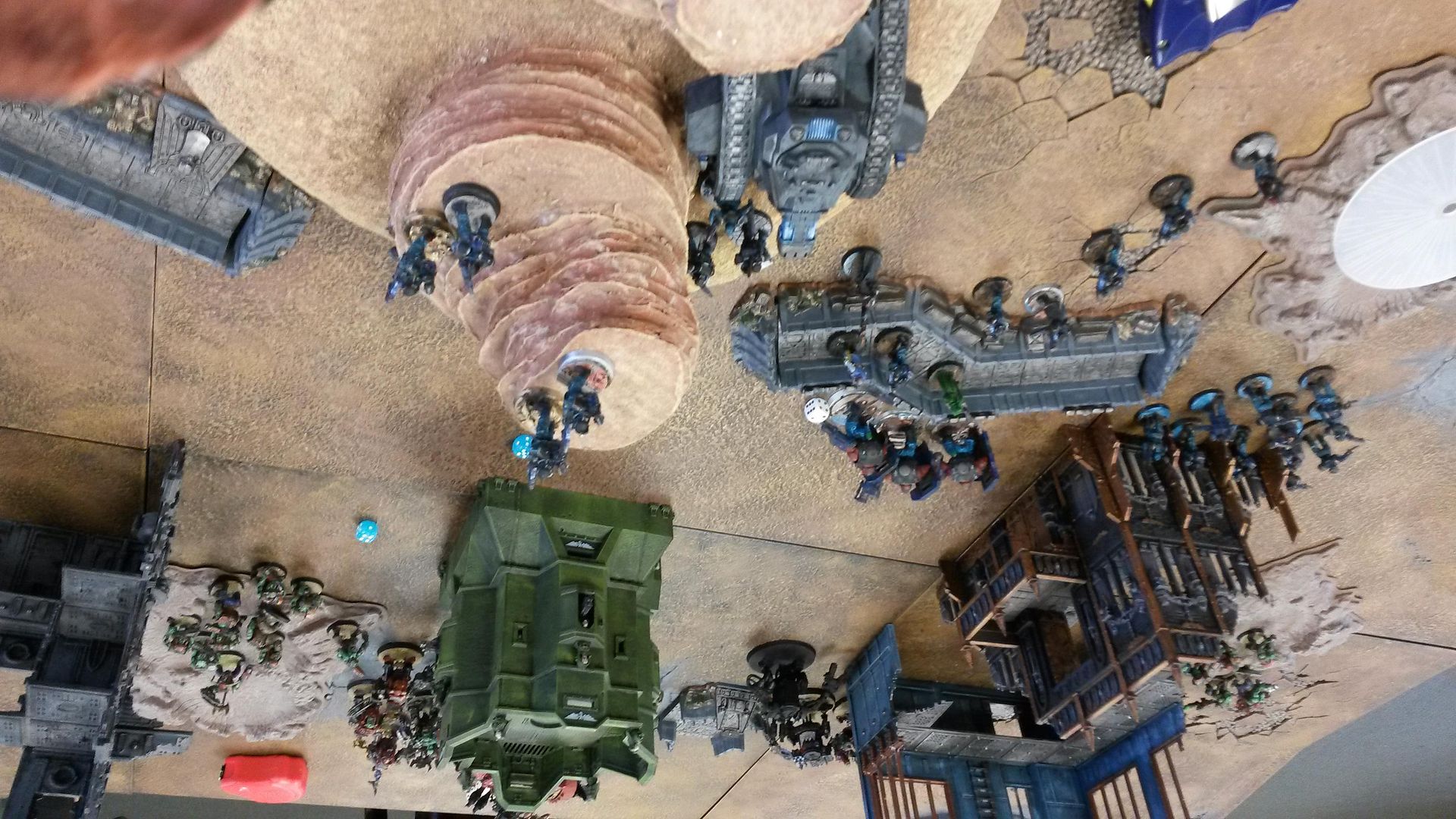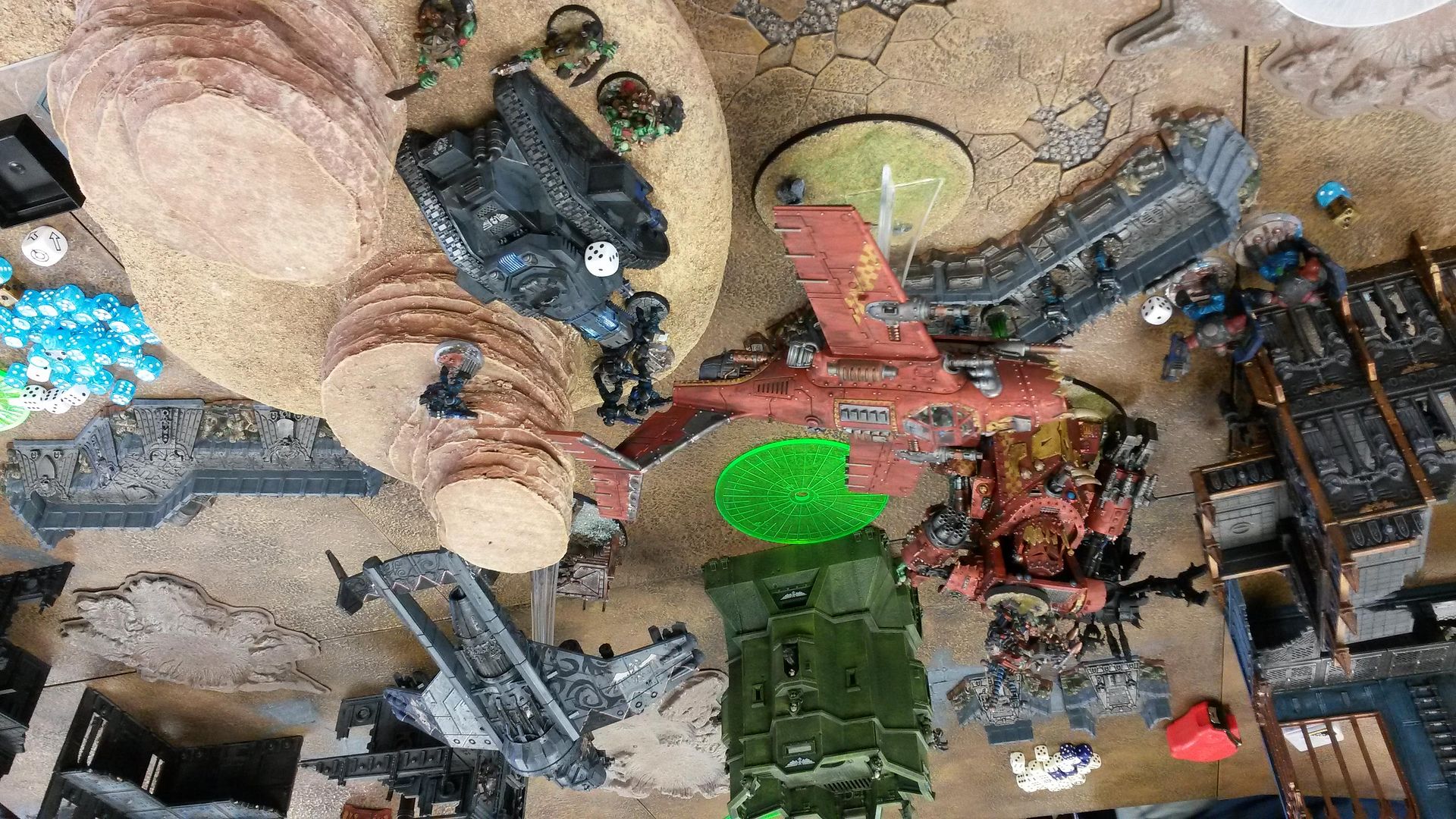 A shot from the second of two games against a tyrannid horde at 1500 points, finding that the list can work and can also really not work depending on how well I roll and how taken in the opposing player is by my squishy infantry shaped trap. The first game I was tabled, the second game he was.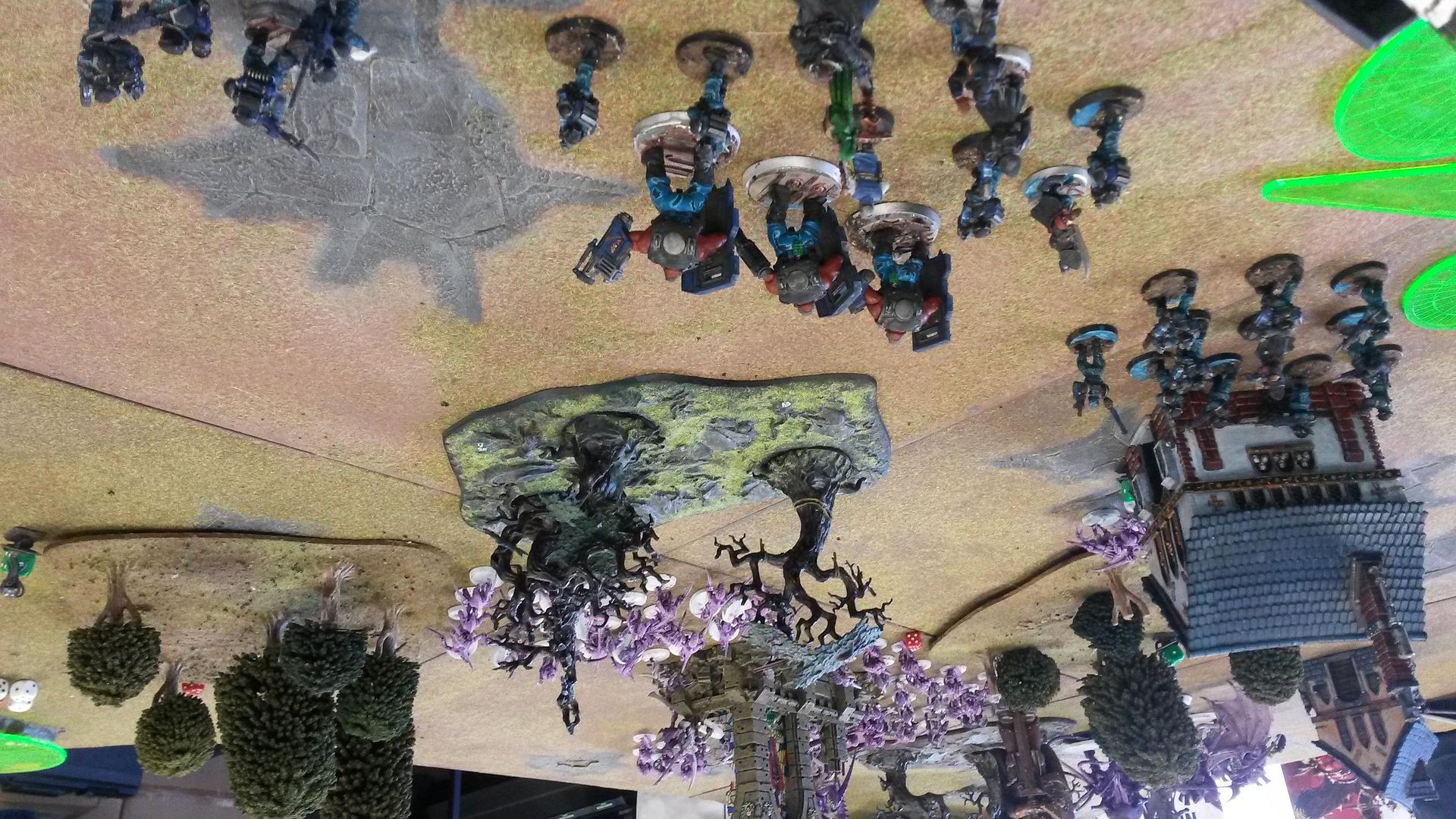 The setup for a 3000 point 2 v 1 my scions friend and my guard versus chaos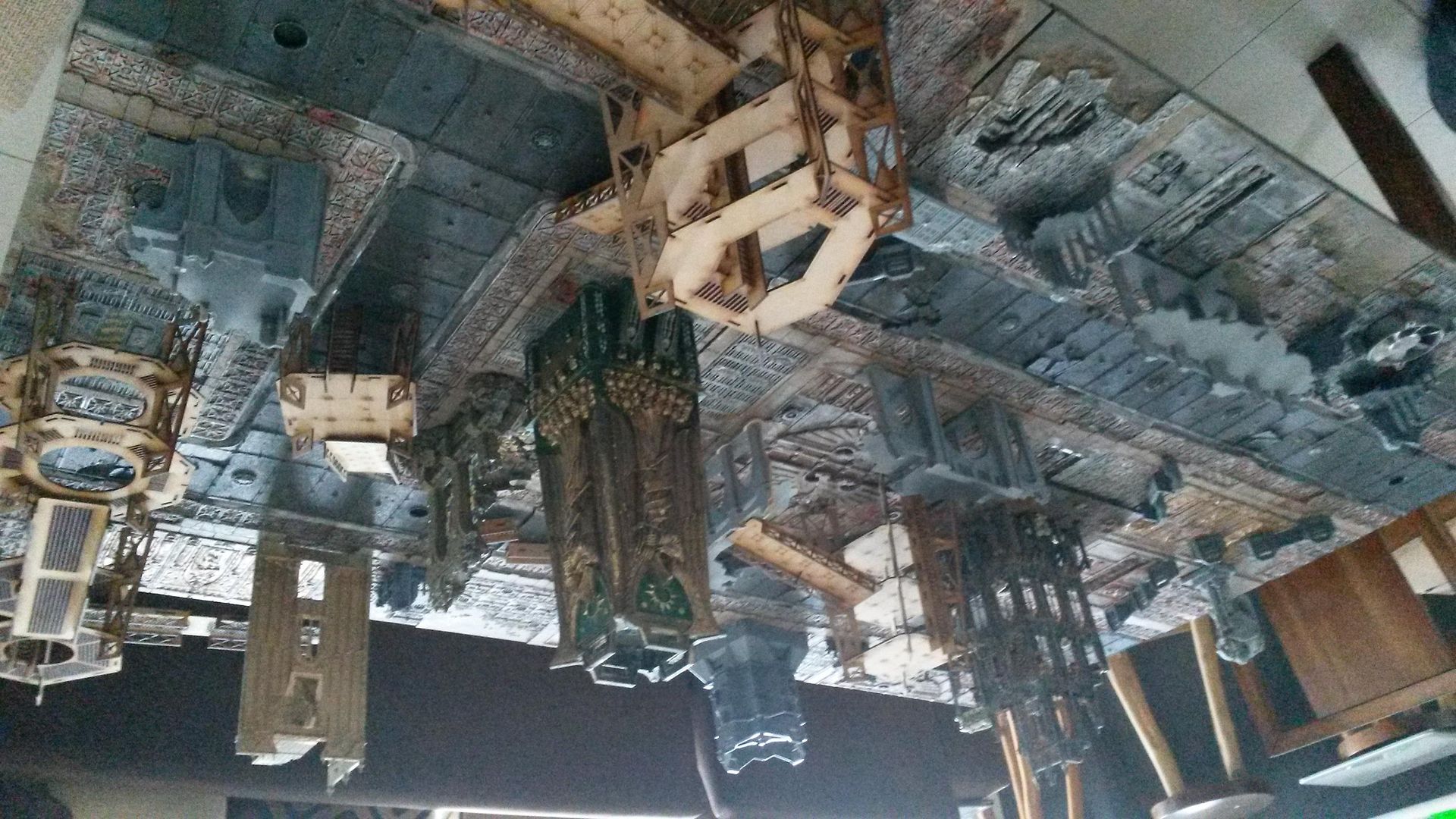 And then some shots from the game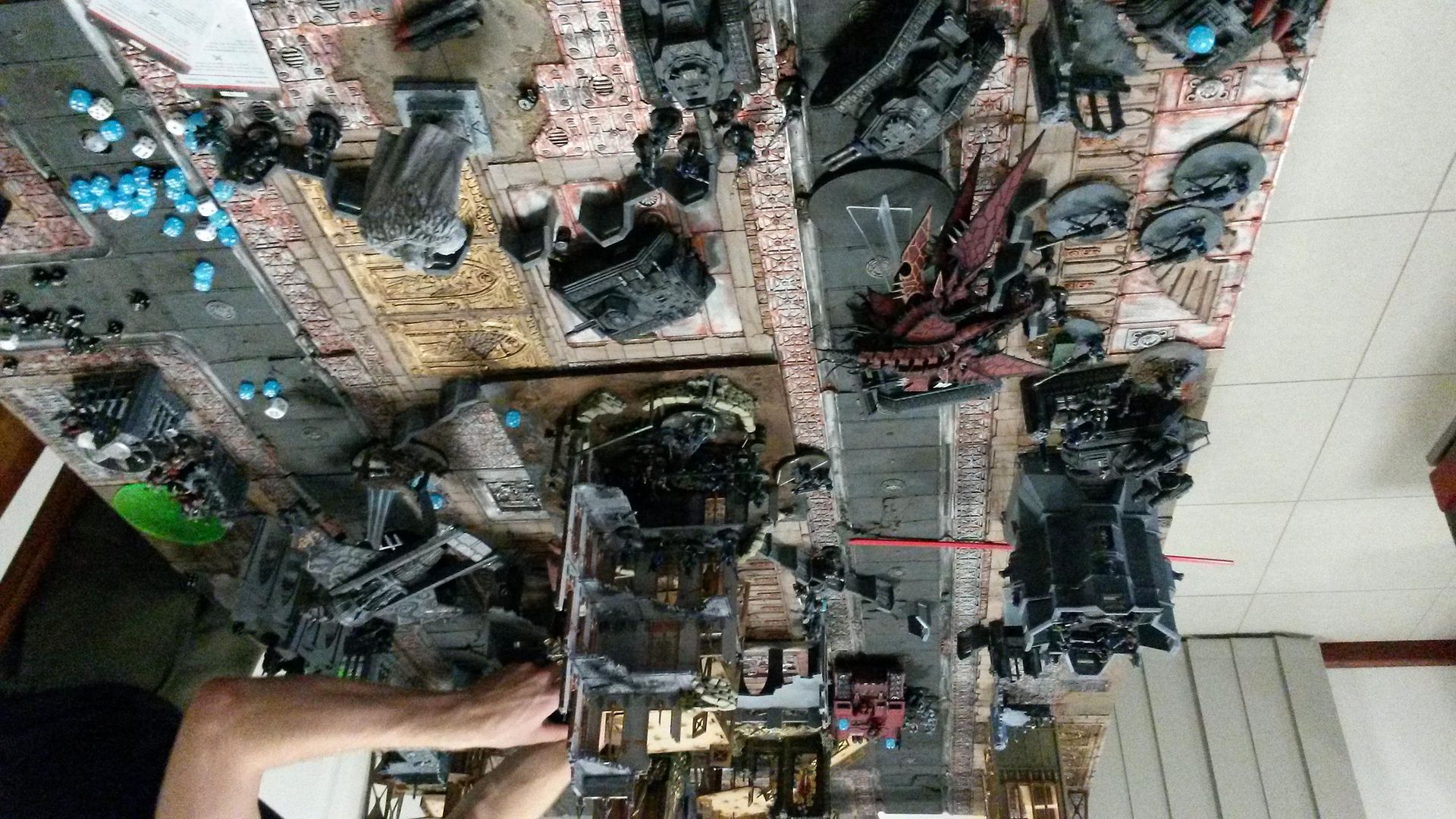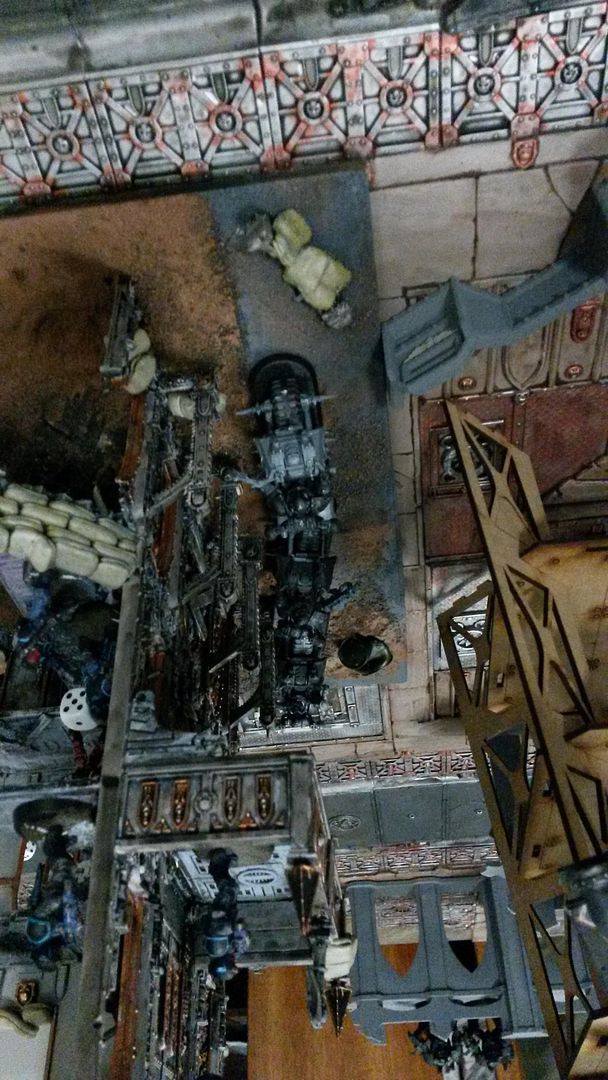 That urban table has taken about 30 hours of painting (no joke, a 24 hour painting challenge and then some) to get to where it is at, which was some serious hobby.
The industrial walkways are from wargames tournaments (
http://www.wargamestournaments.com/
) are laser cut wood, and are excellent - but do warp in tropical climates, damnit.
This shot from a 1500 guard v guard scratch match at GW. Almost tabled (flyers left) but won on tactical objectives 6:7. Very well played by my opponent!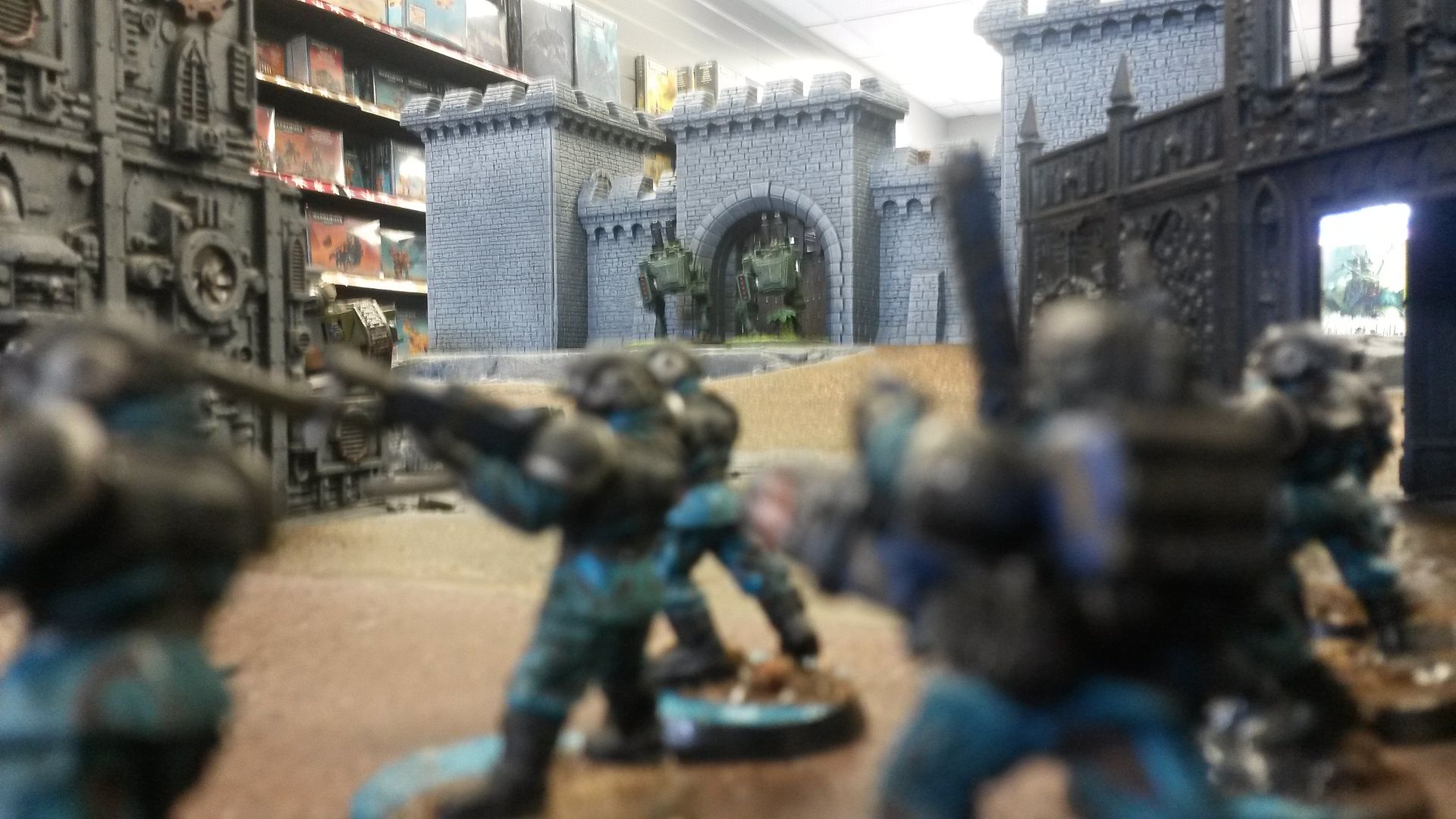 That's all for now, back to working on this sentinel, LR Demolisher and a Baneblade...
---
And finished these two, thus giving me a full squadron of Leman Russ Demolishers and a full squadron of Autocannon armed Armoured Sentinels.
This army is drawing to a close, slooooowly. Next, I have another Baneblade/Hellhammer, a Thunderbolt, three fantasy models to break things up and a Hammer of Cadia set.
---
Excellent! Keep it coming!
---
Quote:
Originally Posted by
Jace of Ultramar
View Post
I think Tawa is a temporal entity that exists outside of the hobby/modeling timeline. Essentially, he's the Heresy Online equivalent of a Time Lord... which is kinda hilarious and frightening all at the same time.
"God-Emperor? Calling him a god was how all this mess started."
---
Well, I finished my second baneblade of the company... one more to go, but I think it may be a little while before we see it. This second one is having an alternate cupola done for it to have a company standard waved out the top to just emphasise how massive and powerful it is, as well as justifying it being a command tank. For the moment though, it's going to be a commissariat tank, with the commissars all very sensibly hiding inside and letting a servo skull handle the booming encouragement of the rank and file.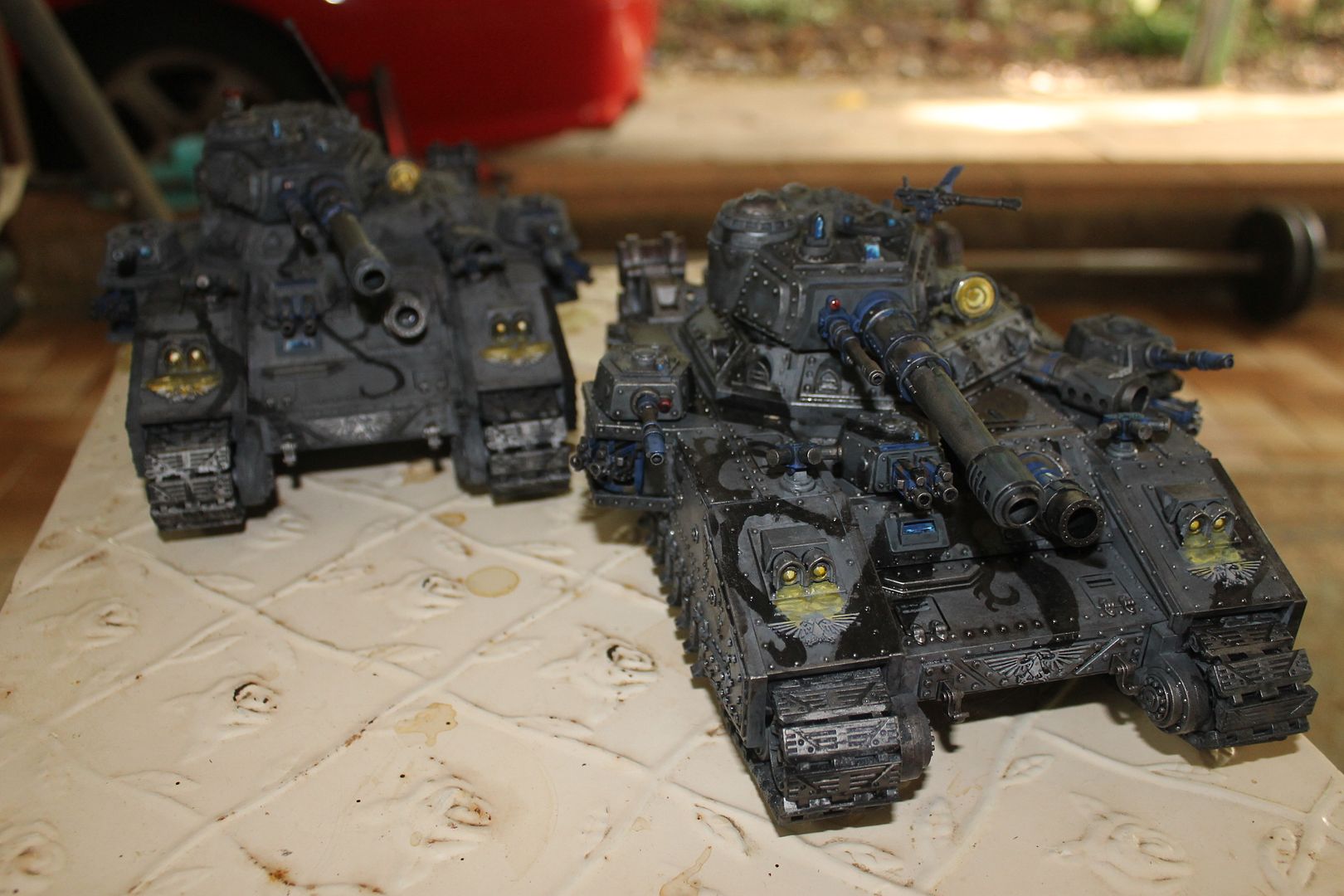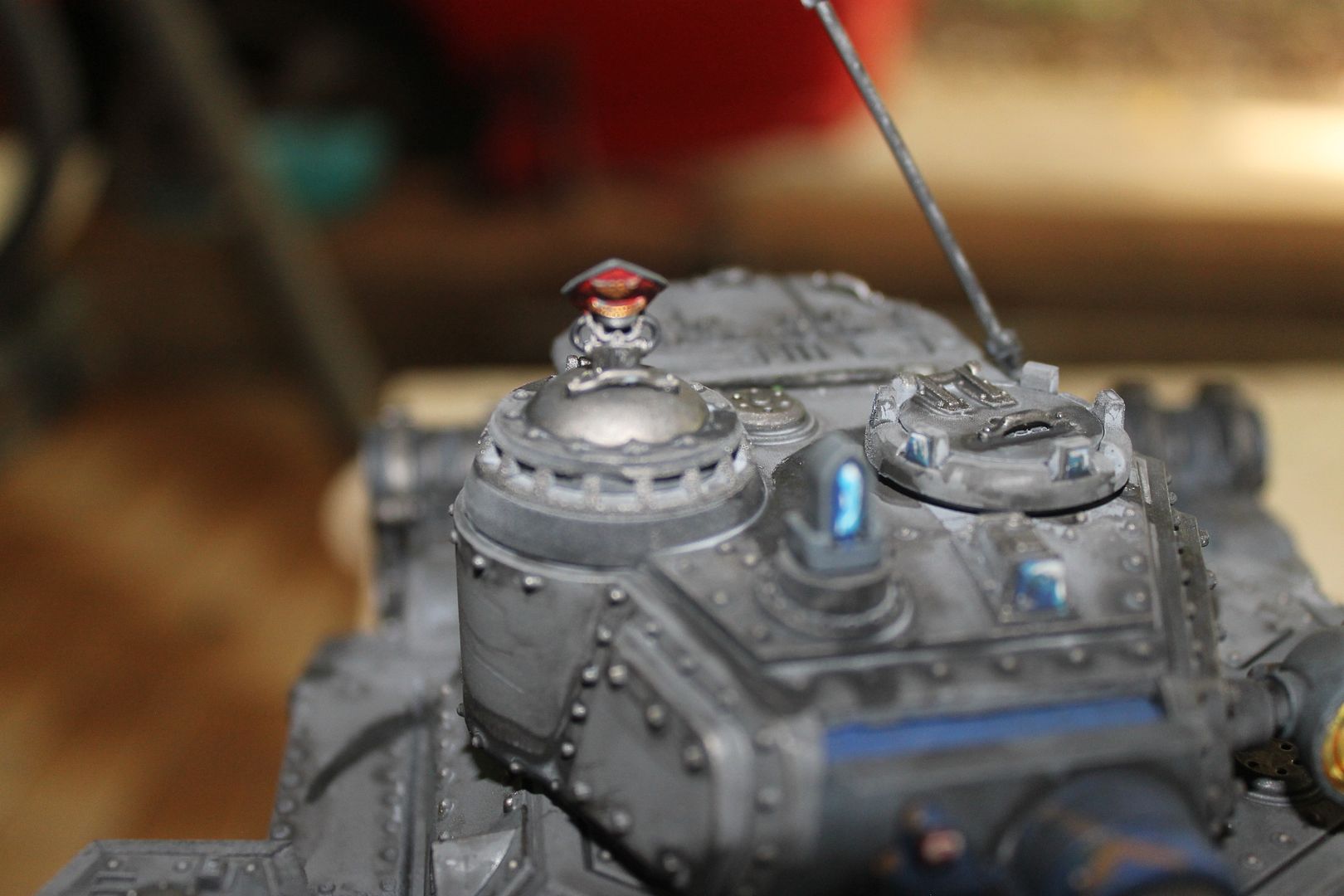 I also got started on something which I am ashamed to have had on the backlog list for a few months after I picked it up second hand last year... No Longer!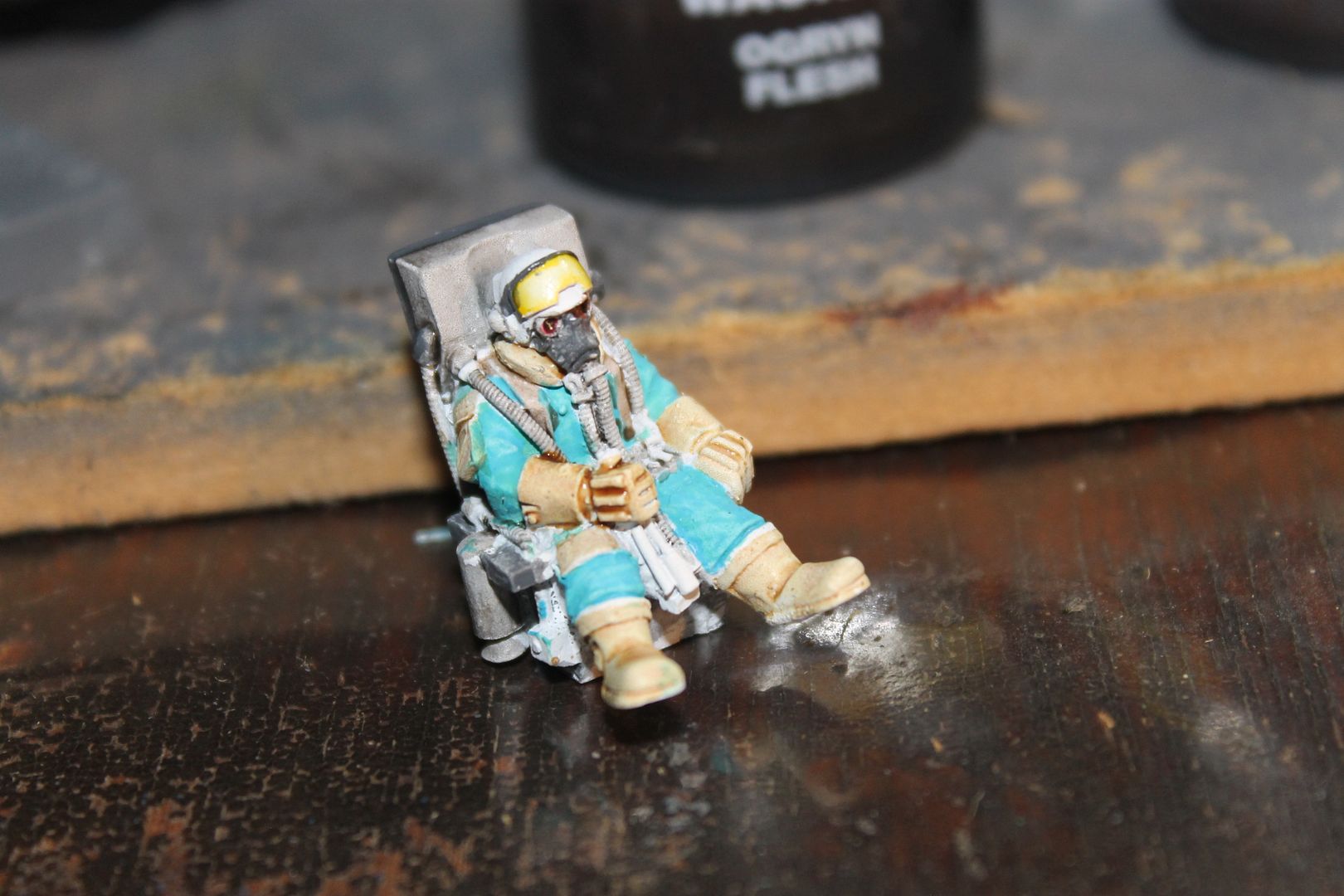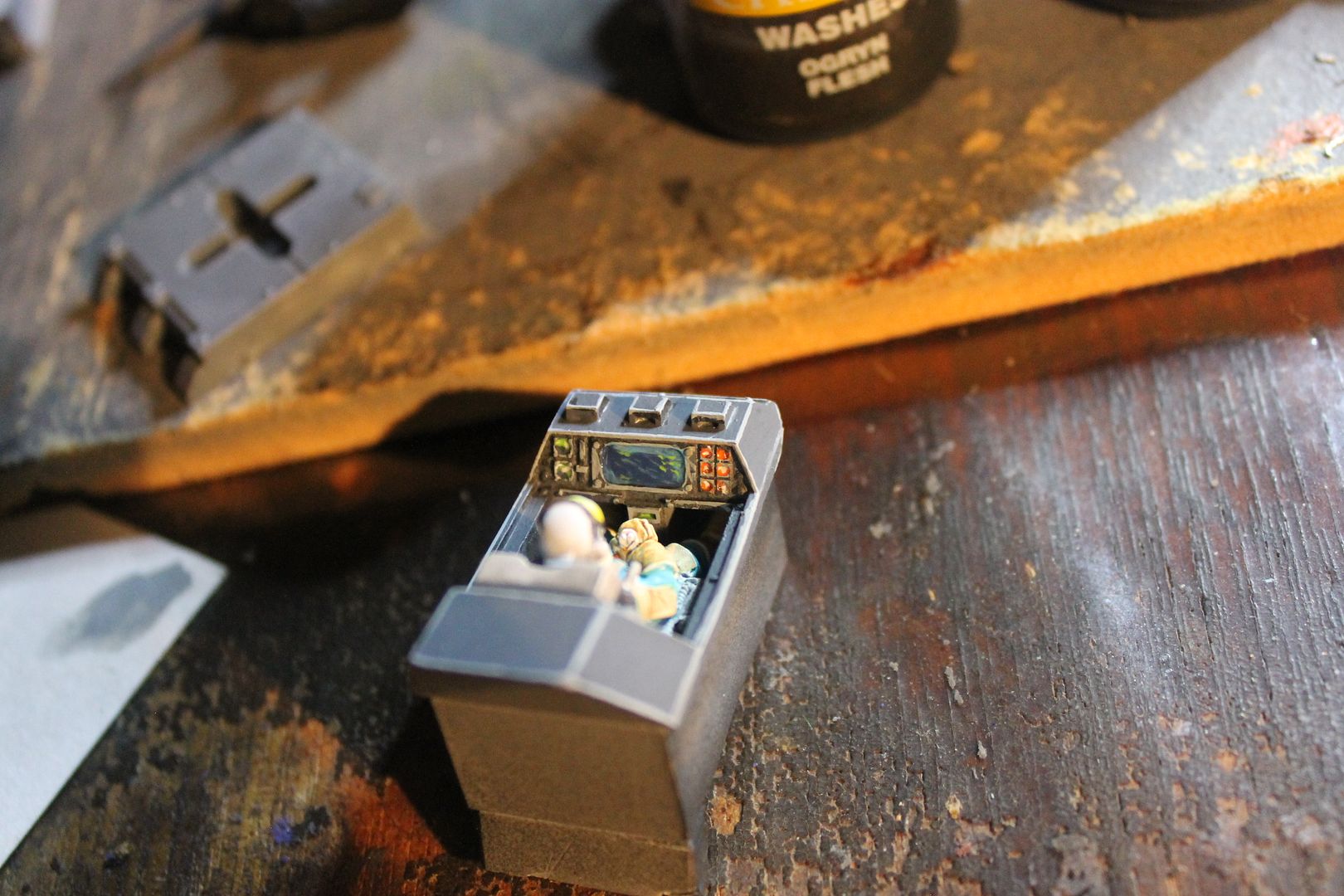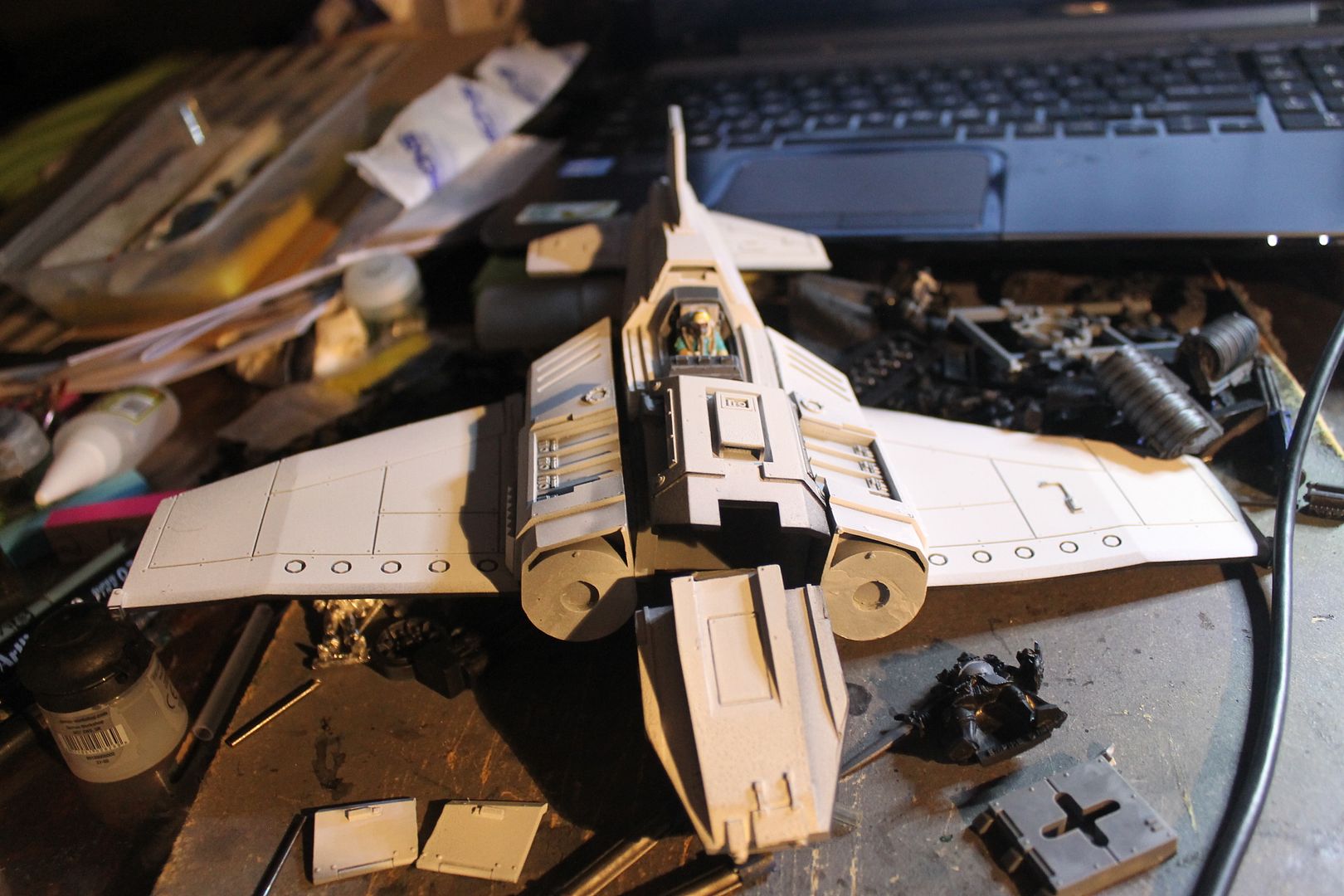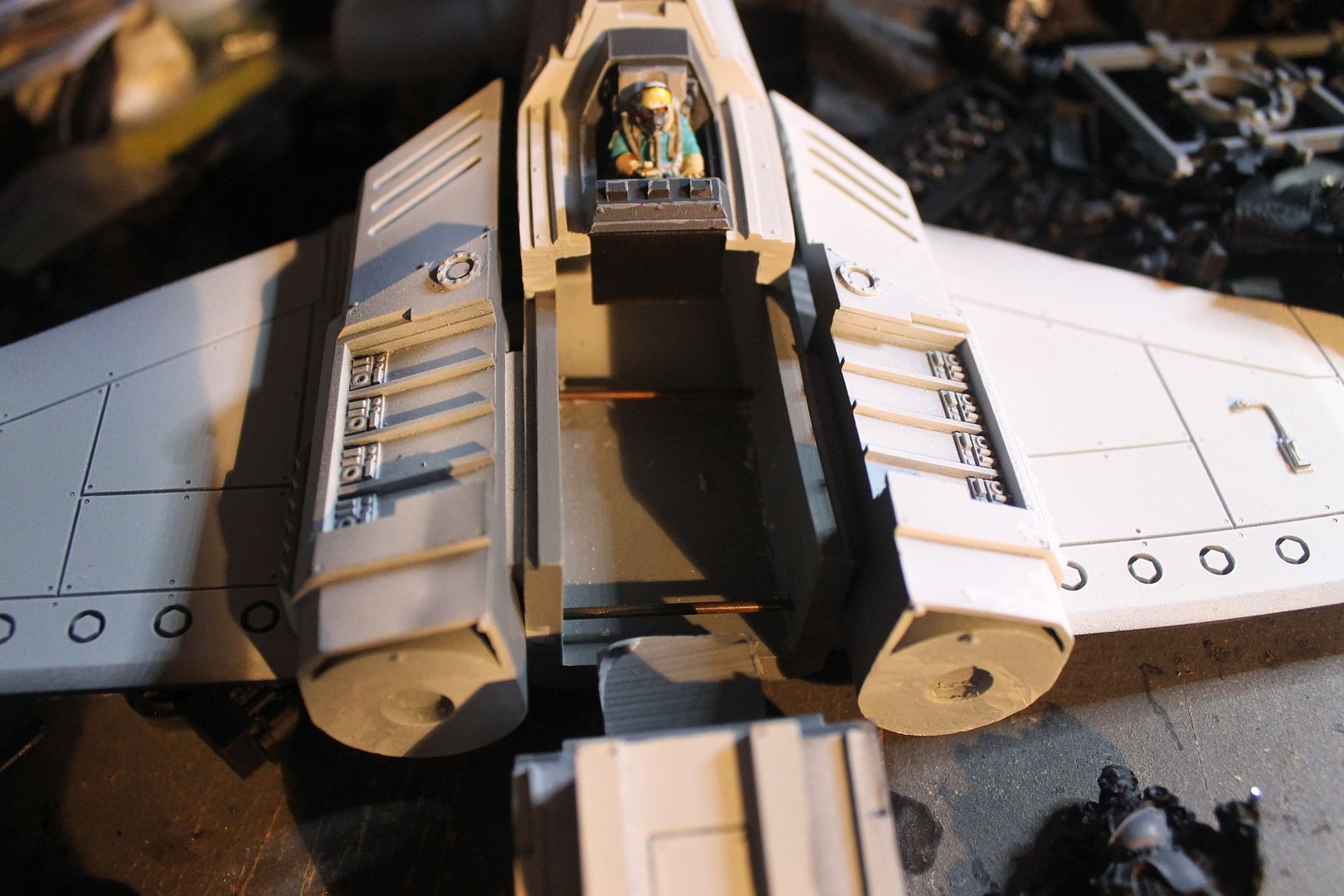 Those pins are an idea courtesy of blackadder suggesting a fix to my thunderhawk wings fall off problem, and they cost me my 2mm drill bit... for I foolishly put down my dreamforce drill and took up my marking pencil only to have the drill roll off the table and onto the floor/my foot. Much swearing was had.
Planned colour scheme is to have a light on light pattern on top with some dark symbols and colour bits, and a space scheme underneath like some of the much more talented people who use this site have done on their eldar... (can't remember who yet, sorry).
The idea for the top pattern is basically like this vest but simpler:
http://www.oxfordtiecompany.co.uk/images/P/IMG_9974.jpg
If anyone can help with the space pattern for below, I'd be really grateful!
---
Well, full credit to @
xenobiotic
for the method of painting space, it really looks satisfactory to me.
As of last night, the flyer looked like this: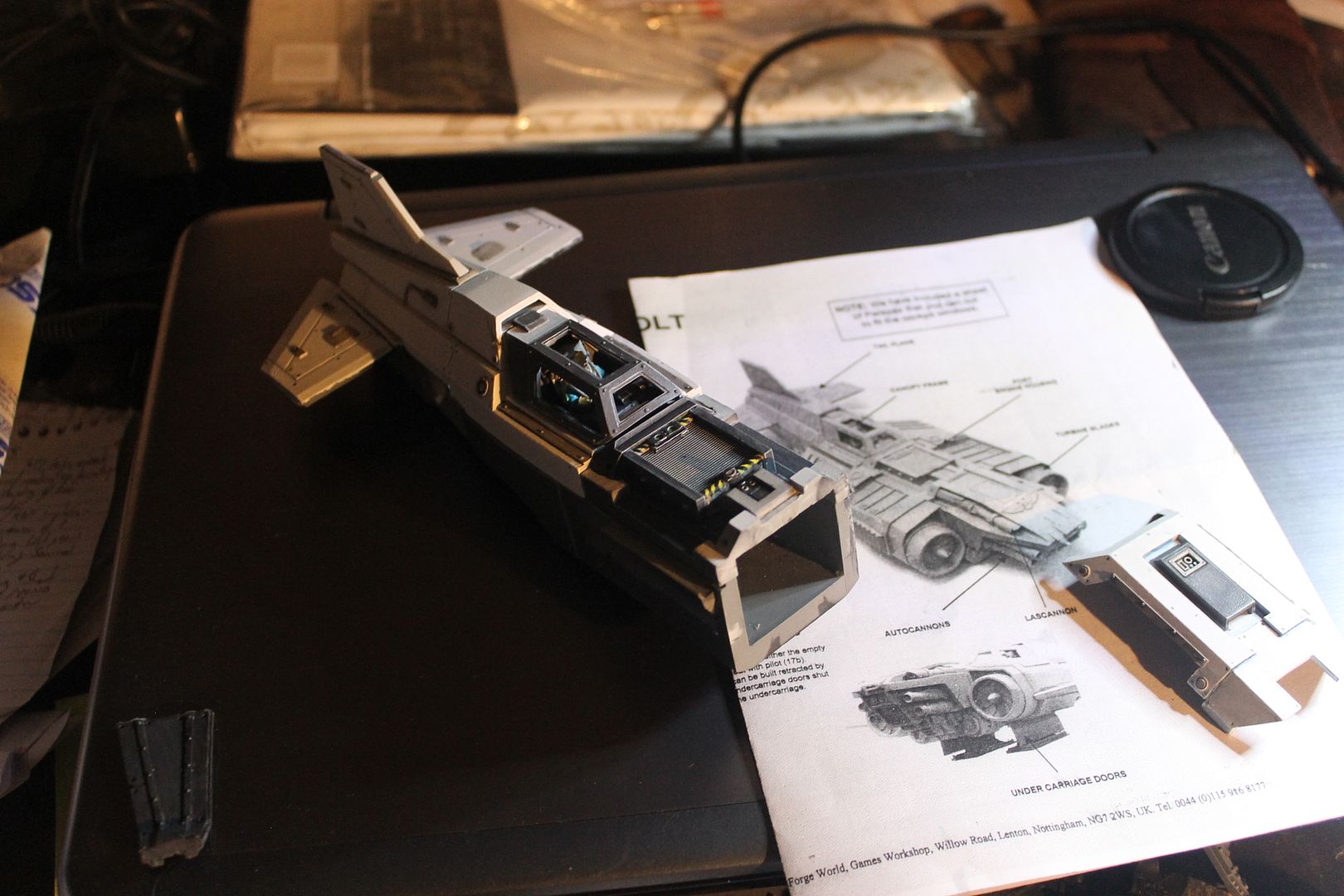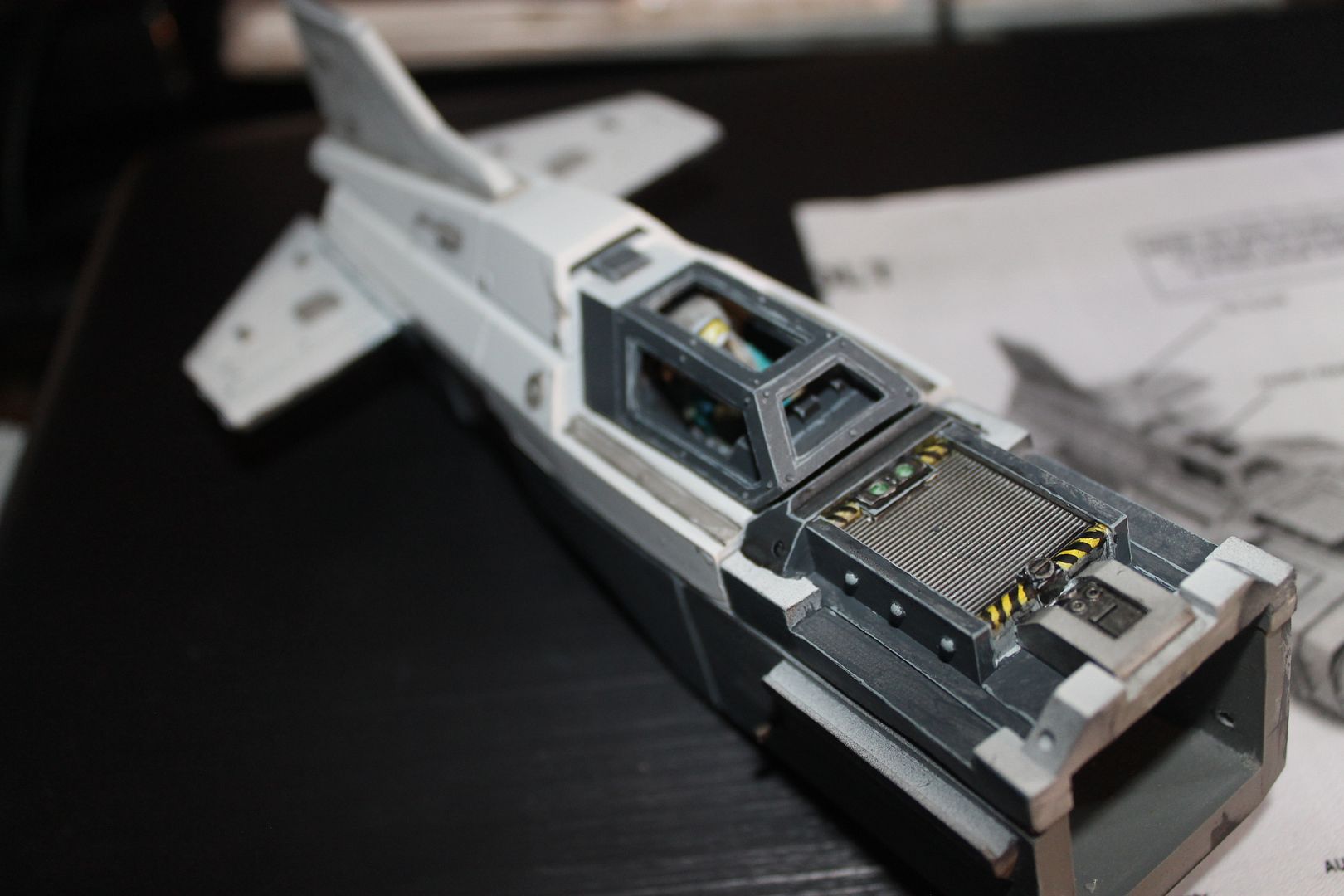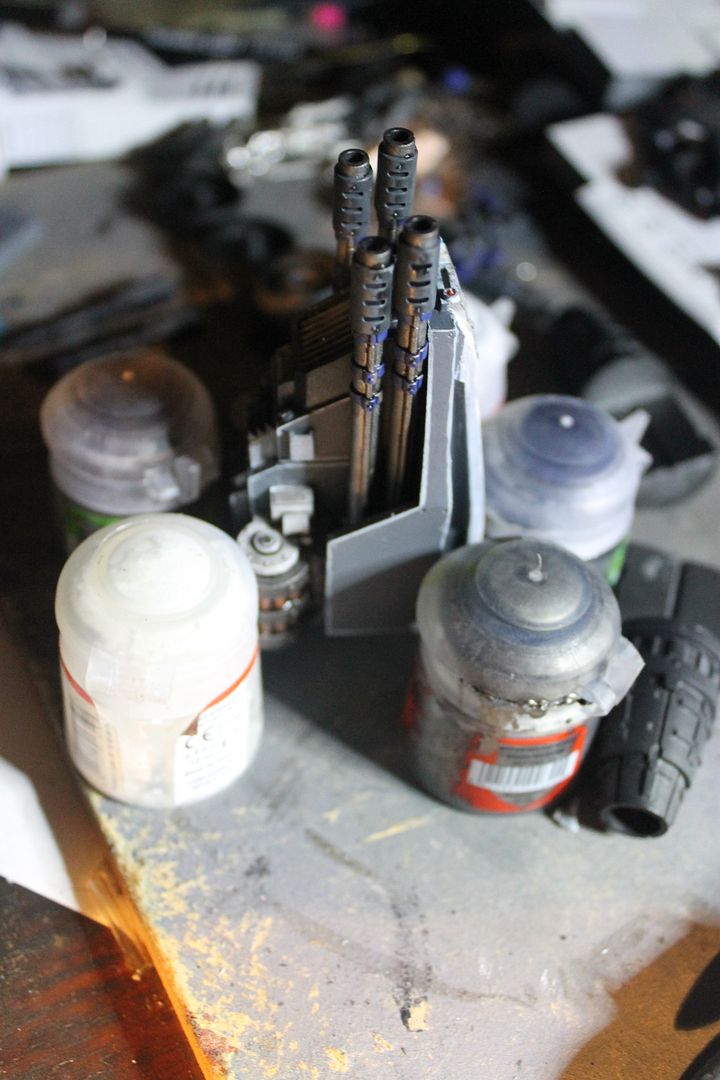 And after a day of fairly solid painting beside my very patient wife, it currently looks like this: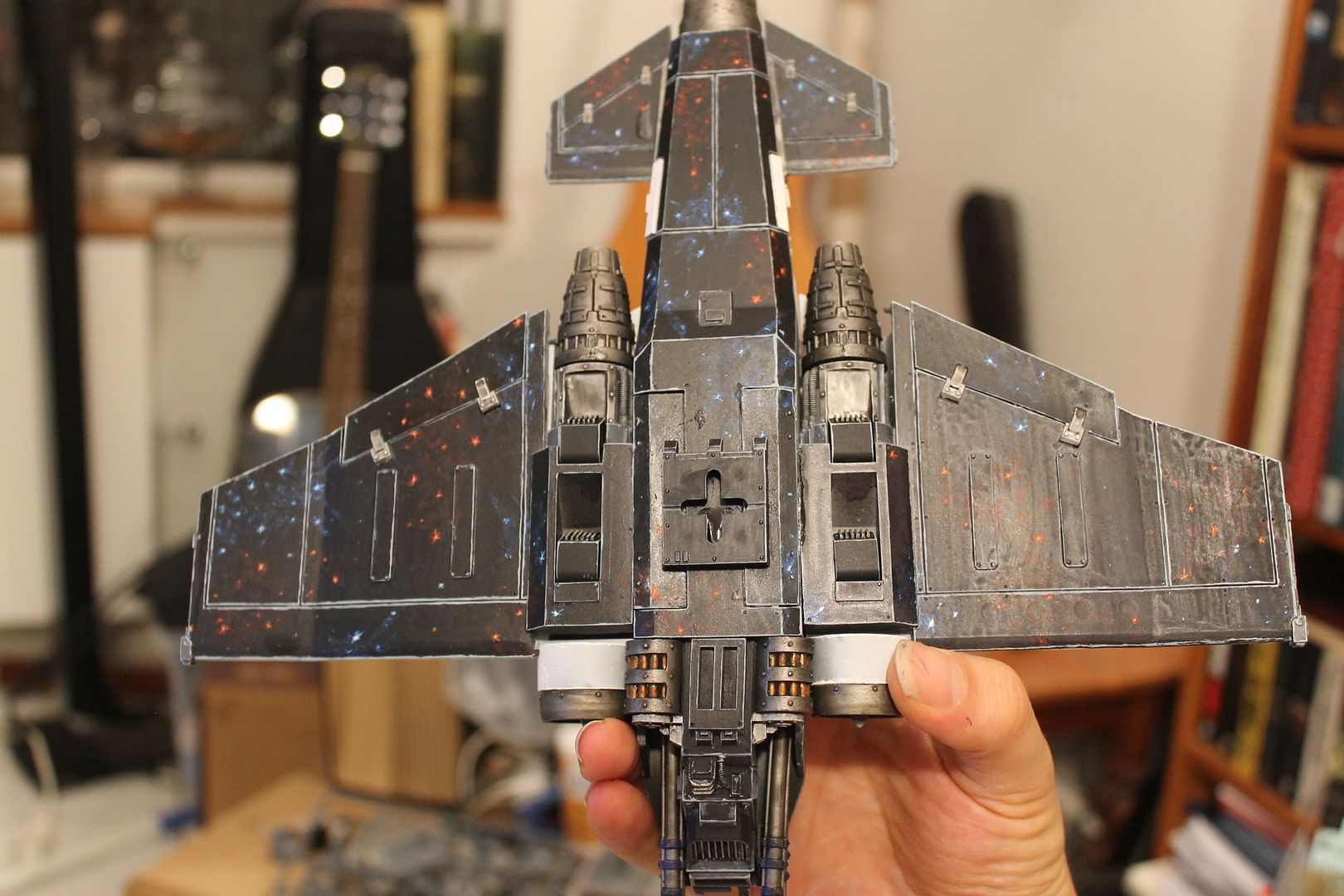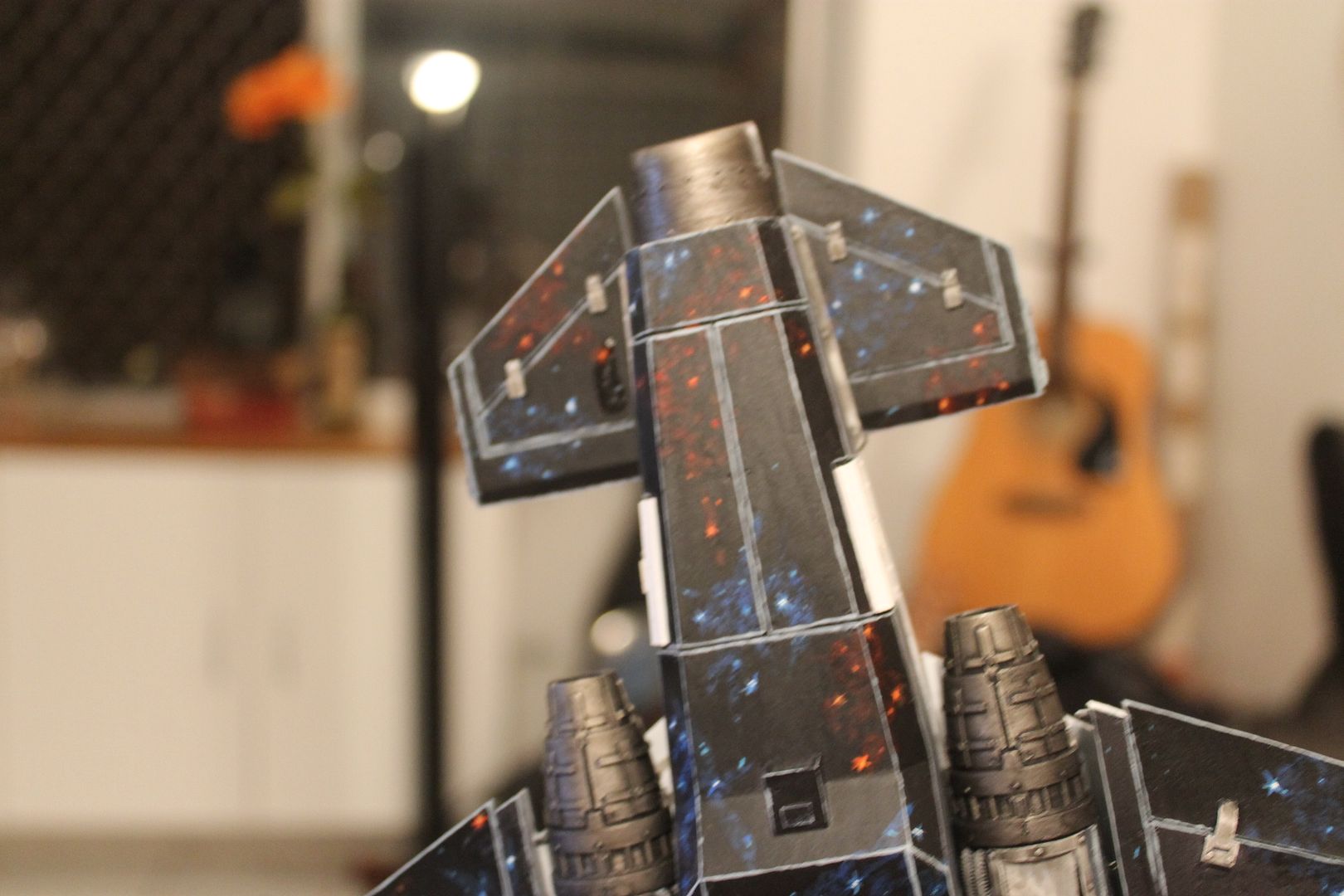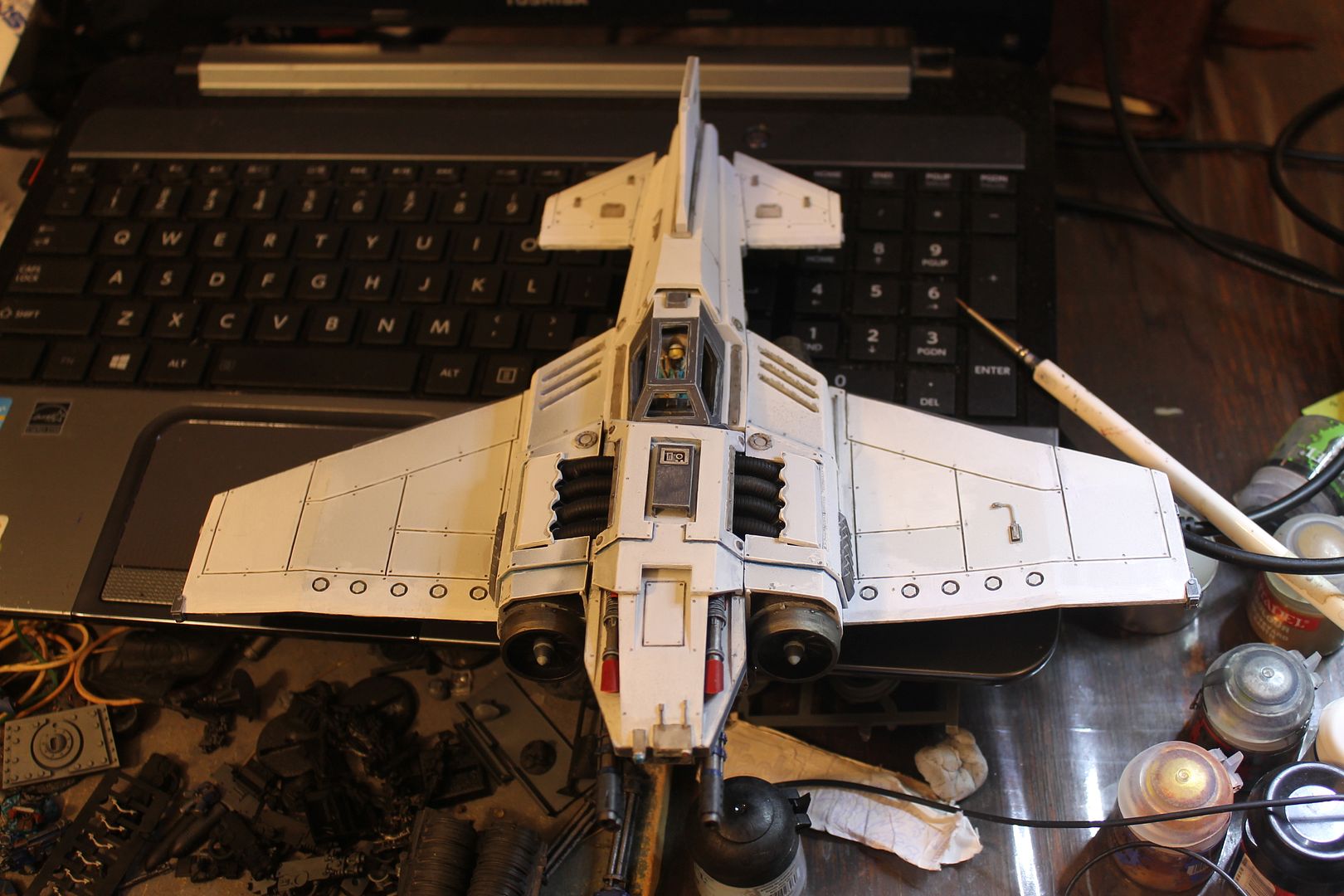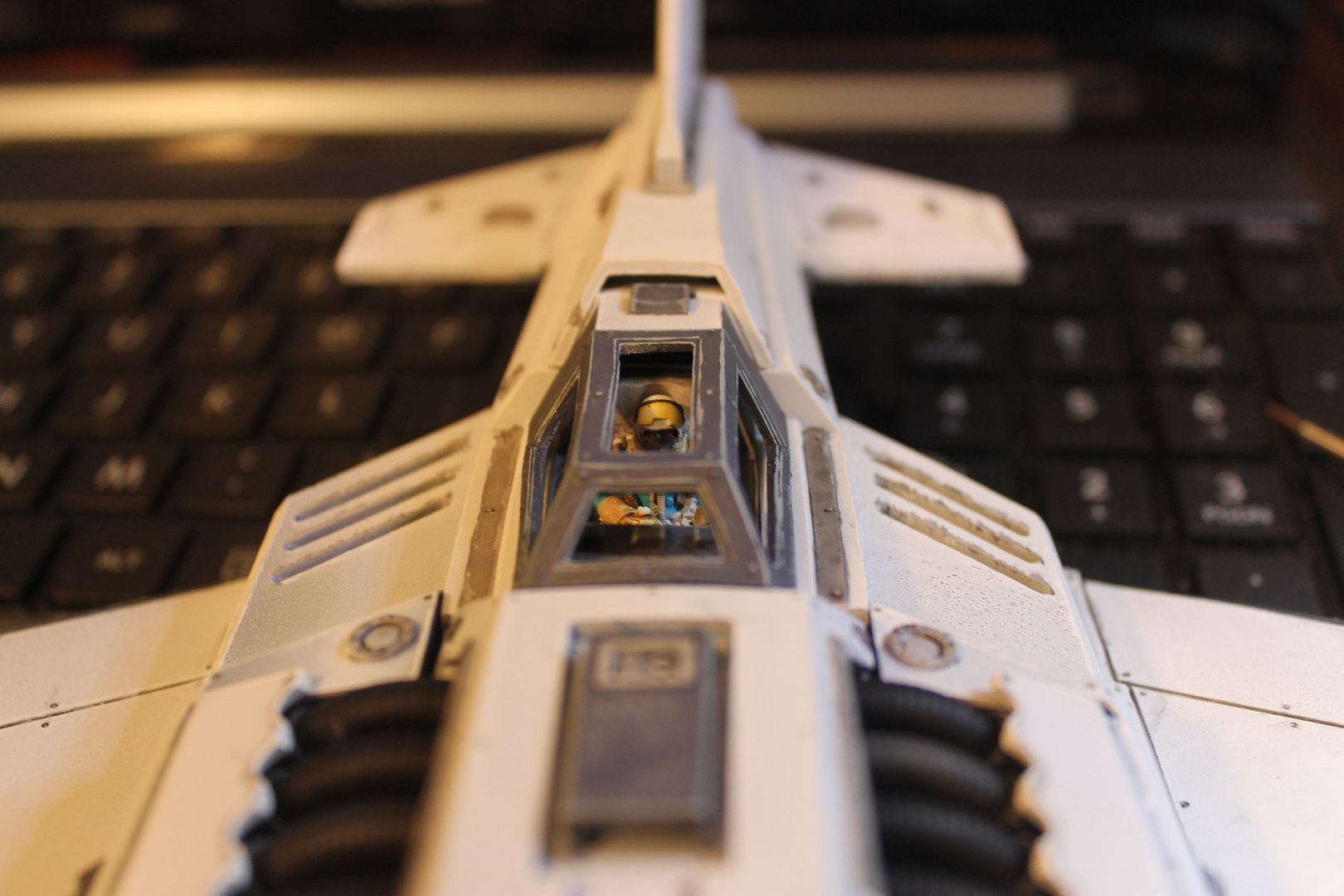 So, tomorrow I think I'll do some decals from the Guard Vehicle, Sisters of Battle Vehicle and Imperial Knight transfer sheets, and work on a suitably cool (and weighted) flyer base for it. C&c definitely welcome.
---
Last edited by Iraqiel; 02-01-15 at

12:51 AM

.
---
Wow underside of that flyer looks beautiful. What model is it?
---
Quote:
"Bubbles"....?
The Old World just became a fart in the bath.....
---
---
Last edited by Iraqiel; 01-26-15 at

02:53 PM

.
---
Thanks @Nordicus! It's pretty much Xenobiotic's recipe with one minor change, instead of stippling the colours first up I applied a watered down brush stroke with a broad brush then stippled black over the top.

The basic method was -
1. Swathes of mephiston red and enchanted blue with watered down paints
2. Stipple black to tone down the colours
3. Wash with purple
4. With not-watered-down mephiston red and enchanted blue, draw star shapes on black or the appropriately coloured patches.
5. Within the star shapes, highlight with blazing orange and ice blue respectively.
6. Add some dots around areas that look too empty with these colours
7. Put a dot of white on the bigger blue stars and dots, put a dot of vomit brown on the red ones.

voila!

Almost done with the model after an intensive Australia Day painting session, just waiting for PVA to dry on the base.
---
Last edited by Iraqiel; 01-26-15 at

02:50 PM

.
Lower Navigation
Iraqiel's menagerie - Project Log