---
Quote:
i may teleport next time, avoid the winery, and poof, it's gone.
Not to seem like I'm thwarting you (too much) but you've got to try the Mango Brewery in Broome (Matsos) and some of the Aussie craft ales next time you are here, they are delightful.
That is unfortunately not one kit, I bought a whole bunch when I was overseas and getting paid lots. What better way to burn off the bonus, right?
What you saw was two of these:
http://www.games-workshop.com/gws/ca...d=prod1780020a
One of these:
http://www.games-workshop.com/gws/ca...d=prod1780024a
and one of these:
http://www.games-workshop.com/gws/ca...d=prod1780022a
So. That's $182 all up, which makes me a little sick inside, but a. Should be cheaper for anyone not living here and b. I still think I'll add another bunker and a firestorm redoubt in order to enhance my terrain for this board.
I really like the Citadel washes, they can be replicated with a water-detergent-paint solution but a. I'm lazy and b. ... I'm lazy. On these walls are the Agrax Earthshade/devlan mud on the detailed bits littering the ground and the metallic bronze, Ogryn Flesh/whatever the flesh wash is called now on the walls and silvers and Badab Black/Nuln Oil on the metal flooring.
The wash is as simple as brush on and allow to pool to your taste - I tend to be more heavy for dirtier/chaosier models and lighter and less tolerant of pooling for a cleaner look - and then wait for it to dry. It creates a natural layering and depth to most surfaces, and if you are clever with your pooling or layer up more paints on top you can give the illusion of shadow or natural light fall.
The way I painted these was (partly to use up old paint pots that I worry are going to dry out soon) - Spray with a generic brand acrylic house paint to base coat in a colour of your choice. Paint the metal with a big, old brush down the centre and a smaller brush for the walls, being not too careful. Choose one 'type' of detail and base it in the appropriate colour - I match my Guard Armour to their webbing pouches, so black they went. Layer them up to satisfaction, detailed painting need not be amazing. Choose the next type of detail to base colour, then the next, then the next. Eventually, run out of details. Missing a few won't matter too much, as they will be 'dust covered' and blend in with the board you are painting it to match. Check to ensure you have all the major points - the painting will look pretty flat at this point. Wash heavily, allow pooling to give a more worn and stained look if desired. I left it here, but if you really wanted to make it pop, put another highlight of the last layer on the details you want to stand out.
---
Last edited by Iraqiel; 03-08-14 at

11:36 PM

.
---
yeah, thanks for that rundown.
i will have to get to the art supply shop and add some stuff to the minimal paint collection that i have here, as painting on all the details and shadowing will get tedious when i turn to building terrain after a while. i also got 50 old grots in the mail, and those little bastards are gonna need speed to get finished.
frankly, with minis like those, i black base coat, then white dry brush in two layers - first, a lighter, slightly wetter layer though always careful to leave the deep recesses untouched, then after this dries well, a dryer, brighter white topper to pull out the prominent aspects. this rapidly adds shading. painting this surface with standard acrylic paints produces decent results, without a highlighting pass. what is left then is some black watered down with a fine liner for edging and touch-ups, and little details like eyeballs and talons and so on, boot laces and metal belt buckles.
with a more important model, i would run through these same steps, painting recesses with darkened pigments and lining more thoroughly, also painting a highlight layer or two to bring out point-source light shading effects, and so on. anyways, standard acrylics have served well, but i do like the effect that your speed painting produces, and should aim for something similar here, as i don't have the time to paint every detail like i used to when i was younger.
---
Yeah, dilapidated and in need of some serious painting and modelling attention as it is, my ork army is basically six paints and a wash across the board. Similarly, my Tyrranids are a spray, a basecoat, two layers of green on the carapace and one medium'd up layer on the basecoat. I still haven't figured out how I'm going to end up detailing the bigger models when I get to that.
---
Awesome project log. Keep it up. I especially like the amount of detail you've put into the terrains.
---
Quote:
The chaos gods abandoned Horus most likely because they saw the can of whoop ass coming their way and wanted out of the way so as not to get fucked up!
---
Break from Grey Knights, I paraded my Imperial Guard to check progress. Slow (obviously) but distinct progress from my last photos of the guard, my most played force.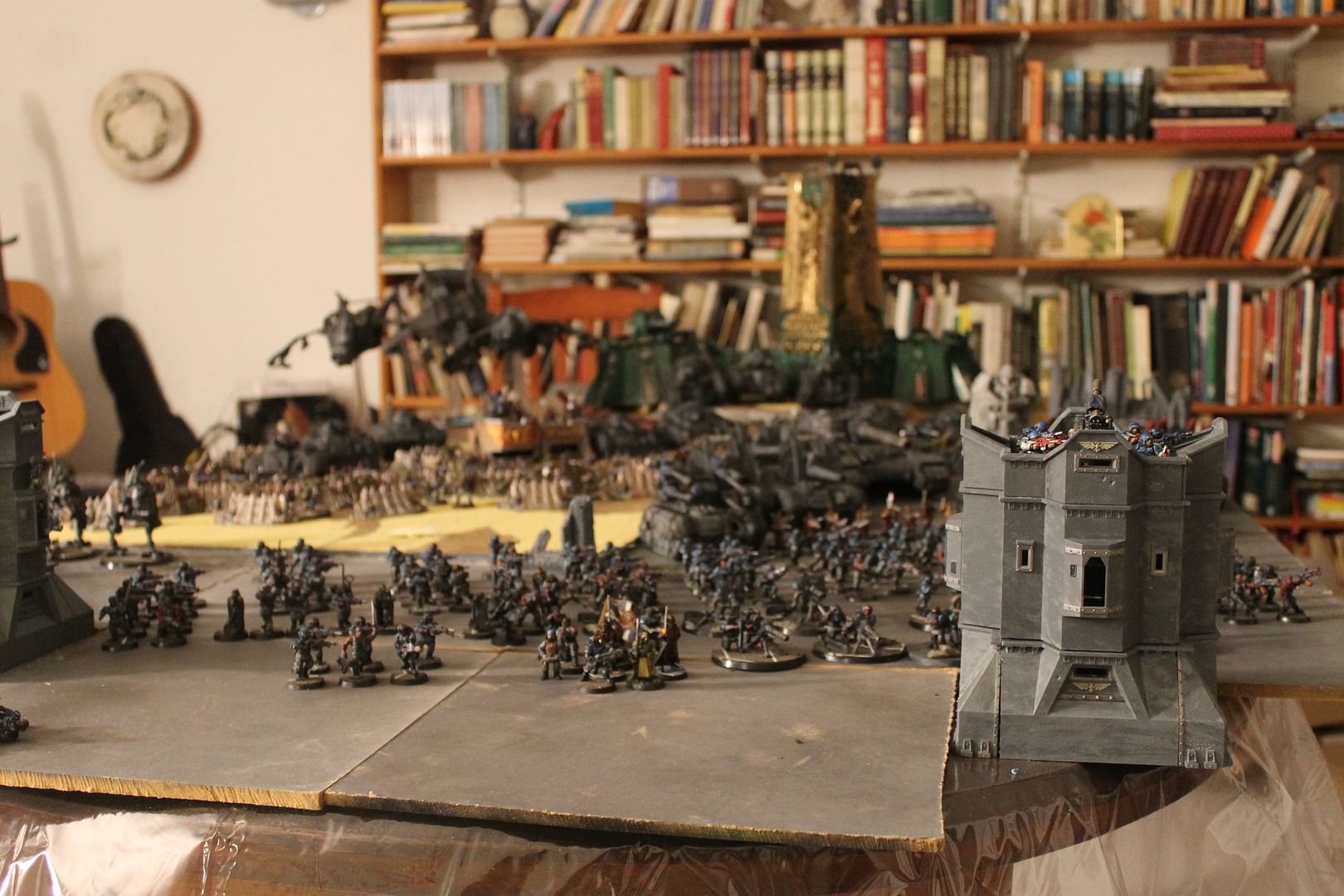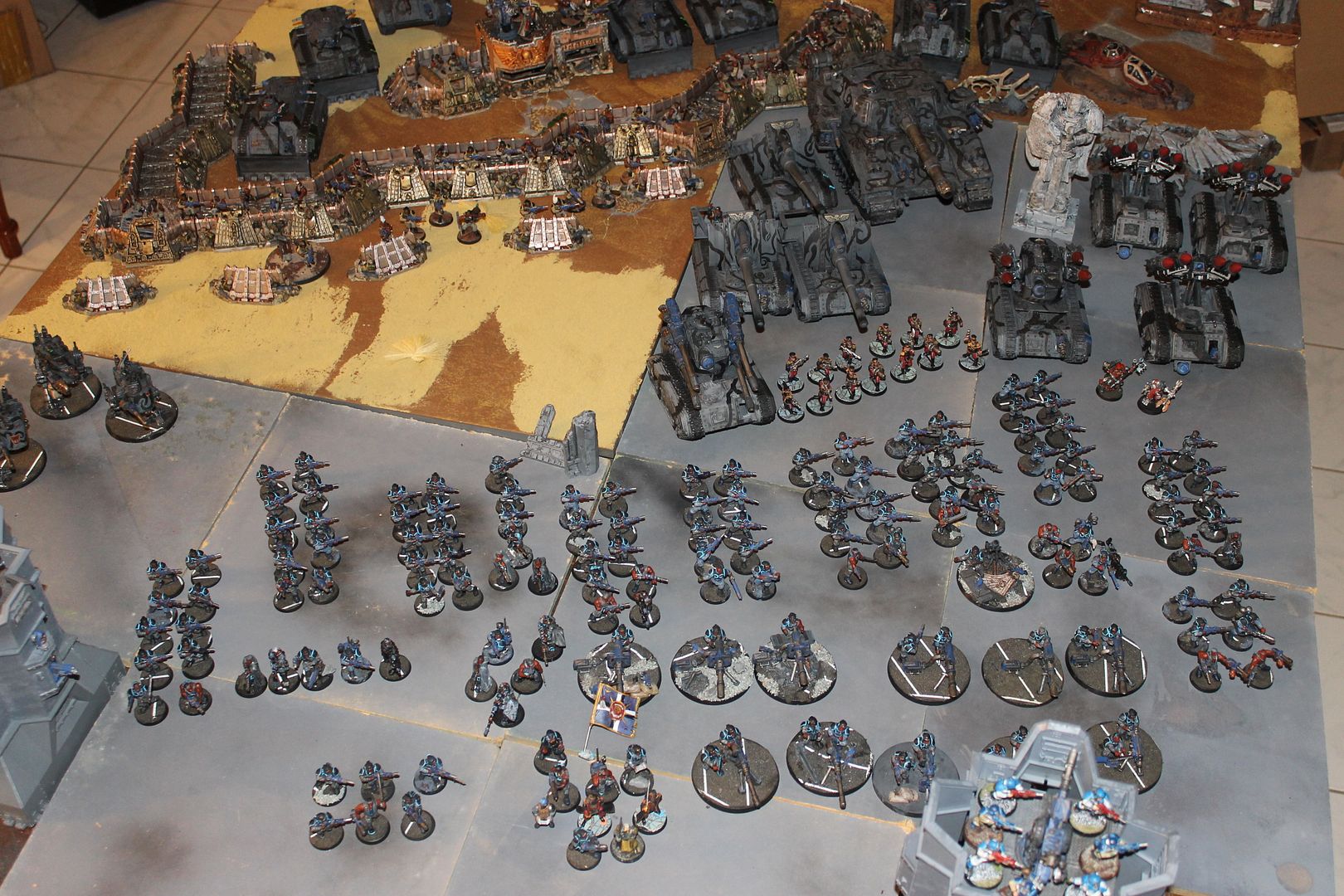 General Krakistorf, a Cadian exiled for radical support for the 'combined arms' doctrinal philosophy. Posted as Colonel in command of the Zazyrian 809th, he has been impressed by resilience and technological fearlessness displayed by his new command, and despite his fall from grace he plans to rise to glory in Sectorum Obscuris. Despite his confidence, an ominous pair of commissars whose exact purpose and mission is unknown follows the general everywhere he goes...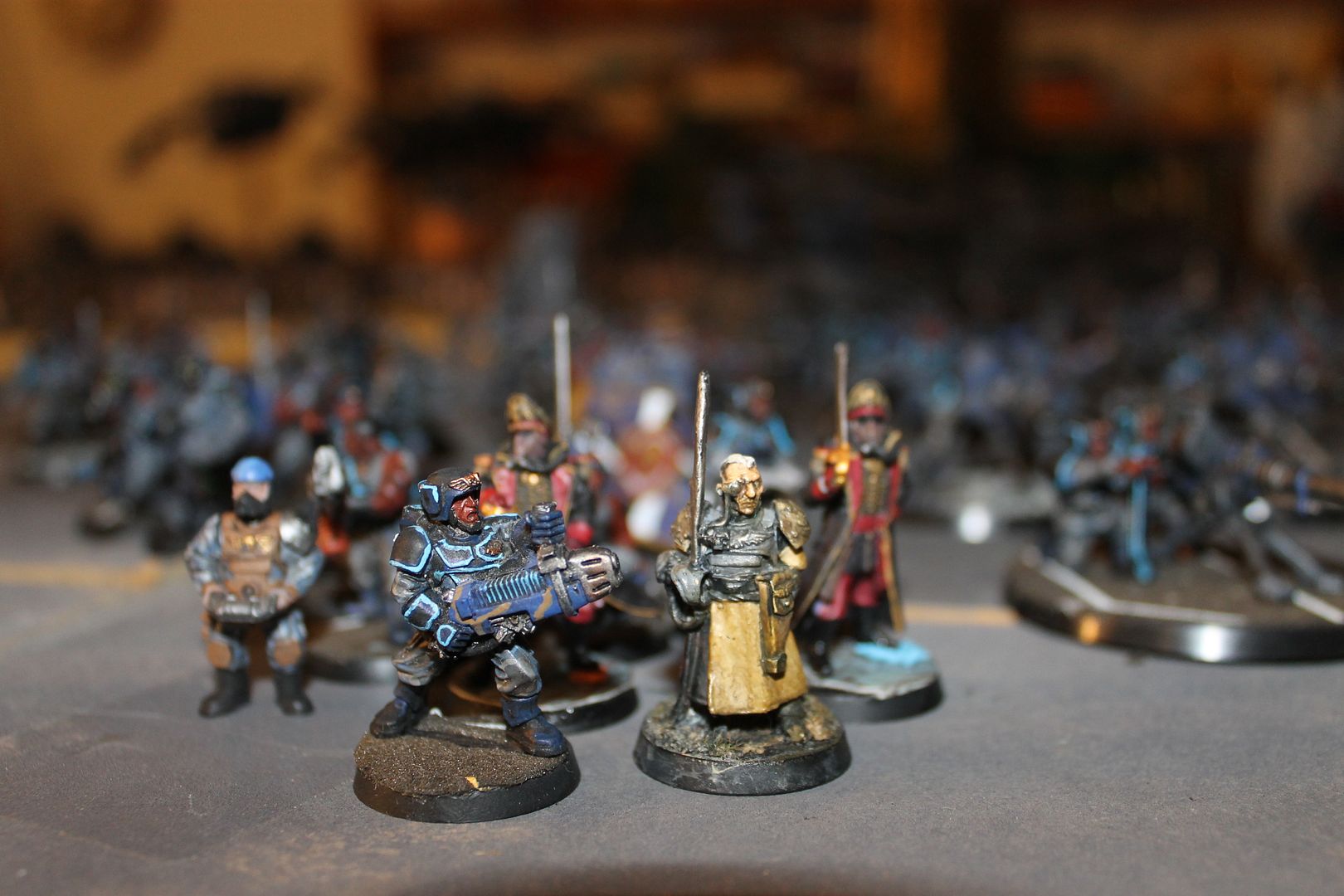 4/10 Heavy Weapon Squads complete, as will be required for a certain apocalypse formation... sigh. At least there are sufficient infantry squads to make up the other infantry formation!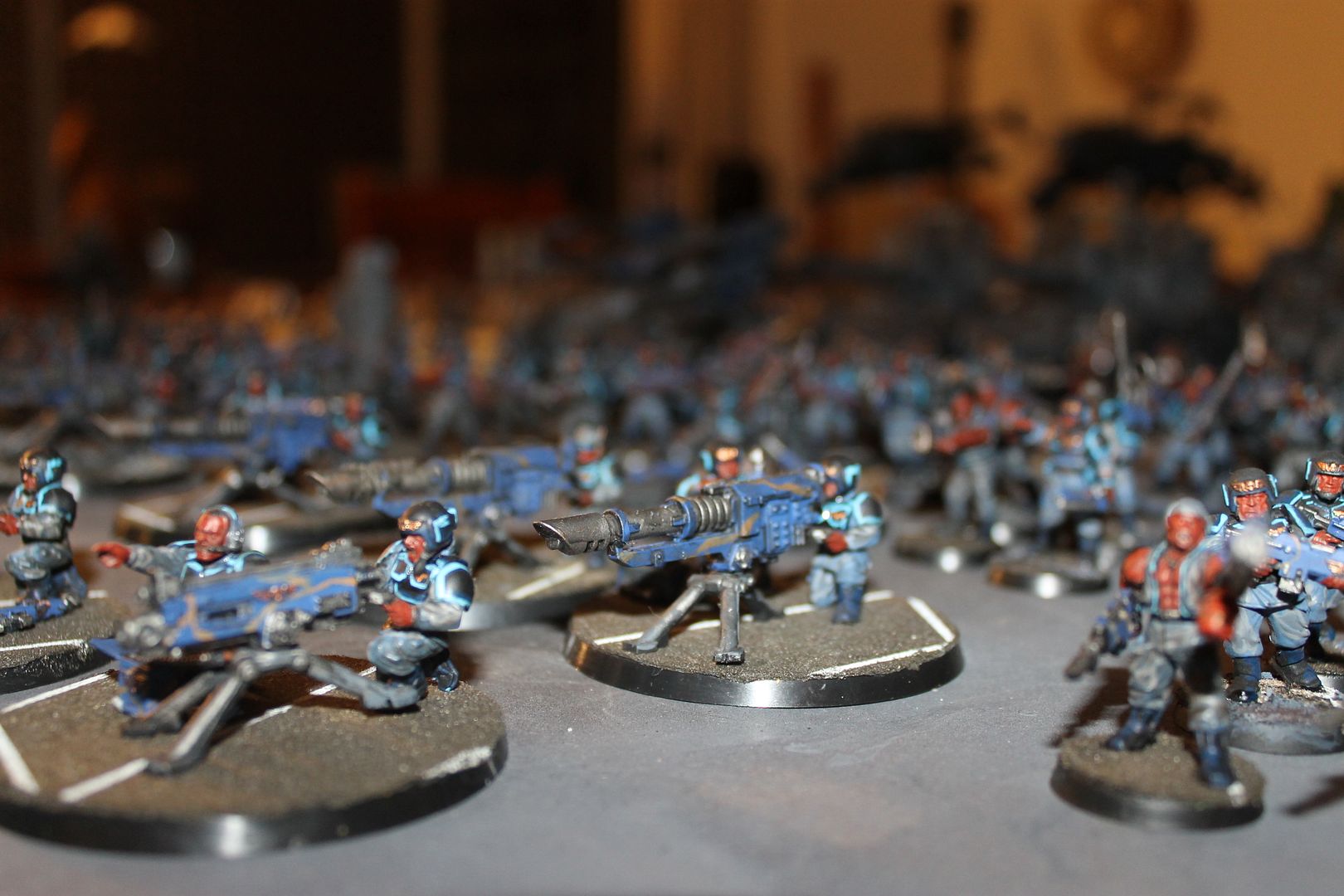 Techpriests are accepted by Zazyrians, who are punctual with their operator maintenance and reverent in their treatment of the hallowed technology. Servitors are recognised, of course, as the foundation of effective manual labour, and are encouraged as an honoured form of retirement for those guard too damaged to continue their current life of service.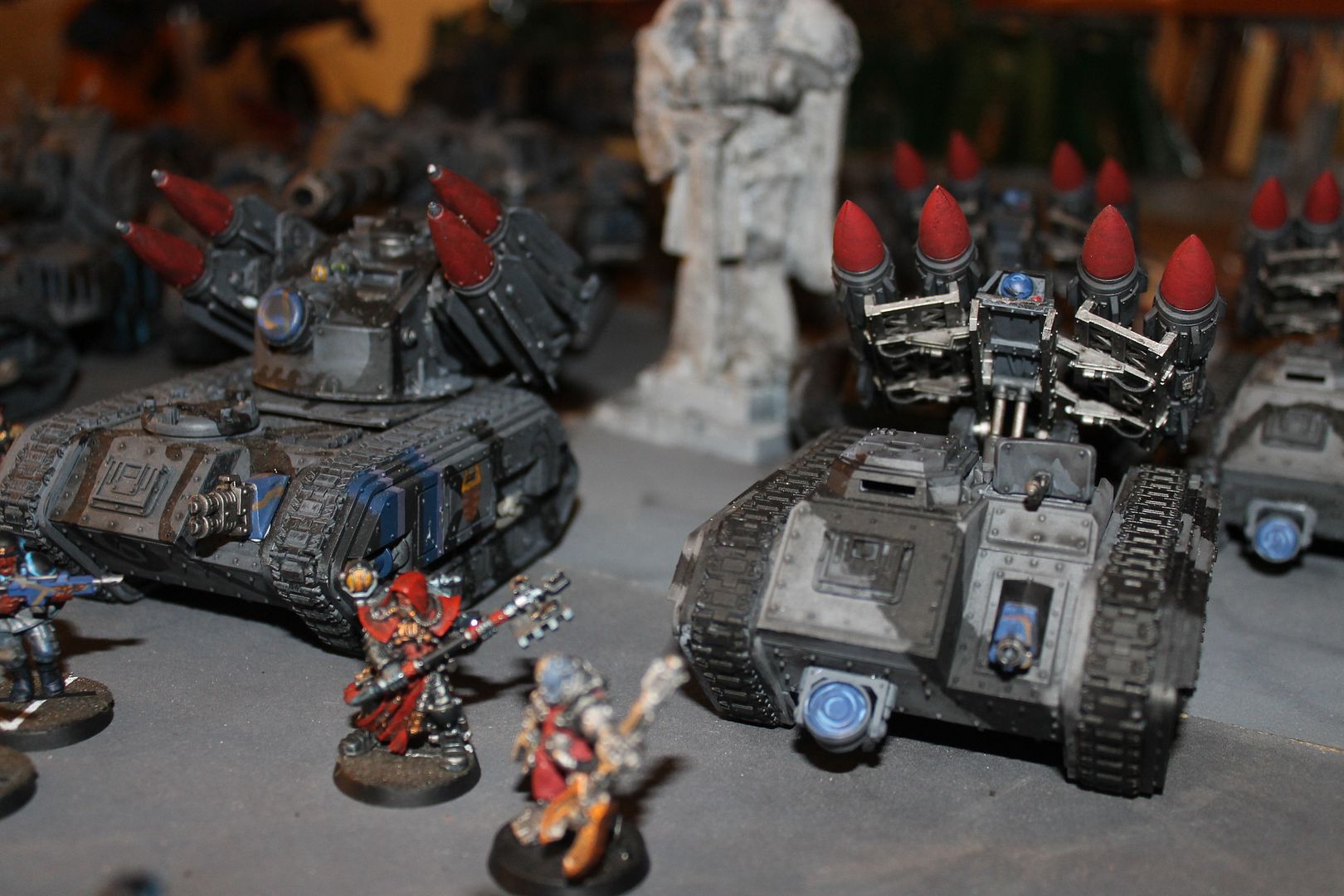 Ever supportive of the technocrats, the Zazyrian 809th has been well furnished with their signature artillery piece, the Manticore. Every operator can recite with pride the catchphrase of these mighty vehicles - "Results may vary"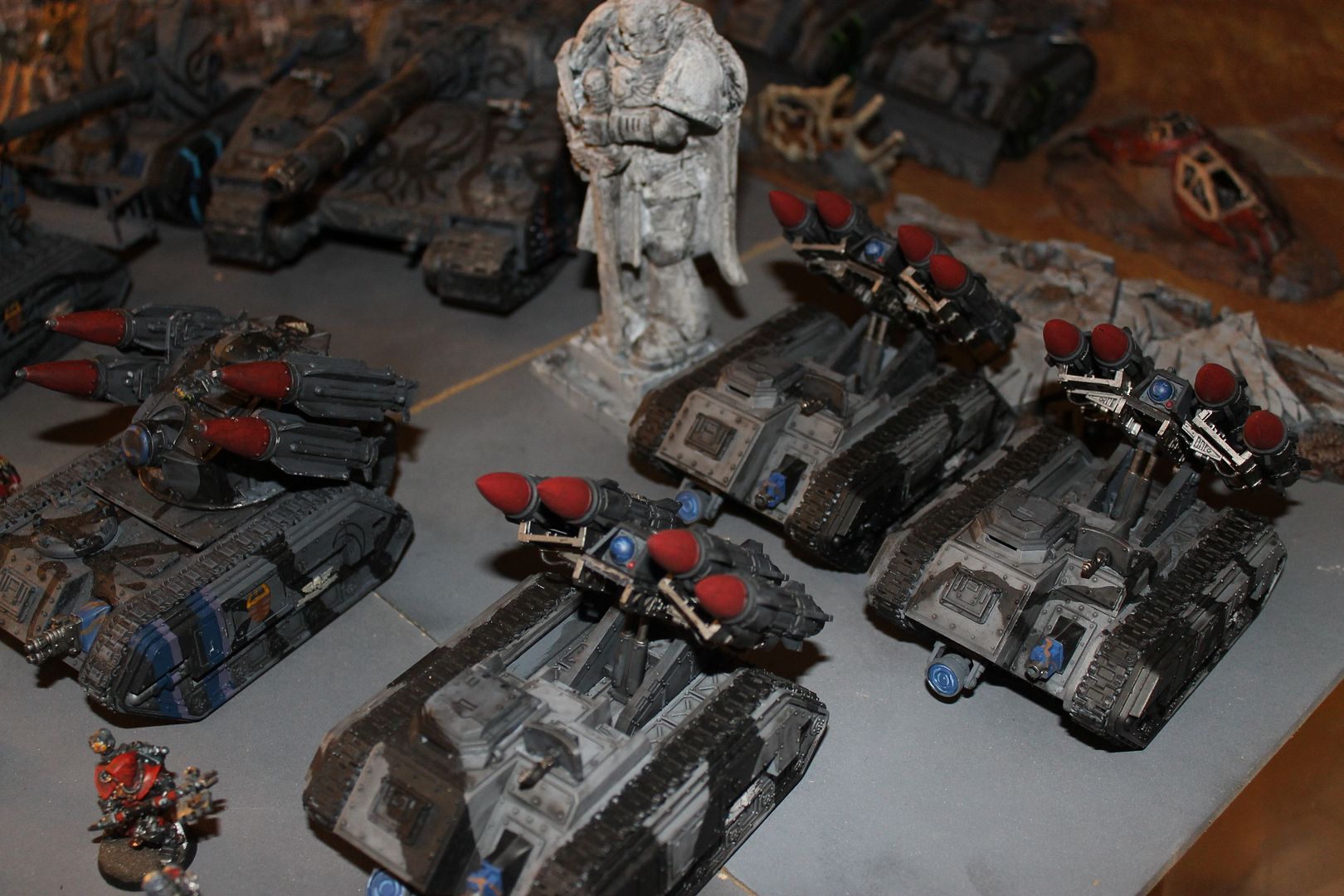 Whilst spectacular, the Manticore rockets are best employed whilst supported by the Basilisk Earthshaker batteries deployed by the Zazyrians both fixed and mobile. Pictured also with a hydra for rear area air defence. 3 x Earthshaker emplacements not pictured, and I feeeeeel like I want more...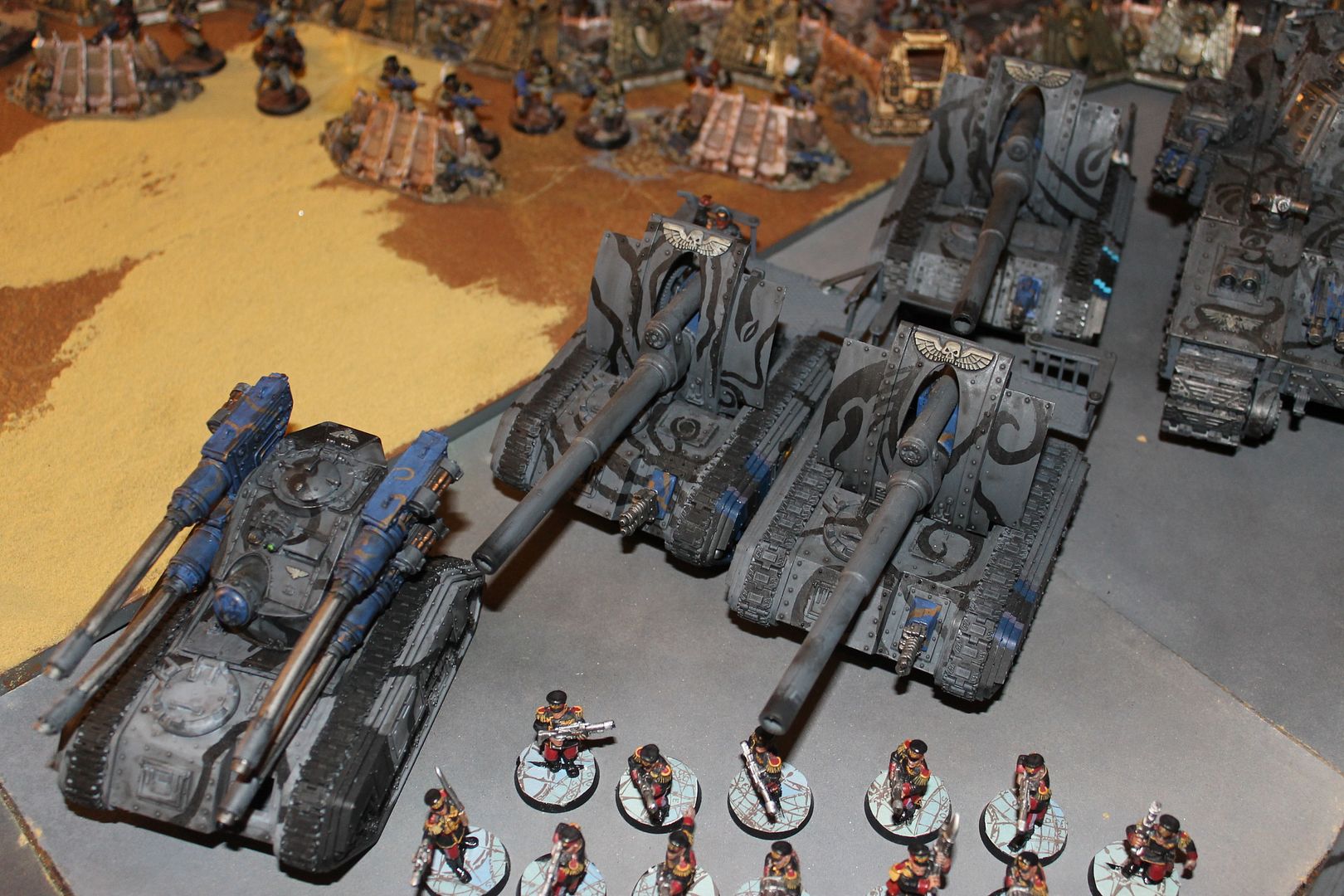 'Simba' 'Mufasa' and 'Shaka' are the first of the Leman Russ Squadrons inbound to the 809th from the recently refurnished forgeworld Ixukris IV, following relief from a Xenos seige spearheaded by the infantry of the 809th.
Often thrown into the heat of the battle and duly honoured for their sacrifices and glories, The Armoured Sentinel Squadron "Hyenas" have been involved in most of the 809ths skirmishes and larger battles.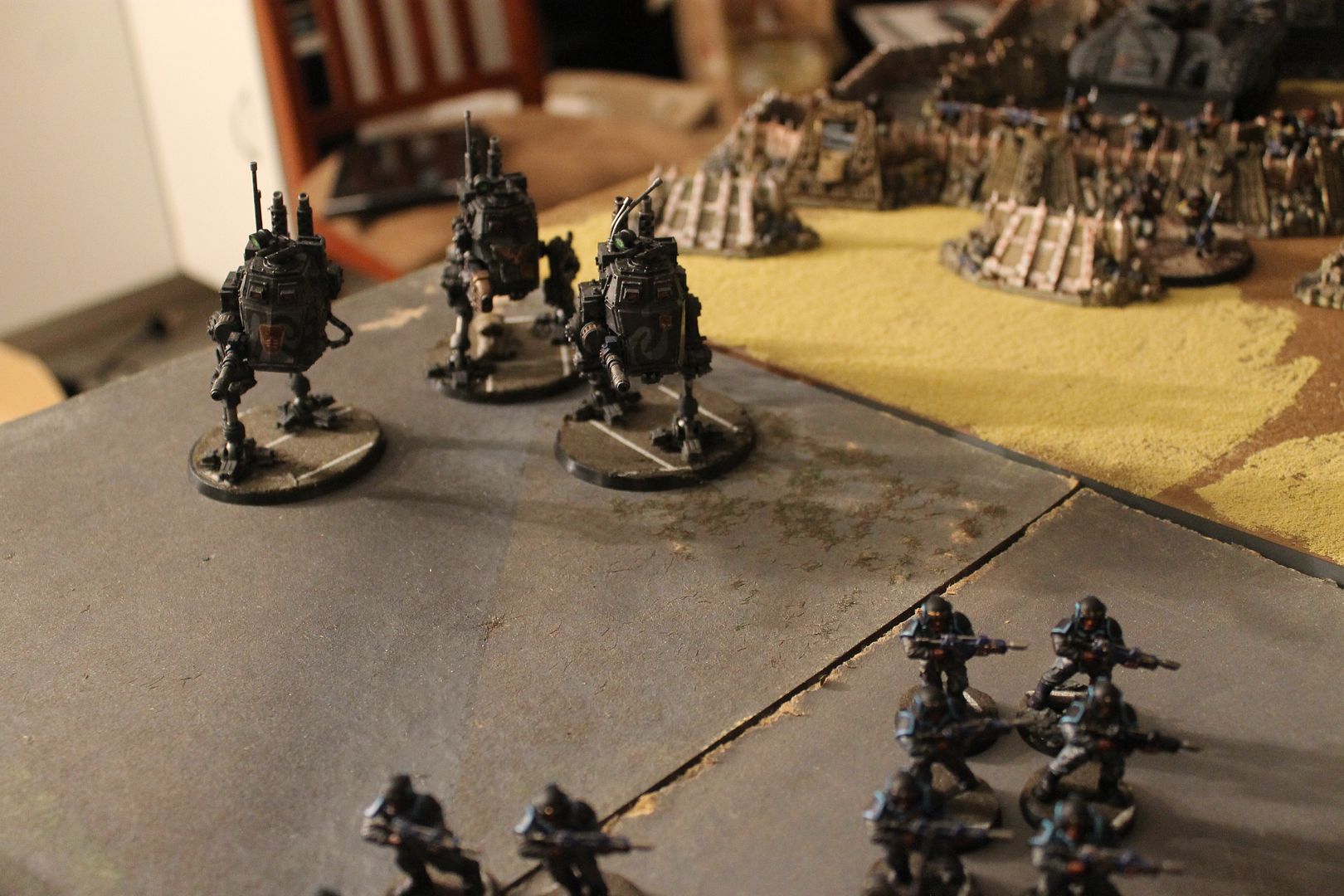 Veterans of the Savannah conflicts, the Great Horse Company now numbers just their lord commissar leader, four veteran squads and a sanctioned psyker detachment. Rumours of the survival of the 'Ndebele' Stormtroopers still sweep the regiment, and they may indeed arrive with a new codex...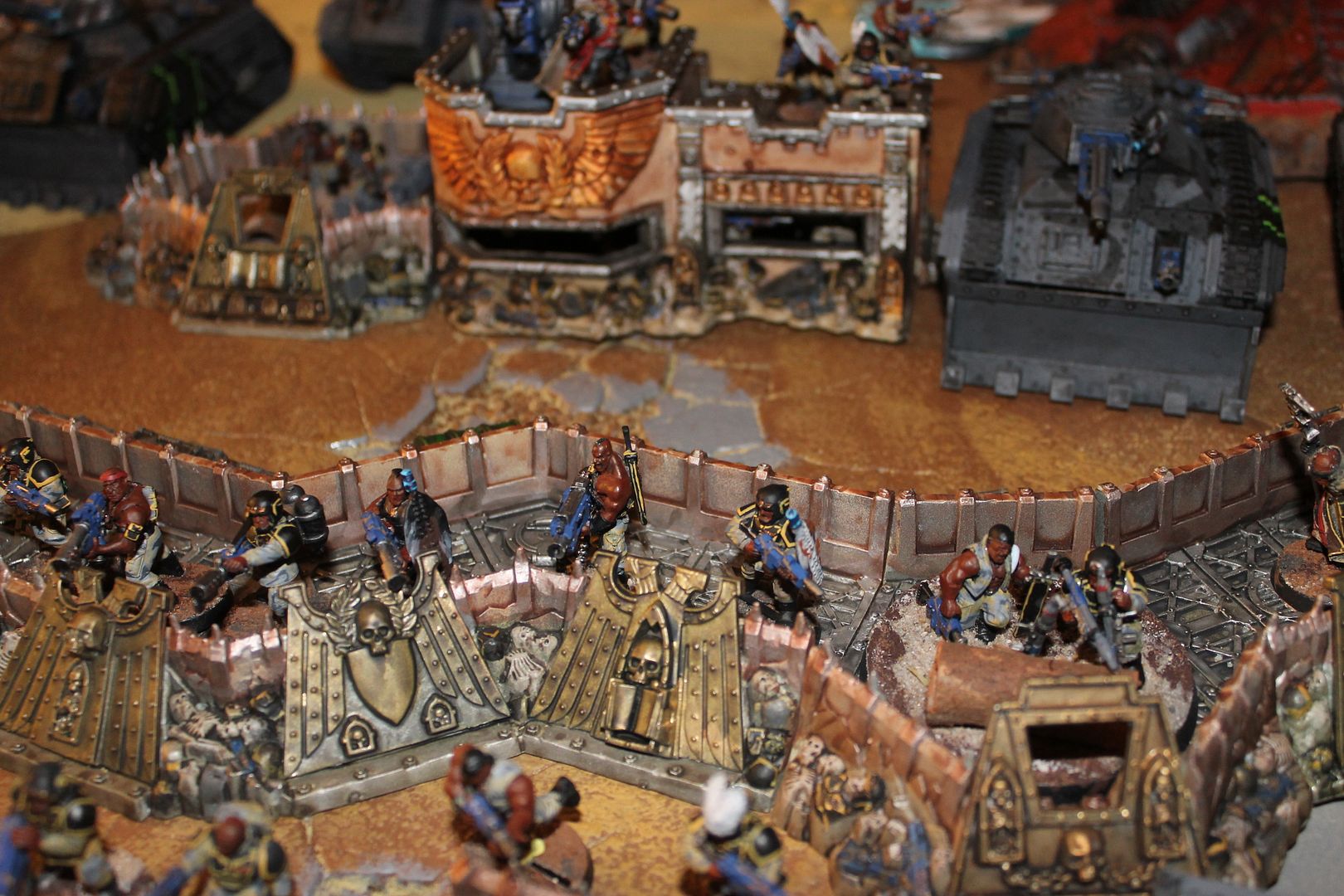 Schola Progenerium Commissar Cadets are often sent into battle in support of famous Commissars or reliable forces. The 809th is proud to have two squads of the cadets, kept under the eye of the various regimental commissars...
Their experiences on Ixukris IV demonstrated the value of air-mobile troops during HAZCHEM engagements, and now whether the floor is lava or plasma waste spill, the re-formed 99th commando regiment is ready to reach for the challenge and blast away survivors in a hail of las and plasma, reaching out and touching the Xenos scum with lightning speed. (2/3 Valkyries complete, need to purchase some Vendettas, another Punisher Vulture and more FW HAZCHEM bodies)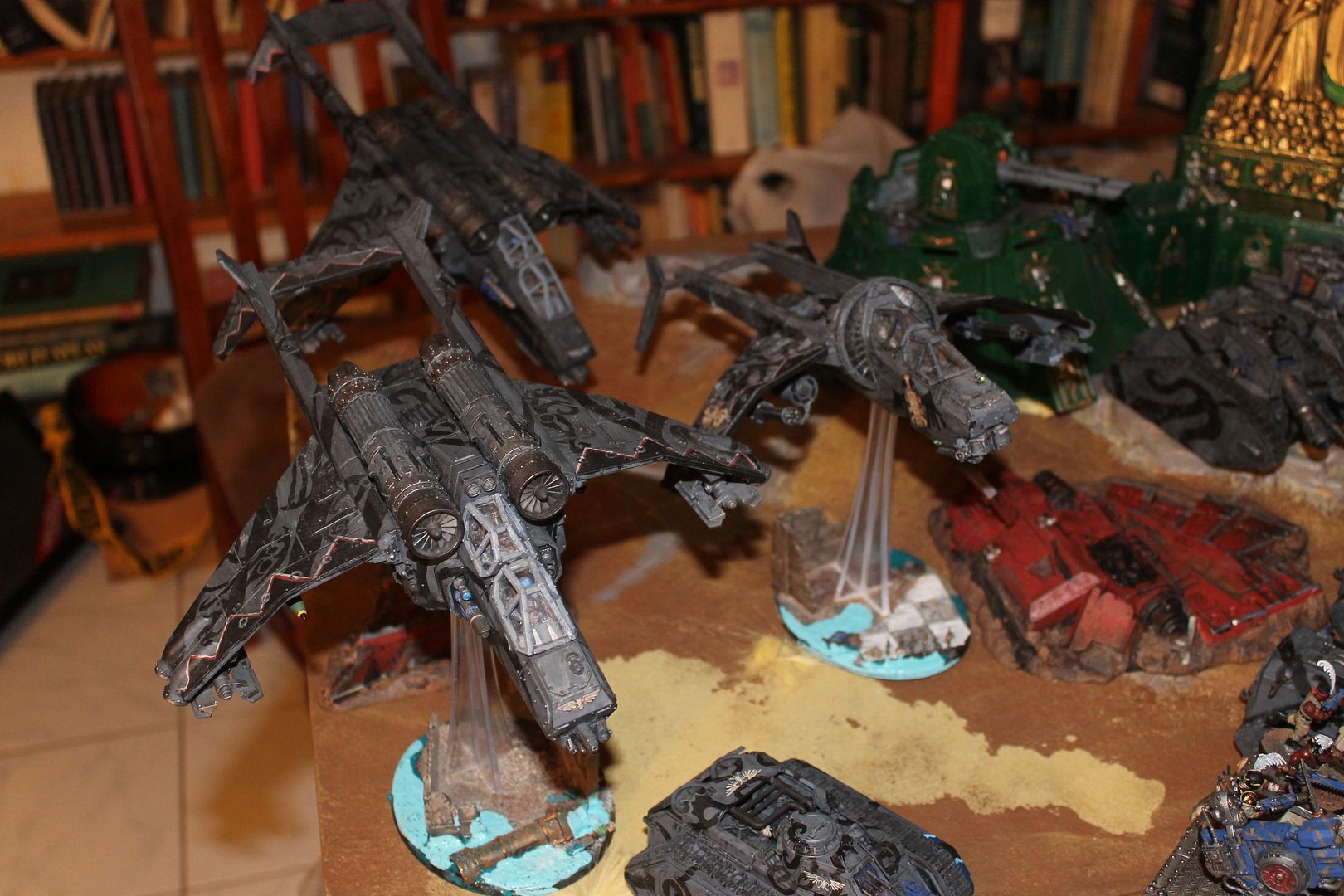 Cerberus squadron - only one hellhound of three so far. It's going to get scarier... eventually...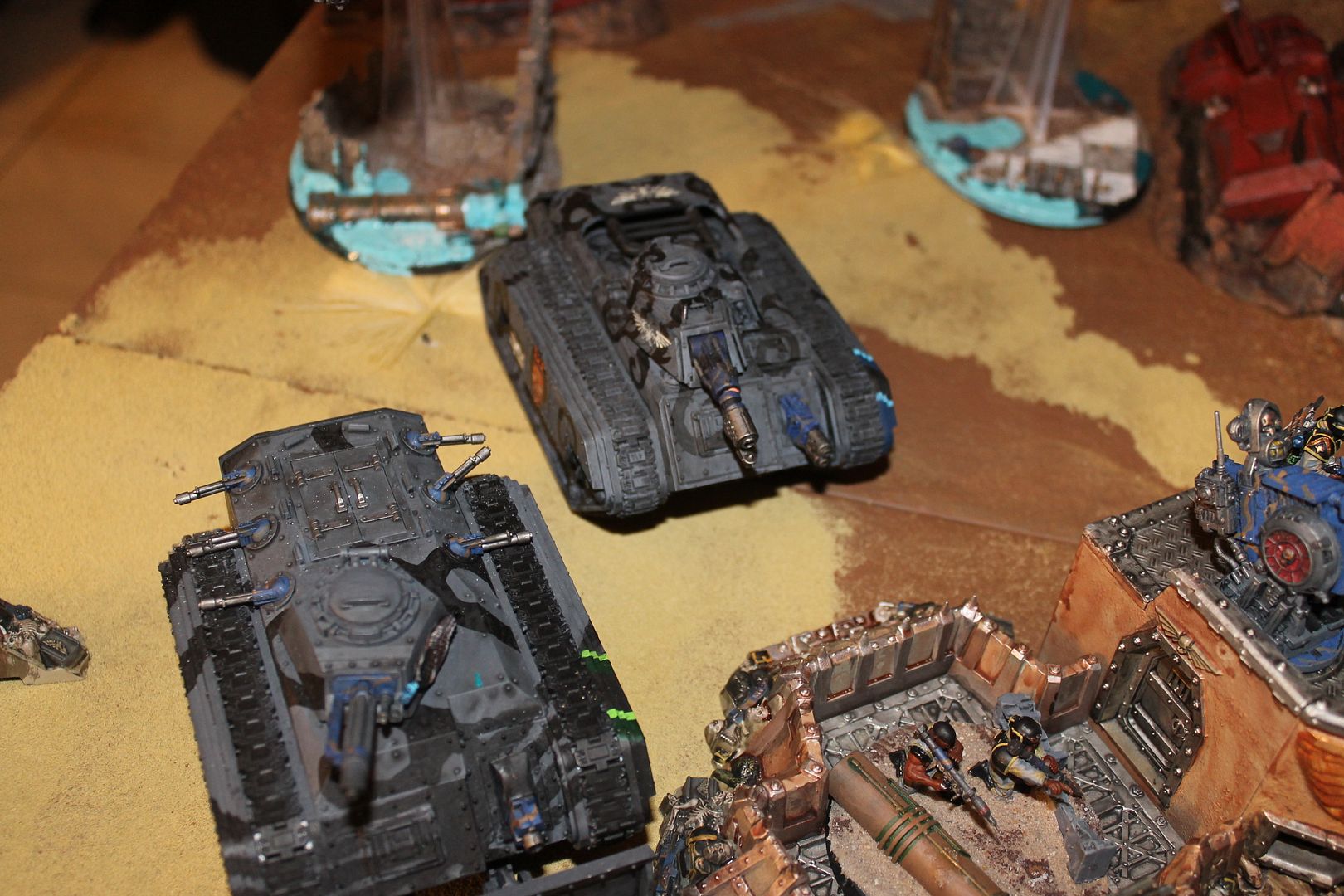 And the lynchpin of the Armoured line, the mighty Shadowsword Senjata holds the line until the next superheavy is sent to support it from the forgeworlds.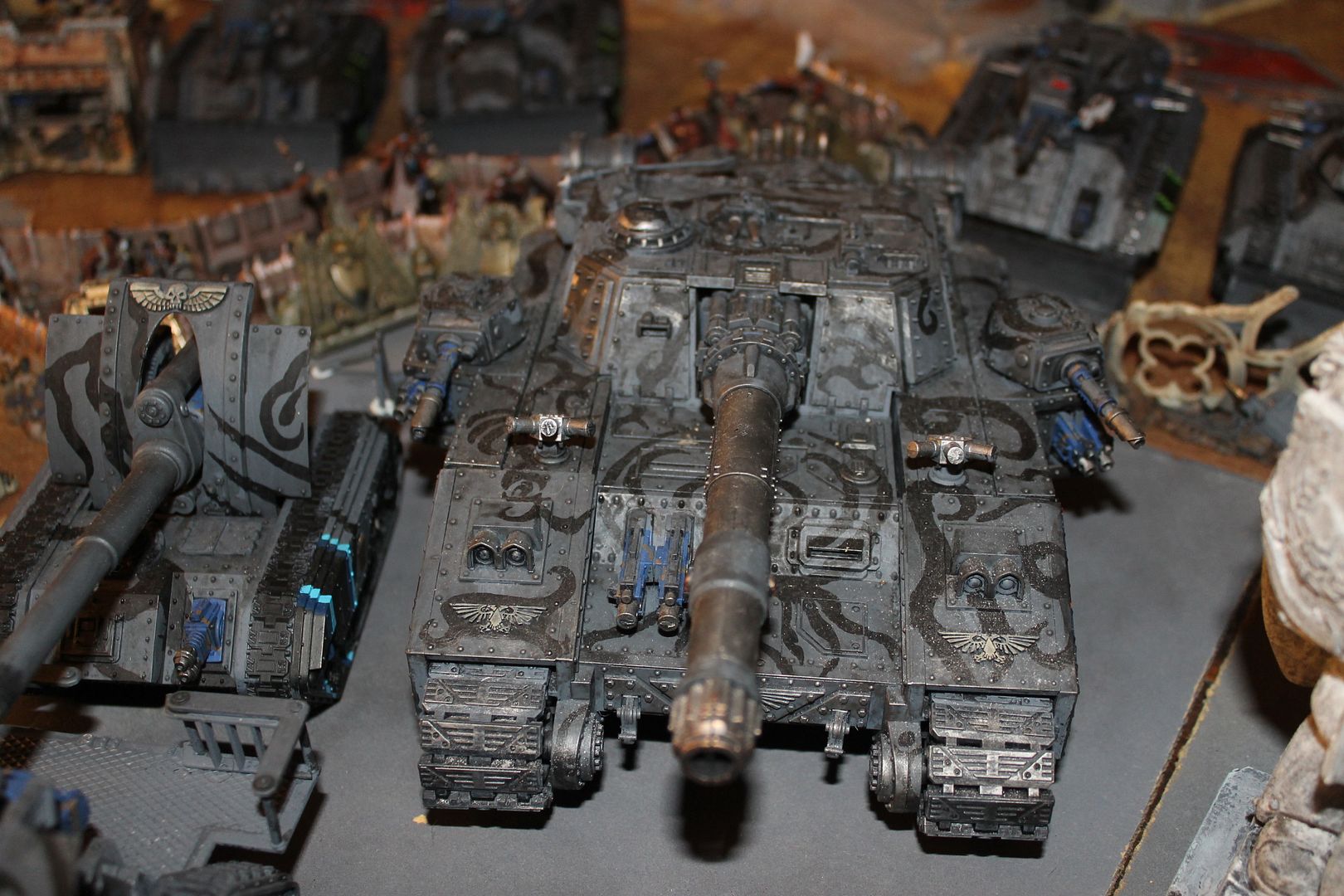 Senior Member
Join Date: Feb 2014
Location: Fraserburgh
Posts: 102
Reputation: 1

---
Most excellent. Just starting our Wall of Martyrs Aquila complex thing and my Imperial Ken-nigget
---
Alays nice with an army on parade, I like this very much.
Senior Member
Join Date: Feb 2014
Location: Fraserburgh
Posts: 102
Reputation: 1

---
May I suggest Tamiya weathering set 'A' for use on your tanks etc., Nice to see some air-power. I too have 2x Vendetta's and a Vulture with Punishers
---
Quote:
Tamiya weathering set 'A'
I'll check it out, thanks for the tip!
Not so much a hobby update this time... More me listening to a lecture and catching up some photos.
Firstly, I found this little guy likes to visit my Wet Pallette when I'm not painting of a night... guess that's why my water's been disappearing from it so fast!
Librarian undergoing some further alterations...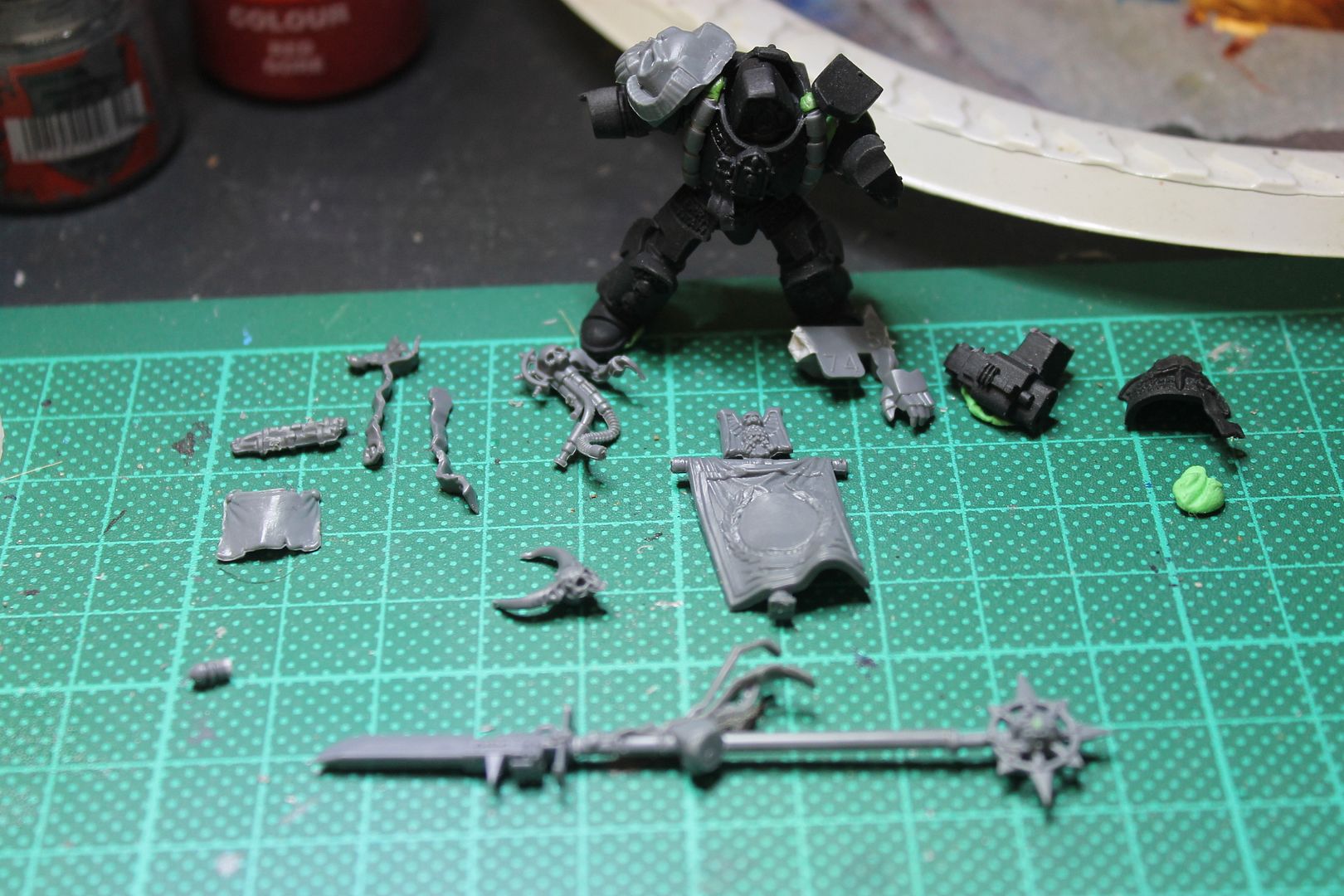 Aaand his weapon.
Anyway, back to uni / painting / writing the latest batrep
---
@
bitsandkits
- finally made a first purchase! I'm waiting for a GK parts restock too...
@
Spankinginred
- hard to get Tamiya around my FLGS apparently. I'll try the toy store after work some time.
Lower Navigation
Iraqiel's menagerie - Project Log