Unique Custom Imperial Guard WIP (Pic Heavy): "101st Sol Shadow Scorchers"
---
Okay, so I started an Imperial Guard army a few months back and up until recently haven't put much serious time into it. I'd posted a log of it over at Dakka but wanted to get some fresh input so I am posting this on Heresy as well!
First off, these are literally the first models I have EVER assembled or painted. I'm just really enjoying the hobby, but I'm still definitely a beginner. Go easy on me, but I don't mind constructive criticism or suggestions!
I've been playing 40k without models for a few years now with a close group of friends, but I decided it was finally high time to actually buy some models and try my hand at putting them together! So for posterity and my own sake I'm going to start keeping a log of this first little army of mine. I apologize if it doesn't get updated often due to my rather hectic life outside modelling, but I'll post pictures from time to time.
Keep in mind I'm ALWAYS open to opinions, advice, constructive criticism, praise, beatification, donations, a - *GET ON WITH IT!*
*Ahem* Yes! So, to the army... I'm in the process of building an Imperial Guard mobile armored infantry list. Please keep in mind these are literally the first and only models I've ever attempted to make, so if you have to shield your eyes from beginner-level paint jobs and occasionally poor GS or kitbashes, you may want to avert yoru eyes now! But if you can bear with me I promise I'll get better after a while (I hope!)
The goal game-wise is to make the most survivable army possible; I'm not one to toss men into the fire just to smother it. I plan on upgrading the crap out of everything; I want to make every shot count.
The goal model-wise is to make the most intense, resourceful, badass, and life-like-looking company possible. I am much better at modelling than I am at painting, and as such I've established a basic paint scheme but I'm going to most likely extensively customize the majority of the army. I've got a lot of ideas that I've already started on, as well as some I just wrote down in a to-do list for later. I'll get into the nitty-gritty of all the ideas and show you how I did them if you are interested later.
BASIC ARMY INFO
Name: 101st Sol Shadow Scorchers
Tactical Doctrine: Heavy Assault Armored Infantry (Specializing in extremely powerful sudden strikes)
Official Motto: "Make every shot count."
Unofficial Motto: "We're here to ******* s*** up."
Model Types: Generally, I'll be using a lot of 3rd party miniatures and bits mixed with Cadian Shock Troops and other GW stuff, but almost all of it will be heavily kit-bashed and converted. I've already assembled some specialty Starship Troopers models, some shotgun samurai, a few random scavenger and robot models, etc. For vehicles... I haven't gotten too many yet but very few will be just GW. I have 3 helicopter models of varying sizes for Valkyries, Vultures, etc, as well as some Panzers to be spruced up, hopefully soon some Halo Warthogs or Metal Slug tanks... You'll see how it all comes together in the pictures
Paint Scheme: Black base, Red trim, White and Gold detailing.
THE FLUFF
WHAT THE FLUFF MEANS TO THE ARMY
I'll get some pictures up as quick as I can of the models already painted and those in progress. Enjoy your read!
---
[/SIGPIC]Praise be to the Omnissiah
---
Alright so I'll upload pictures in chunks, it takes me a bit to dig up the folders of each session. Here's some of the older pictures of the first models I assembled, which happen to be the only ones I've painted... I'm not particularly gifted with painting and am making up for my shaky hands with lots of effort into modelling and as such I have not
painted a single model since then, I'm just working on getting it all assembled before painting. Despite the poor quality of these early pictures, at least here you can get an idea of what the paint scheme LOOKS like on some normal Guardsmen.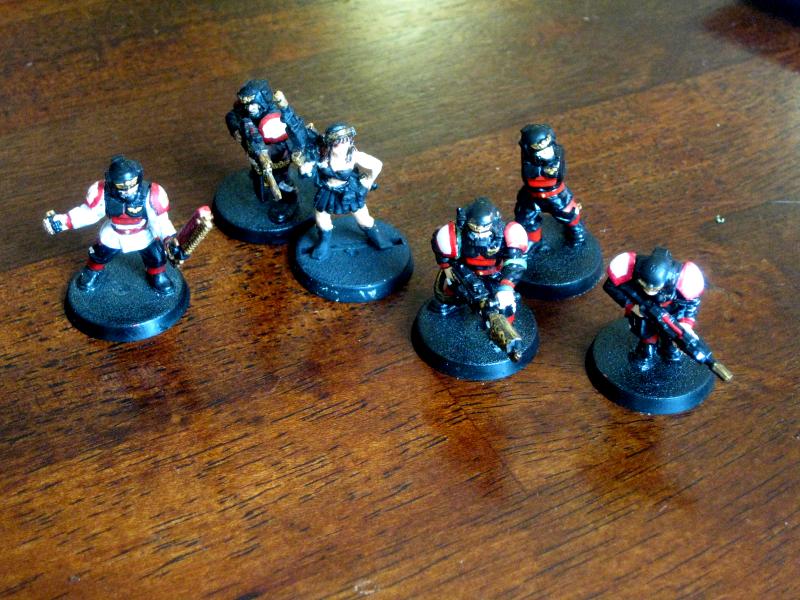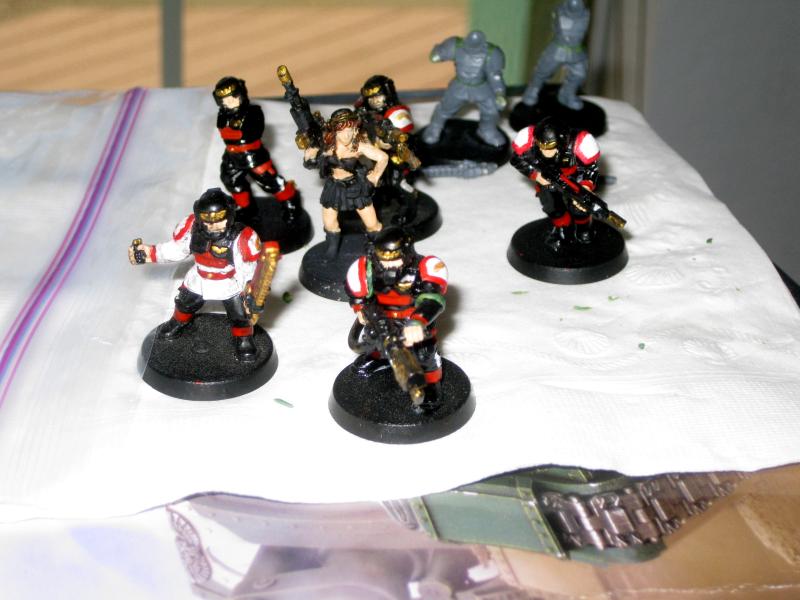 ---
[/SIGPIC]Praise be to the Omnissiah
---
Here will be a few pictures of some completed squads and what they're made out of...
Vet Squad 1 of 3: Flamers, Demolitions, and Shotgun Samurai
Yup. My standard close combat models are shotgun-wielding samurai. This squad has 3 flamers (1 which may be heavy), and has taken the Demolitionists Doctrine, resulting in a very pyromaniacal grouping. The flamers are fairly simple; hacked-together poses with various flamer styles in the back right. The dude on the far left with the flamer up and fuel tank in his hand is the sergeant preparing to lob the Prometheum tank as a demo charge. The "standard" guys with shotguns are samurai bodies with Victoria shotguns and aesthetic cloaks. Waiting on heads currently, I'm going for Pig Iron Heavy Infantry heads which to me look like Doomguy heads. Any suggestions with these anyone? As for the two normal Cadians... They're just a standin until I decide if a heavy weapon should go there or until I make 2 more shotgun samurai.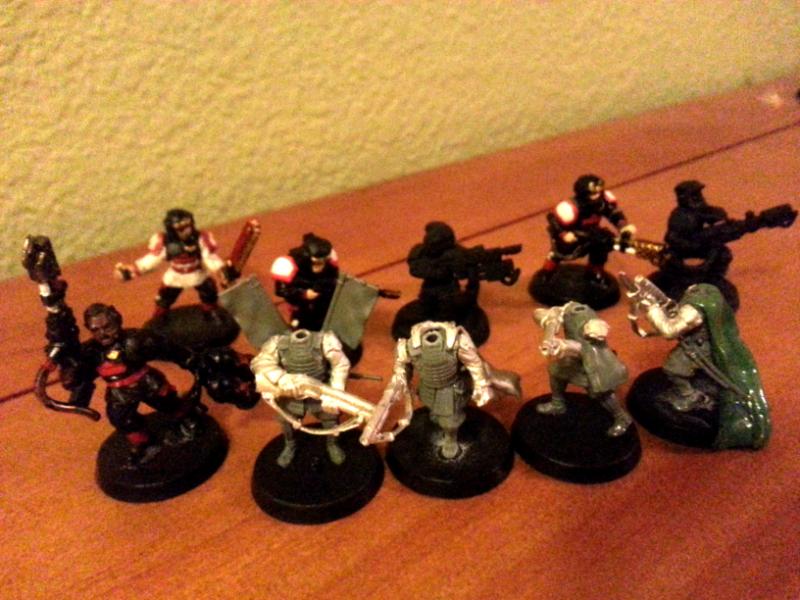 ---
[/SIGPIC]Praise be to the Omnissiah
---
Alright, Vet Squad 2 of 3: Starship Plasma Vets with Harker!
This squad consists primarily of Starship Trooper models, outfitted with 3 Plasma Rifles, the Sarge as "Harker," an autocannon team, and a vox-caster. The Plasma gunners are featured in the second picture, and are sporting Pulse Rifles (yes, as you'd see with Colonial Marines in Aliens) as plasmas, as will every plasma gunner in the army! A quick stock-replacement job made them fit perfectly, and after I make a custom melta-pistol for the one on the far right they'll be ready to paint. The model in the back (completely primed) with the very large sniper rifle will be Sgt. Harker for now until I fix him up or make a better stand-in model. The two stooges on the left (one berating the other for a bad shot or something) will be the gunners for the Pak 40 "Autocannon" shown in the center. I'm going to magnetize their bases and place magnets in the base of the Autocannon so I can take the two of them off the base and replace them with ze Germans in the case of a Bolt Action match! Finally, the other models not mentioned will just be lasgunners, including the model right by the cannon which will soon be a prone-positioned Guardsman.
Oh, and I just figured out how to make cloaks out of greenstuff last night. The whole squad will have camo cloaks when I finish.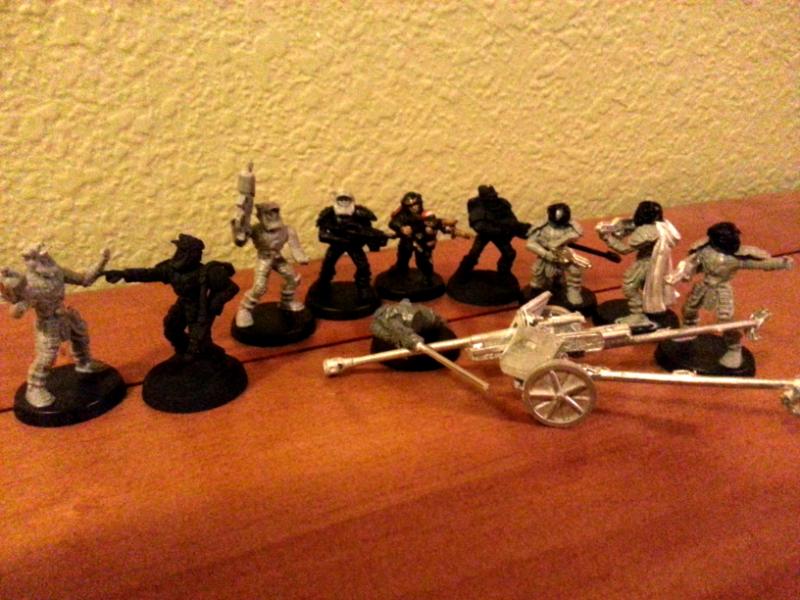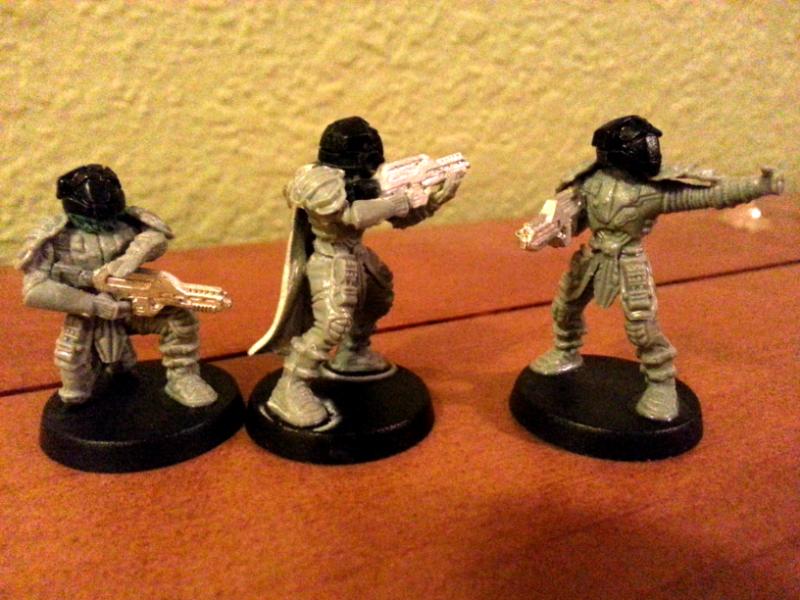 ---
[/SIGPIC]Praise be to the Omnissiah
---
very nice! don't think i would have the will power to do custom guard (so many models, so many, [rocks back and forth in a corner]) one question, why do you have the 'cheer leader' model in your first two pictures? never seen a model quite like her, where she come from?
---
note: if you see me giving tactical advice: just assume i have a internet tab open to 1d4 chan and I'm summarizing off of that.
Avatar done by
Bulhakov
---
That's warrior woman, from the last chancers.
---
Quote:
Originally Posted by
Stella Cadente
View Post
That's warrior woman, from the last chancers.
Yup. I got her for a couple of dollars on eBay. Look on the gw site at Schaeffer's Last Chancers as a box set. For now I'm using her as a Company Commander but once I make a better model for it I'll use her as my Marbo.
---
[/SIGPIC]Praise be to the Omnissiah
---
Actually I don't they are available now, Schaffer is, but not the box, hopefully it will return, for years I wanted to buy it
---
---
[/SIGPIC]Praise be to the Omnissiah
Lower Navigation
Unique Custom Imperial Guard WIP (Pic Heavy): "101st Sol Shadow Scorchers"