---
I love the lamp shade hat briiliant, looking forward to the paint job.
---
Well we cant let Vash get a head start on me now can we......
So after a few tantrums over GS here is what ive done so far...
Working from left to right a simple wire nose ring and an old auto pistol from vash's bits box, next we have a GS pirate hat, eye patch and a sawn off lasgun, and last is another pirate hat and a scratch built cutlass and a cut and shut lasgun.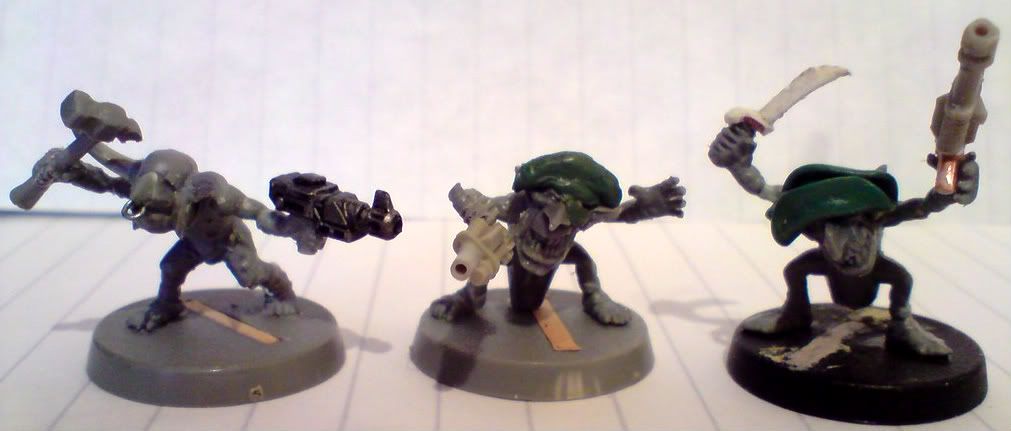 In this picture we have GS eye patch and a Cadian laspistol and on the right we have a GS waist band sash (pistol to be added)
In this picture we have 2 grots with 2 GS bandana style head scarfs, the left one still needs a pistol, the right one has a yet another cut and shut MK1 lasgun.
Here is a group shot of the Grots from Gnobblers
And last but not least some of the boyz ive been workng on..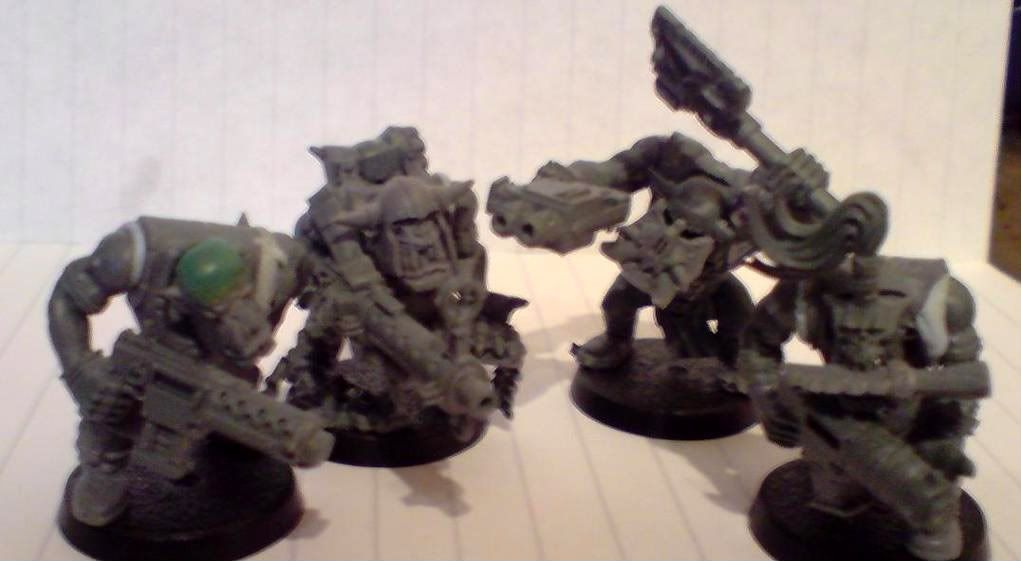 ---
Last edited by Viscount Vash; 07-10-08 at

07:30 PM

.
---
Vash- looking good for the first group of boyz. I like the feral approach of the warband with the different hats.
Tink- the ork boyz are looking really good with lots of character. THe grots well you know how I feel about the gnobblers as grots.
The GS is good on these but I don't think the gretchin heads work on the gnobbler body. The head is way bigger than the body I would suggest sticking with the gnobbler head and body and just GSing them to your liking.
Good to see both of you making progress on these armies.
---

Red Orc
"Ahh, isn't Morfang sweet, like a great big 350-pound (that's 25 stone, UK users!) ball of cuddly death...?"


God, gives children to people so that death won't seem so disappointing.
---
O_O
...Is that a rum bottle that the grot is holding?
Good quick and easy conversions, and good job on the GSing.
---
Some of them do look like they have big heads but i think that makes them funnier, i really like them nice work tink.
---
looking good so far
---
Violence is never the answer, it is the question, to which the answer is, yes

Powered by Squig Tea
Join Date: Jan 2007
Location: In da Toolz cupboard in da Mekshop
Posts: 7,589
Reputation: 53

Vash's Admin Challange installment 2.
---
Like you need a head start there Tinks,
The rate Tinkerbell paints as you may know already folks, means that I probably could use a two month headstart and still paint less.
So with that mind I have started to get a wiggle on and heres the next Rank ready for spraying.
Rank C
.......C1.......C2.......C3.......C4......C5
So more GSed Kamikarzi head bands and another chinese style Coolie Hat (Ok its a Lampshade.
.) I have also started playing with Katana type Choppas from plasticard to try and get a more Japanese feel for the unit.
Rank D is now undercoated Black and hopefully I will get some Orc flesh on them V soon.
Thats it for now folks see you all soon.
---
Last edited by Viscount Vash; 07-10-08 at

07:49 PM

.
Senior Member
Join Date: Mar 2008
Posts: 161
Reputation: 1

---
very impressive, those grots made me laugh with those hats
---
I like the Kachoppa Vash. Shouldn the entire army have Samurai Banner poles covered with orc glyphs?

The gnobble/grots look like deformed fraggles. Superb.

I'll have to keep an eye on this thread for certain.
---
Your toast has been burnt and no amount of scraping will get rid of the black bits.

---
Quote:
I like the Kachoppa Vash. Shouldn the entire army have Samurai Banner poles covered with orc glyphs?
I have to agree, although that is a bit of added work. Also it may turn into a hassle trasporrtin them.
---
Trust is a dagger, the hilt as sharp as the blade.
Death to the Imperial dogs
.
Lower Navigation
Kaptain Dakka Skraga's Freebooterz Vs Klan Kamikarzi (Pics 10th July, VV)