---
I'm gonna have to look into some. Thanks for the tip
---
These look very cool!.

I think some sculpting tools will be in order for me soon, something I have thought about but always, ignored.
---
Just picked up some fun bits off of eBay, hoping for the spare time to get to work on my army.
Finally, brass etchings for the brass god.

C-C-C-DOOMRIDER, BABY!
Planning to do a Scimitar Jetbike conversion eventually.

From the Lord of Skulls: Burning Brand of Skalathrax conversion idea, among other things. These are such awesome bits.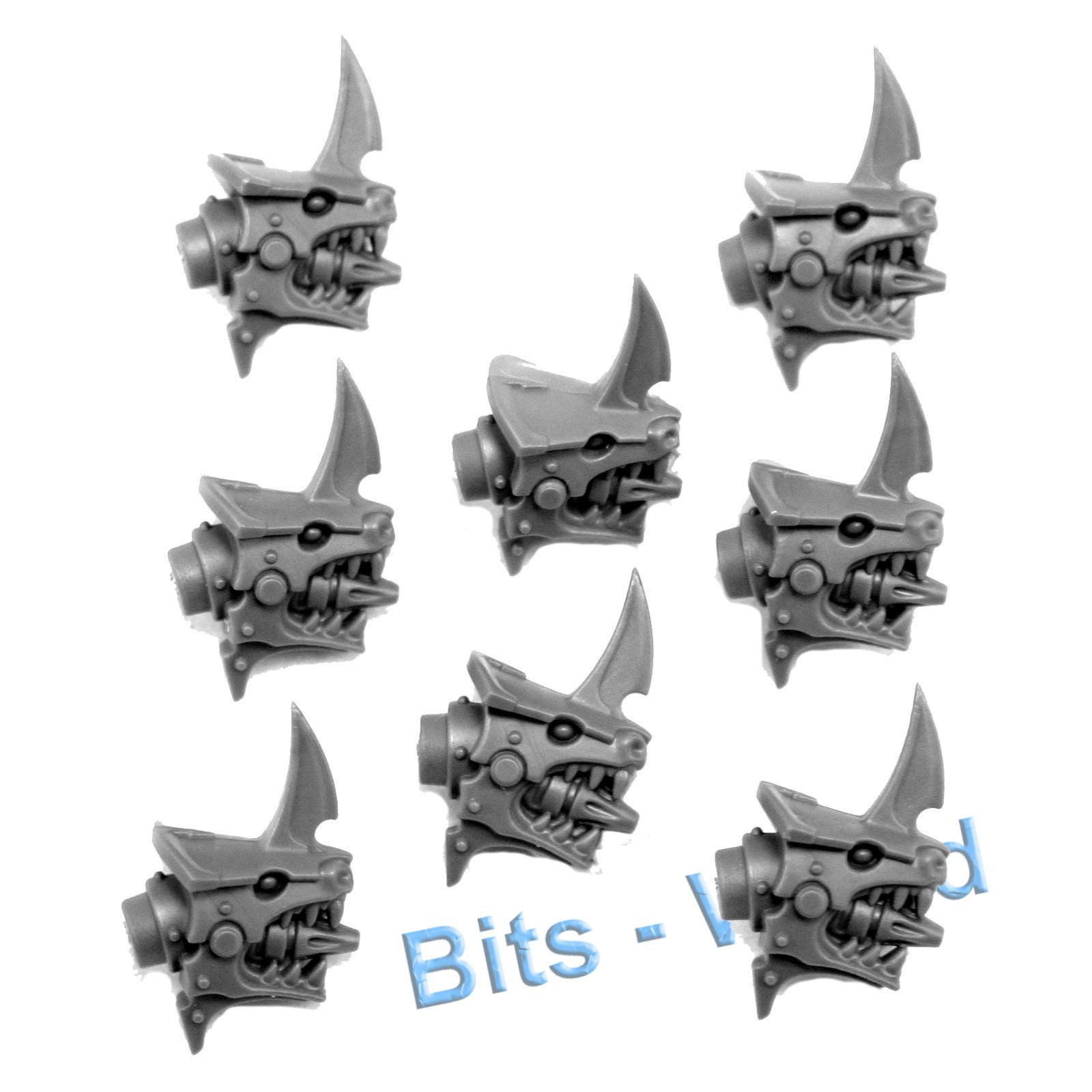 Got this lot of bits for nothing, with some great pieces in the pile. Juggernaut heads and collars along with an Icon of Khorne. Pretty sure there's also a Herald of Khorne/Bloodreaper Hellblade.

I LOVE KHORNE. There. I said it.
---
Last edited by venomlust; 02-07-14 at

01:55 AM

.
---
I was flipping through an older CSM codex, I think 4th edition, and found this warband called The Knights of Blood.
I don't like their name but I really like their color scheme and icon. I bet I could make a stencil and have a decent go at airbrushing it on, once I learn how to use the thing.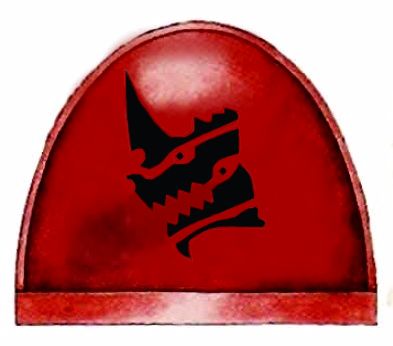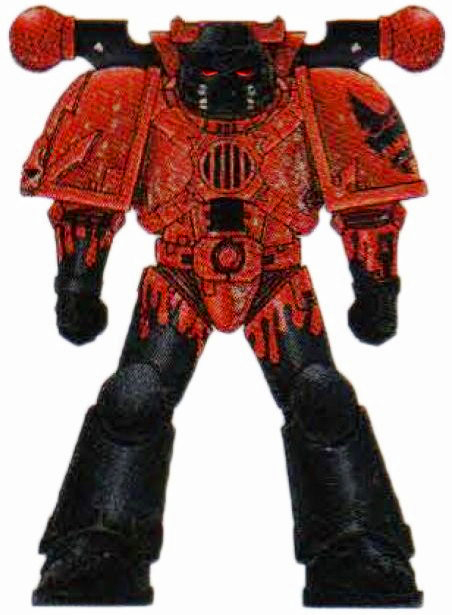 Not sure if I want to paint my
entire
army this color, though. Especially where my warlord and juggernauts are concerned, I gotta have some red and brass going on! These are proper slaves of the blood god, after all. I would darken the red a bit, but I think some otherwise boring Chaos Space Marines would look really good with this Knights of Blood scheme.
It fits the fluff of my army, too: a massive host of chaos that is overwhelmingly Khornate. The Juggylord, A.K.A. "Strongules the Mad", A.K.A. "The Mangler", A.K.A. "The Herdmaster" is the undisputed warlord of this army. Once a Space Marine of a long-extinct chapter, he and his herd of 5 Juggernaut Spawn want to stomp the galaxy into a bloody paste. Like a magnet, this attracted the warband of Kharn the Betrayer and his World Eaters berzerkers and warp-corrupted contemptor dreadnought as old as the Heresy itself, eager to hang out with some new friends and spill oceans of blood.
During the battle on Nuceria where Angron ascended to daemonhood, the World Eaters Contemptor Lhorke, "The First" was killed by the daemon primarch. As the warp storm around them raged on, Khorne, not one to waste a perfectly good killing machine (they were still new, back then), warped and stitched the ruined dreadnought back together and shoved the soul of a bloodthirster into Lhorke's corpse, for good measure. There is truly nothing of Lhorke's noble and heroic spirit left inside. The World Eaters in this warband have been toting him around on a leash, keeping him in stasis until it's time to drop him in a Dreadclaw onto an enemy army, ready to explode out with his giant chainaxe and saw some Land Raiders in half.
A Daemon Prince of Khorne wielding the dreaded Black Mace is chained to this warband, kept corporeal by the constant bloodshed of enemies and this army's Cultists alike. Speaking of Cultists, there are loads of them. They're going to be covered in blood, and die
all the time
, in droves.
Be'lakor is also part of this warband. Always on the lookout for pawns, he recruited The Mangler to join the 13th Black Crusade after convincing Abaddon to give over the Axe of Blind Rage as incentive. Once Abaddon witnessed The Mangler in action with the Daemon Axe, he was sold. He had his Dark Mechanicum goons construct 2 Maulerfiends, 2 Forgefiends, and 2 Heldrakes to hook The Herdmaster up with some armored killiness, along with 6 Obliterators, for good measure. Strongules and Kharn needed some ranged support. Kharn doesn't really trust Abaddon to pull this crusade off, but he really doesn't care, either. Nonstop carnage and the chance to kill Space Marines (especially Ultramarines) sound pretty good to him.
There will also be a Black Legion detachment allied to the Slaves of the Blood God, to fight alongside them as evil battle brothers. Abaddon is no fool, and knows Be'lakor can't be left to his own devices, lest he use The Mangler for his own ends. His solution is Arn Bloodfang, "Wolf Lord on Thunderwolf" Juggerlord, and his 5 "Fenrisian Wolf" Spawn. He and his squad of 10 wolfy berzerkers ("The Bloodfangs," because I'm
so
original) are there to keep an eye on Be'lakor and make sure the Slaves stick to the Black Crusade game plan. And also kill things. Arn's got the Skull of Kern'gar, letting him feel the in-universe effects of Eternal Warrior and Adamantium Will. He would deny Be'lakor's Puppet Master power and then go tell on him. These are traitor Space Wolves who are also devotees of Khorne.
There will also be a contingent of Black Legion Cultists (you know, to do the dying). There's a Lord of Slaanesh with a small band of Noise Marines here, too. Because he's a devious sombitch, Be'lakor managed to convince this lord to join the warhost as well, knowing that Arn and the Bloodfangs would the feel the stereotypical hatred for the Dark Prince's minions and provide a welcome distraction to manipulate The Mangler for his own ends, exactly as Abaddon feared. I decided to paint my Fire Raptor in Black Legion colors, too. We're talking precision warfare, not blind rage that you point in the enemy's general direction and charge. Fluffwise I like it too. Abaddon is gonna have the Fire Raptors, not some random Khornate Lord. Plus, a blood red gunship just
can't
compete with black. Gotta look fly while you kill while you fly, baby.
Eventually I plan to convert some Contemptors into Blood Slaughterers for this detachment, as well. The Forge World models are horrendous, which is contrary to how I feel about the majority of their sculpts.
An enigmatic Lord of Change in the form of a giant double-headed falcon bearing the Grimoire of True Names has also taken interest in the Slaves. His Heralds of Tzeentch sidekicks and horde of Horrors do his dirty work on the ground while he flies around and lets the Slaves take a mulligan if they miss their shots, and buffs those Maulerfiends or Heldrakes with the Grimoire. This Daemon Lord has also got an enslaved Soul Grinder of Nurgle with him, which he finds hilarious to unleash on the battlefield controlled like a marionette. If he wants to, he can call in his buddy the Bloodthirster, who has a huge gang of Bloodletters that love to come out and play. He's got some Seekers and Daemonettes in his deck, too, but they rarely see the light of day.
The first 12 Black Crusades were failures, but I really got a good feeling about this one.
This
one will be different!
---
Last edited by venomlust; 02-06-14 at

12:31 PM

.
---
So I totally forgot that one of my credit cards has been accruing cashback rewards, and I cashed them in today.
After debating what I wanted: More Bikers, Spartan Assault Tank, Raptors, Contemptors, Blood Slaughterers... all things that would add to my army, I decided on a different option entirely. One that has no rules for the tabletop, and is purely fluffy and frivolous.
I bought another kit of Bloodcrushers and Skullcrushers. The Bloodcrusher Juggernauts have no saddles, and I can "convert" them to Spawn by simply not adding the riders. The Skullcrushers I'm going to convert into a Juggernaut-riding Berzerker retinue for the Juggerlord. If that Khorne supplement rumor is true, they will eventually be usable, and if not, it will simply float my boat.
---
My next project will either be my traitor/Khornate Wolf Lord on Thunderwolf with 5 Fenrisian Wolf Spawn...
OR the 40k Skullcrushers. These Skullcrushers will be World Eaters of peerless skill in combat, rewarded by The Juggylord for their insane plethora of skull tributes with exquisite chainaxes and juggernaut mounts from his herd. They are Berzerkers at their core, but I want their elite status to stand out with their wargear. The Skullcrushers WFB kit is cool, but the armor isn't exactly futuristic. Still, it
is
badass. I think my compromise will be mixing and matching parts from the WFB Skullcrushers and Forge World Berzerkers conversion set. The legs obviously fit with the saddle/pelvis attached to the juggernauts perfectly, and have stirrups attached.
I'm toying with the idea of having reins of chain that the Skullcrushers are holding to guide their daemonic mounts in combat, but I think it might be better to not have them. They're Berzerkers, with essentially berserk mounts. I'm pretty sure both are of a single mind: charge and kill. Plus, they all follow the lead of the Juggylord to some degree.
If I don't give them reins, I was thinking of some sort of wrist-mounted flamers on their left wrists.
"KILL! MAIM! BURN!"
comes to mind. The miniature juggernaut heads with flamer-looking nozzles sticking out of their mouths would be used here. See one of my previous posts for these bits.
Here is a very rough sketch of what I'm thinking for these 40k Skullcrushers. I forgot to draw the proper helm, the proportions are off (as is the perspective) but I think it gives an idea of where I'm coming from:
Using the base of WFB Skullcrushers: I plan to use the Juggernaut, the legs, arms, and helms:
I also got a Forge World Berzerkers upgrade kit: I'll be using the torsos and pauldrons:
Their chainaxes will probably be from the Cataphractii kit or Reavers kit, both from FW:

OR
---
Last edited by venomlust; 02-09-14 at

08:40 PM

.
---
I think this chain cloak from the WFB Chaos Lord on Manticore is BADASS!
One of these on every Skullcrusher, or maybe I can make my own using chain and super glue.
---
Last edited by venomlust; 02-10-14 at

05:13 PM

.
---
After some useful input on
this
thread, I've decided to arm the Skullcrushers with chainaxes resembling these:
For the Skull Champion:
For the Skullcrushers:
I'm also toying with the idea of using these with magnets to swap between weapon types:

Another idea is to have a flamer in their left hand, also magnetized: They should actually burn things from time to time, if they're going on about it constantly whilst maiming and killing:

They will
definitely
not have shields, unlike their Fantasy counterparts. They would laugh in your face if you even asked, and then probably rip off one of your appendages and beat you to death with it
. Nice guys.
---
Last edited by venomlust; 02-12-14 at

03:22 AM

.
---
Ive gotta admit i am more than a little excited to see how this turns out. How long till you go from conept to making them?
---

Lower Navigation
Slaves of the Blood God