---
+++ Procrastination Sub-Routines ∙ Halt +++ Time Allocation ∙ Assessing… +++ … Adjusting Labour Schedule +++ Productivity Sub-Routines ∙ Initializing +++
Yeah, that's going to work just fine for these counts-as Arc Rifles I bashed up. I think I want to add something on the top of the packs just to balance them a bit more, but I'm happy with the result so far. Overcharged pistols for extra range? Yeah, I think they communicate that and Rule of Cool makes up for any deficiencies.
Back to painting in the near future, but before that I need to get productive! Time to make some more ideas real. I better get used to the rhythmic sounds of Servitor Solus, because it's going to be running night-and-day in the near future.
GW might tempt me with all that they are up to, and I've already broken down and made a small order, but I shall be strong and avert my attention for the time being as I get my butt in gear again. The weather is finally starting to shift, and I think my mood is starting to notice it; the first birds of spring have returned and it's always a sound that reminds me that I made it through another winter. Urge to create… rising! Damn, I can't wait to get a much better look at new Chaos kits so I can get a good feel for the design language GW is using on them now. I need more inspiration for how I'm doing to do warped and daemonic components and models. Ooo… it's such a good time to be bad. *Grins manically with eye wide*
---
Two roads diverged in a galaxy, and I
I took the one less traveled by,
And that has made all the difference.
∙ (Mostly) Robert Frost
…
Aww [
expletive deleted
] that! Here, time has no meaning! I have traveled
all
the roads! Glory to the Dark Pantheon undivided!
The re-
re-re-
building of a
Black Legion Warband
; and
this
time, I
mean
it!
∙ A rare visage of the Warmaster will oversee this project. However, I think it is time to move him to a cooler colour pallet. Red is so
last
millennium, darling… and,
no capes!
In the immortal words of Barney, upon toasting his successful completion of astronaut training,
"
I'm usually not attracted to limited edition products but as a long time Black Legion collector when Abaddon cracked Cadia I couldn't help but pick up a copy of this signed print to commemorate the event; admittedly, it's not my favourite rendition of Abaddon but those are the whims of the Warp and at least it can't become obsolete like a limited edition rulebook. It was actually part of an Adeptus Mechanicus bundle which was an odd combination but I was collecting kits for my Adeptus Mechanicus project that I took up as a break from Chaos, biding my time waiting for GW to give up the goods of
this
current release, so it was a good fit for me at the time with an eye to future plans.
With the new Warmaster heralding a significant update to the core Chaos line, now is the time to revive my true muse and first passion, and soon, stop repressing the whispers from the Warp with binaric cants… or perhaps, the cants have been corrupted and subverting me all along. As GW keeps opening a Dark door ever wider it compels me to enter and consider the possibilities of a proper Chaos Space Marines and Dark Mechanicus project made real, and I think yes, it
is
time.
∙ I'm also not usually a sucker for themed dice, but again, the lure of Chaos was too great for me with the Black Legion dice.
But first, as another plug for our sponsors and hobby addiction enablers, a brief review. Despite ordering some, I was skeptical and little worried that the gold might be dull and flat. I'm glad to discover that they are a nice proper rich gold colour and it has a nice swirling pearl-like lustre that has some depth. They're even quite readable at a glance with the pips, points, skulls, and Horus Eye. Good job on these GW. I'll also be taking a set and painting groups of five with different coloured faces for doing combined rolls, because hey, why not?
So, with my Mechanicus project rather close to being complete I'll still be putting the bulk of my hobby time towards getting that finished so I've got a table ready army on deck for when I want to actually throw some dice. However, the acquisition of the required personnel, wargear, and supplies has commenced, is ongoing, and I am eagerly awaiting my next dispatch. The only problem is, there's too much choice! I can't, for the life of me, settle on a well-rounded list to make as a core army, so I think for now I'm kinda' liking this 'pressure list' that I came up with.
Black Legion Double Battalion
– 1,994 points
Battalion Detachment
– Bringers of Despair
Chaos Lord in Terminator Armour: Combi-Bolter, Power Axe – Foecleaver
Chaos Sorcerer in Terminator Armour: Combi-Bolter, Force Stave
Chaos Terminators x8: Combi-Bolter x4, Chain Axe x4, Combi-Plasma x3, Reaper Autocannon, Chainfist, Power Fist x3
Chaos Space Marines x5: Chainsword, Combi-Plasma, Reaper Chaincannon
Chaos Space Marines x5: Chainsword, Combi-Plasma, Reaper Chaincannon
Chaos Rhino Transport: Combi-Bolter x2, Havoc Launcher
Chaos Cultists x15
Battalion Detachment
– Soulforged Pack
Lord Discordant: Mechatendrils, Chainglaive, Autocannon
Warpsmith: Mechatendrils, Power Axe, Meltagun, Flamer
Chaos Decimator: Siege Claw w. Hellflamer, Decimator Storm Laser
Kytan Ravager: Great Cleaver of Khorne, Kytan Gatling Cannon
Chaos Space Marines x5: Chainsword, Combi-Plasma, Reaper Chaincannon
Chaos Space Marines x5: Chainsword, Combi-Plasma, Reaper Chaincannon
Chaos Rhino Transport: Combi-Bolter x2, Havoc Launcher
Chaos Cultists x15: Autogun
If I drop the Decimator I can swap out the Chaos Lord for Abaddon without changing anything else, so the Warmaster is also a consideration in this list; I wish it could include an Apostle but I don't want to drop the Warpsmith and/or shave wargear and/or bodies. Still not sure what Warlord Trait/s I'm going to take and if I want to add another relic. Double Battalions gives plenty of CP but it starts to add up when you want to take all the toys.
In classic Chaos form, the idea is to simply cram the entire list down my opponent's throat. As the Cultists, Marines in Rhinos, Decimator, Kytan and Lord Discordant push into the midfield in the first turn, the Terminators can hopefully find an opening in turn two as the other army is trying to deal with all that. I especially like that the Soulforged Pack will mean that the Kytan needs to be all but killed or it can be boosted back to functional with the Daemonforge Overdrive stratagem. You need to knock off at least 3/4 of its wounds or the stratagem brings it right back to the top bracket. If a Kytan with the Decimator tagging along doesn't distract,
nothing
will. Now I gotta' figure out how to get them across the field with few enough holes in them to get some work done. Each of the Lord Discordant, Decimator, and Kytan are dangerous in their own right so even if just one gets through… I
think
it will work, but then…
… there's those wonderful new Havocs, and I've always had a soft spot for Obliterators (and I ordered some Ambots to convert – mine will be Dark Mech, damn-it!) and the big bad guy himself Abaddon is begging for some field time (and I have
no choice
but to paint his glorious model), and Raptors have suddenly become more interesting, and the Apostle is finally more useful, and I've got a formation of three Predators begging for a chance, and a wonderful Land Raider, and I've got things like a Sicaran, Spartan, and Fire Raptor sitting in the wings waiting their turn… Yeah, I've been getting ready for this for
years
, and now… I don't know what collection of chaotic monstrosities I want to create first! It's a good problem to have, don't get me wrong, but it's sure tempting my hobby butterfly syndrome to flare up and I don't need
that
right now. I will be resolute! Cultists and Marines first, and while I'm at that I can contemplate the rest in greater depth. The call of Chaos is gaining volume again, and this time there are more voices in the chorus than ever; chanting their siren song of dark prayers and I have little choice but to obey. They have so many wonderfully Dark ideas to share…
As always, comments, questions, general banter and ideas/input for list composition are always welcome. I didn't even focus on Chaos during 7th edition so it's been a while since I've been thinking about Chaos builds and the game is so different in 8th edition that it's a bit daunting to get my bearings again. All things Chaos, Mechanicus, and Dark places in-between to arrive in the coming weeks, months, and years, from my personal hobby-bench and from the studio workbench so keep the comm-link active.
---
The road less travelled by ends in fiery purgation!
---
---
∙ Within the vast armouries of the Warmaster the endless mundane wargear of the Legions must also be maintained with cut, grind, blow, weld, rivet, bolt, and screw; the Warsmith directs the primitive energies of fire, force, friction, and motive force, to the sacred task of administering the many rites of maintenance, placation, and repair in service to the Warmaster's grand arsenal. One of many small-but-crucial cogs in the great war engine that is the Legion.
I have yet to build any of the other models in the Chaos Marine kit and some Havocs and Terminators just arrived today, so I'm still just taking stock of the kits. That said, I couldn't help myself, and I dabbled away a little and came up with this personal take on a Warpsmith. I've never been a big fan of the 'cloak of cables' look that GW has been giving the Warpsmith models so I'm taking cues from the new Lord Discordant who as a better concept of what I'd prefer a Warpsmith to look like. I
do
still want to add a
few
more dangling cables and maybe another Mechatendril but nothing as over-the-top as the GW model/s.
So far, the level of detail in the new kits is simply amazing, as per GW's track record the last several years. I'm going to hold of final judgement until I see just how everything assembles and how much room there is for creativity within the kits and throughout the rest of the release and between the larger line. So far I think the base models are really nice and despite any gripes about bits selection or design choices I think they look
very
promising. I'm looking forward to dabbling with them more, but I'm trying to force myself to keep it to a slow burn lest I get overwhelmed by too much temptation too quickly. I've walked the long road for quite some time now, I know not to rush things… but it can be
sooo temping
when the lure is
this
sweet. Truly, I am lost to the whims of Chaos…
---
∙ I started the first Warsmith before the new Havocs were in my grubby hands. Once I saw the models an upgrade was in order.
He
is
a 4W H.Q. Character after all so the larger starting model simply suites him better. I still used a 32mm base to keep him in line with other Power Armour H.Q. models; to me the 40mm bases of the Havocs just seems like an excuse for the new models to go back somewhat to their old lunging poses that are less desirable in my opinion. Since I'm changing the direction of pose I needed to add a small shim of plastic to the foot to alter the tilt of the model. It has a bit of a lean/hunch to compliment the intended bits and it needed to change in order to get the new Meltagun arm to cooperate better with the model. Speaking of the Meltagun arm…
… I am
not
a fan of the… unique… solution that GW chose for the wrist connections. The little key tabs, while a little useful in some of the by-the-book assemblies, really seem like an unnecessary complexity that will need to be dealt with all the time during the very common kit-bash of swapping weapons between arms. It's the K.I.S.S. principle of design; Keep It Simple, Stupid. Beyond this minor quibble and a few other small things (oh look, GW's up to the bits selection shenanigans, again) there's a lot to like about the new Chaos kits and it's going to be fun to see just what concoctions can be mixed up.
I like the details in some of the other Havoc models a bit more for a Warsmith build but this one has the pose that best suited the outstretched 'one-handed Meltagun shot' bash I had come up with initially and I wanted to keep that. I guess this just means that I need to make
another
Warsmith (or two) using one of my preferred models. Being the lowest cost Chaos H.Q., I don't see this as a problem. The entire kit is gorgeous and the extra bulk of the models does a good job of conveying a larger-than-average Character model that would have more Wounds than a rank-and-file Troop. Why
not
find an excuse (or many) to use the models outside of Havoc squads?
∙ I've still got freedom in the left arm and I'm having a hard time picking the stance I want the weapon in. I like them both for different reasons.
It's a little thing, but it's always this point where a bash is reaching the final tweaks that can be the most trying
and somehow
the most rewarding. I like the more casual pose that's more static and has a, '*Sigh* Now I'm going to shoot you' feel to it, but with the weapon in a more ready posture it gives a '
First
, I'm going to shoot you with this, then…" I'm in the same boat with the head, which I switched to being bare with the small horn; I like it, but I'm worried it's looking a bit small/sunken in the armour – maybe a thin shim to raise it a tiny bit? But a full helmet deals with it much more readily. Ah well, a few more tweaks and perhaps another gubbins or two and this little diversion will be ready for some primer.
∙ As another little nibble at the Chaos cookie I've assembled the first ten Marines for the new-and-improved Warband. Mmm…
new
Chaos… *Nibble*
I still wish the wastes were 'ball joints' or at least if the torsos could be swapped without it being a major chore, even if there was limited flexibility in the range-of-motion. But with ten wonderful unique models to use as a base bashing and converting up lots of variety in a collection won't be
that
hard. I know I'm not the only one who was drawn to Chaos for the opportunity to kit-bash and convert models so I'm not intimidated and more encouraged by the quality of the ever-expanding selection of bits-and-pieces to choose from to create with going forward.
Damn, this gunna' geet guuuud! Keep the comm-link active.
---
Mallory: "Krieger!"
Krieger: "Jazz hands!!"
Mallory: "I should have never taken him to see The Wiz."
Lana: "The Broadway show or the movie?"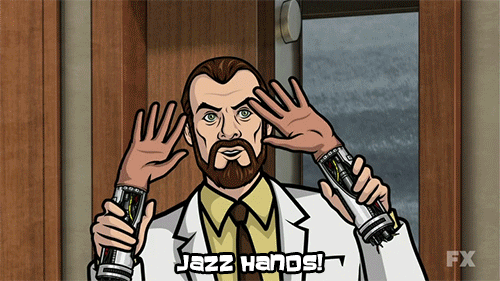 Mallory: *Sighs* "Both."
∙ Jazz hands indeed. After two attempts and a bunch of tweaking, I think I'm finally happy with these Marine hands.
A tiny component that is critical to any handheld bits that I want to produce going forward I avoided doing a set of hands because I knew they would be fiddly. Given the scale, I guess I could have done them cruder to save time and at first, I was going to ignore the detail on the inside since they'll be used mostly for gripping objects, but then I figured it would be more futureproof if I did it right the first time.
∙ Fully articulated and detailed, now the studio has a Marine hand 3D model that can do a lot of lifting in all manner of future kits. (Pun intended)
∙ These are the two main poses I need right now but I have complete freedom to use them however I need in the future.
The curved palm with the corrugated texture was particularly tricky to get right and was one of the main details that took a few tries to get to a point I was happy with. But I'm glad I stuck to it because now I can use these freely in the future to do any kind of open hand bits that might suit my needs.
Now
I need to get to work and create some wargear to actually put
in
the hand. First up, Combi-weapons and Chain Axes… and perhaps something of a daemonic persuasion, or several.
∙ A bunch of one-armed Champions in my Marine squads can attest to my need for Combi-weapons, that's for sure.
Oh yeah, and I can't forget the Reaper Chaincannons. Now that I've got some squads done and played 'which marine best fits the heavy weapon bit?' (hint: some marines are a
much
better fit than others) I've got a few Heavy Bolters ready for an upgrade. I figured since the Heavy Bolter feeds a single line of larger shells into the weapon I'll do the barrel bits as a larger caliber tri-barreled solution so it better suits the weapon while also providing a unique look. It will be a very simple bit to create so I expect to make a few different versions and I'm tempted to use it as an opportunity to create a few dangling details and/or swags of chain that I can make modular so they can be used in other models for details.
Still juggling a lot so studio progress is still sluggish but as I build a library of key modular bits like this humble hand another entry is ticked off of a long list of assets that will make future projects easier. Now I can make a wide range of bits and never need worry about dealing with the hand. Small steps leading up to something much bigger. Beyond continuing to expand my current line of smaller bits and kits I'm considering what my next larger project will be, so don't be surprised if something unexpected comes out of The Dark.
---
∙ Mild insomnia fueled late night (early morning) teaser image because I'm so pleased with the results so far; first up, the Combi-Flamer.
Still need to do a final few finishing touches with the Flamer but it's almost done. I've also got the Melta attachment in the final polish stage and a few different magazine/ammo-drum styles but I still need to get the Plasma and second Bolter worked out. Keep your comm-link active, more coming soon.
Critique for da CriticGod
Join Date: Aug 2010
Location: Philadelphia, PA USA
Posts: 3,350
Reputation: 43

---
Looking good as always, sir!

I enjoyed your analysis of the new chaos models. I haven't picked any up yet because of the *cough* backlog I'm still working through. I thought they looked great but you discussed some of my concerns, such as the restriction of poses and bits.

I find the interesting trade off is completeness of the sculptor's vision against customizability. In early monopose metal figures, they had far more character, down to the minute details compared to later multipart models. That's even true when thinking of the new computer designed guys. They have more character than the one-size fits all models.

I'm hopeful that the new guys are a balance between those extremes.

And hey, that's why there's a market for your style of add-ons!
Critique for da CriticGod
Join Date: Aug 2010
Location: Philadelphia, PA USA
Posts: 3,350
Reputation: 43

---
Those look good!

I think the combi-plasma looks like it needs another shroud vent on either side on the top.

I dig the combi-bolter box mag too. Nice touch.
Lower Navigation
Legion Rising - Projects from The Dark Works